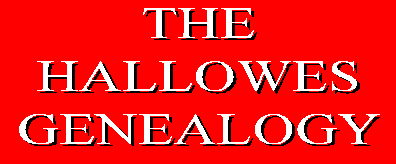 PART FOUR:
THE THIRD GENERATION OF DESCENT
---
This is the fourth page of this Genealogical Collection. The Index for this page is at the end. Click here for direct links to other pages.
---
THE ONLY CHILD OF BRABAZON HALLOWES AND JANE CATHERINE MARIA HALLOWES née HOWARD.
---
[AAA] THOMAS RICHARD FRANCIS BRABAZON HALLOWES.
b. 18/5/1853 at Cilcain Vicarage. After serving with the 2nd. Derbyshire Militia, he entered the Regular army. Lt. 6th. Dragoon Guards (The Carabiniers) 12/11/1873; Captain 5/7/1882; Major 1/7/1891. He was with the Regiment in the Khyber Division, Cabul Field Force, during the Afghan War 1879-80 'including the affair against the Mohmands at Ali Boghan under Lt. Colonel Fryer, the expeditions into the Lughman Valley and against the Wuzeeree Khuglanis and to the Hissarlik Valley, and at the attack and destruction of the villages of Nargozi, Arab Kheyl, and Jokan'. He received the Medal for the Campaign. In 1887 he was attached as Adjutant to the R. Bucks. Yeomanry. He left the army in May 1893 on becoming Squire of Glapwell at the death of his father but returned to service during the South African War with the Imperial Yeomanry. During the Great War he mustered with the Shropshire Yeomanry and commanded a Depot in 1915. He finally returned to the Reserve in 1917. For most of his life Glapwell Hall was left with a caretaker, he preferring to live at Cruckton Hall, Shrewsbury. Some time around 1919 he sold the Glapwell estate to his brother in law William Jackson. He was a J.P. for Derbyshire. He died 25/12/1932 at Cadenham Grange, Hants.
He married, 20/10/1887 at Wickhambreux, Kent:
[AAA/1] FANNY ROBERTSON
d. of William Parish Robertson of Valparaiso, and his wife Fanny Harrington.
Their Children, with their spouses, were:


[AAAA] Ronald Brabazon 	                  1888-1907
[AAAB] Gwendolyn Maud.                    b.1889
   [AAAB/1] Benedict Philip Hunt          b. 1894
[AAAC] John Chaworth	                  1894-1918

Index
---
THE CHILDREN OF BRABAZON HALLOWES AND ELINOR HALLOWES née GREEN.
---
[AAB] HERBERT CHAWORTH HALLOWES.
b. 23/6/1857 at Cilcain Vicarage. Educ. Hailebury, Exeter Coll. Oxford and St. George's Hospital, London. M.R.C.S.(Eng) 1881; L.R.C.P. (Ed) 1882. He went out to Australia c. 1882 and settled first at Launceston (where the Electoral Roll for 1888 gives their address St. John St.), then at Ulverstone, Tasmania. The family home there was at "Boskabel", South Road, both before and after their time a doctor's home (though now a bed and breakfast!) In 1907 he revisited England with his "eldest daughter" (presumably Geraldine). He d. 15/8/1912 at Cairns, Queensland.
He married 28/3/1883:
[AAB/1] ELIZABETH DUNCAN GARROWAY
d. of James Garroway of Glasgow. She died 8/12/1907 at Ulverstone (of kidney disease) while her husband was returning from a visit to England. Their Children (all born at Launceston), with their spouses, were:

[AABA] Georgina Evelyn	                 1884-1885
[AABB] Brabazon James	                 b.1885
   [AABB/1] Helena Harriet Poch
[AABC] Maud Elizabeth                    1886-1892
[AABD] Catherine Eleanor                 1887-1888
[AABE] Geraldine Chaworth                b.1890
   [AABE/1] Kenneth Waterhouse
[AABF] Dorothy                           b.1893
   [AABF/1] Vernon C. Brown
[AABG] Mary Louisa                       b.1894
[AABH] Herbert Francis	                 b.1897
   [AABH/1] Nancy Green
For information on the Hallowes Family of Ulverstone, the Compiler wishes to thank Mr. Craig Broadfield of the Ulverstone Local History Society, whose great-grandfather, Thomas Horsham, lived in a property backing onto the Hallowes'. (click here for his website and e-mail).
---
[AAC] MARY ELEANOR COLVILLE.
b. 14/11/1859 at Dyserth; d. at Tenby, 24/10/1942.
She married at Bolsover, 20/1/1886:
[AAC/1] THE REV. GERALD HENRY COLVILE b. 27/4/1859 at Leek Wooton, 3rd. s. of the Rev. Frederick Leigh Colvile, Vicar of Leek Wooton, Warwicks., and his wife Caroline Mary, d. of the Rev. William John Mansel. Educ. Uppingham; ChristChurch, Oxford; and Lichfield. Ordained deacon 1884 (Southwell), priest 1885. Curacies; Scarcliffe 1884-5; Lighthorne 1885-8. Vicar of Dodford 1888-95; Rector of Weston under Lyziard 1898; retired 1919 and lived at Barton House, Leamington, where he died 9/4/1922.
Their children, with their spouses, were:

[AACA] Mansel Brabazon Fienes                   1887-1942
   [AACA/1] Helen Marion Withers                1890-1923
   [AACA/2]  Constance Patricia Walker
[AACB] Geraldine Mary. b. Leamington. Died at Dodford 
                                  (probably young)
[AACC] Margaret Eleanor                         b. 1890
   [AACC/1] Rhodri Vaughan Lloyd-Phillips       b. 1874
[AACD] Evelyn May                               b. 1899
   [AACD/1] Eric James Banks Noyes              1894-1947
   [AACD/2] Valentine Gardner Clayton           b. 1898.
---
[AAD] MAUD LOUISE GRIFFITH
b. 7/10/1860 - d. 23/11/1897. She married, 7/10/1891:
[AAD/1] CHARLES WYNNE GRIFFITH
b. 5/8/1853, son of Charles Wynne Griffith and his wife Margaret Barbara. Educ. Cheltenham. Went out to Calcutta. They had no children.
---
[AAE] BRABAZON CHAMBRÉ HALLOWES
b. 9/4/1861 at Cilcain. Educ. Hailebury, then to Exeter College, Oxford: BA '86, MA '87; then took Orders. Curate of Holy Trinity Stroud 1887-8; Ault Hucknell 1889-92; Rector of Morcott (of which living he was also Patron) 1892-1905, and of Eastnor 1905-14, and by 1914 was Rector of Eastnor, Hereford. He died in the Great Malvern Hospital as the result of a motor accident, 28/9/1914. His executors were his brothers-in-law William Mather-Jackson and The Rev. Henry Skipsey Sanders; he left £2439/5/5.
He married 18/1/1894 at St. Nicholas', Guildford:
[AAE/1] CONSTANCE EMILY SANDERS
b. 1862 at Gosport, Hants., d. of the Rev. William Skipsey Sanders M.A., Rector of St. Nicholas'. She survived her husband and both of their children.
They were:



[AAEA] Geoffrey Francis Brabazon                1895 - 1943
[AAEB] Muriel Constance                         1897 - 1949
---
In the Census of 1901 (RG13/3018/22/4) all the family are at home at Morcott Rectory, with three female servants.
---
[AAF] GEORGINA CATHERINE MATHER-JACKSON
b. 1862 at Cilcain. (according to the Census; but L.A.W. gives 28/4/1863 at Glapwell). She died at Glapwell, 19/5/1932. She married 21/12/1892:
[AAF/1] WILLIAM BIRKENHEAD MATHER-JACKSON
b. 5/10/1864 in London, 2nd. son of Sir Henry Mather Jackson, 2nd. Bt., Q.C., M.P., and his wife Elizabeth, d. of Thomas Buddicom Blackburne; both families of Birkenhead. Educ. privately. He was Managing Director of various iron and coal companies; and also served in the Royal Monmouth Engineers, retiring as Captain, 26/5/1888. He was a J.P. for Derbyshire, and purchased Glapwell Hall from his half-brother in law Major Thomas Hallowes ([AAA]) in 1919. On the 30th. December 1934 he took his own life by drowning at Glapwell.
Their children, with their spouses, were:

[AAFA] William Brabazon                  1893 - 1917
[AAFB] George Christopher                1896 - 1976
   [AAFB/1] Victoria Emily Ford
[AAFC] Anthony Henry                     1899 - 1983
   [AAFC/1] Evelyn Mary Stephenson       b. 1897
Index
---
THE CHILDREN OF THE REV. DAVID PHILLIPS LEWIS AND LOUISA LEWIS née HALLOWES
---
[AGA] CAROLINE MARY EGERTON
b. 14/7/1854 at Bultington and died 20/5/1926 at Charlton Kings. She married, 21/6/1892:
[AGA/1] RICHARD EGERTON
b. 10/7/1844 at Cork, s. of Major General Caledon Richard Egerton and his wife Margaret, d. of Alexander Cumming of St. Vincent, West Indies. Educ. Westminster (Q.S. 1865) and Christ Church, Oxford. B.A. 1867: Admitted to the Middle Temple 26/4/1866; called to the Bar, 17/11/1869. In 1892 he took up an appointment as Resident Magistrate in Jamaica, where he died 6/10/1901. Richard and Caroline Egerton had one child, [AGAA] Caledon Richard Egerton, who died in London 28/6/1900, aged 5.
In the Census of 1911, taken on April 2nd., Caroline is found staying with her brother William in Pimlico, together with their mother Louisa.
---
[AGB] DAVID FRANCIS LEWIS
b. 21/10/1855 at Bultington. Educ. privately and at R.M.C. Sandhurst. 11/2/1875 Lt. in the Buffs. Capt. 20/2/1884; Major, Cheshire Regt., 14/1/1891; Bvt. Lt.Col. 18/11/96; Lt.Col. 18/1/99; Bvt. Col. 26/12/98. Half-pay 18/1/99: retired, 27/9/1900.
He served in the Zulu War of 1879, including the action of Inyazana and the defence of Etshowa, where he was wounded (Despatches, L.G. 16/5/79). A family letter mentions him being in Hong Kong in 1885. From 1886 he was attached to the Egyptian Army, taking part in the Sudan Expedition of 1888-9, including the actions at Gamaizah and Arguin. He commanded the Egyptian Brigade in the Expedition to Dongola, 1896; in 1897 he was in command in the action at Merowi. During the Nile Expedition of 1898 commanded an Egyptian Bde. at the battles of The Atbara and Khartoum; also at the defeat of Ahmed Fedil's army. For these services he was appointed CB, mentioned in despatches several times, and thanked by both Houses of Parliament. In the Nile Expedition of 1899 he organised the Flying Column and commanded the Infantry Bde. which resulted in the final defeat of the Khalifa. He was Governor of Sennaler 1899-1900. He was an extra ADC to the Queen 1900-1, and to King Edward 1901-5; and was selected for reward for distinguished and meritorious service, 3/8/1912.
After his retirement he was Correspondent for the Times with the French Army in Morocco in 1907, and with the Spanish Army around Melilla in 1909 (he received the Spanish Order of Merit). During the Great War he raised the 16th. Bn. of the Royal Warwickshire Regt., and was County Commandant of the Warwick Volunteer Corps from 1/9/1916, being mentioned in despatches yet again. He was a JP Warwickshire and Gloucestershire. He died at Hungerdown, Seagry, Chippenham, 2/21927.
He married, in 1910:
[AGB/1] EDITH MARION SMITH
d. and heir of Henry Smith, J.P., D.L., of Summerhill Court, Staffs, and his wife Marianne, d. and heir of Joseph Webb of Wordsley, Staffs; Lady of the Manor of Avening. They had no children.
---
[AGC] WILLIAM HENRY PHILLIPS LEWIS
b. 17/6/1859 at Bultington. Educ. at ( ) and St. George's Hospital, London; M.R.C.S., L.R.C.P. 1881. 4/2/1882, entered the A.M.S. (later R.A.M.C.) as Surgeon Captain. He served mostly in Egypt, where he took part in the Expedition of 1884 as M.O. to the 1st. Gordons and was present at El Teb and Tamal; and the Sudan Expeditions of 1884- 5 and of 1887-9, including the actions of Sarres, Arguin and Toski. He was twice mentioned in Despatches, L.G. 17/6/87 and 6/9/89. After some 20 years service he retired as a Major and practiced in Gower St., later Battersea (8 Gloucester St., Belgrave Rd. SW,) where he died, 16/12/1911.
Just sixteen days previously, on the 30th, November, he married by licence, at St. Gabriel's, Pimlico:
[AGC/1] ETHEL FLORENCE MARY HUSSEY
On the Marriage Certificate she is stated to be aged 31, a spinster, of no occupation, and living at 27 Denbigh Place. This is a boarding house just round the corner from Gloucester St. On the 1911 Census for that address, however, she is stated to be aged 25, occupation "HOS" (presumably House Servant). Her father (living at this date) is Ernest Henry Hussey, "Army Contractor"; one of the witnesses was Elizabeth Annie Hussey. The Doctor, practically on his deathbed, had married his housemaid. So far as is known, there were no children.
His death was the subject of an inquest at Westminster, 19/12/1911 (unfortunately Inquest Records from this period were destroyed during the Blitz) and he was buried next day at Brompton Cemetery. He died intestate and it was not until 23rd. April 1913 that his widow, still living in Denbigh Place, was able to obtain Administration; his estate then being valued at just £20/17/0.
---
In the grave adjacent to his in Brompton (section 8/7) is buried "General Charles A. Lewis, late Grenr. Guards, Col. of the North Staffordshire Regt, born 7th. July 1807, died 28th. January, 1904: also Mary his wife, born 4th. February 1828, died 14th. February 1913, aged 85." The propinquity cannot be coincidence; perhaps an uncle on his father's side.
---
[AGF] CHARLES EDWARD LLEWELLYN LEWIS
b. 6/5/1865 at Guilsfield. Educ at Brecon College, Merton College Oxford and Turrell's Hall. B.A. 1889. He went out to Canada and joined the R.C.M.P. He never married and died in Canada some time before 1932.
---
[AGG] AMY LOUISA LLOYD
b. 21/5/1867 at Guilsfield; and died 22/9/1932 at Ludlow. She married 26/4/1900, in London:
[AGG/1] EDWARD STANLEY LLOYD
b. 2/3/1868 at Ludlow, s. of John Lloyd of the Broad Gate, Ludlow, Solicitor, and his 2nd. wife Fanny Maria, d. of the Rev. ( ) Pinhorn, Rector of Brimsfield, Shropshire. Educ. Shrewsbury; admitted a solicitor in 1890. Died at Ludlow, 29/1/1940
Their children were:

[AGGA] Evan John Stanley                        1902-1924
[AGGB] George Hallowes                          b. 1904
[AGGC] Mary Louisa                              b. 1909
---
[AGH] CECIL HALLOWES LEWIS
b. 9/3/1869. Educ. Christ College, Brecon. After service in the Militia, he was commissioned 18/2/1891 into the Dorset Regiment. Lt. 11/1/1893: transferred to the A.S.C. 1/10/1893. Capt. 2/2/1898; Seconded to the Uganda Rifles as Company Transport Officer, 10/8/1898-22/10/1902, during which service he took part in the Nandi Expedition in 1900. He never married and died while on active service in France, 28/5/1915.
---
[AGI] ERNEST RICHARD HALLOWES LEWIS
b. 30/10/1873. He went out to South Africa and became a Mining Chemist. He died unmarried in Bulawayo in 1940.
Index
---
THE CHILDREN OF WILLIAM HALLOWES AND LOUISA COLEMAN HALLOWES
---
[AHA] BEATRICE FERRIER
b. in Natal 8/2/1863; and died at St.Andrew's, Fife, 21/7/1931. She married in 1897, at Amballa in India, as his second wife:
[AHA/1] THE REV.ALEXANDER FERRIER
b. 22/11/1850 in Aberdeen, s. of Alexander Ferrier, of Canada. Educ. Aberdeen G.S. and University. B.A.; M.A.; Ordained into the Church of Scotland, 1876. Between 1879-1899 he was an Army Chaplain on the Indian Ecclesiastical Establishment. He was first married c.1890 in Calcutta to Mary, d. of the Rev. James Chalmers Herdman. They had three daughters 1890-1894, the first of whom died young; and Mary herself died in Calcutta 7/3/1894, probably in childbirth of the last. After retirement Alexander lived firstly at Melrose, Roxburgh, then at St. Andrew's where he died 29/8/1934.
Their children, with their spouses, were:

[AHAA] Alexander James                         b. 1898   
   [AHAA/1] Kathleen McCready                  b. 1901
[AHAB] William Francis                         1899-1917
[AHAC] Beatrice Louise                         b. 1900
[AHAD] Donald Arthur                           b. 1902
   [AHAD/1] Laura Evelyn Jones                 b. 1903
[AHAE] Richard Hallowes                        1904-1906
[AHAF] Monica                                  b. 1905
   [AHAF/1] Rufus Lane
[AHAG] Lilian                                  b. 1906
   [AHAG/1] James Claremont Fleming
[AHAH] Silvia Hallowes                         b. & d. 1908
---
In the Census of 1901 the family is found at St. Mary's House, Melrose, Roxburgh. With Alexander, Beatrice and their first three children are the two surviving children of Alexander's first marriage, Isabella, aged 8, and Jessie, 7, both born in India. Three female servants, two of whom are sisters, complete the household.
---
The Herdman Family is being researched by Holly Adams (e-mail hollymckenzie@waitrose.com). Her information is on line at homepages.rootsweb.com/~hollyweb/herdman.htm

.
---
[AHB] FRANCIS WILLIAM HALLOWES
b. at The Curragh, 28/5/1866. Educ. Gainsborough G.S. Border Regt (Lt) 25/8/1886; Indian Staff Corps 20/9/1888. Asst. Comm. Gen. 4th. Class 1891; Dep. Asst. Comm. Gen. 1st. Cl. 1895. Captain, Indian Army, 25/8/1897; Maj. 25/8/1904; DADOS India 9/3/1910. Director of Military Farms 1/4/1912. Lt. Colo. 19/5/1912. T/Col 5/2/1918. Retired in 1920. He served with the Chitral Relief Force, 1895; with the Hazara Expedition of 1888; and in Somaliland, 1903-4. Despatches, LG 2/9/1904. C.I.E. 1918; C.B. 1920. - "being offered the K.C.B., which he refused owing to lack of means". In 1911 he was one of the massed 600 officers from Indian Regiments who took part in the Coronation Procession of George V. After retiring he settled at Otterhead, Ruiru, Kenya, where he died 10/5/1942.
He married, 26/1/1891, at St. Thomas' Cathedral, Bombay:
[AHB/1] MARTHA MUSGRAVE BEADON
b. 15/4/1869 at Sandgate, Kent, d. of Major-General Edward Musgrave Beadon of Gunville House, Hovethorne, Somerset, by Henrietta Richards, d. of Rear Admiral George Lloyd of the Grove, Haverfordwest. In 1911 she and Francis were visited in Dorsetshire by their brother Walter and his wife Ethel. She died 4/2/1949 at Fontmell Parva, Dorset, the home of her daughter Martha Bower.
Their children, with their spouses, were:

[AHBA] William Edward                         1891 - 1964
   [AHBA/1] Dorothy Lilian Irene Cattermole   1894 - 1986
[AHBB] Jack Walter                            1895 - 1967
   [AHBB/1] Katherine Grace Douglas
[AHBC] Martha Frances                         b. 1903
   [AHBC/1] Lancelot Syndercombe Bower        1895 - 1978
The family of Rear Admiral Lloyd is being researched by Warren Lloyd of near Calgary, Alberta, Canada, (e-mail: P59LLOYD@aol.com), who is in the sixth generation of descent from the Admiral's brother, John Lloyd.
---
[AHC] BERNARD HALLOWES
b. 5/10/1869 at Menawear in the Punjab. Educ. Gainsborough GS and Selwyn Coll., Cambridge. B.A. 1892; Ely College; Ord. deacon 1893, pr. 1894 (Ripon): M.A. 1896. Curacies: St. Mark's, Low Moor, Bradford 1893-4; Gt. Torrington 1894-1900. Vicar of Brackenfield 1900-5; Rector of Shirland 1905-14; of Langtree (Devonshire) 1914-45. Rural Dean of Torrington 1930-42. Retired 1945; d.10/5/1951 at The Limes, Beaminster, Dorset.
He married 25/4/1900 at All Saints, Invergowrie:
[AHC/1] GRACE CATHERINE THOMS
b. 6/4/1870 at Dundee, d. of Thomas Thoms of Fort House, Dundee, by Rachel. d. of () Duncan of Dundee. In the Census of 1901 Mrs. Thoms is found visiting her daughter and son-in-law at Brackenfield Vicarage; she was then aged 59, a widow, "born in India". Her grand-daughter Erica (b. 1934) writes of Grace Hallowes "she was rather forbidding, but always ill, so I never got to know her. One of her family is now Chief of the Clan MacThomas". She died at Bideford Hospital 8/4/1944.
In December 1927 they sent as a wedding present, a book, to their neice Martha when she married Lancelot Bower in Kenya.
Their children, with their spouses, were:


[AHCA] Rachel Louisa                        1901 - 1980
   [AHCA/1] Etienne Boileau                 1902 - 1985
[AHCB] Michael Duncan                       b. 1903
   [AHCB/1] Agnes Ursula Usborne            1909 - 1986
[AHCC] Austin                               1904 - 1935?
[AHCD] Thomas Eustace Brabazon              1906 - 1945
[AHCE] Grace Vyvyan                         1908 - 1998
   [AHCE/1] Edward Pellew-Harvey            1906 - 1994
---
Brackenfield Vicarage in the Census of 1901

The Rev. Bernard Hallowes and his wife Grace are at home, with their new baby Rachel, aged one month; and also Grace's mother, Rachel Thoms (see above). The household is completed by a cook and a housemaid.

RG13/3242/73R
---
[AHD] AGNES WILLIAMA ROBINSON
b. 3rd. August 1872 in Ireland. She married, 31/1/1905, at Estcourt, Natal:
[AHBC] CYRIL DEASON ROBINSON
her first cousin once removed, Canon of Pietermaritzburg. Further details are on his page.
---
[AHE] WALTER HAFFENDEN HALLOWES
b. 3/6/1873 at Futtehgurh, India. Educ. Wellington and Univ. College, Oxford. Linton Exhibition. Blue for Athletics and Swimming. Ely College 1895. Ord. deacon 1896, priest 1897 (Peterborough). Curate of Kettering, 1896-1900; then went out on the Missions. Noutu, Zululand 1900-1. Served as Acting Chaplain during the S.A. War. P. P. in C. Vryheid 1901-4; Kambula 1904-16; Hon. Chaplain, N. District Mounted Rifles, Natal. P. in C. Etalaneni, Nkandhla, 1918-30; Rector of Eshowe 1930-43. Canon of St. Peter's Pro-Cathedral, Vryheid, 1935-43. Lic. Preacher, Zululand, 1943. Lic. to officiate in the diocese of Natal, 1943, and Mombasa, 1946.
During the Great war he was T/Hon. Captain and Chaplain, South African Labour Corps, and went with them to France 1916-18. In retirement he lived with his son Kenneth at St. Chad's College, Ladysmith. He married in 1906, at Ladysmith:
[AHE/1] MARGARET ETHEL JOHNSON
d. of the Ven. Charles Johnson, Canon and Archdeacon, by Margaret, d. of Canon Jenkinson. A full biography, written by her husband, is on a separate page. She died September 1943 at Eshowe. Their children, with their spouses, were:

[AHEA] Charles Walter                         1906 - c.1982
   [AHEA/1] Nora Tittlestadt
   [AHEA/2] Jessie Archer
[AHEB] William Brabazon                       1908 - c.1987
   [AHEB/1] Diana Grace King-Magee
   [AHEB/2] Joan Scott
   [AHEB/3] Eileen Rowe
[AHEC] Francis Michael                        b. 1910
   [AHEC/1] Betty Mason                       b. 1915
[AHED] Kenneth Bernard                        1913 - 1995
   [AHED/1] Joan Dewey
[AHEE] Rupert Haffenden                       1916 - 1978
   [AHEE/1] Helen Chennels                    1916 - 2017
The Johnson Family of Pietermaritzburg is being researched by Carol Metcalf, b. Pietermaritzburg 1962 and recently returned to South Africa after some years in the U.S.A.. She is the grand-daughter of Kenneth Addison Johnson, brother of Margaret Ethel Hallowes née Johnson, whose grandchildren are therefore her second cousins. (e-mail carol.metcalf@tiscali.co.za)
---
[AHF] KATHERINE BRABAZON SCHILLING
b. 6/6/1876 at Landour, India. She married 4/8/1920, at Hagensborg:
[AHF/1] ADOLPH JOHANN SCHILLING
b. 3/7/1871 at Foralde, s. of Fritz Schilling of Finmark, Norway, and his wife Amalie; educ. at Lillehammer and Christiana. He went out with Katherine to British Columbia where he ranched cattle; they had no children and he died 25/11/1945.
In 1946 Katherine was living at 554 Vincent Avenue, Victoria, B.C. and was teaching at Queen Margaret's School, Duncan, Vancouver Island. Known as "Aunt Kitty". Her great-nephew Arthur Hallowes writes:
"She was a pioneer school teacher, she went by horseback to teach school, over the mountains from Anaheim to Bella Coola (in British Columbia). She wrote this (a short family history) when she was nearer 100 than 90, but she had a marvellous memory - a school teacher to the end. She was 100 when she died Nov. 11, 1977, she had reached 100 on June 6. She was very strict - (I) am glad that I was not a pupil of hers."

(William and Louisa Hallowes had a fourth son who died young in India.)
Index
---
THE CHILDREN OF HENRY HAMILTON PRATT AND ANNA BLANCHE PRATT née BONHAM
---
[BAA] JAMES BONHAM TOD PRATT
b. 9/2/ 1862; educ. Cheltenham (scholar 1875). Commissioned into the K.O.S.B. 22/1/1881; Lt. 1/7/1881; Capt. 10/5/1890. Adjutant 25/7/1884-1888. He served with the Chin Lushai Exp. Force 1889-90, and in the South African War. He was severely wounded at Paadeberg, but was later with the force which entered Johannesburg. He died there of fever, 23/6/1900, never having married.
---
[BAB] HENRY ARTHUR PRATT
b.29/9/1864; educ. Cheltenham and RMA Woolwich. Lieutenant Royal Engineers 15/2/1884; Capt. 30/5/93; Major 1/4/1903; Bvt. Lt. Col. Asst. Inspector A.O.D. 1/4/1898-1904; Inspector, Inspection Staff, 1904-08. He retired 7/11/1908 but returned to duty on the outbreak of war. T/Asst. Inspector Woolwich Arsenal 27/8/1914; T/Inspector 14/4/1916; later Chief of the Investigation Department. He died at The Castle, Parkstone, Dorset, 9/2/1938. His wife's ([BAB/1])given names were Frances Margaret Ethel; she died, also at The Castle, Parkstone, 13/10/1942. Arthur's will left everything to his wife, and there is no record of them having had any children.
Index
---
THE CHILDREN OF RICHARD DOWNER WEBB BOND AND LOUISA HERRIETT BOND née PRATT
---
[BCA] RICHARD PRATT BOND
b. 19/5/1856 at Taney. Educ. Cheltenham & King's College Hospital, London. L.R.C.P. (Edin) 1880. M.R.C.S. (Eng) 1881. Asst. H.S. Salop Infirmary; H.S. King's College Hosp.; Sen. R.M.O., Royal Free Hospital. He joined the A.M.S. as a Surgeon, 3/2/1883; afterwards Surgeon Capt.; then with the R.A.M.C. Major, 3/2/1895; Lt. Col. 3/2/1903; and retired 19/5/1911. He served in the Sudan in the Nile Campaign 1884-5, and with the Sudan Frontier Field Force, 1885-8, including the action at Gamaizah. In the South African War he took part in the advance on Kimberley, including the actions at Belmont, Enslin, Modder River and Magersfontein; then ops. in the Orange Free State Feb-May 1900, including Paadeberg 17-26 Feb. and actions at Poplar Grove and Dreifontein. He returned to active service with the Eastern Command R.A.M.C. during the Great War. Res. (1935) Woodside, Copthorne, Crawley, Sussex. He died suddenly at Cheltenham, 2/12/1935.
His wife's given names were ([BCA/1]) Louisa Elizabeth; L.A.W. says she was a widow. She died in London, 11/8/1949 (LAW; no registry entry).
---
[BCB] CHARLES JOHN BOND
b. 18/7/1858 at Taney. Educ. at Cheltenham and R.M.C. Sandhurst. Commissioned in the 22nd. Foot 1878; died unmarried at Allahabad, 23/12/1879.
---
[BCC] WILLIAM HENRY BOND
Born at Taney; nothing else known.
---
[BCD] LOUISA BOND
Born at Taney. LAW says she died unmarried at Cheltenham 19/2/1912, but there is nothing to support this in the register; it may be a confusion with her mother who certainly died later that year.
---
There is no record of any of Juliana Hallowes' grandchildren having had any children of their own, so with the death of Lt. Col. Henry Arthur Pratt in 1938 her line comes to an end.
Index
---
THE CHILDREN OF GEORGE SKENE HALLOWES AND LUCY ANNE HALLOWES née HOPE
---
[CFA] ELIZABETH BOYLE CARNEGIE, COUNTESS OF NORTHESK
b. 20/5/1871; died in London, 18/1/1950. She married, 3/2/1894, at St. Saviour's Walton St., Chelsea:
[CFA/1] DAVID JOHN CARNEGIE, 10TH EARL OF NORTHESK; Baron Rosehill, and Baron Inglismaldie.
b. 1/1/1865, s. of George John Carnegie, 9th. Earl, &c., by Elizabeth, d. of Admiral Sir George Elliott K.C.B. Educ. Eton. Served in the 3rd. Bn. Gloucester Regt; Captain 1888; Major 1904; Hon. Lt. Col. 1/8/1905. He was also on Hon. Captain in the Regular Army, 14/7/1901. But during the Great War he took the rank of Lt., R.N.V.R., serving with the RNAS. In 1889-91, and again 1892-95, he was ADC to the Earl of Hopetoun, Governor of Victoria. He succeeded his father as 10th. Earl 9/9/1891, and was a Representative Peer for Scotland from 1900. He was a Deputy Governor of the British Linen Bank; a Vice-President of the Scottish Equitable Life Assurance Society: a JP, and DL for Forfarshire. Res. Methie Castle, Arbroath; Longwood House, Winchester. The 10th. Earl died at Minstead Lodge, New Forest, 5/12/1921.
Their children, with their Spouses, were:


[CFAA] David Ludovic George Hopetoun (11th Earl)      1901-1963
   [CFAA/1] Jessica Ruth Reinhard, née Brown          b. 1985
   [CFAA/2] Elizabeth Vlasto                          b. 1906
[CFAB] Lady Katherine Jane Elizabeth                  1904-1949
   [CFAB/1] William Bridgeman Lambert Manley          b. 1899
   [CFAB/2] Edward Leathley Armitage                  b. 1891
---
[CFB] JOHN HOPE HALLOWES
b. 15/2/1873: educ. at Crieff. He enlisted in the ranks of the K.O.S.B. and served there for 2 yrs and 131 days, rising to Sergeant; then was commissioned 23/9/1896 into the Sherwood Foresters. Lt. 26/2/1898. Then to the Bengal Lancers of the Indian Army, 12/7/1899. Capt. 23/9/1905. Transferred to the 15th. Lancers (Cureton's Multanis). Major 24/9/1914: A/Lt.Col. 1/4/1918; Lt.Col. 23/9/1922; Retired 15/2/1923.
With the Sherwood Foresters he took part in the Tirah Expeditionary Force 1897-8, including the action at Dargai, and operations in the Mastura, Warah and Bazan Valleys. During the Great War he served with the Indian Forces in France. In 1940 he broke his neck while hunting, but recovered. Res. Knockbrack Grange, Oldcastle, Co. Meath.
He married, 10/3/1938, at Kentstown, Navan:
[CFB/1] OLIVE LILIAN ROSS
d. of The Rev. Professor Murphy of Rathcore, Enfield, Co. Meath, and widow of Dr. Charles Homan Ross of Brownstown House, Navan - which is where she and her second husband were living when their only child was born. She died 28/8/1970 at Kilcullen, Co. Kildare.
That child was:

[CFBA]  George Richard      1939 - 2007
   [CFBA/1] Veda Couzyn
---
[CFC] MARGARET RAMSAY HALLOWES
b. 1874. Killed by "enemy action" (?V2) at 3B Sloane Court, London SW3 July 1944. Executor of her father's Will.
---
[CFD] LUCY HOPE BAISS
b. 22/8/1878 in barracks in Plymouth. She married, 2/5/1908, at St. Jude's, South Kensington:
[CFD/1] REGINALD SYDNEY HABERSHON BAISS
b. 6/3/1873 at Belvedere; s. of Sydney Standring Baiss of Belvedere, Erith, wholesale export druggist, by Caroline Emily Gilbie, d. of William Gilbie Habershon of the Manor, Belvedere. Educ at Tonbridge, where he was four years in the First XI and Captain of Cricket; and Brasenose College, Oxford. Rugby Blue, 1894/5; Cricket, Oxford Trials; B.A. 1896. Afterwards he played cricket, rugby and hockey for Kent. He was a member of the London Stock Exchange 1901-26; and died at the Wellington Hotel, Tunbridge Wells, 2/5/1955. Will proven May 1955: £75,657 after duty. They had one son:


[CFDA] James Archibald                   1909 - 1984
   [CFDA/1]  Beryl Lovejoy Pritchett     b. 1904
   [CFDA/2]  (Unidentified)
---
[CFE] GEORGE SKENE HALLOWES.
b.1880. Educ. HMS Worcester. 1895 RN Cadet; 1897 Midshipman; 15/10/1900 A/Sub Lt.: 31/3/1903 Lt.; 20/6/1913 Lt. Comdr. War Service. LAW says he married before 1914 and had a son; if so, then both wife and son must have died before him. He died 23/6/1940, res. 174 Knightsbridge; he was intestate, and his sister Margaret took out Adm. for his estate, about £60, as she had earlier for his brother Sholto.
---
[CFF] SOPHIA HOPE GORHAM, later COMPTON
b. 10/11/1881, in Merchiston, a suburb of Edinburgh. Married, 1stly, at St. Jude's, Kensington, 1/12/1906:
[CFF/1] JOHN MARSHALL GORHAM
b. 25/11/1853, the son of Dr John Gorham MRCS (1814-1899), a general practitioner of Tonbridge, Kent, and his second wife Elizabeth née Harris (1829-1916). Educ. Tonbridge School, then served an apprenticeship of four years (1870-1874) to Messrs. Robey & Co. Engineers, Lincoln, qualifying as M. Inst. C.E. and M.I.E.E. During 1874-1880 He practiced as Engineering Assistant to the same firm, engaged on installations of Mining Machinery principally in England, Spain and France; in 1881 he represented Messrs. Robey at the Paris Electrical Exhibition; and during 1882-1883, on electrical installations at the Palaces of the King of Romania. Between 1884-1886 he acted as Works Manager to the Electrical Power Storage Company; then in 1886 went into partnership with Mr B. Drake under the style of Drake and Gorham, the firm being principally engaged as Electrical Engineers in connection with the lighting of Country Houses, Offices and Public buildings including Chatsworth, Wynard Park, Crewe Hall, the Prudential Insurance Co.'s offices, and New Scotland Yard. He died 12/1/1929 at Hawkhurst.
Sophia married 2ndly, in London:
[CFF/2] CUTHRED COMPTON
b. 2/7/1884; educ. Rugby, Trinity College Oxford and Wells Theol. College. BA (3rd. Cl. Eng. Lit.) 1906: MA 1910. Ordained deacon 1908 (Southwark), priest 1909 (Woolwich for Southwark). Curate of Richmond (Surrey) 1908-11, and of Haslemere 1911-17. T/Chaplain to the Forces 1917-18; Hon. C.F. 1920. Domestic Chaplain to the Bishop of Southwark 1918-19; Vicar of Sibertswold 1920-15, and of Hawkhurst 1925-45. Rural Dean of West Charing 1944-5. He died at Itchenor, 18/5/1952.
Sophia had no children of either marriage. However, when her great-niece Leila Popham, grand-daughter of her sister Countess Elizabeth, was left a widow, she set up a substantial trust fund of which Leila was the lifetime beneficiary, with reversion to the four daughters of Geoffrey and Marjorie Dimbelby, the grand-daughters of her sister Cecilia Brodie. She died in Chichester in 1969.
Rachel Thomas reports that Sophia was known as "Aunt Physie" in the family.
---

In 1908 John and Sophia Gorham took part in the Summer Olympic Games, held in Great Britain (they had been intended for Italy, but this was rendered impossible due to the economic chaos caused by the eruption of Vesuvius). In these games, Motorboat Racing was included, for the first and only time. The Gorhams entered their launch "Quicksilver" in the Small Boats class. Unfortunately they failed to finish, as did all the other boats in this class except for "Gyrinus II", helmed by Isaac Thorneycroft, son of Sir John Thorneycroft, who received the Gold Medal.

---
[CFG] ALEXANDER BOYLE HALLOWES
b. 17/8/1885. "Accountant Secretary". During the Great War he was rejected for Military Service several times on account of bad eyesight, but was eventually commissioned into the A.S.C. 8/2/1917. On 31/5/1917, before any service overseas, he was killed on duty in Hyde Park while exercising a horse. Res. 45 St. Charles Sq., Kensington. He had married, 19/6/1915, at St. Jude's:
[CFG/1] EVELYN DELICIA ALINE CARGILL
b. 18/7/1888, d. of Lt. Col. Sidney Cargill, 55th. (Border) Regt., of St. Charles Square, by Delicia Jane, d. of William Wyllis Mackeson Q.C. of Holland Park. Res. Fairlight Cottage, Anthonys, Woking. Alexander and Evelyn Hallowes had no children. She died 22/11/1971, at "Whitehanger", Fenhurst, Sussex, having been a widow fifty-four years.
---
[CFH] KENNETH SHOLTO HALLOWES
b. 11/71887 in London. 10/8/1915 commissioned T/Lt. 1st. Garrison Bn, Sherwood Foresters; 25/9/1917 T/Capt., Adjt. & QM, General List, New Armies. He died unmarried at Bembridge, I.o.W., (but res. 21 Wynnstay Gdns, Kensington) 28/7/1933. he was intestate and Adm. was granted to his sister Margaret.
---
[CFI] CECILIA GRANVILLE LEWIN BRODIE
b. 22/9/1888 at Earl's Court Road .According to a family tradition, she "made a mean chutney"! She married, 3/7/1915, at St. Jude's:
[CFI/1] EVAN WILLIAM BRODIE
b. 18/9/1884, s. of William Haig Brodie by Gilliam, d. of John Archibald Callender of Newton House, Lanarkshire. Educ. at Glenalmond; and became Departmental Manager for a firm of Merchant Bankers. They had one child:


[CFIA] Marjorie Haig                         1918 - 1977
   [CFIA/1] Geoffrey William Dimbleby        1917 - 2000
Evan Brodie died in the Isle of Wight, 26/9/1935; Cecilia in London, 4/10/1952.
---
THE CHILDREN OF FREDERICK WILLIAM HALLOWES AND GEORGINA MARIA HALLOWES, née HARE-TAYLOR.
---
[CGA] GEORGINA MARGARET HALLOWES
b. at Southsea, 20/11/1872. She married, 17/8/1920, at St. Peter's, Eaton Square, as his second wife, her father's first cousin:
[FG] EDWARD PRICE BLACKWOOD HALLOWES (1851-1923) qv;
- she being then 47 and he 69; they had no children. She died at Bournemouth, 1/10/1956.
---
[CGB] FREDERICK HARE HALLOWES
b. 1875 at Southsea. 1888, to "Britannia" as RN Cadet; 15/31891 Midshipman; 22/6/1897 Lt. 22/6/1905 Lt. Cmdr. on the retired list. Inspecting Offr., Coastguard Division, Deal, 19/12/1912. Recalled to duty on the outbreak of war; A/Cmdr Oct. 1819; retired as Comdr, 28/4/1920.
In February 1894 while a Midshipman in HMS Raleigh he served with the Naval Brigade at Bathurst, Gambia, during the punitive expedition against Fouli Silah, and received the GS Medal with the "Gambia" clasp. He was awarded the Silver Medal of the Royal Humane Society for an act of gallantry at Portsmouth, 23/10/1909 when "during a strong gale from NW, the Antrim picket boat, when half way from the harbour to Antrim dipped almost under, and two of the crew were swept overboard. Hallowes jumped in immediately and got to one of the men, just as he was sinking, and kept him (afloat) until assistance arrived". He died 16/11/1956 at Portsmouth aged 81, never having married.
---
[CGC] WINIFRED MAUD HARDY
b. 1879 in Southsea; another woman on whom we know nothing else but that: she married, in 1898:
[CGC/1] ERNEST CLIFFORD HARDY
b. 1866; educ. at Eastman's; RN 1880; Lt., 1/4/1890; Cmdr, 30/6/1903; Captain 30/6/1910; Retired as Rear Admiral, 1921; Vice Admiral (rtd) 1926. He served in HMS Achilles as Midshipman during the Egyptian War of 1882; later in the Hydrographic Dept. at the Admiralty. 7/8/1905, Asst. Hydrographer to the Navy. Res. Ebeney, Isle of Oxney, Kent.
---
So far as is known, Frederick and Georgina Hallowes had no grandchildren.
---
CHILDREN OF JOHN LOW AND CATHERINE LOUISA LOW née HALLOWES
---
[CHE] HELEN MARGARET JARDINE FOOT
b. 1871. She married, in 1903 in Montreal:
[CHE/1] ALFRED GORGES FOOT
b. 20/11/1867 at Dogmersfield, Hants., s. of the Rev. Cunningham Noel Foot, Rector of Dogmersfield, (formerly of Montreal) by Sophia Maria, d. of the Rev. Richard Frayle. Res. 10 St. Swithin's Rd., Bournemouth. They had no children. Alfred d. 14/9/1933.
---
(Not enough is yet known about John and Catherine Low's other children to make it worth while listing them on this page)
Index
---
THE CHILDREN OF THE REV. JOHN HENRY KIRWAN WARD AND HIS FIRST WIFE MARY COLEMAN KIRWAN WARD née HALLOWES
---
[DHA] MARY KIRWAN WARD
b. at Dresden 8/4/1855; on the 1891 census she is found at Asthall Vicarage with her father and step-mother. She never married and died at the Middlesex Hospital, London, 27/3/1919; and was buried at Asthall.
---
[DHB] LOUISA KIRWAN WARD
b. at Dresden 4/3/1856; she never married, died at Asthall 14/2/1897 and was buried there.
---
[DHC] WILLIAM HALLOWES KIRWAN WARD
b. 1/2/1857 at Dresden; educ. at Marlborough and Trinity College, Cambridge. B.A. (jun.opt) 1880. Assistant Master, Harlow College, 1880; Skreen College, Co. Sligo, 1883; Whitgift School Croydon, 1885-6. S. Lynn, Eastbourne for 1 year; in Germany for 7 yrs, then Aberdeen G.S. 1895-1900. Instructor in Classics, Mathematics and English at Cassell University. Took Orders in 1901 (Aberdeen); priest (Lichfield) 1904. Curate of St. John's Aberdeen 1901-2, and of St. Chad's, Smethwick, 1904-4. Lic. to officiate at Kingswinford, 1904; then the same year, Vicar of Asthall with Asthall Leigh, which had been his father's last living. There is a memorial to him in Asthall church. He died at Rayleigh, Essex, 30/3/1943.
He married, 5/6/1887, at All Hallows, Barking:
[DHC/1] ETHEL BAYFORD: b. 5/3/1870; died at Rayleigh, November, 1946. They had one son:
[DHCA] William Arthur Bayford, 1888-1915
---
[DHD] ARTHUR HENRY KIRWAN WARD
b. at Innsbruck 11/9/1858. Educ. Marlborough and R.M.C. Sandhurst. Commissioned into the 29th. (Worcestershire) Regiment; Lieutenant; died of typhoid fever at Mhow, India, 26/11/1879. He was unmarried. A full obituary appeared in the Marlborough School Magazine.

---
[DHE] EDITH KIRWAN WARD
b. at Marlborough 16/6/1858. Trained as a nurse at St. Bartholomew's and St. Mary's Hospitals. She attended the Duke of Clarence during his fatal illness, and the future King George V in 1891 and 1892; she became his preferred nurse, and while serving on hospital barges at Antwerp and on the Seine, was recalled to nurse him in 1915 after he had been badly injured when his horse rolled on him. She had earlier served in the South African War. She never married, and died in a nursing home in Woking, 13/3/1955.
---
[DHF] NORMAN FRANCIS KIRWAN WARD
b. 17/1/1862 at Tisbury. Educ. Marlborough G.S.; qualified as an Electrical Engineer, then worked first in Oxford and subsequently in Western Australia where he went in 1927. He and his family were Catholics. He died in Perth, W.A., 6/9/1944. He married 21/8/1898, at Ilford (?):
[DHF/1] BERTHA VAN DER HEYDEN
b. 30/8/1874 at Clapham, d. of Louis Francis van der Heyden by Rebecca Tombs. Their children, with their spouses, were:

[DHFA] Agnes Mary                             1899 - 1991
[DHFB] Philip John                            1900 - 1972
   [DHFB/1] Marjorie Pollard, née Verran      1911 - 1956
[DHFC] Joan Henrietta                         b. 1902
   [DHFC/1] Leslie Turner
[DHFD] Hugh Cyprian                           1903 - 1926
[DHFE] Ruth Mary                              b. 1905
   [DHFE/1] Cyril Harley Johnston             b. 1904
[DHFF] Francis Pancras Anderson               b. 1907
[DHFG] Edward Bernard                         b. 1909
   [DHFG/1] Helen Curtis Inkpen               b. 1913
[DHFH] Mary Esther                            b. 1915
   [DHFH/1] Thomas Richard Bowman Tapley      b. 1906
---
[DHG] BERNARD FREDERICK COLEMAN WARD
b. at Tisbury, March 1863; d. at Tonbridge, May 1863, aged 12 weeks, at about the same time that his mother also died. They were presumably staying with her father Thomas Hallowes, and it would appear from LAW's notes that the child was not given the "Kirwan" difference to his name, but "Coleman" as had his mother and all his aunts and uncles. Thomas himself was to die the next year. The child was buried at Tonbridge; these may be the evidence of some rift in the family.
Index
---
THE CHILDREN OF THOMAS BROWNE VAUGHAN AND AGNES VAUGHAN née HALLOWES
---
[DJA] THOMAS HALLOWES VAUGHAN
b. 22/11/1872 at Upton Vicarage. Educ. at St. George's, Harpenden. C. 1890 he went out to Florida, intending to grow Citrus, but the land he had acquired was unsuitable and he went to work instead on the Rock Island Railroad. Though he never acquired any formal qualifications he became a first-class Civil Engineer and was employed by Pearson Engineering, particularly in their Mexican Oilfields. A letter to him from Lord Cowdray (Weetman Pearson) is reprinted in the latter's biography. One task which frequently came his way was extinguishing blazing oil wells, and it was at least in part due to the effects of inhaling toxic fumes from these fires which forced his early retirement, firstly to New Mexico, then to Redlands, California, where he died 6/9/1922.
He married, 5/5/1907, at the Episcopal Church, Mexico:
[DJA/1] ELSIE PIPER
b. 1880 at Crofton House, Bedford, d. of John Peter Piper of Bedford by Mary Frances, d. of Joseph Donald. Her parents ran St. Anselm's, a Preparatory School for Repton. She died 20/6/1953 at 3 Bath Rd., Reading. Their children, with their spouses, were:


[DJAA] Richard Thomas                            1908-1966
   [DJAA/1] Blanche Innes Dickson                b. 1913
[DJAB] Margaret Lieischen                        b. 1911
   [DJAB/1] Geoffrey  Edgecombe Bennett          b. 1907
[DJAC] John Hallowes                             1913-1941
   [DJAC/1] Helen Margaret Hughes                b. 1910
---
[DJB] ARTHUR LLEWELLYN VAUGHAN
b. 28/5/1874 at Upton Vicarage. Educ. Christ's Hospital, Lincoln GS and St. Bartholomew's Hospital. M.R.C.S., L.R.C.P. 1899. Asst. House Surgeon, Royal County Hospital, Guildford; HS and HP, Norfolk & Norwich Hospital; later in practice at Diss, Norfolk. At the start of the Great War he joined the RAMc and was T/Lt, Nov. 1915, then T/Capt. Dec. 1916. Dec.1915-July 1916, M.A.C.; then Casualty Clearing Station at the Battle of the Somme. Mar. 1918-Jan. 1919, 5th. Field Ambulance. In 1917 he was co-executor (with his mother) of his uncle Richard's widow Eliza. He died 28/4/1955.
He married, 2/8/1904, at St. Peter's, Lowestoft:
[DJB/1] LOUISE EMILY NORTON
b. 22/8/1871 at Bungay, d. of Edmund Palmer Norton of Bungay by Hester Sarah, d. of Dr. Worthington of Lowestoft. They had no children. The two provided very welcome support to their nephews and nieces after the early death of his brother Thomas.
---
[DJC] GWLADYS MARY VAUGHAN
b. 5/4/1877 at Upton Vicarage. She taught private pupils in Lincoln, then went out as a Missionary to the Leper Settlement at Mkambati, East Pondoland, 1927-37; later she was in Mexico. She never married and died 12/6/1943 at 4, St. Giles Avenue, Eastgate.
---
[DJD] MILDRED AGNES VAUGHAN
b. 30/9/1878 at Heaphan Rectory. Asst. Mistress, Lincoln Training School, and Diocesan High School, Auckland, N.Z. On the outbreak of the Great War she joined the V.A.D. and stayed with them for the entire war. 1915, nursing at Woolwich, then with HM Hospital Ship "Aquitania" to Mudros. 1917-19, 20th. General Hospital, Camiers, France. Afterwards she shared the house at 4 St. Giles Avenue with her sisters and died there 25/6/1937.
---
[DJE] GERTRUDE GWENYDD VAUGHAN
b. 12/7/1880 at Heapham Rectory. Educ. Lincoln H.S. and Cheltenham Ladies College. 1903 Asst. Mistress, Queen Margaret's School, Scarborough; 1906 Diocesan High School, Auckland, N.Z. Served in the V.A.D. during the Great War; firstly in N.Z., then June1916-Jan. 1919, in France. In 1918 she lost a leg as a result of an accident at Etaples. She never married, lived in the same house as her sisters Gwladys and Mildred, and died there 17/4/1952. Her great-nieces remember her as telling them wonderful stories and stabbing knives into her wooden leg!
---
[DJF] HUGH CHRISTOPHER VAUGHAN
b. 16/6/1882 at Heapham Rectory. Educ. St. George's, Harpenden. Apprenticed to Ruston & Proctor of Lincoln and became a Civil Engineer; later worked with Morris Motors. In 1915 he enlisted in the Royal Engineers and served until 1919 in France. He rose to Sergeant and was mentioned in Despatches. He died 4/12/1936 at Guy's Hospital.
He married 14/12/1909, at a Registry Office in Calcutta:
[DJF/1] RUTH GERTRUDE MURRAY
b. 24/3/1883 at Lahore, d. of Edmond Hubert Murray by Delphine Bartells; believed to have been half- or quarter - Indian. She died 17/9/1956 at 5, Brookside, Headington Hill, Oxford. Their children, with their spouses, were:

[DJFA] Thomas Hugh
1911 - 1994 [DJFA/1] Lilian Dubber [DJFA/2] Esther Mizel, née Berger d. c. 1991 [DJFB] Peter Llewellyn 1920 - 1981 [DJFB/1] Anne Lucy Higgins b. 1920 Another family from which none of the daughters ever found a husband.
---
THE CHILDREN OF KEITH EDWARD COLEMAN HALLOWES AND ELEANOR HALLOWES née CARMICHAEL
---
[DKA] Jessie Agnes, b. 1870
---
[DKB] Eleanor Mary, b. 1872
---
[DKC] Frederick John, 1874-1890
---
[DKD] Arthur Edward, 1876-1945: married Annie Ellen
---
[DKE] NEIL ALBERT HALLOWES
b. 1879. As a young man he lived in Broken Hill NSW, where he worked for the Schweppes Company. Later he lived at Albury NSW where he met his future wife; in 1918 having by then moved to Croydon Park, Sydney, he set up Hallowes Cordials, the family business. It was eventually sold in 1999 though the brand name continues. In Croydon Park he built four houses, side by side, one for himself and one for each of his children, the whole extended family growing up together. For reasons so far unknown, he was always very secretive about his ancestry.
He married, 5/9/1908, at All Saints Church, Paddington, Sydney:
[DKE/1] DORA VIPAN DOWN.
b. 25/71886 at Geelong, Victoria, d. of Charles Boon Down and his wife (m. 1879) Sara Ethel Shepheard. (The Down Family Bible is in the keeping of their grandson Colin Hallowes.) Their children, with their spouses, were:

[DKEA] Kenneth Neil
1909 - 1986 [DKEA/1] Edna May Lovett d. 1999 [DKEB] Ethel Valda b. 1911 [DKEB/1] Gordon Lovett d. 1978 [DKEC] Cedric Shepheard 1914 - 1960 [DKEC/1] Alice Mary ("Joan") Perry 1913 - 1977 Neil Hallowes died c. 1955.
---
Grahame Down (e-mail: down.grahame@gmail.com), whose grandfather George Arthur Down was the brother of Charles Boon Down and hence uncle of Dora Vipan Hallowes, has extensive computerised material for the Down family in Australia and Devonshire, and would very much like to hear from anyone interested in this family.
---
[DKF] Flora Elsie, b. 1881
---
[DKG] Richard Carmichael, b. 1884
Index
---
THE CHILDREN OF JOHN MORTIMER DANCY AND JULIANA BLACKWOOD DANCY née HALLOWES
---
[EJA] MILLER HALLOWES DANCY
b. 24/6/1873 at Orange Mills. Educ. at Duval HS and Eastman's Business College, New York; then became an Insurance Agent. Res. 432 East Monroe St., Jacksonville. He died 11/9/1929 as a result of a motor accident en route from Florida to North Carolina.
He married, 5/6/1895:
[EJA/1] MILDRED CARRINGTON CLARK.
She died at Jacksonville, 29/5/1931. They had one child:
[EJAA] Caroline Hallowes, b. at Jacksonville, 18/12/1901. (1955) Unmarried and living in Richmond, Virginia.
---
[EJB] FLORA REED CHACE
b. 11/9/1875 at Orange Mills; died at Jacksonville, 21/4/1950. She married, 24/4/1894:
[EJB/1] FRANK WILBUR CHACE
He was from Rhode Island, an organist, conductor and composer; they lived at 813 Rossell St., Jacksonville. Flora divorced him in 1900. Their children. with their spouses, were:

[EJBA] Charles Adams               b. 1897
   [EJBA/1] Myrtle Brinson
[EJBB] Juliana                     b. 1900
   [EJBB/1] Edward Rumney Hammat   1898-1954
---
[EJC] ELISE HALLOWES GANAHL
b. 30/9/1876 at Orange Mills: and died at Jacksonville, 19/5/1910. She married, 3/12/1903, at Jacksonville:
[EJC/1] JOHN ADAMS GANAHL
b. at Augusta, Georgia; an insurance agent. They had no children.
---
[EJD] WINIFRED LANIER DRYSDALE
b. 4/9/1878 at Orange Mills. She married, 8/6/1899, at St. John's, Jacksonville:
[EJD/1] RICHARD DANIEL DRYSDALE
He served in the Spanish-American War with the 1st. Florida Regiment. Res. 813 Rosselle St., Jacksonville. Their children, with their spouses, were:


[EJDA] Winifred Lanier         b. 1902
   [EJDA/1] Walter Lynch
[EJDB] Richard Daniel, Jnr.    b. 1905
   [EJDB/1] Elizabeth Johnson  b. 1906
---
[EJE] LINA BLACKWOOD HAMPTON
b. 25/6/1880 at Orange Mills. She married, 16/12/1905, at St. John's, Jacksonville:
[EJE/1] ALFRED ERASTUS HAMPTON
b.4/5/1882 at Brevard, North Carolina, s. of Thomas Holland Hampton of Brevard by Ella, d. of Joseph Duckworth, also of Brevard. He was educated there and became an Insurance Rep. Res. 212 E. Main St., Brevard. He died 3/7/1944 at (?) Ashville, N.C. Their children with their spouses, were:



[EJEA] Thomas Dancy            b. 1910
   [EJEA/1] Martha Bishop Osborne

[EJEB] Alfred Erastus Jnr.     b. 1913
   [EJEB/1] Agnes Bruce Burks
---
[EJF] CAROLINE HALLOWES CROSSET, later DE SAUSSURE
b. 31/5/1882 at Orange Mills. Res (late '50s) c/o Mrs. Pomeroy (her daughter) Dowda Apts. Palatka, Fla. She married, 10/1/1905, at Jacksonville:
[EJF/1] EDGAR LEE CROSSET
b. 5/9/1875 at Moscow, Tennessee, s. of ??? Lee Crosset by Frances McClaren. An Attorney in the firm of Dowda and Millican of Palatka. He died at Orlando, Fla., 2/1/1926. Their children were:



[EJFA]  Harriet Mortimer          b. 1906
   [EJFA/1] Frank Pomeroy

[EJFB]  Edgar Lee                 b. 1919
   [EJFB/1] Agnes Sallas
After the death of her first husband, Caroline married, 2/10/1927:
[EJF/2] LOUIS M. DE SAUSSURE, Jnr.
There were no children of her second marriage.
---
[EJG] AGNES HALLOWES BOND
b. 20/1/1884 at Jacksonville. She married, 11/6/1907, also at Jacksonville:
[EJG/1] THOMAS SCRIVEN BOND b. 12/2/1885 at Darien, Georgia, s. of Joseph Bryan Bond of Darien, Lieutenant in the Army of the Confederacy, by Mary, d. of John Ashley Wragg of Charleston, S.C. Educ. at Darien. there. He was a Real Estate Broker, and served in the Home Guards during the Great War. Res. 202 American Buildings, Savannah, Ga. They had issue one son:

[EJGA] Thomas Scriven Jnr.             b. 1913
   [EJGA/1] Rubye Ricks                b. 1907
---
[EJH] ALICE GWYNN DAVIS, later JOHNSON
b. 31/5/1889 at Tallahassee. She married, 1stly, 6/12/1912 at Jacksonville:
[EJH/1] CHAIRES BOWMAN DAVIS
b. 29/2/1888 at Palatka, Fla, s. of George Washington Davis of Cedar Key, Penn., by Sarah Powell, d. of Thomas Butler Chaires of Verdun, Leon Co., Fla. He was a Bookkeeper, and also served for a time in the Marine Corps, reaching the rank of Corporal. He died 20/3/1930 at Jacksonville. Their children, with their spouses, were:

[EJHA] Eliza Dancy                     b. 1914
[EJHB] Chaires Bowman Jnr.             b. 1919
   [EJHB/1] Rozzie Lewis
[EJHC] Juliana Sarah                   b. 1921
   [EJHC/1] Thomas Stanton Wilson
[EJHD] Alice Mortimer                  b. 1925
   [EJHD/1] Chester Alfred Gillis Jnr. b. 1924
[EJHE] Bette                           b. 1927
   [EJHE/1] Newton Thomas Griffith     b. 1920
After the death of her first husband, Alice married 2ndly, 5/9/1932:
[EJH/2] EDWIN HOLTZ JOHNSON
He was a Building Contractor There were no issue of this marriage and Edwin Johnson died c. 1948.
---
ONLY CHILD OF THE REV. ABLION W. KNIGHT AND ELISE NICOL KNIGHT née HALLOWES
---
[EKA] ADA NICHOL RICHARDS, later HARPER.
Her first husband was:
[EKA/1] JAMES NEVILLE RICHARDS
He went to France with the A.E.F. in 1917 and is said to have been the first American Officer to have been killed in action. They had one (posthumous) child:

[EKAA] Elisa Knight
   [EKAA/1] Robert Allen McGill
   [EKAA/2] Perse Owen
   [ELAA] William Alexander Hallowes III (her second cousin)
Ada Nichol Richards subsequently married:
[EKA/2] THOMAS PRESTON HARPER
Res. 664 Oak St., Jacksonville. He died October 1952. The children of this marriage, with their spouses, were:

[EKAB] Thomas Preston Jnr.
   [EKAB/1] Marion Braddock
[EKAC] Ablion Williamson
---
CHILDREN OF WILLIAM ALEXANDER HALLOWES I AND LYDIA VIPONT HALLOWES née TELFAIR
---
[ELA] WILLIAM ALEXANDER HALLOWES Jnr.
b. at Jacksonville 11/9/1881. A Lawyer and State Attorney. He died at Philadelphia, 21/8/1933. He had married, 5/2/1905, at Nashville, Tennessee
[ELA/1] SARAH RHEA
b. 1881 at Murfreesboro, Tenn., d. of Douglas Rhea of Nashville. They had issue one son, who was three times married:

[ELAA] William Alexander III          b. 1906
   [ELAA/1] Penelope Cannon           b. 1907
   [ELAA/2] Mary Rankin Hunter
   [EKAA] Elisa Knight Owen 
     (his second cousin)
---
[ELB] CAROLINE MARY CARNES
b. 12/12/1883 at Jacksonville: she married (as his 2nd. wife) , 2/6/1931, also at Jacksonville:
[ELB/1] JESSE VINCENT CARNES
b. 26/2/1873 at Steubenville, Ohio, s. of John Carnes of Jacksonville by Elizabeth Oxtoty of Steubenville. He was a wholesale fish dealer, and died at Orange Park, 9/1/1938. They had no children.
---
CHILDREN OF WILLIAM ALEXANDER HALLOWES I AND ROSE HALLOWES née CHEVALLIE
---
[ELC] CATHERINE BRABAZON WALTERS
She married:
[ELC/1] HENRY EDWARD WALTERS
of Green Cove Springs. They had one child, a daughter who died in infancy: Henry died at Green Cove Springs 2/5/1955.
---
[ELD] LOUIS NICHOL HALLOWES
He was born 18/12/1889 at Jacksonville, Florida and ran away from home at the age of 18. During the Great War he served with the Australian Forces and was severely wounded. Later res. Mena, Arkansas. He married, November 1927, in Arkansas:
[ELD/1] LILY MAY MOORE
b. 1/3/1900 in Sulphur Township, Sebastian County, Arkansas, daughter of Franklin Nimrod Moore (1862-1903) and his wife Mary Ellender Pope (1869-1954).There was one child of this marriage:
[ELDA] Louis Nichol Jnr.                        1928 - 1987
   [ELDA/1] Georgette Golden Londo              b. 1930
   [ELDA/2] Susan Gibbs                         b. 1948
Lily May Moore had previously been married to John Eldridge Barry (d. c. 1960 in Oklahoma): they had two children, Ruby Edith (married name Brittian) and Melvin. Louis Nichol Hallowes died 21/8/1961 and Lily May 8/11/1984 at Santa Rosa, California. According to Lily's grand-daughter Terry Hallowes:
"She said her grandmother was full Cherokee Indian, but I've never been able to trace back to confirm this information because the courthouse that held her birth certificate burned down. She worked in a furniture factory during the war and spent her whole life dabbling in woodworking and carpentry along with quilting. She was 'infamous' in our family for never getting all the straight pins out of her quilts - we even found some a decade after she died."
Ms. Hallowes says she was born in Snyder, Oklahoma, as stated on her tombstone; but Shirley Manning, who is working on a history of Polk County, AR.(Website: www.menahistory.com and e-mail: mena@windstream.net) has found this family on the 1900 Census for Sulphur Township AR.
---
[ELE] ALEXANDRINE LOUIE EVANS b.1891; died 24/5/29 at Orlando, Fla. She married:
[ELE/1] WILLIAM SHERMAN EVANS
of Orlando, Fla:; served in WW2. They have issue:
[ELEA] Catherine Louise; married to Allen Weaver, they have issue a daughter, Alexandrine.
[ELEB] Rose Chevallie: married to Carl H. Schoene, 28/6/1949.
[ELEC] William Sherman Jnr.: married Sally Ruth Springle: they have issue two daughters, Elizabeth and (10/6/1950) Sharon Louise.
[ELED] (unidentified daughter).
---
[ELF] JOHN POST HALLOWES
b.1892, educ. University of Florida. During the Great War he joined the US Corps of Engineers, and remained with them until retirement in 1957. Res. PO Box 1070, Nashville, Tenn. He died at Madison, Tenn., 26/1/1958. He was twice married, firstly to:
[ELF/1] HARRIETT BROWN
The only child of John's first marriage was:
[ELFA] Harriett
   [ELFA/1] Frederick White Woodward
John married secondly:
[ELF/2] AILEEN PAIGE
Their children, with their spouses. were:
[ELFB] John Post Jnr.
   [ELAA/1] Jacqueline Webb
[ELFC] Thomas                                   1930-1997
   [ELFC/1] Bobbie Jean Hardcastle              b. 1931
[ELFD] David Michael                            b. 1943
---
[ELG] ROSE CHEVALLIE DOWNES b.1894. She married:
[ELG/1] WILLIAM ALBERT DOWNES Jnr. of Hanover, Mass. They have issue:
[ELGA] William Albert Jnr., Box 207, Hanover, Mass. During WW2 he served in US Navy Submarines.
---
[ELH] MILLER CHEVALIER HALLOWES
b. 1896 at Jacksonville. During WW2 he served as Chief Machinist's Mate aboard US Navy Submarines. He never married and died 5/1/1945 at Orange Park.
---
THE CHILDREN OF JAMES MONGIN HALLOWES AND FRANCES ELIZABETH HALLOWES née ATKINS
---
[EMA] MILLER HALLOWES IV
b. 1877 and d. 1945. He married:
[EMA/1] LILA BURR
Their children were

[EMAA] Walton Burr                           1911 - 2009
  [EMAA/1] Daurine McDougall                 1916 - 1980
  [EMAA/2] Christiane Driscoll, née +++
[EMAB] Frances                               1914 - 1978
---
[EMB] JAMES MONGIN HALLOWES Jnr.
He married:
[EMB/1] PRICE MORTON
They had one son:
[EMBA] James Mongin III                     1908 - 1985
   [EMBA/1] Blanche Marie Herbster          b. 1908
   [EMBA/2] Ethel Pedersen                  d. 2000
He is said to have been a policeman in Louisville, Kentucky. He died in the fall of 1944.
---
[EMC] JOHN NICOL HALLOWES
He was a Civil Engineer and "Awning Hanger", but the family were not well off. He married:
[EMC/1] EDNA MARIE BAILEY
It is not certain where they were living at the time of their marriage, or where the children were born; but they moved to Palm Beach Florida c. 1921. Edna died c. 1936; John of tuberculosis, 26th. March 1946 . Their children were:
[EMCA] John Nicol Jnr.                      1914-1967
   [EMCA/1] Sarah ++++                      d. 1977
[EMCB] Dorothy Elizabeth                    b. c.1919
According to their grandson Jim Cook there were another boy and girl who both died young in a "colic" outbreak, and a baby girl stillborn in 1927.
---
[EMD] VAN CLEVE HALLOWES
Known as "Skip". He served with the U.S. Army in Europe during the First World War, during which he contacted tuberculosis. He died in 1927. He married:
[EMD/1] NELLIE JONES
b. 13/2/1900. They had one Son:
[EMDA] Dale Van Cleve 
   [EMDA/1] Norma J. Hostetler.
After Skip Hallowes died, Nellie went to live in Littleton, Colorado. On February 13th., 2000, she celebrated her 100th. Birthday with a big party for more than a hundred family and friends; was shown a video of her life and received the customary greeting from the President. Three weeks later she died quietly in her sleep.
---
[EME] FRANCES ELIZABETH HALLOWES
Unmarried. Res. 2808 Cathedral Avenue, NW Washington, D.C.
---
[EMF] ADELINE VAN CLEVE HALLOWES
Died unmarried aged 18.
---
[EMG] LEWIS EDWARD HALLOWES
Known only by name from the IGI: not mentioned in Dr. Wilson's Notes.
Index
---
THE CHILDREN OF FREDERICK BLACKWOOD HALLOWES AND MARY ANN TAYLOR HALLOWES née HUTCHINSON
---
[FBA] MARY BLACKWOOD TATHAM
b. at Redhill, 1871; died 24/11/1915 at Abergavenny. She married, in July 1902, at Abergavenny:
[FBA/1] ARTHUR LEOPOLD TATHAM
b. 6/8/1868 at Preston, s. of the Rev. George Turner Tatham of Leek, Lancs. Educ. Manchester G.S., Caius College, Cambridge, and St. George's Hospital. Tancred Scholar, Cambridge, 1887; Science Tripos 1890. M.R.C.S., L.R.C.P. 1894; M.B., B.Ch. 1897. House Surgeon, House Physician, and Dental & Orthopaedic Asst., St. George's Hospital; also Hon. Phys. & Surg., Abergavenny Cottage Hospital. Res. The Tan House, Abergavenny; d. at Abergavenny, 1936. They had one daughter:



[FBAA] Margaret Rose
   [FBAA/1] George Whitehead
   [FBAA/2] Roger F. Powell
---
[FBB] WILLIAM BRABAZON HALLOWES
b. 5/6/1874 at Redhill. Educ. Haileybury; found there on the 1891 Census with his brother Frederick (RG12/1092/158). Managing Director, R. Byass & Co., Port Talbot. Rs. Ty Maen, Draycot Cerne, Chippenham. He died there, 6/11/1953.
He married, 19/12/1907, at St. Mary's Abergavenny:
[FBB/1] CONSTANCE EVA CARNEGY
b. 22/7/1878 at Cheltenham, d. of Major James Ogilvy Carnegy, Scots Fusiliers, by Mary Ellen Pemberton, née Dawson. In her later life she was blind. Res. (late 50s) Moor Cottage, Belstone, Okehampton, Devon. They had one son:



[FBBA] Frederick Carnegy                1910-1981
   [FBBA/1] Diana Barbara Marriott.     b. 1914
---
[FBC] FREDERICK CHAWORTH HALLOWES
b. 31/3/1877 at Redhill. Known as "Chang" within the family. Educ. Haileybury (see William, above); qualified as a Mining Engineer. After working in Northumberland, at the start of the Depression he went out to Spain and took an Engineering Appointment with Rio Tinto Zinc at Villiablino. He returned to the UK in 1935 and became Colliery Manager at Burradon & Cox Lodge Coal Co. Res. 2 Clifton Court, 26 The Avenue, Branksome Park, Bournemouth; he died 5/4/1967 at Branksome Park, Poole.
He married, 15/1/1908, at All Saints, Gosforth:
[FBC/1] ELSIE REAH
b. 26/9/1882 at Gosforth, second daughter of John Reah of Newlands, Gosforth, and his wife Elizabeth. She died in July 1970 and is buried at St. Nicholas' Kenilworth.
Their children, with their spouses, were:



[FBCA] Anthony John                          1913 - 1991
   [FBCA/1] Ruth Sissons
   [FBCA/2]  Pauline Cross
[FBCB] Margaret Mary                         1915 - 1916
[FBCC] Rupert Blackwood                      1920 - (pre 2016)
   [FBCC/1] Dorothy Frances Hutchison        1923 - 2004
---
[FBD] RUPERT PRICE HALLOWES
b. 6/5/1881 at Redhill. Educ. at Haileybury, then joined the firm of Harold Flower in Gracechurch Street. C. 1900 he enlisted in the 28th Regiment (Artist's Rifles) (No 1422). He had reached the rank of Sergeant before being commissioned on 26th October 1909. He resigned his commission 24th April 1910 when he moved to Wales to work for Robert Byass & Co and was appointed Assistant Manager of the Mansel Tinplate Works, Port Talbot (Aberavon) of which his elder brother William Brabazon Hallowes was the Manager. In 1908 he was admitted a Freemason; he was Boy Scout Instructor in Port Talbot and Assistant Secretary of the Boy Scouts Association there.
On 5th August 1914 he re-enlisted in the Artists Rifles, being promoted Corporal and Lance Sergeant two days later and Sergeant on 26th September. He crossed to France 29th December 1914, and on 7th. Feb. 1915 reverted to Private at his own request
On 5th. April 1915, following training at the Cadet School at Blendecques, St Omer, he was commissioned into the Middlesex Regiment and joined its 4th. Bn.12th April 1915. During the Battle of Hooge (Belgium) 19th/20th July 1915, he was awarded the MC when " during an enemy attack down a communications trench there was a shortage of bombs. He climbed out of the trench exposing himself to fire at the enemy and hitting several of them. He also assisted in constructing a block, dug out a communications trench under heavy shell-fire and rebuilt a parapet that had been blown in. Throughout the night he assisted in keeping touch and supplying bombs".( LG 6th September 1915.)
On 30th. September he was killed in action, and was posthumously awarded the Victoria Cross.
Buried initially in Sanctuary Wood, after the war his remains were moved to Bedford House Cemetery Enclosure No 4. His VC was presented to his mother by the King at Buckingham Palace on 29th November 1916; it is now held by the National Army Museum. Besides his major decorations, he was twice mentioned in despatches.
Like all too many of his generation, the only V.C. of the Hallowes line never married.
---
The Compiler has a digitised photograph of Rupert Price Hallowes in the uniform of the Artists Rifles. It is not on line, but can be sent by e-mail on request (108KB).
---
THE CHILDREN OF JOHN HEXT WARD AND FLORENCE CAROLINE BLACKWOOD WARD née HALLOWES.
---
[FCA] ARTHUR BLACKWOOD WARD
b. 1/7/1870 at Wandsworth; educ. Christ's Hospital, then adm. Pensioner, Selwyn College Cambridge, 1/10/1889. Classical Scholar (B.A. 1892). M.R.C.S, L.R.C.P. 1896; M.B., B.Ch., 1898. Ophthalmic House Surgeon, St. Bart's, 1896. Res. Henley on Thames 1897-1901, after which he went out to South Africa. Medical Officer, Grey College, Bloemfontein, 1902-14; Member, Orange Free State Medical and Pharmacy Council, 1905; President 1908-1914. He joined the South African Medical Corps and from 1914-15 was OC Medical Division & Nr. 1 General Hospital, Wynberg. He then went to the Western Front with the SA Expeditionary Force until 1919. T/Lt. Col. 15/3/1915; later T/Col. OC Nr. 1 SA General Hospital, France; DDMS, SA Expeditionary Force. M. in D.; D.S.O. 1917; C.B.E. 1919. After the War he remained in England (24 Westfield Court, Surbiton). Commr. Medical Services and DDG Medical Service at the Ministry of Pensions 1925-31; Medical Superintendent, Queen Mary's Hospital, Roehampton, 1932; Director of Emergency Medical Services, Ministry of Health. He died 11/3/1950 at Queen Mary's Hospital, Roehampton.
He married, 11/8/1902, at Capetown:
[FCA/1] ANGELA SUSAN DOROTHEA FINCH
b. 16/8/1878, d. of Henry Charles Finch, J.P. of Redheath, Herts., by Catharine Sophia, d. of Henry Sedgwick Wilde of Boreham Wood, Registrar of Bankrupts. Their children, with their spouses, were:

[FCAA] Doris Angela
b.1903 [FCAB] John Blackwood b.1907 [FCAB/1] Joan Wheeler [FCAC] Paul Kendal b.1910.
---

The Wilde family is being researched by David Daniell of Auckland, New Zealand (e-mail ddaniell@ihug.co.nz)


---
[FCB] BERNARD HALLOWES WARD
b. 4/1/1873. Educ. Bancroft's School, then entered the Royal Navy. Paymaster 13/6/1903; Paymaster Cmdr., 13/6/1909; Fleet Paymaster 13/6/1911. Captain (S). Retired. He served in the Great War, and was married, [FCB/1] but we have no further details.
---
[FCC] FLORENCE EDITH LAURENCE
b. 29/4/1874; educ. Draper's Co. School, Tottenham, and Girton. B.A. (Maths Tripos). She married:
[FCC/1] WILLIAM S. LAURENCE
"Merchant". They lived near Durban, and had no children.
---
[FCD] BASIL KENDAL WARD
b. 1/9/1875; Educ. at St. Paul's. He died at Capetown in 1934. He married, in 1909:
[FCD/1] AMY HANNAY. They had one child:
[FCDA] Robert Edward Kendal.
---
THE CHILDREN OF GEORGE BLACKWOOD HALLOWES AND LUCY MARY HALLOWES née LEACHMAN
---
[FDA] GEORGE PRICE BLACKWOOD HALLOWES
b. 12/4/1867 at Penrith; educ. King William's College, I.o.M.
He was an amateur astronomer of note, and was elected a Fellow of the Royal Astronomical Society in 1891. From his obituary in their AGM report of 1932:
"He entered the Surveying branch of the Postal Service and his chief spheres of duty were York (1894-1902), Harrogate (1902-1904), Dublin (1904-1909) and Shrewsbury (1909-1912). He retired, owing to ill-health, in 1912, residing for some time at Kingstown and for the last seven years at Colehill, Wimbourne (Dorset).
At the age of seventeen Hallowes began to take a serious interest in astronomy, and for many years devoted his time to the study of the Moon and, latterly, of variable stars. He was the possessor of a fine 12½-inch Culver reflecting telescope. He was a member of the British Astronomical Association."
Through his sister Lilian (see below) George made the acquaintance of Joseph Conrad. The author's second son John recalled receiving a present of a model yacht from him; and in January 1913 Conrad wrote to Commander A.E. Loder, Secretary of the London Sailor's Home:
"I have a friend Mr. G. Hallowes a post-office official who has been ordered a long sea-voyage for his health. Is it possible nowadays to get a passage to Australia in a sailing ship from London? He would be ready to start in April."
---
He married, 7/6/1893, at St. Martin's, Brighton:
[FDA/1] LILIAN MAUD VALLANCE CARY
b. 28/5/1870 in Brighton, second d. of the Rev. Lucius Ormsby Cary, Vicar of Brenzett in Kent. "Vallance" was her mother's maiden name.
Their children, with their spouses, were

[FDAA] Muriel de Vallance                 b. 7/3/1894, York district; 
                                              died there, 17/4/1894.
[FDAB] Francis Brabazon                  b. 1895
   [FDAB/1] Jessie Mary Godfrey          b. 1896
[FDAC] Mildred Lilian                    b. 1897
   [FDAC/1] Frederick Charles Wall       b. 1891
[FDAD]  Malcolm George                   1899 - 1989
   [FDAD/1] Hilda Mary Walton            1904 - 1969
---
On Tuesday October 27th, 1931, a General Election was held. In the early afternoon George and Lilian Hallowes left "The Sheiling", their Colehill home, in their small red Triumph car to drive to the polling station. Three other ladies joined them as passengers. At a crossroads near Lytchett they collided with a larger Chrysler car and were thrown off the road. Husband and wife were taken to the Cornelia Hospital in Poole. Lilian Hallowes died two days later from a skull fracture; George succumbed to blood poisoning and the shock of his wife's death on November 11th. At the Inquest (see attached report) in Poole on Wednesday November 19th., the Jury returned a verdict of Manslaughter against the driver of the other car, Mr. Lionel Liddell, local manager of an oil company. George's executors were his children Francis, Frederick and
---
The Conservative Party led by Stanley Baldwin won a sweeping victory in the Election, winning 326 seats. However Ramsay MacDonald remained Prime Minister in the National Government. This was the last election (to date) in which any party gained a majority of the votes cast, and the last held on a day other than Thursday.
---
The Census of 1901

George and Lillian Hallowes are at home at 48 Queen Anne's Road, York, with their three surviving children. The household is completed by a cook and a housemaid.

RG13/4436/37
---
[FDB] WARREN HALLOWES
b. 20/9/1868 at Penrith; educ at Carlisle and Bedford. Like his father and brother, he worked in the Post Offce. By the end of his life he was an "Assistant Surveyor General". In 1901 he is found on the Census (RG13/2465) at Cambray Place, Cheltenham. He never married.
On 26th. October 1905 Warren Hallowes shot himself with a revolver in a train approaching Beckford in Gloucestershire, where his body was discovered (see attached reports). Two days later an inquest returned a verdict that he had committed suicide while the balance of his mind was disturbed. He died intestate and his mother was obliged to take out Letters of Administration; he left just £447.
---
[FDC] LILIAN MARY HALLOWES
b. at Penrith, 6/4/1870; died in Bournemouth, 17/10/1950.
---
Lilian Hallowes never married and earned her living as a professional secretary and typist. She would by now be long forgotten had she not gone to work for the celebrated author Joseph Conrad ("Nostromo", "The Secret Agent", "Heart of Darkness", &c.). As a result of this her life has been extensively researched by members of the Joseph Conrad Society (UK), in particular by David Miller, a literary agent, on whose 2005 paper to the Society "Amanuensis; A biographical sketch of Lilian Hallowes" most of which follows is based.
Following the early death of her father in 1883, Lilian was left to look after her mother, and in 1901 was living with her in a boarding house for ladies off the Brompton Road. Nothing else is known about her until 1904, apart from the fact that she had by then acquired the skills of a professional Stenographer.
In January of that year Jessie, the author's wife, was badly injured in a fall while out shopping. She had been taking dictation of "Nostromo", then almost complete, but was now unable to continue, so Conrad's Agent engaged a replacement from a Typing Office. Lilian Hallowes arrived and adapted herself so well to Conrad's difficult personality and working methods that within a short time she had been taken on as his secretary. She worked for him during 1904-05, then for a few months during 1908 and 1911. In 1917 following the death of her mother Lilian returned to Conrad's employment and remained there more or less permanently until the author died in August 1924. By then she had long been fully part of the Conrad entourage; she accompanied the family at least twice on holidays to Europe, and is noted as having escorted the Conrad children about town; while her brother George had made her employer's acquaintance (see above). During this period she also worked for other authors, one of whom may have been Daisy Ashford, author of "The Young Visiters".
She attended Conrad's funeral but does not seem to have maintained contact with the family afterwards. She moved to Godalming, and died aged eighty-one at the China Hall Hotel in Bournemouth, 17/10/1950.The author's elder son Borys describes her very circumspectly in his memoir of his father; after her death a number of Conrad's manuscripts, affectionately inscribed to her by the author, were discovered among her possessions.
---
Lilian Hallowes is one of the principal characters in "Today" by David Miller (Atlantic Books, 2011), a fictional account of the days surrounding the death of Joseph Conrad in 1924; and in "Dictation: A Quartet", a collection of short stories by Cynthia Ozark (Mariner Books, 2008).
---
THE CHILDREN OF ADOLPHUS HENRY BLACKWOOD HALLOWES AND ELIZABETH HALLOWES née HOAR
---
[FEB] DOROTHY GEDGE
b. 13/4/1877 at King St., Maidstone. She married, 12/6/1901, at All Saints, Maidstone:
[FEB/1] ARTHUR SIDNEY GEDGE
b.1/11/1868 at Harrogate, s. of The Rev. Johnson Hall Gedge, Rector of Honington, Suffolk, and his wife Jane. Educ. Merchant Tailors and St. Thomas's Hospital. M.R.C.S., L.R.C.P. 1892; Asst. Medical Officer, Kent County Asylum; M.O. and Public Vaccinator, Wiltshire - 16 & 17 Districts (Devises). Res. Martinsell, Wishing Tree Road, St. Leonards on Sea. Their children, with their spouses, were:


[FEBA] Mary
b. 1902 [FEBA/1] John McNab Humphry b. 1807 [FEBB] Barbara b. 1908 [FEBB/1] Herbert Reginald Harrison b. 1906 [FEBC] Patience b. 1910 [FEBC/1] Richard Ashley 1902 - 1974
---
[FEC] ARTHUR HALLOWES
b. 17/4/1878 at King St., Maidstone. Educ. Epsom College and St. Bart's. M.R.C.S., L.R.C.P. 1905; House Surgeon, Norfolk and Norwich Hospital, 1905. He never married and died at his father's house in Maidstone, 21/12/1907. The dates speak for themselves.
---
[FED] WINIFRED FAIRBAIRN
b. 22/5/1879 at King St., Maidstone; and died at St. James' Court, Buckingham Gate, 23/6/1946. She married, 17/8/1920 at St. Peter's, Eaton Square:
[FED/1] JAMES FAIRBAIRN
b. 1/5/1873 in Edinburgh. s. of James Fairbairn, the Scottish Philanthropist, and nephew of Dr. Andrew Martin Fairbairn, founder of Mansfield College, Oxford. Educ Royal High School, Edinburgh. He lived for some years in South Africa, and later became one of the pioneers of Rubber Growing in the Dutch East Indies. As such he was for some time Chairman on the Council of Rubber Growers Association, of the British Rubber Publicity Assn., and a member of the International Rubber Propaganda Committee. Among his other appointments were: Member of the Council of Mansfield College; Chairman of the Mansfield House University Settlement, Camden Town; Member of the Board of Management of Great Ormond St. Hospital, and Vice Patron; Vice-Chairman of the Institute of Directors; Director of the British Rubber Development Board; Vice-President, Finance Committee, Member of the National Council, and Vice-President, Y.M.C.A.; Member of the Executive of Friends of the Poor, and of the Appeal Committee, Family Welfare Society; Director, Deli Estates Engineering & General Union Ltd., Rubber Roadways Ltd., W.K. Syndicate Ltd; and Vice-Chairman of United Serdang (Sumatra) Rubber Plantations Ltd.
After the death of his first wife he married 2ndly, 27/11/1946, at St. Peter's, Eaton Square; Helen McFarlane Hamilton, formerly of Ootacamund, d. of W.W. Clealand of Bothwell. He died at St. James' Court, 7/6/1950.
The only child of James and Winifred Fairbairn was:

[FEDA] Michael James Hallowes                   b.1921
   [FEDA/1] Beatrice Margaret Greenlees         1927-1957
---
[FEE] BLACKWOOD HALLOWES
b. at King St., Maidstone, 8/5/1881; educ. Magdalen College School, Oxford. He never married and died at Krugersdorp in the Transvaal, 21/7/1910.
---
[FEF] MURIEL STENNING
b. 4/9/1883 at King St., Maidstone. In 1927 she was granted Probate of the Estate of her father, and in the next year Administration of that of her mother, who had died Intestate. She herself died 28/2/1942 at St. Leonards on Sea. She married, 9/4/1913, at All Saints, Maidstone:
[FEF/1] FREDERICK GEORGE STENNING
b. 4/5/1873 at Maidstone, s. of Frederick Stoveld Stenning of East Grinstead, by Sarah Maycock. Educ. Merchant Taylors (Captain of Cricket) and St. John's College, Oxford. Admitted a Solicitor 1897. During the Great War he was secretary of the Kent War Pensions Committee. He died at St. Leonard's on Sea, 24/5/1955. Their children, with their spouses, were:

[FEFA] John Hallowes                         b.1914
   [FEFA/1] Doris Mary Laura Pew             b. 1913
[FEFB] Peggy                                 b. 1916
   [FEFB/1] Geoffrey Victor Bucknall         b. 1907
---
[FEG] MARJORIE WARING
b. 13/12/1885 at King St., Maidstone. Her daughter Elizabeth writes:
"She was trained as a singer and had a beautiful, pure soprano voice. She also played Hockey for Kent, and was very good at Tennis; surprisingly for one remembered as a quiet, gentle person, she was also an excellent shot on a rifle range. Her husband, who ran the Army Rifle Association for many years, got her a first-class rifle."
She married, 10/4/1912, at All Saints, Maidstone:
[FEG/1] HENRY ARCHIBALD WARING
b. 20/3/1882 at Farningham, Kent, s. of Arthur Thomas Waring J.P. of Woodlands, Chelsfield, Kent, by Agnes, d. of Daniel Birkett of East Hall, St. Mary Cray. Educ. Eton where he took all the Classics prizes; then passed 1st. into the Army.
He enlisted with the 3rd. West Kent Regt 21/1/1901 and during the SA war served with them in the Mediterranean. When given his commission (7/5/1902) it was antedated to 17/12/1901. Lt. 30/5/1904; Capt. 26/3/1913; T/Major 21/5 - 19/11/1916. Major 17/12/1916; A/Lt. Col. 17/5/1917-14/5/1919; Bvt. Lt. Col. 3/6/1919; Lt. Col. 30/8/1922; retired 28/8/1924.
He was Adjutant of the 3rd. Bn. 22/1/1912 to 25/11/1915, then on the Western Front 1/3/1916-7/5/1917. 17/5/1917-1/7/1918, CO 1/5 Lincolnshire Regt. 2/7/1918-14/5/1919, Instructor, Senior Officers School - being A/Lt. Col. during both these appointments. Twice mentioned in Despatches; D.S.O. 1918.
After the Great War he was Instructor, Junior Commanders School 1/7/1919-29/2/1920; then Officer, Company of Gentlemen Cadets 1/3/1920 until his retirement. On the Outbreak of WW2 he was re-employed and served throughout the war in MI5. G.S.O.3 29/3/1940; G.S.O. 11/2/1943. Throughout 1924-1947, except the war years, he was Secretary of the Army Rifle Association. Res. Stonewall, Langton Green, Tunbridge Wells. Elizabeth writes "(He) was not in the least 'military' - he loved poetry and wrote quite a a lot. He had a great sense of humour, and was a splendid companion. He enjoyed, and was good at, cricket and tennis."
Henry and Marjorie Waring's Children, with their spouses, were:

[FEGA] Arthur Roy Hallowes                   1913 - 1984
   [FEGA/1] Pamela Smythe                    b. 1919
[FEGB] Elizabeth Agnes Hallowes              b. 1916
   [FEGB/1] Charles Alfred Godfrey Nichols   1898 - 1986
[FEGC] Henry Blackwood Hallowes              1919 - 2005
   [FEGC/1] Myra Jean Hoare                  b. 1930
[FEGD] Violet Mary Hallowes                  1919 - 2000
   [FEGD/1] Geoffrey Charles Moffat Spry     1904 - 1965
Henry Waring died in 1957 and Marjorie in 1969.
---
THE CHILDREN OF Cmdr. WILLIAM PARKER, R.N., AND EDITH LOUISA BLACKWOOD PARKER née HALLOWES
---
[FFA] BRABAZON PARKER
In 1914 when war broke out he was in Canada; he enlisted in the Seaforth Highlanders and came over to the Western Front. Later he was commissioned (A/Lt.) in the Cheshire Regiment. Sometime in 1915 or early 1916 he was killed in action. He never married.
---
[FFB] EDWARD BERTRAM PARKER
b. 28/11/1884. He joined the RN and was granted Pilot's Certificate nr. 415 in the R.N.A.S.; but was invalided out of the service in 1914. He then became London Manager of Short Bros. of Rochester, Aeronautical Engineers. Res. Coolinge, Smoke Lane, Reigate. He died at Reigate, 28/12/1926.
He married, 1/6/1915, at Nassau in the Bahamas:
[FFB/1] EVELINE VICTORIA HERVEY
b. 7/3/1887 at Bournemouth, d. of George Henry William Hervey of Teddington (who was s. of Lord Arthur Charles Hervey, Bishop of Bath and Wells) and his second wife Mary, d. of William Wells Cole of Lincoln. Their children were:


[FFBA] Thelma
b. 1916 [FFBB] Sylvia 1917-1940 [FFBC] Robin b. 1918 [FFBD] Pamela b. 1921
---
THE CHILDREN OF EDWARD PRICE BLACKWOOD HALLOWES AND AMELIA WILKIE HALLOWES née PEREGRINE.
---
[FGA] SAGE PEREGRINE UNWIN
b. 18/8/1882 in Paddington; and died at Fleet, Hants., 18/1/1911. She married, 26/1/1904, at St. Peter's, Cranley Gardens, SW:
[FGA/1] GUY HAROLD UNWIN
b. 17/1/1875 in Rio de Janeiro, s. of John Owen Unwin (1847-1928) by Frances (Ginty). Educ. St. Paul's. His grandson Roger Ellis writes:
"Guy had been sent abroad by his father some time during the First World War, and nobody spoke of him, or confessed to knowing what had happened. He never returned. My mother and her two brothers were brought up by their grandparents." However the eminent genealogist Lorton Alexander Wilson must have had some contact with him; he records his death in Vancouver B.C., 10th. April 1937 and his burial there. This has since been confirmed by the family.(LAW also describes him as a "merchant" and says that he and his wife were known as "Sage and Onions".)
Their children, with their spouses, were:

[FGAA] Edward Owen                        1905 - 1941
   [FGAA/1] Vivian Margetts, née Stock    1907 - 1978
[FGAB] John Harold                        1906 - 1970
   [FGAB/1] Elizabeth Strong Henderson    1919 - 1997
[FGAC] Pamela Sage                        1909 - 1994
   [FGAC/1] Cecil Montague Ellis          1894 - 1942
   [FGAC/2] Charles Dalrymple Gairdner    1898 - 1979
---
[FGC] EDWARD PRICE HALLOWES
b. 8/7/1886 in London. Educ. Haileybury. He was commissioned T/Lt. 1/1/1915 in the 18th. Bn. Royal Fusiliers (1st. Public Schools Bn.), and later was attached (28/12/1915) to the 28th Bn. 6/6/1917, Asst. to O in C Records, M.G.C. T/Capt. 1918. After the war he entered the family wine business, then known as Hallowes and Tosetti. Becoming sole partner in 1925, he merged the company with Twiss & Brownings, their business subsequently trading as Twiss & Brownings & Hallowes of Water Lane, EC3, of which he eventually became Chairman and Managing Director. He was Middle Warden of the Worshipful Company of Distillers in 1944; and Master in 1930 and 1946. He was also Master of the Worshipful Company of Loriners in 1948. In 1952 Twiss & Browing & Hallowes amalgamated with Justerini and Brooks to form United Wine Traders, of which he became Vice Chairman. He finally retired from the business in 1959.
During WW2 he served with the Pioneer Corps. EC Lt. 9/9/1940; Adjt. 2/7/1841; T/Capt. 2/10/1941.
He married, 20/6/1916, at St. Columba's, Pont St.:
[FGC/1] AILEEN MACLEOD
b. 18/8/1893 at Adelaide, South Australia, d. of David Thomas Macleod M.B. by Bessie, d. of Robert Cullen. They had one son:

[FGCA] Geoffrey Macleod                                      1918 - 2006
   [FGCA/1] Odette Churchill, formerly Sansom, née Brailly   1912 - 1995
---
[FGD] GEOFFREY BLACKWOOD HALLOWES
b. 2/9/1887 at Bath; educ. Wellington. On the outbreak of the Great War he enlisted in the 20th. Royal Fusiliers (Public Schools Bn.) and was commissioned 1/1/1915 in the Royal West Kent Regt. He never married and was killed in action on the Western Front, 3/9/1916.
---
THE CHILDREN OF WILLIAM ALEXANDER TOOKE HALLOWES AND LOUISE HALLOWES née MINNS
---
[GAA] SYDNEY MINNS HALLOWES
b. 1877. An Artist, he exhibited Landscape Paintings at the Royal Academy Summer Exhibitions of 1900, 1901, 1902, 1904, and, lastly, 1908; his address being given as Heathfern Lodge, Heathside, Hampstead NW., his parents' home at the time. (These are the only entries in the Catalogues for anyone surnamed Hallowes.) However when he died, 20/12/1948, at Barton Mount in New Milton, which had been his parents' last home, his description in the London Gazette was "Gentleman of no occupation". He never married and died intestate; his brother Charles was granted Administration of his estate.
---
Early in the new Century, Sidney Minns Hallowes purchased a 1903 Model Argus Motorcycle, one of the first made, and registered it in Hampshire as AA476. When he moved into the house in Barton Mount with Vernon and Beatrice it was re-registered as LC1830. It was still in his possession when he died in 1948.
In 1959, Don Rickman (e-mail donrickman@sky.com) and his brother Derek discovered the machine in a scrap yard in New Milton. Mr Dunford, the owner of the yard, told them that he had acquired it after the last of the Hallowes left their New Milton home in 1958, when he had emptied out their garage. Beside the motorcycle, it had also housed a Model T Ford which had already been sold. The motorcycle was in good enough condition for Don to show it to Bud Ekins, the stunt man who jumped the fence for Steve McQueen in The Great Escape in 1963. Bud wanted to buy it for £2000, but Don declined the offer. He dismantled the machine and stowed it away, and it was not until until the winter of 2012 when he started the endless hours of polishing off all the rust, ready to be replated in 2013. Larry Eriksson did all the paint work and Jim Devereux took care of all the mechanical repairs. Jim rebuilt the engine and fitted a modern ignition system to make it reliable. Don rode it in the 2014 and 2015 pioneer runs, not before he'd fallen off a few times getting used to riding a bike with no gears, no clutch and particularly high off the ground. Jim demonstrated it at the Ariel owners club rally 2016. Don has since ridden it in a couple of local road runs too.
---
The Compiler is indebted to Don and Julie Rickman for this information. Their photograph of this magnificently restored machine is available as a download if requested.
---
[GAB] CHARLES ARTHUR HALLOWES
b. 29/1/1872. Educ. University College School. A solicitor; partner in Peake & Co., 6 Bedford Row, London WC1. He was administrator of the estates of both his brothers. Res. Lymington Rd., New Milton. He married in May, 1903:
[GAB/1] HILDA MARGARET OSBORN.
b. 3/4/1876 at Crosshaven, Co. Cork, d. of Colonel Edward Colet Osborn, R.E., and his wife Anne Margaret, d. of William Cox, J.P., of Cork. She died at Mitcham, 19/12/1941. They had one daughter:

[GABA] Margaret Brabazon            b.1907
---

A friend of Diana Hallowes, wife of Guy Hallowes, writes: "I have an attractive watercolour bought at a local auction several years ago. It is signed C A Hallowes. The painting I think depicts a scene in the Himalayas and from the style painted between the first and second world wars. It shows a range of mountains in the back ground and to the forefront are green hills and rhododendrons. It has little value but I wondered if this was a relative of Diana Hallowes? It would be interesting to know as if this linked with family history she may wish to know that she had a relative of that era who was also an artist."


---
[GAC] VERNON BUXTON HALLOWES
b. 14/9/1880 at 161 Gloucester Rd., Regents Park. Educ. Heath Mount School & Caius College, Cambridge; he stayed there only 4 terms, then became a Theological Student at King's College London. He never married and died at Barton Mount, 17/1/1958. As with Sydney, he left no will and Charles administered his estate.
---
[GAD] BEATRICE IRENE HALLOWES
b. 10/11/1883. She never married and lived with others of her family in Barton Mount. She died 14/12/1973 at "Herons", Church Field, Walberswick, Southwold, Suffolk.

---

Therefore of these four siblings, three never married nor seem to have made their way in the world, and in their later years were still living in the parental home, long after their parents had died. Charles, having retired from his Solicitor's practice in London, took a house not far from theirs, presumably to do what he could for them (his wife having died), and settled the estates of both his brothers. Beatrice lived much longer than any of them, probably including Charles, and was probably in a Home when she died.
---
CHILDREN OF JOHN FRANCIS TOOKE HALLOWES AND FRANCES SARAH HALLOWES née KNIGHT
---
[GBA] KENNETH ALEXANDER KNIGHT HALLOWES
b. 16/8/1879 at Barnsley. Educ. King Edward's School, Birmingham; Wesley College; U.C. Sheffield; Caius College, Cambridge (B.A. 1901; M.A. 1912); and The Royal School of Mines, 1902-3. F.G.S. 1902; A.R.S.M 1st.cl. hons 1903; A.I.M.M. 1904. 1903, Manager, Rhydymwyn Lead Mines, Mold; 1904 Asst. Mineralogist, Scientific and Technical Dept., Imperial College. In 1905 he went out to India and joined the ICS, becoming Asst. Supt. on the Geological Survey of India. In 1924 he abandoned this career, returned to England, entered Ridley Hall and was ordained deacon in 1925 (Winchester) and priest in1927 (Barrow for Carlisle). His curacies were Frimley (1925-6) Hawkshead (1926-7) and Sawrey on Windermere (in charge, 1927-8) He was then vicar of Leighton Bromswold (and C-in-C Woolley) 1931-3; of Lingen 1934-6, and P.C. of Llangarron, 1937 until 1947 when he retired. He wrote several volumes of poetry, beside others on Geology. In retirement he lived at Brynaderyn, Battledown Approach, Cheltenham, where he died 27/8/1952.
He married, 21/10/1908, at Mussoorie:
[GBA/1] CAROLINE AUGUSTA MANLY
b. 1875, d. of George Manly of Edgbaston. They had no children.
---
[GBB] THEODORA LOUISA KNIGHT WELBY
b. at Barnsley, 19/3/1882, and died in London, 24/7/1925. She married, 17/10/1909, probably at Madras:
[GBB/1] THOMAS EARLE WELBY
b. 18/7/1881, s. of Charles Earle Welby, Inspector of Schools, Indian Educational Service and Annie, widow of Walter Conroy, C.E., P.W.D. India. He was Asst. Editor, Madras Mail, 1907-15, and Editor, 1916-18. During 1917 he served as a War Correspondent in Mesopotamia. He was sometime Secretary of the Madras Chamber of Commerce and Political Secretary of the European Association of India. Thomas Welby was the author of a large number of works of Poetry and of Literary Criticism, including several on Swinburne, and a founder-member of the Swinburne Society; he also edited the first complete edition of the Works of W.S. Landor. After the death of his first wife he married (23/4/1928) Dorothea, d. of Arthur Wilbraham George. he died in London (17 Pembridge Crescent, W11) 21/2/1933; his widow was granted a Civil List Pension of £90 p.a. for his services to Literary Criticism. See the Times, Feb. 23,26 and 27 for Obituary and Appreciations. There were no children of either marriage.
---
[GBC] HESTER ISABEL KNIGHT LISTER
b. 24/12/1883 at Barnsley. She married 9/10/1909:
[GBC/1] ALFRED ERNEST JOHN LISTER
b. 22/5/1877 at Dursley, Gloucs., s. of William Lister and his wife Catherine Fraser. Educ. Dean Close, Cheltenham; St. Batholomew's Hospital, London; and Vienna. M.B., B.S. (Lond) 1900; M.R.C.S., L.R.C.P. 1900; F.R.C.S. 1902. Brackenbury Scholarship in Surgery, 1901; Prosecutor, R.C. Surgeons; Clin. Asst. Central London Ophthalmic Hospital. In 1902 he attended the Army Medical School, then joined the Indian Medical Service. Lt. 29/1/1902; Capt. 29/1/1905; Major 29/7/1913; Lt. Col. 29/7/1921. In 1903-4 he served as M.O. to the 27th. Punjabis during the East African and Somaliland Campaigns; in the latter during the action at Jodballi he rescued a wounded officer under fire after the stretcher bearers had fled. Specialising in Ophthalmology, he inaugurated the Ophthalmic Dept. at the King George Hosp., Lucknow, in 1913 where he later became Professor of Ophthalmology. He was also Hon. Ophthalmic Surgeon to the Viceroy. In 1922 he retired from the I.M.S., returned to England and held a number of appointments in his specialty in London and Bristol; he contributed the Ophthalic section to the Medical Annual 1922-30. He died at the Mount, Inchbrook, Stroud, 21/12/1943. Alfred and Hester Lister had one child:
[GBCA] Verity Francisca b. 1913
---
[GBD] BASIL JOHN KNIGHT HALLOWES
b. at Barnsley 27/8/1885. Educ. Mill Hill, Caius Coll. Cambridge and U.C. London. B.A.(hons) 1905. He played forward at hockey for Cambridge v. Oxford. 1906. In 1908 he went out to India and joined the I.C.S. where he had a long and brilliant career, mainly in and around Uttar Pradesh (he also held the rank of Sergeant in the U.P. Light Horse), starting as Asst. Magistrate and ending as Commissioner for Agra in 1940. He retired in Feb. 1945 with the C.I.E, and died 4/4/1971 when res. at "The Beauthorns", Hatherley Road, Cheltenham. He was twice married:
[GBD/1] MARY CATHERINE LASCELLES WARD
b. 19/7/1886 in India, d. of Rowley Lascelles Ward (b. Ootacamund 14/7/1860), s. of Samuel Neville Ward and his second wife Mary Catherine (b. Cannanore, 24/6/26), d. of Francis Lascelles. They were married 2/3/1916 at Muttra; she died at Dehra Dun, 29/11/1936.
[GBD/2] JOYCE MORTIMER
b. 9/9/1906 in India, d. of E. Mortimer and his wife Ruth.
There were no children of either marriage.
---
The Indian branches of the Ward and Lascelles families are being researched by Pauline
Le Heron of New Zealand (email: pimn@xtra.co.nz) and by Peter Charlesworth (email: peter@charlesworth.demon.co.uk.)
---
Index
---
CHILDREN OF THE REV. HENRY MONSARRAT AND ELEANOR MONSARRAT née HALLOWES
---
[HBA] ELEANOR MAUD MARY WADDELL née MONSARRAT
b. at Kendal, 8/9/1870. After the death of her husband (below) she was left in rather reduced circumstances and "lived in Birkenhead so that she could be near her mother. She was a rather subdued person who may have felt that Birkenhead was rather a come-down - gentlefolk in a working class district. They were not rich and Keith paid for their house" (JFTA). She died at Birkenhead 20/8/1934.
She married 19/8/1891:
[HBA/1] COSLETT HERBERT WADDELL
b. at Drumcro, Co. Antrim, 6/3/1858, son of Coslett Waddell of Maralin, Co. Antrim, and his wife Maria, d. of George Langtry, and cousin of Ned Langtry, husband of Lily Langtry, the "Jersey Lily". He was educ. at Lurgan and Trinity College Dublin. B.A. 1880; M.A. 1888; ordained deacon (Dublin) 1881; priest (Down) 1882; Bachelor of Divinity 1892. Curate of Shankhill 1881-3; of Warrenpoint 1883-4; of St. Thomas, Kendal (where his father in law was vicar) 1884-8, and of Carnmoney 1890-1912. Vicar of Saintsfield 1890-1912; Incumbent of Grey Abbey and Chaplain to the Marquis of Londonderry 1912-9. He was the author of many botanical papers, especially on the Mosses. He died at Grey Abbey 8/6/1919 and was buried at Maralin.
They had no children of their own but adopted the two daughters of Herbert's brother Alfred after the early death of his first wife.
[HBAA] Eileen
1905 - 1985 [HBAA/1] Kenneth John Fulton 1907 - 1992 [HBAB] Doreen c. 1906 - 1937 [HBAB/1] Neil Butler
---
[HBB] KEITH WALDEGRAVE MONSARRAT.
b. 11/6/1872 at Kendal. educ. at King William's College, Isle of Man, and Edinburgh University. He qualified MB., C.M. 1894 and F.R.C.S (Edinburgh) 1897. He then proceeded through a number of surgical appointments of increasing importance, the first of which was as a Junior House Practitioner at Nottingham General Hospital where he met and married his first wife. After 1899 he lived and practiced mostly in the Liverpool area. He was F.R.S.M in 1930 and a member of the General Medical Council from 1927. All in all, K.W. Monsarrat was one of the most eminent surgeons of his time.
His connection with the army began in 1898 when he became Surgeon Captain with the 1st. Volunteer Bn. King's (Liverpool) Regiment. In 1911 he was a Captain R.A.M.C. att. 1st. Western General Hospital. In 1914 though barely within military age, married and with several children, he mustered with the R.A.M.C. and in 1916 became Chief Medical Officer on the Salonika Front. He retired from the R.A.M.C. Reserve in 1921 with the rank of Major. In 1939 though well past retiring age he became Group Officer, Emergency Medical Services, Liverpool and was very largely responsible for running the City's Emergency Hospitals throughout the Liverpool Blitz. It is quite astonishing that after a lifetime's distinguished services to his country and to Medicine, his sole public honours were the T.D. and "Mentioned in Despatches" (twice). From the Serbs he received their Order of St. Sava.
K.W. Monsarrat wrote a large number of Medical books and papers, and beside this was a recognised minor poet and philosopher, publishing several volumes of poems and reflections. His home life from about 1914-1930 is vividly and wittily described in the book "My Brother Denys" by his son Nicholas. A man of strong character and opinions, he never allowed his professional and domestic life to mingle, and his refusal to allow his first wife any participation in the former - he was not in favour of women in the medical profession - led eventually to their separation and divorce.
After the Second World War he retired to a cottage, "Johnings", in Woolstone in the Cotswolds, with his second wife Marie, but returned to Liverpool just before his death in 1963. His Obituary appeared in the Times, and a Memorial Volume commissioned which may be seen in the British Library. His portrait by Edward Halliday R.A., a family friend, hangs in the Liverpool Medical Institution.
He was twice married:
[HBB/1] MARGUERITE TURNEY
b. at Nottingham 4/12/1873, third of the five daughters of Sir John Turney, Kt., of Nottingham and his second wife Juliette Emma, d. of Alfred Topham of Calais. During the Great War she worked in Censorship. She was a woman of great and almost completely unfulfilled energy and organising abilities, born perhaps out of her time, which she expressed to a limited extent by living in a succession of houses, each of which she had no sooner bought, redecorated and refurnished before she would sell it and go on to another. For most of this time she was accompanied by her daughter Felicity until the latter escaped into matrimony, and even then had to come back and live with her during much of WW2. Marguerite died 5/2/1947 and is buried in Burton Joyce cemetery; where in 2003 Felicity would join her.

(The Turney Family is being researched by Mrs. Elizabeth Hampson of Anglesey.
E-mail: elizabeth.hampson@tiscali.co.uk)

[HBB/2] MARIE ADAMI, née WILKINSON
b. at Birkdale 30/3/1890, d. of The Rev. Thomas Wilkinson, Vicar of Knowsley, and his wife Margaret Eunice, d. of the Rev. Frederick Smith of Birkdale. Educ at St. Hilda's college, Oxford, and was for a time Secretary at St. Hugh's college. During both wars she worked in Censorship and was made MBE in 1942. Her first husband was Dr. George Adami C.B.E., F.R.S., Vice-Chancellor of Liverpool University, who she married as his second wife at Litherland 4/4/1922; there were no children (he had issue of his first marriage) and he died 29/8/1926. In 1930 she published a Memoir of him, and in 1937 a study of Fanny Keats. She married K.W. Monsarrat at St. Stephen's, Bath, 22/11/1947 and remained with him for the rest of his life. Marie died 31/12/1980 and is buried in the family grave at Kendal.
The Children of Keith and Marguerite Monsarrat, with their spouses:
[HBBA] Mary Turney                              1900-1939
   [HBBA/1] George Philip Proctor               1902-1986
[HBBB] Keith Turney                             1903-1913
[HBBC] Judith Felicity Turney                   1907-2003
   [HBBC/1] Hilary John Bradley Armstrong       1910-1995
[HBBD] Nicholas John Turney                     1910-1979
   [HBBD/1] Eileen Violet Martin Rowland        1914-1991
   [HBBD/2] Philippa Crosby                     1918-1978
   [HBBD/3] Ann Whitelaw Griffiths
[HBBE] Denys Keith Turney                       1914-1943
   [HBBE/1] Meryl Pera Wardle                   1916-1982 
Index
---
[HBC] FLORENCE AUGUSTA MONSARRAT.
b. at Kendal 12/8/1873. She never married and suffered from continual ill-health. After the death of her father she lived with her mother in Birkenhead. Her sister Emily speaks of her as "little Florence" in her diary though she was the younger; perhaps Florence was undersized. In June 1905 she had an operation, rallied for a while but had a relapse in the second week of September and died on October 2nd. Her body was returned to Kendal for the funeral and to be buried next to her father's.Index
---
[HBD] EMILY MABEL WEST-WATSON née MONSARRAT
b. at Kendal 19/11/1874. After her father died in 1901 she moved to Birkenhead to be near her mother, and was married from 33 Slatley Road "very quietly on account of (her sister) Florence's illness" by her brother in law Herbert Waddell. For the first year after their marriage they lived at 9, Park Side, Cambridge; in 1909 they moved to Carlisle. She was much loved by her brother who wrote a poem to her. At her funeral it was said that "every meal was like a sacrament". She died in Christchurch, N.Z., 21.3.1936.
She married 24/8/1905, at Christ Church, Claughton, Birkenhead:
[HBD/1] CAMPBELL WEST-WATSON
b. at Birkenhead 23/4/1877, s. of Adam West-Watson of Birkenhead and his wife Caroline, d. of the Very Rev. Theophilius Campbell, Dean of Dromore. Birkenhead School 1886-1896 (Captain of the School, 1894-1896); Emmanuel College, Cambridge (Scholar) 1897. . BA 1st. Cl. Classical Tripos 1899; 1st. Cl. Theological Tripos 1901, etc; Ord. deacon 1902, priest 1903 (Ely).MA 1903; DD (hon.causa) 1910.
1902-3 Bursar and Lecturer, Ridley Hall. 1903-9 Fellow, Lecturer & Chaplain, Emmanuel Coll. ; 1907-9, Dean; 1907-8 Junior Proctor. 1905-20, Exam. Chaplain to the Bishop of Carlisle; 1909-21, Canon Residentary, Carlisle; 1909-26, Suffragan Bishop of Barrow in Furness 1909-26; Archdeacon of Westmoreland 1915-23, and of Furness 1923-6. Rector of Aldingham 1920-6; Proctor in Convocation, 1912-25. He served in France with the Church Army from July 1918 - Mar. 1919. Hon. C.F. 1919. 1926, consecrated Bishop of Christchurch, N.Z. January, sailed for N.Z. aboard SS "Rotura".1930, returned to Europe for one year. 1938, Chaplain and Sub-Prelate of the Order of St. John. 1940, Archbishop and Primate of New Zealand. Resigned 1951. C.M.G. 1952.
(JFTA) "Campbell West-Watson was a very gentle soul and very devout. When they were at Aldingham Vicarage he would, in accordance with Anglican rules always say Matins at 7.00 AM in his church though often Mabel would be the only other person there". The Right Reverend Archbishop West-Watson died in Stoke, Nelson N.Z. 19/5/1953.
Their Children, and their spouses, were:

[HBDA] Eleanor Florence                              1906-1982
   [HBDA/1] Stephen Garland Lester                   1906-1971
   [HBDA/2] James Thomas Burrows                     1904-1991
[HBDB] Caroline Mabel                                1908-1962
   [HBDB/1] Leicester Chisholm Webb                  1905-1962
[HBDC] Alison Monsarrat                              b. 1911
   [HBDC/1] Robert Oswald Sims                       1917-1992
[HBDD] Keith Campbell                                b. 1914
   [HBDD/1] Veronica Cecilia Margueretta Berkovich
   [HBDD/2] Margaret Diana Titheradge                b. 1918
[HBDE] Anthony Monsarrat                             1918-1972
   [HBDE/1] Yvonne Myers                             b. 1933
Index
---
[HBE] ETHEL LOUISA HARGREAVES née MONSARRAT
b. at Kendal 14/6/1876. She and her husband were keenly Evangelical; he said Household Prayers every day and no newspapers were allowed on Sunday. When JFTM stayed with them while recuperating from 'flu she read "Vilette" to her which is very anti-Rome. But both of them were kindness itself. Her son Cecil has contributed a short Memoir. She died in hospital 23/3/1968 at Bridport in Dorset.
She married, at Christ Church, Birkenhead, 17/1/1911:
[HBE/1] JOHN ARTHUR HARGREAVES
b. at Birkenhead 17/1/1879, s. of John Price Hargreaves of The Moorlands, Oxton, Cheshire, and his wife Catherine Georgina, b. 1854, d. of William Armstrong Hayes. Educ. at Birkenhead and Trinity Coll., Cambridge: BA 1901, MA 1905. Stockbroker, of Parkside and Broadlake, Neston. In 1915 he enlisted in the 6th. King's (Liverpool) Regt. 2/Lt Oct. 1916; was wounded at the Battle of Cambrai; and returned to the front in time for the Battle of Arras. 1918; demobbed 1919. He died 30/5/1946 at Neston.
Their children were:

[HBEA] John Henry Monsarrat                         b. 1911
   [HBEA/1] Diana Tucker
[HBEB] Katherine Monsarrat                          1915 - 2011
   [HBEB/1] Edmund Digby Buxton                     1908 - 2001
[HBEC] Joyce Monsarrat                              b. 1916
[HBED] Arthur Cecil Monsarrat                       b. 1919
   [HBED/1] Catriona Somerville                     d. 1995
---
THE CHILDREN OF KEITH HAMILTON HALLOWES AND FLORA HALLOWES née WESTBY.
---
[HHA] EVA HAMILTON TABUTEAU
b. at Monkstown 21/8/1872; d. Dublin 22/6/1943. She married at St. Bartholomew's, Dublin, 12/3/1869:
[HHA/1] LIONEL RICHARD PLUNKET TABUTEAU
b. 12/3/1869 at Appin Way, Dublin, s. of Richard Mayne Tabuteau of Oldville, Sandymount, and his wife Constance Gertrude Maria, d. of the Hon. Patrick Plunket. He was a wine merchant, of 48 Park Avenue, Sandymount. In 1943 he was the executor of the Will of his wife's aunt Marian Elizabeth Hallowes.
Their Children, with their spouses, were:

[HHAA] Muriel Flora                              b.1894
   [HHAA/1] Charles Valentine                    1869-1936
[HHAB] Nora Constance                            b. 1896
[HHAC] Ruth Eva                                  b. 25/12/1904
   [HHAC/1] The Rev. George Harold Kidd          b.1900
---
[HHB] KEITH HAMILTON HALLOWES
b. at Monkstown 10/8/1873; educ. St. Columba's, Dublin. He served in the Boer War, then remained in S. Africa for a while working on the Rand Gold Mines. He brought his family back to England probably in 1913 and took employment as a Works Manager in London.
He married in April 1903, at Beaufort West, South Africa:
[HHB/1] MABEL MAUD FALKENER.
b. at Sandycove, Co. Dublin, d. of Francis Falkener and his wife Louisa, née Waller. Their children were:

[HHBA] Beryl Hamilton                            b. 1904
   [HHBA/1] Alexander Maxwell Maver              b. 1894
[HHBB] Winifred Ida                              b. 1912
   [HHBB/1] George Grant
[HHBC] Vivienne Hamilton                         b. 1914
---
[HHC] HENRY HAMILTON HALLOWES
b. at Foxrock 17/5/1875; educ. Ipswich G.S. A teacher of Music; Organist at Enniskillen 1898-1911, and at Portadown 1911-14. He died in Dublin, 8/5/1915.
He married at Calry, Co.Sligo, 26.8.1898:
[[HHC/1] JEAN GRIFFITH
b. 26/11/1879;d. of Henry Arthur Cullum Griffith of Sligo, and his wife Margaret, d. of Arthur Fry of Enniscrone, Co. Sligo. After the death of her first husband she married Dr. Bristow of Portadown Co. Armagh by whom she had two daughters. She d. at Portadown 31/12/1928.
The Children of Henry and Jean Hallowes, with their spouses, were:

[HHCA] Henry Hamilton Cullum                  1899-1965
   [HHCA/1] Julia Blennerhasset               1907-1977
[HHCB] Keith Edward                           b. 1900
   [HHCB/1] (unidentified)
[HHCC] Lionel St. George                      1902-1989
   [HHCC/1] Mamie McAneary                    1907-1977
[HHCD] Hilda Muriel Westby                    1907-1909
[HHCE] Vera Margaret                          1910- c. 1970
   [HHCE/1] Benjamin Adams                    d. c. 1970
[HHCF] Dorothy Griffith                       1913- c. 1970
---
Jean's two daughters by her second marriage to Dr. Bristow both became nurses. The elder, Hilary, married and then divorced a Mr. Goodison; in the 1950s family members remember her as living in Highcliffe, nr. Christchurch, Hants., in one of two caravans (the first burnt down); she was later Assistant Matron in a private hospital in Bournemouth. Her younger sister Dorothy, who never married, lived and worked in Yorkshire.
---
[HHD] BRABAZON HAMILTON HALLOWES
b. at Foxrock 23/6/1876. He served in the Boer War with the Imperial Yeomanry. At Sanna's Post he was wounded and taken prisoner, and erroneously reported killed. After the War he farmed in the Transvaal, where he died in 1944. He married:
.[HHD/1] JOSEPHINE WARREN.
She died, also in the Transvall, in 1946. Their grand-daughter Cathy Hugo writes:
"We really don't know that much about my paternal grandfather as he died when my eldest sister was still very young probably shortly after the 2nd world war. Our paternal grand mother died before the end of the 2nd world war. As far as we know Brabazon Hamilton was an accountant and became chief accountant for the S.A. Railways."
Their children were:
[HHDA] Desmond P.                            1908? - 1983?
[HHDB] (unidentified)
[HHDC] Kenelmn Hamilton                      1910 - 1977
   [HHDC/1] Sheila Monica McCabe             1912 - 1971
---
[HHE] FLORA HAMILTON JOHNSTON
b. at Foxrock 19/8/1877. Trained as a nurse at Worcester Hospital; then went out to S. Africa and nursed at Kimberley. She married, at Beaufort West, S.A.:
[HHE/1] HENRY JOHNSTON
He also served in the Boer War, where they met; in WW1 he was at the Battle of Vimy Ridge. Later he farmed at Shoal Lake, Manitoba. Their children were:

[HHEA] Keith                                      b. 1908
[HHEB] Percy                                      b. 1911
---
[HHF] MILDRED HAMILTON HANDLEY
b. at Foxrock, 25/8/1879. She intended to become a nurse and trained at Fazackerley Hospital, Liverpool, but did not complete the course. She married, 20/10/1920 in Manitoba:
[HHF/1] JACK HANDLEY. They farmed at Menzie, Manitoba. They had one child:
[HHFA] Ethel Mildred , b. 13/10/1922.
---
[HHG] LEOPOLD HAMILTON HALLOWES
b. at Elgin Rd, Dublin, 17/9/1881. Educ. at Arklow, and H.M.S. Conway. He became the Manager of the Celtic Insurance Co., Dublin; res., Norfolk Rd, Phibsborough. Died in Dublin, 25/7/1948. He Married In June 1906, at Grangegorman:
[HHG/1] CATHERINE MADELINE GLASS, née STUBBINS d. of Elijah Stubbins of Chelmsford, and his wife Catherine, d. of Thomas Connor of Athboy. She was the widow of Thomas Glass of St. Peter's Road, Phibsborough, who she had married 3/9/1899 in Grangegorman and who had died at St. Peter's Rd. 20/10/1903; they had two children, both of whom died young.
The Children of Leopold and Catherine Hallowes, with their spouses, were:

[HHGA] Lucy                             b. 1908
   [HHGA/1] Arthur Magahey
[HHGB] Herbert Patrick                  1914-1927
[HHGC] Flora                            b. 1917
   [HHGC/1] Frank Tighe                 b. 1917
---
[HHH] HERBERT HAMILTON HALLOWES.
Born at Elgin Rd., 22/9/1882; died unmarried in Dublin, 11/1/1914.
---
[HHI] GERTRUDE HAMILTON DOUGLAS
b. at Elgin Rd., 4/11/1883. She married in 1912 at Rossburn, Manitoba:
[HHI/1] JAMES DOUGLAS of Oakburn, Manitoba. Their Children:

[HHIA]  Mildred Margaret, b. 1913
[HHIB] Dorothy
[HHIC] Herbert
Index
---
THE CHILDREN OF THE REV. WILLIAM BERRY AND KATHERINE BRABAZON BERRY née HALLOWES
---
[HIA] KATHLEEN EMILY WILSON
b. at Bath 14/10/1877. She married, 4/12/1909 at St. Paul's, Newbarns:
[HIA/1] LORTON ALEXANDER WILSON
b. at Skipton in Craven, 10/8/1879. A dedicated physician who served with the R.A.M.C. in both wars, Dr. Wilson was also one of the foremost genealogists of his time. His full biography is entered seperately.
Their Children, with their spouses, were:

[HIAA] Kathleen Moira               1911 - 1996
[HIAB] Ethne Patricia               b. 1912
   [HIAB/1] James Button            1908 - 1983
Following his retirement in 1946, Lorton and Kathleen went to live in Burnham on Sea. Kathleen died there in 1951, after which Lorton moved to Littleover in Derbyshire where his daughter Kathleen Moira looked after him until he died in 1958.
---
[HIB] NORAH MARY BERRY
b. at Bath 13/9/1879; Educ. Cheltenham; taught under the L.C.C. Died at the Old Rectory, Crowhurst, Sussex 12/5/1939. Will (£3076) proven 20/6/39.
---
[HIC] FRANCIS KEITH BERRY
b. at Bath 1/6/1881; educ. Ipswich G.S., Kendal G.S., and Oxford (non-coll). In the Census of 1901 (RG13/4913/151) he is an assisstant master at Kendal Grammar School; later the same year he attended the Funeral in Kendal of the Rev. Henry Monsarrat (his uncle by marriage). B.A. 1905; M.A. 1909 (Wycliffe Hall). Deacon 1907, Priest 1908 (St. Albans). Curate of Burnham-on- Crouch 1907-10; St. Mary's Harrogate 1910-11, Wickwar (Glos.) 1911-22. Lic. Preacher Dio. of Carlisle 1913-14; Curate of St. Paul's, Barrow, 1914-20; Vicar of Seathwaite (in the Lake District) 1920-28; of Eskdale, 1928-35; and of Haile 1935-44. In 1944 he retired to 3 Hamilton Terrace Whitehaven where he d. 14/2/45.
He married 5/10/1927, at Ulpha, the neighbouring parish to Seathwaite:
[HIC/1] MONICA JACKSON VICTORIA WHITAKER.
d. of the Rev. Charles Whitaker, Vicar of Ulpha, and his wife Eleanor, d. of Alexander Mann of London, b. 13/7/1887 at Natland. They had no children.
---
Ethne Button was occasionally taken to visit her Uncle Frank at Seathwaite during the 1920s. He used to visit his parishoners on a motorcycle combination and she recalls exciting jaunts in the sidecar. Still a bachelor, he was being looked after in his vicarage by his mother (his father having died in 1920) and his "eccentric spinster aunt" (presumably Norah). She formed the impression that Frank Berry had been more or less press-ganged by his family into taking the cloth; he had a bad stutter and and his sermons were very ordinary.
---
[HID] EILEEN FLORENCE BERRY
b. at Bath, 29/8/1883. Educ. Holloway College. B.A. (London) 1907. She taught at the Godolphin & Latymer School, Hammersmith, then at St. Winifred's, Eastbourne, where she eventually became Headmistress. Res. Dunescote, Burnham-on-Sea.
---
[HIE] LILIAN FETHERSTONHAUGH BERRY
b. at Ipswich, 4/7/1888. During WW1 she served with the 8th. West Lancs Det., V.A.D. at Fazackerley Hospital 1915-16, and Barrow Military Hospital 1918-19. In 1940 she enrolled in the Civil Nursing Reserve and served in 106 Det. West Lancs Red Cross at Balderstone and Conishead Military Hospitals, 1940-45. After the war she became the Quartermaster of 58th. Det. Somerset Red Cross, the Hon. Local Rep for SSFA, and Vice-Chairman of the British Legion Women's Section, Burnham, 1952-5; Chairman, 1955. In her old age she shared a house with her sister Eileen.
Index
---
THE CHILDREN OF RICHARD CARMICHAEL HALLOWES AND MARY ELIZABETH HALLOWES née COLLIS
---
[HKA] RICHARD COLLIS HALLOWES
b. 18/12/1879 at Tramore. Known as "Dick" within the family. Educ. Corrig School, Sir Patrick Dun's and Trinity Coll. Dublin. B.A. 1902; MB,B.Ch, B.A.O. 1904; L.M. (Rot.) 1904. Commissioned as Lieutenant, R.A.M.C. 30/7/1905; Capt. 30/1/1908; Major 1/7/1915; T/Lt.Col. 6/11/15- 15/2/19. Lt. Col. 3/8/28; retired 29/8/1934.
He went to France with 15th. Field Ambulance on the first day of the war. C.O. 9Oth. Field Ambulance 6/10/15-11/3/18; C.O. XI C.C.S 12/3/18-15/2/19. D.S.O 1918; Medaille de la Reconnaissance Francaise en argent; Despatches. Later in his career he was Chief Medical Officer at the Military Hospital in Woolwich. In retirement he lived in Bournemouth; R.S. remembers him as "a very serious old man".
He died 15/1/1972 at Oxshott. He was twice married:
[HKA/1] JANE DAPHNE ELAINE CORBET-SINGLETON
d. of Admiral Francis Corbet-Singleton of Adeleide and his wife Louisa, d. of the Rev. T. Gore, Rector of Mulcranan; and widow of Col. Francis Corbet-Singleton C.B., I.S.C., of Aclare, Ardee, Co. Meath, (presumably a cousin) who she had married 14/10/1875. He died 18/1/1886. She married Richard at Limasol, Cyprus, 1/7/1907. She had had two daughters by her first marriage but there were none of her second. She died at Bournemouth 11/8/1930.
Richard married 2ndly, 12/10/1930, at St. Andrew's, Boscombe:
[HKA/2] CONSTANCE DECIMA HURST
b. 2/10/1892 at Ackworth, Yorks., d. of John Hirst of Ackworth and his wife Jane, d. of John Coulam of Grimsby. She trained as a nurse at The Royal Infirmary, Huddersfield, then joined Q.A.I.M.N.S. and served in Egypt and Palestine 1917-19.. A.C.R.C. July 1916 1917-19. Staff Nurse 1921; Sister 1/7/1926. Retired Sept. 1930; died 30/7/1970 at 18 Birdshill Rd., Oxshott, Surrey.
They had one son:

[HKAA] Richard Carmichael                       b. 26/10/1931
   [HKAA/1] Clare Rosemary East                 b. 19/5/1937
---
[HKB] KEITH ROBERT COLLIS HALLOWES
b. 7/9/1881 at Dungarvon; educ. Corrig School and T.C.D. B.A. 1903 MB,B.Ch, B.A.O. 1904; L.M. (Rot.) 1904.R.M.O. City of Dublin Hospital; R.M.O. & Sec. Royal Pimlico Dispensary; Hon. Sec. Chelsea Chemical Society; R.M.O. Royal Mineral Water Hospital, Bath; Med. Supt., Peebles Hydro. Hon. Surg. 9th. & 38th. Divs., St. John's Ambulance Bde. Chairman, Torquay Div., B.M.A.: Hon. Sec. Torquay & District Medical Society; Fellow, Royal Society of Medicine; Hon. Sec. of Balneological & Climatological Section, and President of the Physical Medical Section. Fellow of the Royal Academy of Medicine, Ireland; Member, Medical Advisory Committee, British Health Resorts Association.
Great War: T/Lieut., R.A.M.C., 17/7/17: T/Capt., 17/7/18; T/Major, Nov. 1918. Demob. Mar. 1920. He served in Ireland and Malta, at Tighe and St. Andrew's Hospitals, and was M.O. i/c POW Camp, Malta. After the war he returned to practice in Torquay and retired Apr. 1948 (to The Arbour, Roebuck Rd., Clinskeagh, Dublin). He died in Dublin 1/7/1956.
He married 19/3/1908, at Templemore, Co. Tipperary:
[HKB/1] MATHILDA HAMILTON
(known as "Bunty"). b. 13/9/1879 at Hurdlestown, Co. Meath, d. of Alexander Montgomery Hamilton of Donegal and his wife Lydia, d. of Arthur Radcliff of Hurlestown. They had one child:



[HKBA] Kathleen Mary Collis                   b. 1911.
---
[HKC] BRABAZON HENRY COLLIS HALLOWES
b. 31/1/1884 at Dungarvan. Educ. Corrig School and Trinity Coll., Dublin. B.A. & B.A.I. 1909, after which he joined the Crown Survey. 1910-13 Valuation and Boundary Survey of Ireland, then Crown Lands & Survey Office, P.W.D., Hong Kong. Surveyor 2nd. Class 10/1/1914; 1st. Class 1921. Assistant Supt. of Surveys 1930; A/Supt. of Crown Lands & Surveys 1940. He retired in 1946.
He was admitted a Freeman of the City of Dublin by right of patrimony 28/10/1912.
Before the Great War he was 2/Lt. Mid Ulster R.G.A. 20/2/1902; Lt. 1903; Capt. 12/7/1905. R.F.A. (S.R.) 1909; Coronation Medal of 1911. He was seconded for Military service in 1914; Capt., 75 Bde. R.F.A., 16th. Div., Nov. 1914; 125 Bde., 37th Div., Apr. 1915. He went to France in July 1915 and remained there until the armistice in various staff and artillery positions. Major, R.F.A.(Res.) 31.1.1934.
At the outbreak of WW2 he was in Hong Kong ; he became President of its' St Patrick's Society in 1935 and was elected a life member in 1948. In Nov. 1941 he joined the Hong Kong Volunteer Defence Force (P.W.D. Essential Service Unit) as a Lt.; he was wounded in the fighting for the colony on Christmas Day 1941 and was interned there until the end of the war. After his retirement he lived at "Glapwell", Torquay Rd, Foxrock, Co. Dublin. A legatee under the will of his aunt Marian (d.1943) .
He married 19/2/1917, at Christ Church, Rathgar:
[HKC/1] FRANCES WARNER
b. 2/7/1887 at Waterloo, Lancs., d. of William Cyrus Warner of Rookwood, Ballyboden, Rathfarnham and his wife Agnes, d. of Thomas Pearson of Springfield House, Cabra, Co. Dublin.
They had one child:

[HKCA] Elsie Mary Collis                      1920-2007
   [HKCA/1] Francis Irving Lundquist          1919-1998
---
Brabazon Henry Collis Hallowes died in Dublin, 8 July 1958; Frances Hallowes died in Dun Loaghaire 29 August 1971.
---
Their grand-daughter Louise Gould writes:
"Richard Carmichael Hallowes and Mary Elizabeth Hallowes had their first daughter Mary Elizabeth who died the day of her birth on 12 May 1894 and one year later they had their second daughter Kathleen Mary born 28 June 1895 yet she died on 6 May 1897. My mother told me there was tremendous sadness in the Hallowes home with the loss of two daughters and that my grandfather Brabazon Henry Collis Hallowes, being 10 and 13 at the time of their passings, was deeply aware of the frailties of life. He grew up being a committed Christian and a very loving and caring father and husband. I met him once and he was a gentleman through and through. I was 3 1/2 years old at the time and I can still see his brilliant blue eyes in my mind. He was affectionately known as "Brab".
Your website cleared up the matter of my grandmother's age. Fanny Warner,who later donned the name Frances Hallowes. She was nearly neurotic about keeping her age a secret. Maybe it's because she married later in life at the age of 30. I don't know, but she use to boast that the only person who knew her age was her barrister. I thought she was 82 when she died, but I see she was 84. She would never admit to being any age, feeling that it aged one greatly keeping track of time. She was a very level headed woman, so it was the one inconsistency that made her life that much more interesting. She loved people and was extremely well read. She spoke German fluently as she was an au pair in Germany for many years prior to WW I, perhaps 5-7 years, caring for a Jewish doctor's daughter. She loved this family very much and enjoyed the beautiful German country and the wealth of the their music and literature. Yet "Bunnie" (her nickname) saw anti-Semitism firsthand and my mother related to me that her mother never fully forgave the German people for their hatred, which troubled my grandmother greatly, being a Christian.
But I think she did find the ability to forgive that she longed for. As fate would have it, my sister and I were in Ireland touring by bicycle when our grandmother had a stroke and we were with her the day of her death. It was a day to remember indeed. She impressed upon her only two granddaughters the power of love, saying it was the the one and only indestructible force in life and that it was to be sought above all else, and that once found it would be with us always. I didn't realize at the time that she was speaking of The Person Jesus the Christ. She passed ever so peacefully that evening."
---
The Warner Family and the associated Malins Family, both of Dublin, are being researched by Peter and Leonie Malins (email: leonie.malins@gmail.com). Peter is in the third generation of descent from Elizabeth Warner, who married William Malins in 1875 and died later the same year soon after the birth of their only child. If the generations fit she would have been Frances Warner's aunt; her parents are believed to have William Cyrus Warner and his wife Maryann (Goodman) which would mean that Frances' father bore the same name as his father before him.
---
[HKD] ARTHUR COLLIS HALLOWES
B. 26/12/1886 at Arklow. Educ. Corrig Sch. and Trinity Coll. Dublin. B.A. 1908; M.B., Ch., B.A.O. 1910, L.M.(Rotunda) 1910; House Surgeon Rawcliffe Hospital.
Great War: T/Lt. R.A.M.C. 23/3/1917; to France and Belgium with 17th. Field Ambulance. Despatches; M.C. at Cambrai. T/Capt. 23/3/18; Demob. 18/12/18.
Medical Referee, Ministry of Pensions and Labour; T/M.O.H. Leek U.D.; Vice-Chairman, Staffs. Exec. Council, N.H.S., 1948; Chairman, Staffs. Local Medical Committee & Staffs. Exec. Council. President of the Staffs & Leek British Legion.
While in practice in Rochdale from c. 1910, having at first used a pony and trap, he became one of the earliest clients of the Riley Car Company; from their inception until his retirement, he bought a new Riley every two years. His grandson Robert Sumerling remembers him as possessing a great sense of humour, and full of laughter; also of decidedly abrasive right-wing views. He died 20/1/1958 at his home, "Ashwood", Hartington St., Leek. A full obituary was published in the B.M.J.
He married 23/10/1911 at Scarborough:
[HKD/1] KATE FLORENCE SAVILLE SMITH
d. of Henry Thorpe Smith of Scarborough and his wife Sarah Anne, d. of Thomas Saville of Nova Scotia. At the time of her marriage she was working as a nurse. Their children, with their spouses, were:

[HKDA] Mary Collis                          b.1913
   [HKDA/1] Basil Sumerling                 b.1905
[HKDB] Arthur Patrick Collis                b. 1914
---
[HKE] PAUL COLLIS HALLOWES
b. 24/2/1891 at Arklow; educ. at Monkton Combe and Trinity Coll., Dublin, where like his brothers, he qualified as a Doctor; but never practiced. Admitted to the Freedom of the City of Dublin by right of Patrimony 28/10/1912. 2/Lt. 3rd. Dublin Fusiliers 26/3/1913; Lt., 10/10/14; Captain 15/5/15; Major 7/3/16. He went to France with his regiment and was wounded in 1914; next year (when he was attached to the 1st. Royal Irish Regt.) he was gassed on the Ypres Front; and on the Somme in 1916 he was shot through the lung. 15/7/17 to Labour Corps; later att. Irish Command H.Q. While in Ireland he was one of the party who arrested Sir Roger Casement when he returned from Germany with a U-boat load of weaponry for the Irish Insurgents. He resigned from the army 28/10/1922. In 1920 he went out to Kenya; at first farming at Hoey's Bridge, then from 1935 in business. He was a legatee under the will of his aunt Marian, who d. 1943. From 1942-6 he was Imports Controller for Uganda; in 1955 he was a partner in a tile business and Insurance consultant. Res. PO. Box 200, Kitale, Kenya. In 1963 he moved to Tasmania and for some years lived at Gravelly Beach, West Tamar; but eventually moved back to Africa and lived at Port Shepstone in Natal. He died 11/4/1973 in Nairobi, Kenya.
He married 16/4/1922 at Mombassa Cathedral:
[HKE/1] MARJORIE ELIZABETH MARY COLLIS
b. 21/12/1893, d. of Lt. Col. William Gun Collis of Barrymore Lodge, Castle Lyons, Co. Cork (later "Snowdon", Keynsham Bank, London Road, Cheltenham), and his wife Mabel Katherine, d. of Capt. G.L. Robson of Altwood House, Maidenhead. She died of cancer at Kitale 8/3/1957. Their children, with their spouses, were:

[HKEA]  Sheila Marjorie                      1926 - 1951
[HKEA/1] Philip Francis Leonard              1921 - 1991
[HKEB]  Penelope Mabel                       1929 - 1989
   [HKEB/1] John Lloyd Davis
---
THE THIRD CHILD OF WILLIAM BOURNE HALLOWES AND LOUISA JANE HALLOWES née BERRY
---
[HLC] RUTH MARION HALLOWES
b.1886 in Newark. From the Berry Archives: "As a young woman she went out to India for a time. She trained as a nurse, but as the result of an accident was unable to work as such. Instead she became a tutor and was involved in setting and marking nursing examinations. She lived the greater part of her life in London. She was a quiet, shy and very unselfish person with a keen intellect, who managed to retain the ability to communicate with those much younger than herself. She was well read and widely travelled, visiting the continent most years until she was too old to travel. Many of these visits were made with Lady Masefield, widow of the Poet Laureate, who had become a close friend of hers. She never married, and died 13/12/1972 at Gerrard's Cross."

(Her two siblings died young.)
---

Surnames on the Index for Page Four are:
Baiss/ Berry/ Bond(U.K.)/ Bond (U.S.A.)/ Brodie/ Carnegie/ Carnes/ Chace/Colville/ Compton/ Crosset/ Dancy/Davis/ De Saussure/Douglas/ Downes/ Drysdale/ Egerton/ Evans/ Fairbairn/ Ferrier/ Foot/ Ganahl/ Gedge/ Gorham/ Griffith/ Hallowes/ Hampton/ Handley/ Hardy/ Hargreaves/ Harper/ Johnson/ Johnston/ Kirwan Ward/ Laurence/ Lewis/ Lister/ Lloyd/ Mather-Jackson/ Monsarrat/ Northesk/ Richards/ Robinson/ Parker/ Pratt/ Schilling/ Stenning/ Tabuteau/ Tatham/ Unwin/ Vaughan/ Waddell/ Walters/ Ward/ Waring/ Welby/ West-Watson/ Wilson/
---
BAISS:
-[CFD] Lucy Hope, née Hallowes b. 1878
BERRY:
-[HID] Eileen Florence, b. 1883
-[HIC] Francis Keith, 1881-1945
-[HIE] Lilian Fetherstonhaugh, b.1888
-[HIB] Norah Mary, 1879-1939
BOND (U.K.):
-[BCB] Charles John, 1858-1889
-[BCD] Louisa, d. 1912.
-[BCA] Richard Pratt, b. 1856
-[BCC] William Henry
BOND (U.S.A.):
-[EJG] Agnes Hallowes, née Dancy. b. 1884
1889
BRODIE:
-[CFI] Cecilia Granville Lewin, née Hallowes 1888-1952
CARNEGIE:
-[CFA] Elizabeth Boyle, née Hallowes, Countess of Northesk, 1871-1950
CARNES:
-[ELB] Caroline Mary, née Hallowes, b. 1883
CHACE:
-[EJB] Flora Reed, née Dancy 1875-1950
COLVILLE:
-[AAC] Mary Eleanor, née Hallowes, 1859-1942
COMPTON:
-[CFF] Sophia Hope, née Hallowes, previously Gorham: 1881-1969
CROSSET:
-[EJF] Caroline Hallowes, née Dancy, later DE SAUSSURE, b. 1882
DAVIS:
-[EJH] Alice Gwynn, née Dancy, later JOHNSON, b. 1889
DANCY:
-[EJA] Miller Hallowes 1873-1929
DE SAUSSURE :, see CROSSET
DOUGLAS:
-[HHI] Gertrude Hamilton née Hallowes. b. 1883
DOWNES:
-[ELG] Rose Chevallie, née Hallowes, b.1894
DRYSDALE:
-[EJD] Winifred Lanier, née Dancy, b. 1878
EGERTON:
-[AGA] Caroline Mary, née Lewis 1854-1926
EVANS:
-[ELE] Alexandrine Louie, née Hallowes, 1891-1929
FAIRBAIRN:
-[FED] Winifred, née Hallowes 1879-1946
FERRIER:
-[AHA] Beatrice, née Hallowes 1863-1931
FOOT:
-[CHE] Helen Margaret Jardine, née Low, 1871-1933
GANAHL:
-[EJC] Elise Hallowes, née Dancy (1876-1910)
GEDGE:
-[FEB] Dorothy, née Hallowes, b. 1877
GEDGE:
-[FEB] Dorothy, née Hallowes, b. 1877
GORHAM:see COMPTON
GRIFFITH:
-[AAD] Maud Louise, née; Hallowes, d. 1897
HALLOWES:
-[CFG] Alexander Boyle, 1885-1917.
-[EMF] Adeline Van Cleve
-[FEC] Arthur, 1878-1905
-[HKD] Arthur Collis 1885-1958
-[GBD] Basil John Knight, 1885-1973
-[GAD] Beatrice Irene, b. 1883
-[AHC] Bernard 1869-1951
-[FEE] Blackwood, 1881-1910
-[AAE] Brabazon Chambré 1861-1914
-[HHD] Brabazon Hamilton b. 1876
-[HKC] Brabazon Henry Collis, 1884-1958.
-[GAB] Charles Arthur, b. 1872
-[FGC] Edward Price, b. 1886
-[AHB] Francis William 1866-1942
-[EME] Frances Elizabeth
-[FBC] Frederick Chaworth, 1877-1967
-[CGB] Frederick Hare 1888-1956
-[FGD] Geoffrey Blackwood,1887-1916
-[FDA] George Price Blackwood, 1867-1931
-[CFE] George Skene 1880-1940
-[CGA] Georgina Margaret, 1872-1956
-[HHC] Henry Hamilton 1875-1915
-[AAB] Herbert Chaworth 1857-1907
-[HHH] Herbert Hamilton 1882-1814
-[EMB] James Mongin jnr., d. 1944
-[CFB] John Hope, b. 1873
-[EMC] John Nichol, d. 1946
-[ELF] John Post 1892-1958
-[HHB] Keith Hamilton 1873-1947
-[HKB] Keith Robert Collis, 1881-1956
-[GBA] Kenneth Alexander Knight, 1885-1952
-[CFH] Kenneth Sholto, 1887-1933
-[HHG] Leopold Hamilton, 1881-1948
-[EMG] Lewis Edward
-[FDC] Lilian Mary, 1870-1950
-[ELD] Louis Nicol, 1889-1961
-[CFC] Margaret Ramsay, 1874-1944
-[EMA] Miller IV, 1877-1945
-[ELH] Miller Chevalier, 1896-1945
-[DKE] Neil Albert, b. 1879
-[HKE] Paul Collis 1891-1973
-[HKA] Richard Collis, 1879-1972
-[FBD] Rupert Price, 1881-1915
-[FBD] Ruth Marion, 1886-1972
-[GAA] Sydney Minns, 1877-1948
-[AAA] Thomas Richard Francis Brabazon, 1853-1943
-[EMD] Van Cleve
-[GAC] Vernon Buxton, 1880-1958
-[AHE] Walter Haffenden 1873-1943
-[FDB] Warren, 1868-1905
-[ELA] William Alexander jnr.1881-1933
-[FBB] William Brabazon, 1874-1953
HAMPTON:
-[EJE] Lina Blackwood, née Dancy b. 1880
HANDLEY:
-[HHF] Mildred Hamilton. née Hallowes, b. 1879
HARDY:
-Winifred Maud, née Hallowes (fl. 1890?)
HARGREAVES:
-[HBE] Ethel Louisa, née Monsarrat b.1876
HARPER:
-[EKA] Ada Nicol, née Knight, and previously RICHARDS
JOHNSON:, see DAVIS
JOHNSTON:
-[HHE] Flora Hamilton,née Hallowes, b. 1877
KIRWAN WARD:
-[DHD] Arthur Henry, 1858-1879
-[DHG] Bernard Frederick Coleman, b & d 1863
-[DHE] Edith, 1860-1955
-[DHB] Louisa, 1856-1897
-[DHA] Mary, 1855-1919
-[DHF] Norman Francis, 1862-1944
-[DHC] William Hallowes, 1857-1943
LAURENCE:
-[FCC] Florence Edith,née Hallowes, b. 1874
LEWIS:
-[AGH] Cecil Hallowes 1869-1915
-[AGF] Charles Edward Llewellyn 1865-c.1931
-[AGI] Ernest Richard Hallowes 1873-1940
-[AGB] David Francis 1855-1927
-[AGC] William Henry Phillips 1859-1911
LISTER:
-[GBC] Hester Isabel Knight, née Hallowes, b. 1883
LLOYD:
-[AGG] Amy Louisa, née Lewis 1867-1932
MATHER-JACKSON:
-[AAF] Georgina Catherine, née Hallowes, 1863-1932
MONSARRAT:
-[HBB] Keith Waldegrave 1872-1963
-[HBC] Florence Augusta 1873-1905
NORTHESK, COUNTESS OF:, see CARNEGIE
PARKER:
-[FFA] Brabazon, d. 1916?
-[FFB] Edward Bertram, 1884-1926
PRATT:
-[BAB] Henry Arthur, 1864-1938
-[BAA] James Bonham Tod, 1862-1900
RICHARDS:, see HARPER
ROBINSON:
-[AHD] Agnes Williama, née Hallowes b. 1871
SCHILLING:
-[AHF] Katherine, née Hallowes b. 1876
STENNING:
-[FEF] Muriel, née Hallowes 1883-1942
TABUTEAU:
-[HHA] Eva Hamilton, née Hallowes 1872-1943
TATHAM:
-[FBA] Mary Blackwood,née Hallowes 1871-1915
UNWIN:
-[FGA] Sage Peregrine, née Hallowes 1882-1911
VAUGHAN:
-[DJB] Arthur Llewellyn, 1874-1955
-[DJE] Gertrude Gwenydd, 1880-1952
-[DJC] Gwladys Mary, 1877-1943
-[DJF] Hugh Christopher, 1882-1936
-[DJD] Mildred Agnes, 1878-1937
-[DJA] Thomas Hallowes, 1872-1922
WADDELL:
-[HBA] Eleanor Maud Mary née Monsarrat 1870-1934
WALTERS:
-[ELC] Catherine Brabazon, née Hallowes, b.1889
WARD:
-[FCA] Arthur Blackwood, b. 1870
-[FCD] Basil Kendal, 1875-1934
-[FCB] Bernard Hallowes, b. 1873
WARING:
-[FEG] Marjorie, née Hallowes, 1885-1969
WELBY:
-[GBB] Theodora Louisa Knight, née Hallowes 1884-1925
WEST-WATSON:
-[HBD] Emily Mabel née Monsarrat 1874-1936
WILSON:
-[HIA] Kathleen Emily, née Berry, 1877-1951

---
This is the fourth page of this Genealogical Collection. Other pages available are:
1) The Progenitors: John and Louisa Martha Hallowes
2) The First Generation of Descent
3) The Second Generation of Descent
5) The Fourth Generation of Descent
6) The Fifth Generation of Descent
7) The Sixth Generation of Descent
8) The Seventh Generation of Descent
Compiler's Introduction
Combined Index


Compiled by G.K. Armstrong, 35 Cedars Road, London W4 3JP.

E-mail: gkarmstrong@ukhome.net
---
END OF PAGE FOUR


latest additions 05/12/2018