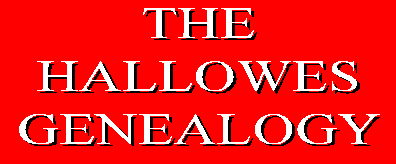 The Suicide of Warren Hallowes
---
From The Gloucestershire Echo
---
Thursday October 26th, 1905
TRAGEDY ON THE MIDLAND RAILWAY
DEAD MAN FOUND AT BECKFORD
---

The train which left Evesham at one o'clock called, as usual, at Bengeworth, Hinton, Ashton-under-Hill, and Beckford stations, and when it arrived at the latter place at 1.21 p.m., the ticket collector, named Smith, proceeded to carry out his duty of inspecting the tickets, and to his horror he found in a first-class compartment a man quite dead, leaning against the right-hand side of the carriage, and facing the engine. A shot had entered the tight temple, from which blood had flown and settled on the seat. On the floor was a revolver, and there were several cartridges on the seat. Only one of the chambers of the revolver had been fired. The train was taken on to Ashchurch, where the particular carriage, with the body, is detained. Upon the body was found a ticket from Evesham to Cheltenham, the train being due at the latter place at 2.21 p.m. The deceased is of gentlemanly appearence, with a light moustache, and he is partly bald and between thirty and forty years old. He wore a light overcoat and gold spectacles. There were two memorandums discovered, which may give some clue as to the identity of the deceased. Of these one bore the name of Mrs. Bridgman, of Bridgnorth, and was signed with the name of Warren, while the other was addressed to Mrs. Hallowes. There seems to be some evidence - though at present the conclusion is uncertain - that the latter note was addressed to his mother.
---
Friday October 27th, 1905
THE BECKFORD TRAIN TRAGEDY.
VICTIM'S BODY IDENTIFIED.
SUPPOSED SUICIDE
---

The body of a man found in the 1.21 p.m. Midland down train upon its arrival at Beckford, near Cheltenham, has been identified as that of Mr. Warren Hallowes, clerk in the office of the Post-office District Surveyor's Department, with headquarters at 25 Cambray, Cheltenham. After the discovery of the tragedy Inspector Selwood and Dr. Devereux, of Tewkesbury, went over to Ashchurch and examined the body. From the nature of the wound on the right side of the head it was clear that it had been caused by a revolver bullet, and that death must have been instantaneous. A six-chambered revolver, one of the cartridges of which was empty, was lying by his side when the tragedy was discovered. It appears that deceased, aged about forty years, had been staying at the Rose and Crown Hotel at Evesham since Tuesday, but had slept at Cheltenham. He had, it is said, appeared somewhat strange in his manner, and had spoken of suicide, but his words had not been taken seriously. He purchased a six-chambered revolver for 10s. at the shop of Mr. Barrett, gunsmith, Bridge-street, Evesham. He gave his name, and said that he resided in Cheltenham, and that he was going to compete in a shooting contest at Cheltenham that afternoon, and wanted the revolver for that purpose. On leaving Evesham by the one o'clock train on Thursday, he left a note at the hotel and some luggage and official documents, which the police have taken possession of. The note, which was addressed to "Mr. Wooster (who is assistant-surveyor at Cheltenham), was as follows: "Dear sir - I am sorry if I have put you to any inconvenience. Please give my love to M., and keep a bit for yourself. Look after my insurance money, and see that it is all handed over to mater. - Yours, W. H." Deceased changed a cheque for £20 and another for £5 on Thursday morning in Evesham, and £20 was found in his possession.
Among other things found on the deceased were two notes, one addressed to "Mrs. Bridgman, Cleobury, Bridgnorth, Salop," who is believed to be his sister, and of whom the police at Bridgnorth are making enquiries. The other notes commenced with the words "Dear mother" and bore the name of Mrs. Hallowes but of this the police do not at present feel justified in disclosing the contents.
The district coroner (Mr. John Waghorne) has been communicated with, and the inquest will probably be held on Saturday.
Information having been given of the discovery of the body of the deceased to the Post-office officials, instructions have been given by them for the detention of his luggage at Evesham.
---
Monday October 30th, 1905
THE BECKFORD TRAGEDY.
AN IMPRESSIVE FUNERAL.
---

The remains of Warren Hallowes were interred in Ashchurch Cemetery on Monday morning. The ceremony was made impressive by the attendance of a large number of sympathizers, prominent among whom were several officials from the Post-office and the postmen of the district, four of whom acted as pall-bearers. The brother officers of deceased included Messrs. W.F. Webster (surveyor) H.S. Wooster, G.N. Merrifield, R.M.Longland (assistant surveyors) S.E. Beard (travelling surveyor), W.H. Godby (postmaster at Gloucester who represented the Gloucester Recreation Club), P. Williams (postmaster of Tewkesbury), W.J. Preedy and H. Milner. The chief mourners were Mrs. and Miss Hallowes, Mr. G.P. Hallowes (brother, of the Dublin Postal District) and Mr. Brabazon Hallowes (cousin), and others present were Mrs.Longland, Inspector Selwood, Mr. J. Robinson (M.R. traffic inspector), Mr. Watkins (stationmaster at Ashchurch), Mr.Johnson, Mr. J. Harrison, and the porters at Ashchurch Station.
The Rev. H.B. Chambers, rector of Ashchurch, officiated. The coffin was of polished oak, with brass furniture, and on it was inscribed: "Warren Hallowes, died October 26th., aged 37 years. Jesu, mercy." The wreaths sent were both numerous and costly. The chief one, from the staff of his brother surveyors, was in the form of an anchor, and others were sent by the following:-- "In most loving memory," from mother and sister; "With deep sympathy and kind remembrance," the staff at 25 Cambray, Cheltenham; "With deepest sorrow," from only a sorrowing friend (Miss Jessie Bridgman); Mr. Walter Webber, Cheltenham; "In loving memory," from his brother and sisters; "In loving remembrance and with deepest sympathy," Mr. and Mrs. R.M. Longland, Somerton, Painswick-road, Cheltenham; "With love from George and Lily", "In loving memory of Uncle Warren," from Francis, Mildred, and Malcolm; "Affectionate remembrance from Aunt Edie"; "With deepest sympathy from Postmaster and Officials of Tewkesbury", "With deepest regret from Mr. and Mrs. Wooster, Churchdown; "A little while we have to stay, in loving memory," from S.N. Merrefield; "In loving remembrance from Aunt Mattie"; and from Mrs. F.H. Hallowes, Cyril-mansions, Battersea Park, S.W.


---
Compiler's Notes

The following relatives, beside immediate family, are noted as having attended Warren Hallowes' funeral or sent wreaths:
"Mr.Brabazon Hallowes (cousin)" This is [HKC] Brabazon Henry Collis Hallowes, b, 1885 and at this time studying to be a surveyor at Trinity College, Dublin. in 1909 he joined the Crown Survey.
"George and Lily"; his brother and sister-in-law.
"Francis, Mildred, and Malcolm": his nephews and neice, children of his brother George.
"Aunt Edie" His aunt Edith Louisa Blackwood Hallowes (sometime Parker) at that time married to Keith Hamilton Hallowes (her first cousin) of Dublin.
"Aunt Mattie" - unidentified.
"Mrs. F.H. Hallowes" The widow of his uncle Frederick Blackwood Hallowes, née Mary Anne Taylor Hutchinson. The incorrect second initial is presumably a typographical error.
""In loving memory," from his brother and sisters;" This entry really makes no sense at all unless connected to Mr. Walter Webber of Cheltenham on the preceding line.
"Miss Jessie Bridgman"; to whose mother one of Warren's suicide notes was addressed. What her relationship to the dead man might have been is likely to remain a mystery.
---

click here to return to the main file, or on the "BACK" button above.
first entered 11/9/2005