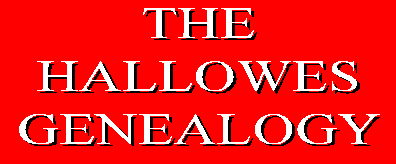 PART THREE:
THE SECOND GENERATION OF DESCENT
---
This is the third page of this Genealogical Collection. The Index for this page is at the end. Click here for direct links to other pages.
---
THE CHILDREN OF FRANCIS HALLOWES AND MARY HALLOWES, née HAFFENDEN
---
[AA] BRABAZON HALLOWES.
b. at Talyllyn 10/9/1819. Matric. Lincoln College, Oxford, 2/11/1837: BA 1841: MA 1844. Ordained deacon 1842 and priest 1843 (St. Asaph) . Perpetual Curate of St. David's, Denbigh, 1843-51; Vicar of Cilcain, Flint, 1851-67; then Vicar of Dyserth, Flint, 1867 - 70, before succeeding his father as Squire of Glapwell. Brabazon died at Hengwrtucha Llanfachraeth, Merioneth, 1/9/1892. At his death he owned 2852 acres in Notts. Derbys. and Suffolk worth £3367 p.a, and including the Glapwell Colliery (leased in 1873).
He married three times;
[AA/1] JANE CATHERINE MARIA HOWARD
b. 2/10/1824 at Denbigh, youngest d. of the Rev. Richard Coytmore Howard, D.D., Rector of Llanrhiadr, Denbigh, and his wife Dorothea Catherine, d. of the Rev. Thomas Clough, Rector of Denbigh. They married 16/6/1852 at Llanfair, Carnarvonshire: she died at Cilcain Vicarage 12/6/1853, aged 28, presumably of the after-effects of childbirth - four days before what would have been her first wedding anniversary.
[AA/2] ELINOR GREEN
Only d. of Thomas Green, J.P., of Wilby in Suffolk, and his wife Georgiana, d. of John Mordaunt. Elinor died at 28/12/62 at Cilcain Vicarage aged 29.
[AA/3] CAROLINE ANTONIA HAFFENDEN
b. 1824. She was Brabazon's first cousin, the daughter of his mother's brother Thomas Haffenden (1792-1857), probably of Hanwell, and his wife Mary Anderson (d. 1847). She died at Glapwell 26/4/1883. For more about the Haffenden family, see the previous generation.


Of his children listed below with their spouses, Thomas [AAA] was the only child of his marriage to Jane;
all the others were born to Elinor. Caroline had no children.

[AAA] Thomas Richard Francis Brabazon            1853 - 1932
   [AAA/1] Fanny Robertson                       d.1943
[AAB] Herbert Chaworth                           1857 - 1912
   [AAB/1] Elizabeth Duncan Garroway             d.1907
[AAC] Mary Eleanor                               1859 - 1942
   [AAC/1] The Rev. Gerald Henry Colvile         1859 - 1922
[AAD] Maud Louisa                                1860 - 1897
   [AAD/1] Charles Wynne Griffith                b.1853
[AAE] Brabazon Chambré                           1861 - 1914
   [AAE/1] Constance Emily Sanders               b.1862
[AAF] Georgina Catherine                         1862 - 1932
   [AAF/1] William Mather Jackson                1864 - 1934
---
Glapwell Hall in the Census, 1871-1891.

The Rev. Brabazon Hallowes is in residence for every year at Census time. His (third) wife Caroline is entered in 1881 but not in 1871. His widowed mother Mary, "Owner of Railway Shares", is entered in 1871. Of the children, Thomas and Mary are at home in 1871 only: Georgiana in 1871 and 1881; Brabazon Jnr. in 1881 and 1891: and Maud in all three years.

1871: RG 10/3466/40. 1881: RG 11/3312/47R. 1891: RG 12/2649/59.

The Cilcain Census for 1861 is missing.

---
On 17th. May 1873 Walter Pitt, aged 33, broke into Glapwell Hall and stole a watch, a "guard chain" and other things, all the property of the Rev. Brabazon Hallowes. He was tried at Derby Assizes on July 15th., pleaded guilty to burglary and, since it was not a first offence, sentenced to twelve years Penal Servitude.
---
[AB] FRANCIS HALLOWES
b. 28/4/1821 at Coed : still living there with his parents in 1861. He moved to Glapwell when his father inherited the estates and was commissioned in the 2nd. Derby Militia. Lt. 3/3/1863: Captain 14/12/ 1867; retired c. 1872 He died unmarried 9/12/1883 at the Hotel Valley, Anglesey, at which time his address was c/o the Science Club, 4 Savile Row. At his death he was the owner of the Seizin Park property in Co. Wicklow which had belonged to his great-uncle Chambré Hallowes (d. 1774).
Index
---
[AC] RICHARD HALLOWES
b.13/7/1823 at Coed. Educated at Dolgelly Free School. Joined the Army of the East India Company. Madras Infantry Cadet. 1841; Ensign, 2nd. Madras European Light Infantry, 11/8/41; Lieutenant, 20/8/45: d. unm in England, 15/12/1846.
Index
---
[AD] JULIANA ADDISON née HALLOWES
b. 20/12.1825 at Coed. After her marriage, having gone out to Africa with her husband, she served as Hon. Sec. of the Durban Benevolent Society, but was of course more fully occupied in assisting his husband and looking after their large family. She died 19/6/1892 at Durban but was buried at Pietermaritzburg. She married, 3/2/1848, at Dolgelly:
[AD/1] WILLIAM HENRY ADDISON
b. 1810 at Addington, Kent, s. of George Smith Addison of Godwell, Offham, Kent and his wife Mary. M.R.C.S. 1842: Lic. Midwifery (Rotunda) 1844: MD (Edinburgh) 1845, his thesis being "Observations on some few subjects connected with Midwifery". He and Juliana went out to Natal on "Lalla Rookh" in 1849; in the same year he was licensed to practice as a Surgeon and they settled in Durban, where a colleague advised him not to rent a small cottage behind the then gaol, since "Mrs. Addison would be terrified by the elephants, who use the verandah poles as rubbing places and are continually knocking them down". Eventually he set up his practice on Smith St. Having joined a committee investigating the possibility of founding a hospital at Pietermaritzburg, early in 1850 he moved to that city where he became District Surgeon (at £20 per annum), Treasurer of the Durban Medico-Chirurgical Society, Surgeon to the local Yeomanry Corps, and Adviser on Medical Matters to the Governor of Natal. Turning to farming, he purchased a property at Howick on the Rift Valley, then in 1858 established a farm called Addington (after his own birthplace) on the banks of the Umvoti River near present-day Stanger; after experiments with cotton, coffee and indigo he eventually achieved great success with sugar-cane. At the same time he was District Surgeon of Tugela Division, Victoria County; then, later, District Surgeon of Durban, and Surgeon of the Government Hospital there. After forty years of devoted service to the Medical Profession in Natal, he died in 1905 at Howick and was buried at Pietermaritzburg. Of his sons it was said "They fear nothing but God". Their children, with their spouses, were:

[ADA] Friend                                  1848 - 1924
  [ADA/1] Eliza Anne Jackson                  d. 1941
[ADB] Mary Emily                              1850 - 1930
   [ADB/1] Frederick Sydney Robinson          1832 - 1874
[ADC] William.   "Killed at home with his nurse 
                                    by lightning March 1852"
[ADD] William Henry                           1852 - 1939
   [ADD/1] Florence Lloyd
[ADE] Richard Hallowes                        1857 - 1932
   [ADE/1] Florence Lavinia Hirst             1858 - 1932
[ADF] Charles Brabazon
[ADG] Margaret Juliana                        1854? - 1905
   [ADG/1] Alfred Percival Field              1848 - 1926
[ADH] Walter Harding Bovell                   d. 1931
   [ADH/1] Rosalie Benoni Colenbrander
   [ADH/2] Alice Colenbrander
[ADI] Grace                                   1861 - 1945
   [ADI/1] Sydney Nevill Harrison             1865 - 1934
[ADJ] Victor                                  d. 1897
[ADK] Juliet                                  1865 - 1948
[ADL] Constance Spong                         1867 - 1943
   [ADL/1] Percy Male                         b.c.1874
[ADM] Francis Hallowes
   [ADM/1] Dulcie Hook
Index
---
[AE] MARY ELIZABETH WALKER, née HALLOWES
b. 1827. In 1861 still living in Coed with her father. She married 16/6/1866 at Bolsover (as his second wife):
[AE/1] SIR EDWARD SAMUEL WALKER, Kt.
b. at Aston Hall. 17/2/1799, s. of Joseph Walker of Eastwood, Yorks., and Aston, Derbyshire, and his wife Elizabeth, d. of Samuel Need of Arnold, Notts. Educ. Rugby and St. John's College Cambridge; LLB 1821. He was a partner in the "Lead House" of Walker, Parker & Co., Chester, managing their factory there and at Baglit. He was Mayor of Chester in 1838 (being knighted while in office, 28/4/1841) and 1848. JP for Chester and Cheshire: DL for Notts and Flint; High Sheriff of Notts, 1866.
His first wife was Frances Valentine Stevens, d. of George Stevens of Old Windsor Lodge. They had two sons (Edward, Frederick) and four daughters (Marion, Fanny, Sophia, Harriet). Frances died in 1864. LAW says there was one son of his second marriage, a son b. 14/11/1867 but if so he died young. There is no mention of him in Mary's extensive will.
Sir Edward d. 15/1/1874 at Berry Hill; his will was proven at Nottingham 23/2/1874. In it he left substantial annuities not only to his wife but also to her mother, Mary Hallowes, who however survived him by less than two years.
Mary Walker was living at 21 St. James Sq., Bath, in 1899. She died 6/12/1903.
---
[AG] LOUISA LEWIS
b. 1831 at Coed, nr. Dolgelly, Merioneth, and died at the Broad Gate, Ludlow, 30/8/1918. When the Census of 1911 was taken on April 2nd. she was staying with their son William in Pimlico, together with her daughter Caroline (he died in December).
She married, 14/9/1853:
[AG/1] THE REV. DAVID PHILIPS LEWIS
b. Edinburgh, 1821, s. of Dr. David Lewis, of Ludlow and Worcester, and his wife Caroline Lewis (a distant cousin). A letter of 1834 from his grandfather the Rev. David Lewis to his uncle Richard Lewis (of Tasmania) says that he is at school at Ruyton and "is a fine disposed boy but does not promise to be clever and bright." Educ. St. John's College, Cambridge. Adm. Pensioner, 3/5/1838; B.A. 1842; M.A. 1845. Deacon 1843 (Gloucester), Priest 1844 (Hereford). Curacies: Sudeley 1843-45; Oswestry 1845-7; Welshpool 1847-50. P.C. of Bultington 1850-63. Vicar of Guilsfield (Mont.) 1863-81 (see below); Rector of Llandrino from 1881 until his death at Llandrino 17/4/1892.(R.D. Pool, 1859-1892)
Their children, with their spouses, were:

[AGA] Caroline Mary                              1855 - 1926
   [AGA/1] Richard Egerton                       1844 - 1901
[AGB] David Francis                              1855 - 1927
   [AGB/1] Edith Marion Smith
[AGC] William Henry Phillips                     1859 - 1911
   [AGC/1] Ethel Florence Mary Hussey            b. 1880 (?)
[AGD] Frederick                                   ? d. young
[AGE] Arthur                                      ? d. young
  (LAW: "One of these two was in the Merchant Navy
                 and died in China")
[AGF] Charles Edward Llewellyn                   1865 - c.1931
[AGG] Amy Louisa                                 1867 - 1932
   [AGG/1] Edward Stanley Lloyd                  1868 - 1940
[AGH] Cecil Hallowes                             1869 - 1915
[AGI] Ernest Richard Hallowes                    1873 - 1940

Mrs. Juliet New writes: "Dear Mr Armstrong, I cannot add to your family tree but can add some personal details about one member of it. Louisa Hallowes married the Revd David Phillips Lewis and lived at Guilsfield, Montgomeryshire for some years.My father, now 80, says that his grandmother, who was born in Guilsfield in the early 1860s, spoke very warmly of Louisa and her family as being more or less her family's saviour. Evangeline Brown, as she was born, was the daughter of a local labourer, Edward Brown, who lost his wife in childbirth in 1871 leaving him a widower with several children to support. His health broken, he also died (1873), leaving the children orphaned. Apparently the Brown children, especially the girls, were helped by Mrs Lewis and either her sister (but that looks unlikely) or his sister (I have no details of his family). Evangeline was, despite her very humble background, able to speak French, a good needlewoman, etc. and this she ascribed to the vicar's family. I also think they helped her into employment."
---
This branch of the Lewis Family is being reserched by Christine J. Lewis, a first cousin four times removed from thr Rev. David Phillips Lewis.
---
[AH] WILLIAM HALLOWES
b.21/3/1832 at Cilcain (LAW says Glapwell). Educ. at Greenwich R.N.C. and served briefly in the Navy, then joined the 85th.Ft. as Ensign 22/1/1853; Lieutenant, 6/6/1854; Captain, 4/3/1861; Major, 7/10/1871; Lt.Col. 1/10/1877: Col. 12/6/1878. He married:
[DD] LOUISA COLEMAN HALLOWES
his first cousin, daughter of his uncle Thomas Hallowes.
William died 29/9/1879 at his home in Anglet, nr. Biarritz, France. His widow returned to England and brought up their three sons and three daughters (a fourth son died young) in Oxford; later she went out to South Africa and died at St. Chad's Mission, Ladysmith, 14/5/ 1917.
Their Children, with their spouses, were:


[AHA] Beatrice                            1863 - 1931
   [AHA/1] Alexander Ferrier              1850 - 1934
[AHB] Francis William                     1866 - 1942
   [AHB/1] Martha Musgrave Beadon         1869 - 1949
[AHC] Bernard                             1869 - 1951
   [AHC/1] Grace Catherine Thoms          1870 - 1944
[AHD] Agnes Williama                      1872 - 1958
   [ADBC] The Rev. Cyril Robinson         1873 - 1948
[AHE] Walter Haffenden                    1873 - 1943
   [AHE/1] Margaret Ethel Johnson         1881 - 1943
[AHF] Katherine                           1876 - 1977
   [AHF/1] Adolph Johann Schilling        1871 - 1945
  (there was a fourth son, Brabazon, who died young in India)
Index
---
THE CHILDREN OF JAMES PRATT AND JULIANA PRATT née HALLOWES
---
[BA] HENRY HAMILTON PRATT
b. 25/11/1825. Commissioned into the 95th. Ft. 25/6/. Lt. 9/11/1846; Capt. 29/12/54; Major 14/6/1869; Lt. Col. 1/10/77; retired with the hon. rank of Colonel, 1/10/1881. Staff Officer of Pensioners, 1860. Res. after leaving the army: Southville, Queen's County. He died at 36 Clarendon Square, Leamington, 15/3/1911.
He married, 14/11/1859:
[BA/1] ANNA BLANCHE BONHAM
d. of the Rev. John Bonham of Ballintaggart, Co. Kildare, M.A., J.P., by Barbarina, d. and co-heir of John Norris of Hughenden House, Bucks. She survived her husband.
Their children, with their spouses, were:


[BAA] James Bonham Tod                          b. 1862
[BAB] Henry Arthur                              1864-1938
   [BAB/1] Frances Margaret Ethel ?             d. 1942
---
[BB] FRANCES ANNE BOND
She m. (lic. Dublin) 8/4/1843 at Taney:
[BB/1] CHARLES JOHN BOND
4th. child and 2nd. son. of The Rev. John Bond, D.D., of Corpus Christi College, Oxford, who kept a school in Hanwell; and his wife Sophia, daughter of Captain Thomas Smart of the Royal Engineers and his second wife Charlotte Dalton; and brother to Charlotte Bond who married her uncle Price Blackwood Hallowes. Frances and Charles had no children.
---
[BC] LOUISA HARRIET BOND
Born c. 1831. She married at Taney 9/8/1855:
[BC/1] RICHARD DOWNER WEBB BOND
8th. child and second son of William Andrew Bond who was Churchwarden there, and his wife Elizabeth, née Dalton; and first cousin to his brother in law Charles. Richard Bond died at Bath, 21/11/1864: Louisa at Cheltenham, aged 82, 26/9/1912. Their children were:
[BCA] Richard Pratt                 b. 1856
[BCB] Charles John                  1858-1879
[BCC] William Henry
[BCD] Louisa
Index
---
THE CHILDREN OF JOHN EDWARD HALLOWES AND MARGARET HALLOWES née RAMSAY.
---
[CA] JOHN HALLOWES.
b.Devonport 1824. As a boy he entered the Navy and served for a while as Midshipman; then obtained an Ensign's commission in the 4th.Ft.,10/3/1842; Lieutenant 11/10/1844. The 4th. was then in India; when it returned to England in 1849 he exchanged into the 87th., which had just come out, and with which he served the rest of his career. Captain, 17/4/1857; Major, 23/3/1866. He served with the regiment during the Indian Mutiny, was at the Relief of Lucknow and the Battle of Nawabgunge, and received the Medal for the campaign with clasp. He sold out 1/4/1870 and retired with the honorary rank of Lt. Colonel. On the 1881 Census he is found visiting his father in Portsea; it lists him as 'married' but if so nothing is known of his wife. He died 21/3/1905 at 23 Romsey Rd., Winchester, intestate, his brother George being administrator. A full obituary was published in the Regimental Gazette.
---
[CB] MARGARET HELEN FREESE.
b. at Versailles 1825. At Portsea with her father in 1861 and 1871. She married, at the age of forty-nine:
[CB/1] AUCHMUTY TYLDEN FREESE.
Born c. 1817 at Madras, he entered the Navy in 19/9/1830. Mate, 5/4/37; Lt. 23/12/42; Cmdr. 6/6/66 (on retirement). July 1842- Jan. 1842, Mate of EIC Steamer "Nemesis" in the South China Sea; he was Mate of "Vixen" at the capture of Chin Kiang Foo and at Nanking. In 1846 was Lieutenant aboard HMS Osprey, 12 guns, when she was wrecked off New Zealand. 1/3/1847, Chief Officer, Coast Guard Station, Sutton; 22/10/56, Inspecting Officer, Division of Coast Guards, Partington.
He was first married, 22/8/1847, at Fraserburgh, Aberdeen, to Andrew Mary Thomson (b. c. 1817). On the 1871 Census (RG 10/2661/f.16) they are found at 1, Park Promenade, Cheltenham (with two servants). Mary died there in Q1 1872. They had no children.
Auchmuty Tylden Freese and Margaret Helen Hallowes were married 20/3/1873 at Portsea, just a year after the death of his first wife; they lived at 5 Clarendon Road, Southsea. However this marriage lasted only 89 days, for the husband died at on the 16th. June of the same year.
Mary eventually moved to Winchester (3 Clifton terrace) and she died there 14/1/1897. Her Executor was her brother George.
---
The Thomson family of Fraserburgh is being researched by Mark Xavier Wheelan-Lamont of Auckland, N.Z. (e-mail: mxwlamont@hotmail.com).
---
[CC] RAMSAY HENRY HALLOWES.
RN. 1840 1st.-cl. Volunteer, HMS Powerful in the Mediterranean; he received the Naval General Service Medal during naval operations of the Syrian and Egyptian Coast 'against the Pirates of Sanbar and Sakarran'. 7/8/1846 acting-Lieutenant, Actaeon, 26, on the African Coast; 16/4/1847 Lieutenant; 16/4/47 to Wanderer, 16, on the same station; then 8/6/1848 to HMS Pilot, Sloop, in the East Indies. Died c. 1853 at Haslar. He never married.
---
[CD] THOMAS LANGLEY HALLOWES.
RN. A/Mate 1847; Lt. 30/9/1848. Acting-Lieutenant Growler, Steam-sloop, 6, in the Mediterranean 4/7/1849.He then joined the Merchant Navy, made his home at Rosemount, Jersey, and died 25/2/1855 at Iquique, Peru, (now in Chile) as Chief Mate of the ship 'Bolina'. He never married.
---
[CE] BRABAZON MILLER HALLOWES.
Born c. 1827. During the Crimean War he joined the Land Transport Corps as an Cornet (30/11/55) and was promoted to Lieutenant when the Corps was disbanded at the end of the war, 1/4/1857. He married, 14/1/1859, at St. Peter's, Stepney:
[CE/1] SARAH LAMAL WATKINS
The marriage was childless, unhappy, and short. From The Times, 6/7/1863 (11e):
"POLICE - WORSHIP STREET.- Brabbagan Hallowes (sic), a well-dressed person, 37 years of age, and residing at 10, Esmond-road, Old-ford, Bow, was charged before Mr. COOKE with assaulting his wife.
The police proved that at a late hour on the previous night cries of 'Murder!' were heard by them proceeding from the prisoner's house. On reaching it they found the complainant with one of her eyes frightfully contused and bleeding. Her husband was drunk and using threatening language. She accused him of assaulting her, and gave him into custody.
The complainant said that her husband was continually intoxicated, and as frequently ill treated her. On this occasion he struck her to the floor with his fist, simply because she requested him to go to bed; he also beat her when she was on the ground.
The defendant declared that his wife fell against the latch of the door, and that she was herself tipsy.
Mr. COOKE said that the police-sheet certified that the defendant belonged to the 18th. Royal Irish, and he was astonished at a man in such a position so grossly misbehaving himself. He ordered him to find bail in two sureties of £50 each for four months."
B.M.Hallowes never belonged to the 18th. Royal Irish, though he might possibly have been attached to them during his Crimean War service with the L.TC.; at this time he was an Unattached Lieutenant on half pay, and - lacking either money or influence - entirely without the prospect of further employment in the Army.
He died in St. Thomas's Hospital Southwark, 3/11/1868. His address is given as 7 Hercules Bldgs, Allen St., Westminster Bridge Road, Surrey. He was intestate - by that time his wife had either died or left him - and Administration was granted to John and George.
---
[CF] GEORGE SKENE HALLOWES.
b. 26/8/1830. Army Officer. Ensign, 16/2/1849 in the 25th. Ft. (which became the King's Own Scottish Borderers under the Cardwell reforms), with whom he stayed for all his time as a Regimental Officer. Lieutenant 26/12/1851; Captain 10/9/1858; Major 21/8/1869; Lt. Col. 15/7/1876. Retired with the honorary rank of Major-General, 14/8/1881. Addresses: Merchiston, Edinburgh (where Sophia was born in 1881): Arnold St, Holmwood, nr. Dorking, Surrey; and 27 Hogarth Rd., Kensington. He died at Hogarth Rd. 4/5/1911.
He married, 9/8/1870, in Edinburgh:
[CF/1] LUCY ANNE HOPE
b. 10/5/1846, d. of James Hope, Deputy Keeper of the Signet, by Elizabeth, d. of the Rt. Hon. David Boyle, Lord Justice General. She d. in London, 14/4/1931. Their children, with the spouses, were:

[CFA] Elizabeth Boyle                              1871 - 1950
   [CFA/1] David Carnegie, 10th. Earl of Northesk  1865 - 1921
[CFB] John Hope                                    b. 1873
   [CFB/1] Olive Lilian Murphy                     d. 1976
[CFC] Margaret Ramsay                              1874 - 1944
[CFD] Lucy Hope                                    b. 1878
   [CFD/1] Reginald Baiss                          1873 - 1955
[CFE] George Skene                                 1880 - 1940
   [CFE/1] (Unidentified)
[CFF] Sophia Hope                                  1881 - 1969
   [CFF/1] John Marshall Gorham                    1853 - 1929
   [CFF/2] Cuthred Compton                         1884 - 1952
[CFG] Alexander Boyle                              1885 - 1917
   [CFG/1] Evelyn Delicia Alice Cargill            1888 - 1972
[CFH] Kenneth Sholto                               1887 - 1933
[CFI] Cecilia Granville Lewin                      1888 - 1952
   [CFI/1] Evan William Brodie                     1884 - 1935
His executor and sole legatee was his daughter Margaret Ramsey Hallowes, who was killed by a bomb at 1b Sloane Court SW3, 3/7/1944.
Index
---
[CG] FREDERICK WILLIAM HALLOWES:
b. 1833 at Gosport. He joined HMS Trincomalee (see below) 10/08/1847 as a naval cadet aged 15 and was promoted to Midshipman 25/01/1850 aged 17. He was discharged from the ship on 16/08/1850. 12/12/1854, acting-Mate, HMS Wasp, 14, Steam-Sloop, in the Mediterranean. 5/1/56 Lieutenant Calcutta 84, Flagship on the China Station. Lieutenant in command of the steam gunboats Bustard, 1/7/57, during which time she took part in the attack on the Taku Forts in 1878; Algerine, 5/12/60; and Nimble, 1/10/64. Commander, 3/8/65; commanded Argus, Sloop, 30/3/67 on the China Station. He took part in the Abyssinian Expedition of 1868. 27/1/70 Inspecting Officer, Southsea Div., Coastguard. Captain, 19/12/71. Placed on the retired list, 1/10/73; Rear-Admiral on the retired list, 3/4/88. While in HMS Calcutta he received the Naval General Service Medal; later (probably while serving in the Crimea) the Legion d'Honour and the (Turkish) Medjidie of the 5th. Class. He died at his home "Elphinstone", Elphinstone Rd, Southsea, Hants, 30/12/1901.
He married, 23/2/1869:
[CG/1] GEORGIANA MARIA HARE-NAYLOR
b. c. 1844 in Bonn, Germany, d. of Gustavus Edward Cockburn Hare-Naylor of Kilcullen House, Co. Galway, by Sarah Anne, d. of Samuel P. Wright of Wood Green, Mddx. She died 18/4/1890.
Georgiana's family have been known by this surname since Bishop Francis Hare D.D.,(1671-1740) a distinguished churchman of the Later Stuart and Early Georgian periods, married in 1709 his first cousin Bethaia Naylor (1671-1714) eventual heiress of Hurstmonceaux Castle, which had been purchased by her brother George Naylor from the Dacre family in 1708.
Their Children, with their spouses, were:

[CGA] Georgina Margaret                     1872-1956
   [FG] Edward Price Blackwood Hallowes     1851-1923
[CGB] Frederick Hare                        1878-1956
[CGC] Winifred Maud                         b. 1879
   [CGC/1] Ernest Clifford Hardy            b. 1866
On the 1871 Census Frederick and his wife Georgiana are found on a visit to his father Admiral John Hallowes, famous for his open hospitality, at Portsea. Surely mistakenly, Frederick's name is given as 'Jonathon'.
---
HMS Trincomalee, a Frigate built in 1817, has now been restored and is berthed in Hartlepool - the oldest British Warship still afloat.
---
[CH] CATHERINE LOUISA LOW
b. 1835, and died at Montreal, April 1927. She married. 25/7/1860, from Milton House:
[CH/1] JOHN LOW
s. of Charles Adamson Low of Montreal. 6/7/1855, Ensign, 15th. Foot; Lt. 23/3/1858; Captain 8/1/1864. He retired c. 1867-9; in 1873, when living at East Hill, Fareham, Hants., he was co-trustee in the estate of Auchmuty Tylden Freese, husband of his sister-in-law Margaret. Later he returned to Montreal, where he died 4/4/1915.
Their children were:
[CHA] Grace Ramsay; b. 1861: died unm. at Bournemouth, 1947.
[CHB] John Hallowes, b. St. John's, New Brunswick, 9/4/1863.
[CHC] Charles Henry, b. at Milton House 6/7/1864.
[CHD] George Skene, b. at Aldershot 9/12/1866; married, but had no children.
[CHE] Helen Margaret Jardine 1871-1933. She married:
[CHE/1] Alfred George Foot, b. 1868.
Index
---
[CI] HENRY JARDINE HALLOWES
b. 13/11/1838. Educ. privately. Ensign 15th. Foot, 11/5/ 1855; Lieutenant 11/7/1857; Adjutant 4/12/1857-17/2/1762; Captain 18/2/ 1862; Brevet Major 29/5/1875; Major, 15/8/1877, at which date the 15th. was renamed the East Yorkshire Regiment; Lt. Col., 13/8/1881. In 1866 he was seconded to the New Brunswick Militia as Adjutant-General during the Fenian Incursions into Canada and was awarded the Canada General Service Medal with the 1866 Clasp (in 1899 when it was belatedly instituted). From 1871 onwards he served mostly on the Staff. He was Adjutant of the School for Officers of Auxiliary Forces at Aldershot, 15/2/1871; D.A.A & Q.M.G. (Assistant Inspector of Gymnasia) at Aldershot, 30/4/1879-30/6/1876; Inspector of Gymnasia in India, 23/9/1876-21/2/1882. District Staff Officer 1st. Class, Bombay, 4/12/1881-9/6/1884, also 2nd. Lt.Col. of the 2nd. Bn. of his regiment; Commandant of the Deodali Depot 30/6/1884- 13/12/1887. During the Second Afghan War he was Director of Transport during the Advance to Shirpna; he took part in the operations at Jugdullock and the reoccupation of Kabul. Beside receiving the Afghan medal he was also Mentioned in Despatches. Promoted Colonel, 13/8/1885; O/C 15th (Beverley) District (the recruiting area of the E.Yorks.Regt.), 25/2/1990. Colonel on the Governor's Staff, Jamaica, with the local rank of Major-General, 19/12/1994; this rank was made substantive 16/2/1898. Placed on the Retired List, 11/5/1900. He was made Colonel-in-Chief of the West India Regiment, 1/12/1910; during WW1 he was O/C 3 Bde. National Reserve London Div. and was awarded the Legion d'Honneur and the Croix de Guerre avec Palme. He was the author of a number of books on Military subjects. He died at Kessock Cottage, Tortola, Nairn, 28/6/1926. A short obituary appeared in the Times 1/7/1926.He was twice married:
[CI/1]CHARLOTTE ELIZABETH ORMONDE GREY
d. of the Hon. J. Hamilton Grey, DCL, a Judge in British Columbia. They married in 1868 and she died 4/9/1916 aged 69.
[CI/2] ELEANOR MARY SYKES
d. of Daniel Sykes of Oaklands, Almondsbury. They married in 1920; she survived him.
He had one child, of his first marriage: [CIA] Beatrice Ramsay Hallowes, who married in 1902 (as his first wife) Major-General Sir Evan Gibb (1877-1947). They had no children, and she died at Inwoodbarn, 3/9/1928.
Index
---
THE CHILDREN OF THOMAS HALLOWES AND HIS SECOND WIFE MARY ANN HALLOWES née COLEMAN:
---
[DB] RICHARD COLEMAN HALLOWES.
born 14/7/1828. As a child he is found only on the census of 1851 (described as 'Officer's Son') so was presumably sent early to a boarding school. He worked all his life as a Clerk in HM Customs. He died at 'Pomona', Church Lane, Lincoln, 7/5/1911. He married:
[DB/1] ELIZA PENDERED
b. 1/7/1827, d. of John Pendered of Royston, Herts.
On the 1871 and 1881 Census Richard and Eliza are found at 1 Union Road, Albion Road, Holloway. They had no children and shared their home with Eliza's brother Francis Pendered, a Commercial Traveller; and for a while at least, with his own brother Arthur, who died there in 1873, and his wife Louise. Francis and Richard were both witnesses of Arthur's will, dated 9/8/1872 and in 1883 Richard was co-executor of his cousin Francis' will. Eliza died 19/3/1917 at Church Lane, Lincoln: her executors were Richard's sister Agnes Coleman Vaughan and Agnes' son Arthur Llewellyn Vaughan.
---
A handsome silver tray which has been handed down in the Vaughan family and is now in the keeping of Agnes' great-grand daughter Janet Hallowes Fowler ne&eacute Vaughan bears the following inscription:



From Members of the Committee, the Teaching Staff, Students and Supporters of the City of
Lincoln School of Science and Art,
To Richard Coleman Hallowes Esqre.
upon his retirement from the office of Honorary Secretary:
in grateful recognition of much capable and courteous service
18th. March 1903.

Picture 1 Picture 2
---
[DC] JOHN COLEMAN HALLOWES.
b. 1829, he never married and died at Tonbridge 18/7/1849.
---
[DD] MILLER COLEMAN HALLOWES.
b. 8/10/1830. A member of the Tonbridge Freemasons from 1864 to 1876. Studied at St. Batholomew's Hospital; LSA 1875; MD 1878 (which is surely very late for a child of this family); Medical Officer, City and East London Dispensary. Co-executor of Francis' will with Richard (above) in 1883 ; his address at this time is given as 10 King St., Finsbury Sq., Holborn; but he is not at this address in 1881. Died unm. 4/12/1887.
---
[DE] LOUISA COLEMAN HALLOWES.
born 1/7/1833. In the 1861 Census she was still at home in Tonbridge; she married her first cousin
[AH] WILLIAM HALLOWES at St. Matthew's City Road, 22/6/1861. Their children are in his file; after his early death she returned to live in Oxford where she brought them up. Afterwards she went out to Africa and died 14/5/1917 in Ladysmith.
---
[DF] ARTHUR COLEMAN HALLOWES.
born 31/1/1835; educ. Tonbridge. Ensign 24th. Ft., 18/7/ 1855; Lieutenant 10/9/1858; Captain 29/7/1862. The Regiment was on the North-West Frontier 1855-6, and during the Mutiny 'suffered severely in the affair with the Jhelum Mutineers'. Arthur took part in the Siege and Capture of Meeangunge and of Lucknow, and was present at 'the affairs of Baree and Nuggar'. After the Mutiny had been suppressed his regt. returned home, and was at Malta and Gibraltar from 1866. Arthur is last entered on the Army List in October 1872. He married 10/3/1863:
[DF/1] JEANNE DESIRÉE LOUISE LOLLIOTT
b. 1848 in Mauritius. They seem to have had no children.. Arthur died 2/6/1873 at the home of his brother Richard in Holloway, and Louise died in 1877.
---
[DG] FRANCIS COLEMAN HALLOWES.
born 28/8/1837; educ. Tonbridge. A member of the Tonbridge Freemasons from 1858 to 1876. He went out to Gisborne, New Zealand, became a sheep farmer and died there unmarried 12/5/1908. He is mentioned in Richard's will (though according to LAW he had died two years earlier).
---
[DH] MARY COLEMAN KIRWAN WARD.
born 24/12/1837 at Dymchurch. The records of her marriage (below) show that she was married aged 16 yrs and 3 months. Her marriage lasted 110 months, during which time she gave birth to seven children. On the census of 1861 she is found on a visit to her Uncle Price in Canterbury. In 1863, following the birth of her last child (in March) she returned to Tonbridge - presumably to her father's home - and both mother and child died there on May 26th. She was aged just 25 yrs and 5 months; her eldest child was just eight.
Her husband, whom she married 1/4/1854 at St. Matthew's, City Road, was:
[DH/1] JOHN HENRY KIRWAN WARD
b. 24/9/1831 at Chester, s. of William Ward of Chester. Educ. Tonbridge (Captain of Cricket); Judd Exhibitioner, Trinity College, Cambridge. BA (sen.opt & 2nd. Cl. Classical Tripos) 1854; MA 1857. Ordained deacon 1858, pr. 1860.
Curacies: St. Marys, Marlborough, 1858-61 and 1867-72; Tisbury, Wilts, 1861-64; Folke, Dorset 1864-65; Holy Trinity, Gosport, 1865-67. Diocesan Inspector of Schools for R.D. Marlborough, 1879. Curate in Charge of Cogges, Oxford, 1880-82; then of Gillingham, Dorset, 1882. Finally Vicar of Asthall with Asthall Leigh (Oxon), 1883-1902. Nothing in this, however, explains how his first four children all came to be born overseas, in Dresden or Innsbruck; nor where his ministry was during 1872-79.
After Mary died he married as his second wife (2/1/1871) Selina Milverton, born c. 1832 in Chard, Somerset. Both are found on the 1891 Census for Asthall Vicarage, together with his eldest daughter Mary. The Rev. Mr. Ward died at Asthall 23/9/1902, and Selina 16/3/1916.
The children of his first marriage, with their spouses, were:

[DHA] Mary                                  1855-1919.
[DHB] Louisa                                1856-1897
[DHC] William Hallowes                      1857-1943
   [DHC/1] Ethel Bayford                    1870-1946
[DHD] Arthur Henry                          1858-1879
[DHE] Edith                                 1860-1955
[DHF] Norman Francis                        1862-1944
   [DHF/1] Bertha van der Heyden            b. 1874
[DHG] Bernard Frederick Coleman             b. and d. 1863
The surviving children were all beneficiaries under the will of their Uncle Richard Hallowes, who d. 1911.
---
Their great-grand-daughter Ruth Lilly writes: "In 1981 my husband Ian and sons Matthew and Simon visited Asthall and were invited into the vicarage where my father spent time with his grandparents as a young boy.We just happened to meet the owner in the country lane and she was very hospitable.The church has inscriptions on the wall about my great grandfather John Henry and also great uncle William Hallowes. I have a very nice photo of that family all sitting out the front of the vicarage and also of Norman's children in sailor suits standing in a line. The latter is 62cm by 55cm.It is one of my most prized possessions."
---
[DI] ELLEN COLEMAN HALLOWES.
b. Romney Marsh, 12/7/1838: died 16/3/1844.
---
[DJ] AGNES VAUGHAN.
b. 3/5/1841 at Dymchurch. In 1864 she was the sole executrix and legatee of her father's will. In 1871, still single, she is found by the Census on a visit to her brother Richard in Holloway. According to LAW she also lived for a time with her uncle Francis at Glapwell, and after his death with her Uncle John at Milton House. She was co- executrix of her brother Richard's will in 1911; with her son Arthur, of Richard's widow Eliza in 1917 and died in Lincoln 21/6/1927.
She married 24/10/1871:
[DJ/1] THOMAS BROWNE VAUGHAN
b. 18/11/1838, s. of Edward Vaughan, farmer, of Trederwen Hall, Llandrinio, Montgomeryshire, and his wife Martha, née Whittingham. Adm. Pens. St. Catherine's College, Cambridge 15/5/1858; matriculated 1858; B.A. 1862; M.A. 1866; ordained deacon (Lichfield) 1862, priest 1863. Curate of Heath and Ault Hucknall 1862-71; Rector of Upton, Lincs., 1871-6; Rector of Heapham with Upton, 1876-89. He died at his Rectory, 14/12/1889 (see separate obituary).
The Vaughan and Whittingham Families of Llandrinio are being researched by Justine Orme of Clark's Beach, nr. Auckland, N.Z. (e-mail: ORMEFAM@xtra.co.nz), a descendant in the third generation from Thomas' eldest brother Edward (1834-1891) who emigrated to New Zealand c. 1860.
The children of Thomas and Agnes Vaughan, with their spouses, were:

[DJA] Thomas Hallowes                     1872-1922
   [DJA/1] Elsie Piper                    1880-1953
[DJB] Arthur Llewellyn                    1874-1955
   [DJB/1] Louise Emily Norton            b. 1871
[DJC] Gwladys Mary                        1877-1943
[DJD] Mildred Agnes                       1878-1937
[DJE] Gertrude Gwenydd                    1880-1952
[DJF] Hugh Christopher                    1882-1936
   [DJF/1] Ruth Gertrude Murray           b. 1883
All the children then living are on the Census for 1881.
---
[DK] KEITH EDWARD COLEMAN HALLOWES.
b. Romney Marsh 2/7/1843; educ. Tonbridge. He went out to Australia c. 1861. His descendants know almost nothing about him, and believe he must have been a remittance man. In 1869 he married:
[DK/1] ELEANOR CARMICHAEL
"They had several children, of whom one, a daughter, is said to have been a well known doctor in Australia" (LAW) This is a provisional list provided by Arthur Hallowes. Only the fifth of these names has been extended to the next page.

[DKA] Jessie Agnes                                   b. 1870.
[DKB] Eleanor Mary                                   b. 1872.
[DKC] Frederick John                                 1874 - 1890.
[DKD] Arthur Edward                                  1876 - 1945
   [DKD/1]Annie Ellen.
[DKE] Neil Albert                                    1879 - c.1955
   [DKE/1] Dora Vipan Down                           b. 1886
[DKF] Flora Elsie                                    b. 1881
[DKG] Richard Carmichael                             b. 1884
Index
---
THE CHILDREN OF MILLER HALLOWES AND CATHERINE HALLOWES née STITES
---
(all born at Bolingbroke, Camden County, Georgia):

[ED] JOHN NICOL HALLOWES.
Born c.1838. At the Outbreak of the Civil War he enlisted in a Georgia Regiment, went to the Army of Virginia and was mortally wounded at the battle of Sharpesburg in September 1862. Despite desperate endeavours by his father, his body was never recovered. He had never married.
---
[EE] LOUIS EDWARD HALLOWES
Born 1839( LAW) or 26/1/1841 (IGI). Educ. at Ocala, Florida. In the Civil War he enlisted in Captain Reddick's Legion of Cavalry in the 4th. Georgia Brigade; most of his service was near St. Mary's and along the coast. He married, firstly, in Camden 29/4/1867:
[EE/1] HANNAH MARIA BESSANT
b. 13/5/1839 in Camden. d. of John Bessent Jnr., merchant, and his wife Maria Osborne, née Howell. Hannah died16/2/1875. Louis married secondly:
[EE/2] MARY MIMS of South Carolina.
Louis had no children by either marriage and died at Green Grove Springs, Florida, 18/12/1928.
The Bessent Family of Camden County, FL, and the related McGillis and Drawdy families, are being researched Barbara Miller of Charleston SC(e-mail: bhmiller@knology.net), who would like to hear from any other researchers with the same interests.
---
[EF] LOUISA AGNES HALLOWES
Born 22/3/1843. G. L'Engle gives an account of how she heroically saved a body of Confederate troops from a surprise attack by Federal forces by a long ride during a dark and stormy night through very difficult country to warn them of their danger. Also at this time there was a severe outbreak of Scarlet Fever at Bolingbroke, during which she and her mother nursed the children attacked, both white and negro. She never married, and died at Jacksonville 25/11/1925.
---
[EH] ADA NICOL MITCHEL
Born Oct.1847, and died at Jacksonville 30/1/1918. She married c. 1869 at Claremont:
[EH/1] THE REV. WHITTIER D. MITCHEL of St. John's County, Fla. He officiated at Gainsville, Fla., and died 26/10/1871. They had issue:
[EHA] Whittier Mitchel, born c. 1870 at Claremont, and died at Winchester, Virginia, in 1877.
---
[EI] CAROLINE MARY HALLOWES
Born ?7/7/1849. In 1874 she visited her relatives in England and wrote describing her meeting with her aunt Juliana's husband William Booth. Mr. Booth (or some connection) seems to have told her that he had actually been present at the deathbed of the Duke of Wellington; but this is surely a fable. She never married and looked after her father in his old age. She died 3/8/1925 at Jacksonville.
---
[EJ] JULIANA BLACKWOOD DANCY
Born 30/4/1851 and died at Jacksonville 29/9/1918. She married, 5/9/1871, at Claremont:
[EJ/1] JOHN MORTIMER DANCY
b. 15/1/1845 at Orange Mills, Fla., son of Colonel Francis Littlebury Dancy, orangegrower, by Florida, d. of Robert Raymond Read. He enlisted in the Confederate Army at the age of 16; and afterwards became a Civil Engineer. He died 23/12/1939 at Jacksonville.
Their children, with their spouses, were:

[EJA] Miller Hallowes                     1873-29
   [EJA/1] Mildred Carrington Clark       d. 1931
[EJB] Flora Reed                          1875-1950
   [EJB/1] Frank Wilbur Chace
[EJC] Elise Hallowes                      1876-1910
   [EJC/1] John Adams Ganahl
[EJD] Winifred Lanier                     b. 1878
   [EJD/1] Richard Daniel Drysdale
[EJE] Lina Blackwood                      b. 1800
   [EJE/1] Alfred Erastus Hampton         b. 1882
[EJF] Caroline Hallowes                   b. 1882
   [EJF/1] Edgar Lee Crosset              b. 1875
   [EJF/2] Louis M. de Saussure
[EJG] Agnes Hallowes                      b. 1884
   [EJG/1] Thomas Scriven Bond            b. 1885
[EJH] Alice Gwynn                         b. 1889
   [EJH/1] Chaires Davis Bowman           1889-1930
   [EJH/2] Edwin Holtz Johnson            d.c. 1948
---
[EK] ELISE NICOL KNIGHT
b. ?1853 at Bolingbroke and died 12/1/1918. She married 27/8/1889. at St. John's:
[EK/1] THE REV. ABLION WILLIAMSON. KNIGHT
b. 24/8/1858 at Whitesprings, Fla., so of George Augustus Knight by Martha Demere. Educ. at the University of the South, Sewanee, Tenn. D.D. Ordained deacon in 1881 and priest in 1883. Successively Missionary in Florida; Rector of St. Mark's, Palatka; Rector of St. Andrew's, Jacksonville; Dean of the Cathedral, Atlanta (Ga) 1893-4. Representative for Florida in the General Convention 1889-95, and Georgia 1895-1904. Associated Alumni Trustee, University of the South, 1893-1904. Bishop of Cuba, 1904-1913. Vice Chancellor, University of the South 1914-1936; Bishop in charge, Panama Canal Zone, and Bishop Coadjutor, New Jersey, 1923-36. He died 9/6/1936.
They had one child:

[EKA] Ada Nicol
   [EKA/1] James Neville Richards      d. 1917
   [EKA/2] Thomas Preston Harper       d. 1917
Index
---
[EL] WILLIAM ALEXANDER HALLOWES I
b. 10/6/1854 at Bolingbroke. He became a Steamboat Captain, retiring in 1915. He died at Green Cove Springs, Fla., 9/1/1944. At his death he was the last surviving grandchild of John Hallowes, dying 214 years after his birth.
He married, firstly, at St. John's, Jacksonville, 23/4/1880:
[EL/1] LYDIA VIPONT TELFAIR
b. 23/1/1862 at Newbern, Alabama, d. of John Spiers Telfair by Eliza Borden, all also of Newbern. She died 17/11/1885 at Savannah, Ga. Their children, with their spouses, were:

[ELA] William Alexander jnr.                1881 - 1933
   [ELA/1] Sarah Rhea                       b. 1881
[ELB] Caroline Mary                         b. 1883
   [ELB/1] Jesse Vincent Carnes             1873 - 1938
After the death of his first wife, William married, in 1888:
[EL/2] ROSE CHEVALLIE
b. in Lausanne, Switzerland. The children of his second marriage, with their spouses, were:

[ELC] Catherine Brabazon	                      b.1889
   [ELC/1] Henry Edward Walters                  d. 1955
[ELD] Louis Nichol	                               1889 - 1961
   [ELD/1] Lily May Moore                        1900 - 1984
[ELE] Alexandrine Louie	                      1891 - 1929
   [ELE/1] William Sherman Evans
[ELF] John Post	                               b.1892
   [ELF/1] Harriett Brown
   [ELF/2] Aileen Paige
[ELG] Rose Chevallie	                      b.1894
   [ELG/1] William Albert Downes Jnr.
[ELH] Miller Chevalier	                      1896 - 1945
---
[EM] JAMES MONGIN HALLOWES
b. Oct.1858 at Bolingbroke. He was one of the Incorporators of the Florida Coast Line Canal Co., Chartered 3/8/1881.
Bill Crawford, of Fort Lauderdale, Florida,(e-mail: WILLGENT@aol.com) who is researching the History of the East Coast Canal, writes:
"I have established that Mr. Hallowes was elected a director of the St. John's Railway on April 1, 1880. The St. John's was a small railroad linking Tocoi, Florida (on the St. Johns River) with St. Augustine, Florida, a distance of 10.5 miles away. Mr. Hallowes was also Treasurer of the company. A fellow director of the railway, John D. Westcott, was also president of the Florida Coast Line Canal & Transp. Co., of which (James Mongin) Hallowes was also an incorporator and director. See, Henry V. Poor, Manual of Railroads of the United States for 1881, New York and London: H.V. & H. W. Poor, 1881), p. 418."
He married:
[EM/1] FRANCES ELIZABETH ATKINS
b. 9/10/1878, daughter of John Dickinson Atkins and Adeline Van Cleve Atkins of Duval County, Florida. They lived in Jacksonville, Florida. Frances survived her husband and died c. 1925.
Their children, with their spouses, were:

[EMA] Miller	                               1877 - 1945
   [EMA/1] Lila Burr
[EMB] James Mongin jnr.                     d. 1944
   [EMB/1] Price Morton
[EMC] John Nicol                            d. 1946
   [EMC/1] Edna Marie Bailey                d. c.1936
[EMD] Van Cleve                             d. 1927
   [EMD/1] Nellie Jones                     1900 - 2000
[EME] Frances Elizabeth
[EMF] Adeline Van Cleve
[EMG] Lewis Edward
(this order is taken from the IGI: Dr. Wilson's notes have a different order of birth, omit Lewis Edward, and spell the family name "Mungen".)
Index
---
THE CHILDREN OF PRICE BLACKWOOD HALLOWES AND CHARLOTTE HALLOWES née BOND.
---
[FA] BLACKWOOD HALLOWES.
Born c. 1833: educ. King's School Canterbury. He never appears on any census with the rest of the family; presumably he was sent away to school. He made his career in the Post Office. In 1905 his name appears in a Dublin directory. He was twice married: Istly, at Christ Church, Lesson Park, Dublin:
[FA/1] ELIZABETH OLIVIA HIGGINSON
b. c. 1843, d. of Frederick Higginson of 24 Clarinda Park East, Kingstown, Co. Dublin, Captain in the Merchant Service, and his wife Catherine: she d. 7/12/1885.
Blackwood married 2ndly 7/11/1891, at Christ Church, Kingstown:
[FA/2] AVARINA AMBROSIA TENISON
b. 14/12/1859, d. of Captain John Wingfield King by his second wife Avarina Jane, d. of Captain John Lawson. She died 23/1/1948.
Blackwood had no children by either marriage and died 27/2/1920 at Wingfield, Killiney, Dublin. Avarina was his sole legatee in his will (£ 9075.5.0) pr. Dublin April 1920.
The Higginson family of Dublin is being researched by Valerie Garton, (e-mail: vbgarton@optusnet.com.au), who has recently discovered the following letter from Elizabeth Hallowes' brother Walter:

from: Mrs Cloughs Boarding House PieterMaritzburg, Nov 11 1879
To: Attorney General, PieterMaritzburg
Sir
Having heard that there is a vacancy for a clerk in the Office of the Colonial Civil Service, I have the honor to offer myself as a candidate for the same. I was for some time a substitute clerk in the General Post Office Dublin, under my brother-in-law Mr Blackwood Hallowes, and I acted as Adjutant of my late Regt the Dublin City Militia for nearly nine months, I also served throughout the late war as Lieutenant, first in the Native Contingent, and then in Bettington's Horse. Any reference to T Shepstone Esq? Jnr, I am sure will be found satisfactory.
Hoping you will give me this my application your most favourable consideration, I have the honor to be, Sir, your obedient Servant, Walter R Higginson
Reference: Pietermaritzburg Archives Repository, Private Bag X9012, Pietermaritzburg, 3200. pmbarch01@hotmail.com. AGO Vol 1/8/24 Ref: 404 A/182
---
[FB] FREDERICK BLACKWOOD HALLOWES
born c. 1835 in Canterbury. Educ at King's School, Canterbury, then at the Kent & Canterbury Hospital and St. Bartholomew's. Doctor and Surgeon (MRCS 1858: LSA 1860). Fellow of the Obstetric Society (London); Member of the Pathological Society; Member of the Council of Epsom College; President, South-Eastern Branch, B.M.A. (1881). M.O., Redhill Reformatory and St. Ann's Royal Asylum Schools. At the time of his death, 14/11/96. he was living at Checkley, Redhill, Surrey. He married, in 1868, at Checkley, Staffs.:
[FB/1] MARY ANN TAYLOR HUTCHINSON
b. 1844, d. of the Rev. William Hutchinson, Rector of Checkley, Staffordshire, by Sarah, d. of Edward Mitchell of Castlestrange, Co. Roscommon. In October 1905 she sent a wreath to the funeral of Frederick's nephew Warren, reportedly from Cyril Mansions, Battersea; however she is not at this address in the census of 1901. She died at Chiswick, 25/1/1941. Their children, with their spouses, were:


[FBA] Mary Blackwood                 1871-1915
   [FBA/1] Arthur Leopold Tatham     1868-1936
[FBB] William Brabazon               1874-1953
   [FBB/1] Constance Eva Carnegy     b. 1878
[FBC] Frederick Chaworth             1877-1967
   [FBC/1] Elsie Reah                1882-1970
[FBD] Rupert Price                   1881-1915
---
[FC] FLORENCE CAROLINE BLACKWOOD WARD
born 30/7/1841 at Canterbury. In 1881, four years after her early widowing, she is found on the census at 4, Louvaine Road, Wandsworth; later she went out to South Africa (presumably to live with one or other of her children already out there) and died at Cowey's Hill, Natal, 16/6/1935.
She married, in 1869, at Canterbury:
[FC/1] JOHN HEXT WARD.
b. 1837, son of John Ward, M.R.C.S., L.S.A., of Bodmin. Perhaps a member of the same family as the husband of Florence's cousin Mary'. He was a Civil Servant working in the Inland Revenue, and died in 1877. Their children, with their spouses, were:


[FCA] Arthur Blackwood               1870-1950
   [FCA/1]  Angela Susan Finch       b. 1878
[FCB] Bernard Hallowes               b. 1873
   [FCB/1] (unidentified)
[FCC] Florence Edith                 b. 1874
   [FCC/1] William S. Laurence
[FCD] Basil Kendall                  1875-1934
   [FCD/1] Amy Hannay
Index
---
[FD] GEORGE BLACKWOOD HALLOWES
b. 4/8/1842 at Canterbury; Educ. at The King's School. Like his brother Blackwood. he made his career in the Post Office. He died in May 1883 in Carlisle. He married, in 1866:
[FD/1] LUCY MARY LEACHMAN
b. 1836, d. of Joseph Leachman: died 1916 at St. Albans. Their children, with their spouses, were:

[FDA] George Price Blackwood            1867-1931
   [FD/1] Lilian Maud Vallance Cary     1870-1931
[FDB] Warren                            1868-1907
[FDC] Lilian Mary                       1870-1950
---
[FE] ADOLPHUS HENRY BLACKWOOD HALLOWES
born 18/12/1844; educ. King's School, Canterbury, and St. Bart's. Doctor and Surgeon (MRCS 1866: LSA 1868). House Surgeon, Kent County Ophthalmic Hospital; Hon. Surgeon, West Kent General Hospital; later Consulting Surgeon. Res. late 19th. C. 11 King St., Maidstone; at the time of his death (3/10/1927) Elmsdale, Buckland Hill, Maidstone.
He married, probably in 1874:
[FE/1] ELIZABETH HOAR
b. 2/12/1849, at Maidstone, d. of Edward Hoar of Maidstone. She died at Lyndhurst Gardens, Tunbridge Wells, 28/11/1927 (intestate; her daughter Muriel Stenning was granted administration). Their children (all born at Maidstone), with their spouses, were:

[FEA] Violet                           b & d. 1875
[FEB] Dorothy                          b. 1877
   [FEB/1] Arthur Sidney Gedge         b. 1868
[FEC] Arthur                           1878-1905
[FED] Winifred                         1879-1946
   [FED/1] James Fairbairn             1873-1950
[FEE] Blackwood                        1881-1910
[FEF] Muriel                           1883-1942
   [FEF/1] Frederick George Stenning   1873-1955
[FEG] Marjorie                         b. 1885
   [FEG/1] Henry Archibald Waring      1882-1957
#
---
The Census, 1881-1901.

In 1881 and 1891 the whole family is in residence at 11 King St. except for Arthur in 1891; presumably he was away at school. In 1881 Adolphus' soon-to-be-married brother Edward is on a visit. In `1901 the house is empty and unoccupied.

1881: RG 11/930/19R. 1891: RG 12/689/107R. 1901: RG13/765/126
---
Their grand-daughter Elizabeth Nichols recalls that Parents and Children were all musical and formed a family orchestra.
---
[FF] EDITH LOUISA BLACKWOOD PARKER (LATER HALLOWES)
born c.1854. in Canterbury; and died 6/3/1917 in Dublin - buried in the family plot on Mount Jerome. She married, 1stly:
[FF/1] WILLIAM PARKER.
Commander, RN. Their Children were:

[FFA] Brabazon
d. 1916? [FFB] Edward Bertram 1884-1926 [FFB/1] Eveline Victoria Hervey b. 1887 After the death of her first husband, Edith Louisa married, 2ndly, as his 3rd wife, her first cousin Keith Hamilton Hallowes. They had no children and he survived her to marry a fourth time.
---
[FG] EDWARD PRICE BLACKWOOD HALLOWES
born 30/4/1851 at Canterbury. He worked at first as a Bank Clerk, then became the partner of Samuel More Richards, of Samuel Richards & Co., Wine Merchants, of Fenchurch St., EC3. Samuel Richards died in 1898 and Edward P.B. Hallowes was joined as partner by M.E.O. Tosetti,, the firm now being known as Hallowes and Tosetti, Wine Merchants. This later became Twiss & Browning & Hallowes, qv. In 1871 he is found in the Census on a visit to his cousin Richard Coleman H., and in 1881 to his brother Adolphus. He was co-executor of the will of his cousin Richard Coleman H. in 1911 and of his sister Edith in 1917. Res. 3. Ravenna Rd., Putney. He retired from the business in December 1920 and died in London, 14/12/1923.
He married firstly, 7/9/1881, at Silchester:
[FG/1] AMELIA WILKIE PEREGRINE
b. 11/3/1855 in Mayfair, d. of Dr. Thomas Peregrine of 3 Half Moon St., Piccadilly, by Charlotte, d. of John Ford. Lt. Cameron Highlanders, and Captain of Invalids at Chelsea Hospital. She died in Putney, 12/1/1892. Their children, with their spouses, were:

[FGA] Sage Peregrine              1882-1911
   [FGA/1] Guy Harold Unwin       1875-1937
[FGB] Mildred                     1884-1892
[FGC] Edward Price                b. 1886
   [FGC/1] Alison Macleod         b. 1893
[FGD] Geoffrey Blackwood          1887-1916
In 1919 the author Joseph Conrad, being in need of a piano for his house "Oswalds", was informed by his secretary Lilian Hallowes that her uncle, Edward P.B. Hallowes, owned a very fine one at his home, 91 Onslow Gardens (and by implication was willing to part with it). A friend of the author called on Edward Hallowes to inspect the instrument; but it is not known what transpired.
On 17/8/1920, twenty-eight years after the death of his first wife, Edward P.B. Hallowes married, secondly, at St. Peter's, Eaton Square, his first cousin once removed [CGA] Georgina Margaret Hallowes, daughter of Rear-Admiral Frederick William Hallowes, she was 48 and he 71. They had no children and she survived him by thirty-three years.

---
Bill Conran, of Reno, Nevada, (e-mail: BConran@aol.com) has informed the Compiler that his ancestor, Colonel Edward Conran, before his death from swelling and infections of the legs, the outcome of years of service in the West Indies, Sierra Leone and The Gold Coast, presented Amelia's father Dr. Thomas Peregrine (who presumably had treated him) with a copy of the Koran which the Colonel had looted during "the raid on Sabajee" (during the Mutiny?) which is now in the special collections of the University of Durham. Mr. Conran also says Amelia had a brother Hugh Ley Peregrine who was also a Doctor and went into practice with their father in Half Moon Street. Dr. Thomas Peregrine retired to "The Firs", Woking, but nothing more is known of Dr. Hugh.
---
THE CHILDREN OF WILLIAM HALLOWES AND ELIZABETH HALLOWES née TOOKE:
---
[GA] WILLIAM ALEXANDER TOOKE HALLOWES
b. 5/4/1844 at Woburn Place. Educated at University College School, London; then to Caius College, Cambridge, 4/10/1861. Middle Temple 1863; B.A. (sen.opt) 1865; M.A. 1868. He qualified as an attorney in 1869, and joined his father in the firm, in which they were by then the only partners. He was still living with his parents in 1871; later he married:
[GA/1] LOUISE MINNS
b. 1851 at Earnshaw, Norfolk, one of the ten children of Charles Minns and Mary Minns née Brighton (married at Thwaite St Mary's Church, Thwaite, Norfolk May 1st 1838).
In 1880 they were living at 161 Gloucester Rd., Regents Park; in 1891 the family was at 6 Albion Rd, Hampstead; by 1899 they had moved to Heath Fern Lodge, Heathside, Hampstead. Louise died 21/3/1922 and William 2/6/1937, both at Barton Mount, New Milton, Hants.
Their children were:

[GAA] Sydney Minns
1877 - 1948 [GAB] Charles Arthur b.1872 [GAB/1] Hilda Margaret Osborn 1876 - 1941 [GAC] Vernon Buxton 1880 - 1958 [GAD] Beatrice Irene 1883 - 1973 William frequently acted in a legal capacity for other family members in his generation. In 1873 he was co-trustee in the estate of Auchmuty Tylden Freese, husband of his cousin Margaret; he was co-executor of his father's will with his bothers John and Brabazon; and he was John's executor in 1917.
---
The Minns family of Thwaite is being researched by Elaine Carpino (e-mail: Elainecarpino1@aol.com ) whose maternal grandmother Mary Ann Minns (b. at Earsham, Norfolk, 21/5/1859) was Louise's youngest sibling.

They in turn were connected to the Shaw Family, being researched by Cathy Shaw of Stockport at shawweb.myzen.co.uk/cathy/genealogy/index.htm
---
[GB] JOHN FRANCIS TOOKE HALLOWES
b. Woburn Square 4/2/1846. Like his brother William, he was educated at U.C.S. London and Caius College from 28/6/1864. B.A. (1st. Cl., Moral Science Tripos) 1868; M.A. 1872. In 1869 he went to Paton Congregational College, took Orders in the Congregationalist Church and, after a short "oversight" Bakewell, became Pastor at St. Mary's (Countess of Huntingdon's), 1870-5 . In 1875 he transferred became to the Chapel in Huddersfield Rd. Barnsley, Yorks.: later he was at Sheffield and in 1891 at 144 Hagley Rd., Birmingham. In 1872 he published a long poem called "The End of All Things'. In 1898 he became Principal of the Cliff Missionary College, Curbar, Sheffield. In 1910 he went out to the Wesleyan Mission in India and died at Mutra near Agra, 20/12/1917. He married 27/4/1876 at Christ Church, Gloucester:
[GB/1] FRANCES SARAH KNIGHT
b. 2/7/1852 at Gloucester, d. of John Knight also of Gloucester. She was the author of many books on Missionary work. After the death of her husband she returned to England and died at 40, Dean Park Rd, Bournemouth, 14/5/1931. Her executors were her children Kenneth, Basil and Hester.
Their children and their spouses, were:

[GBA] Kenneth Alexander Knight                        1885-1952
   [GBA/1] Caroline Augusta Manly                     b. 1875
[GBB] Theodora Louisa Knight                          1882-1925
   [GBB/1] Thomas Earle Welby                         1881-1933
[GBC] Hester Isabel Knight                            b. 1883
   [GBC/1] Alfred Earnest Lister                      1877-1943
[GBD] Basil John Knight                               1885-1973
   [GBD/1] Mary Catherine Lascelles Ward              1886-1936
   [GBD/2] Joyce Mortimer                             b. 1906
---
[GC] AMELIA LOUISA TOOKE HALLOWES
b. Bloomsbury 19/3/1847 (named for her maternal grandmother). In 1876 she stood Sponsor at the Christening of her cousin Ethel Louisa Monsarrat. She never married and died at Tavistock Sq. 16th. July 1884.
---
[GD] THOMAS ARTHUR TOOKE HALLOWES
b. St. Pancras 4/4/1849. Educ. University College School. In 1861 he was 'apprenticed to an architect'; he qualified and set up in practice at 9 John St., Adelphi. But early in 1880 he fled the country to avoid his creditors; on 4/8/1880 he was made bankrupt on the petition of Charles Castelli, Stockbroker, of 54 Threadneedle St.( PRO B/6/181/6022; London Gazette, 1880, pp. 4354 & 5320). The bankruptcy was annulled 25/4/1882 (LG 1882 p. 2056). He never married and was still living at Tavistock Sq. in 1891, listed as 'neither an employer nor employed'. He died there 23/2/1895.
---
[GE] BRABAZON TOOKE HALLOWES
b. St. Pancras 1851. Last listed at Tavistock Sq. in 1871, described as 'B.A.(Lond).' He also became a Congregational Minister. He had intended to go to the Mission in Madagascar but ill-health prevented this; instead he held various Congregational positions in New Zealand from 1873 to 1897 except during 1884-93 when he had a Ministry in Hertford (17 North Rd.).He married 13/4/1877:
[GE/1] HARRIET (?CHARLOTTE) AMELIA PORTER
They had no children. Brabazon died at St. Albans, 19/9/1906: Harriet was his executor and sole legatee. She died at Wood End House, Hayes, Mddx. 22/12/1923 aged 85.
Index
---
[GF] ELIZABETH TOOKE HALLOWES
b. St. Pancras 27/7/1852. She never married, and in 1891 is listed as head of the household at Tavistock Sq. and 'living on own means'. She later moved to 50 Regent's Park Rd. N3.; in 1905 her first cousin Eleanor Monsarrat with her daughter Emily, stayed with her while Eleanor's other daughter Florence came to London for an operation. Elizabeth died 7/11/1940 at Llangaron Vicarage, Ross-on-Wye, Herefordshire.
---
[GG] KATHERINE BRABAZON TOOKE WILLS
b. St. Pancras 9/11/1853. She was still living with Elizabeth and Thomas in 1891. She eventually married
[GG/1] JOHN VERNON WILLS
b. 1845 at Throope, Hants, son of the Rev. Charles Wills. B.A. (Oxon) 1873, M.A. 1876: ordained deacon 1874, priest 1875 (Winchester). Asst. Master, Surrey County School 1874-7; Curate of Brookfield Mddx. 1878-84, of St. Pancras 1884-6, and of St. Michael and All Angels Paddington 1886-98. Rector of Milstead, Kent, 1899-1901. They had no children; the Rev. John Wills died at Milstead 8/9/1901, but Katherine lived on until 1937 when she died on the 26th. Nov. at 50 Regents Park Rd. Her will was proved in 1938; she left £14115 net.
Index
---
THE CHILDREN OF KEITH C.H. HALLOWES AND EMILY HALLOWES née BOURNE.
---
[HA] LOUISA MARTHA HALLOWES.
Born May 1832; died unmarried, September 1880.
---
[HB] ELEANOR JANE MONSARRAT, née HALLOWES.
Born 10/4/1834 at Harcourt St., Dublin. In her youth in Dublin she was a talented pianist, harpist and musician, but (according to her daughter Joyce) she "had to leave her harp at home in Dublin when she went to England to get married." After the death of her husband she moved to Birkenhead, living variously at 33 Slatey Road (1905) and 19 Silverdale Rd. (1912) where she died in 1923. Her unmarried daughter Florence lived with her until the latter's death in 1905. She had frequent visits from her Monsarrat grand children, who remembered taking a 2d. ride on the ferry to see a truly old-fashioned lady with a white cap, a velvet dress, and a music-box which played 'The Bluebells of Scotland'. She married (as his second wife) 7/10/1869:
[HB/1] JOHN HENRY MONSARRAT.
Born in Dublin 6/7/1822, nineteenth of the twenty-one children of Mark Monsarrat, importer of French luxury goods (the family is of Huguenot origin) and his second wife Jane, d. of Dom John Brett, Colonel in the Hibernia Regiment, an Irish Regiment in the Spanish Army, and his wife Catherine, née Brenan.
He was educated at The Royal School, Dungannon, then entered Trinity College Dublin as a Pensioner, 30/6/1851. B.A. 1855; M.A. Ordained deacon 1856 (for Dublin) and priest later the same year (Chester for Dublin).
He married his first wife Jane, d. of Dr. Charles Johnson of Dublin and his wife Letitia, 20/4/1853, by licence; they had one son Charles Henry, b. at Monkstown 30/8/1858 . Jane died of consumption in 1867 aged 37 at Monkstown. Charles appears in the 1871 Census at Kendal and in 1875 he stood Sponsor at the Christening of his half-sister Emily Mabel.
Henry Monsarrat was Assistant Chaplain to the Female Penitentiary of Dublin, 1856-7; Curate of Carysfort, Co. Dublin 1857-61, and of Cheltenham 1861-5; then, until his death, Perpetual Curate of St. Thomas's, Kendal. For most of this time he was also Chaplain of Kendal Prison; his Vicarage in Kendal was at "Number One House of Correction Hill". He died at Kendal 12/9/1901 and was given a public funeral on a grand scale by the people of his parish - see the Westmorland Gazette, 18/9/1901. The list of mourners provides a useful list of relatives on both sides of the family. His son Keith said of him he was "a man who tried in all things to follow his God". He is buried in Kendal Churchyard where Eleanor later joined him- as did much later Keith himself, with his own second wife.
Their Children, with their spouses, were:

[HBA] Eleanor Maud Mary                           1870-1934   
   [HBA/1] The Rev. Coslett Herbert Waddell       1858-1919
[HBB] Keith Waldegrave                            1872-1963
   [HBB/1] Marguerite Turney                      1873-1947
   [HBB/2] Marie Adami, née Wilkinson             1890-1980
[HBC] Florence Augusta                            1873-1905
[HBD] Emily Mabel                                 1874-1936
   [HBD/1] The Rt. Rev. Campbell West-Watson      1875-1953
[HBE] Ethel Louisa                                1876-1968
   [HBE/1] John Arthur Hargeaves                  1879-1946
---
The Monsarrat Family has been extensively researched by Heather Joy Sims, who has published her researches from her home page at www.oliversims.com
---
[HD] JULIANA HALLOWES.
Born 3/11/1837. In 1870 she stood Sponsor at the Christening of her niece Eleanor Maud Monsarrat. On the day of the 1891 census she was visting her sister Katherine Berry at St. Peter's Rectory, Ipswich; her age is given as 42 though she was actually 56. She died unmarried at 6 Fortfield Villas, Dartry Rd, Rathmines, 27/3/1929.

---
[HG] EMILY ANNE HALLOWES.
Born 17/3/1842 - died unmarried at 55 Ashfield Rd, Ranelagh, 27/1/1922.

---
[HH] KEITH HAMILTON HALLOWES.
Born 1/12/1844 at Blackrock. Educ. at Dr. Stackpoole's, Kingstown. He qualified as a solicitor in 1866 and joined his father in the family firm of Hamilton and Hallowes, Solicitors (see Dublin Directories for 1877 and 1905). In 1872 he stood Sponsor at the Christening of his nephew Keith Monsarrat; and he was at the funeral of his brother in law Henry Monsarrat - a notable family gathering - in 1901. He died in 1936. He was married four times:
[HH/1] FLORA WESTBY
b. 22/10/47,d. of the Rev. Henry Humbertson Westby, Canon of St. Patrick's, and his wife Mary Georgina, d. of Colonel Cash (2nd. Ft) of Bellville, Co. Dublin. They were married 4/3/1869 at Monkstown; she died at 2 Elgin Rd, Dublin, 3/11/1885. The children of this marriage were:
[HHA] Eva Hamilton                             1872-1943
[HHA/1] Lionel Tabuteau                        b. 1869
[HHB] Keith Hamilton                           1873-1947
   [HHB/1] Mabel Maud Falkner
[HHC] Henry Hamilton                           1875-1915
   [[HHC/1]  Jean Griffith                     1879-1928
[HHD] Brabazon Hamilton                        1876-1944
   [HHD/1] Josephine Warren                    d. 1946
[HHE] Flora Hamilton                           b. 1877
   [HHE/1] Henry Johnston
[HHF] Mildred Hamilton                         b. 1879
   [HHF/1] Jack Handley
[HHG] Leopold Hamilton                         1881-1948
   [HHG/1] Catherine Glass, née Stubbins
[HHH] Herbert Hamilton                         1882-1914
[HHI] Gertrude Hamilton                        b. 1883
   HHI/1] James Douglas
After the death of his first wife, Keith Hamilton Hallowes married:
[HH/2] EVELYN HENRIETTA SMYTH, née CASEY
d. of Robert Casey of Dublin, Solicitor, and widow of William Smyth, by whom she had had one son. She died 24/3/1897.
[FF] EDITH PARKER, née HALLOWES
his first cousin (daughter of his Uncle Price Blackwood Hallowes) and widow of William Parker, Cmdr. RN, by whom she had had two sons (see her main entry). She died in Dublin 6/3/1917; one of her executors was Keith's sister Eleanor's stepson Charles Henry Monsarrat.
[HH/4] VIOLET GREEN
A widow with one daughter from her first marriage.

There were no children of any of Keith's later marriages.

Index
---
[HI] KATHERINE BRABAZON BERRY.
b. Blackrock, 29/7/1846; d. at 29 Furness Park Rd., Barrow in Furness, 22/9/1935. Will proven London, 23/12/35, for £1809 net. She married at Monkstown, 4/4/1876:
[HI/1] WILLIAM BERRY
b. at Tullamore 23/11/1850, elder surviving s. of Francis Octavius Berry of Eglish Castle, King's Co., and his 2nd. wife Susanna, d. of William Fetherstonhaugh of Carrick. Educ at Portarlington, Chard G.S. and Queen's Coll. Cambridge. Foundation Scholar. B.A. (sen.opt) 1873: M.A. 1877. Rowed for his college. Deacon 1874; Priest 1875 (Chester). Curate of St. Anne's, Aigburth, 1874-7; of Walcot, Bath , 1877-84; Vicar of St. Peter's, Ipswich, 1884-96; of St. Paul's Newbarns with Hawcoat, Barrow-in-Furness, 1896-1920. Surrogate 1906; he succeeded to Eglish under his father's will but sold it under the Irish Land Acts. He owned 828 acres in King's Co., valued @ £402 p.a. In 1872 both he and Catherine stood Sponsor at the Christening of her niece Ethel Louisa Monsarrat. His grand-daughter Ethne Button found him terrifying, very aloof and "parsonical".
The Rev. William Berry died at his vicarage 29/2/1920.
Their children were:
[HIA]  Kathleen Emily                                1877 - 1951
   [HIA/1] Lorton Alexander Wilson                   1879 - 1958
[HIB]  Norah Mary                                    1879 - 1939
[HIC]  Francis Keith                                 1881 - 1945
   [HIC/1] Monica Whitaker                           b. 1887
[HID]  Eileen Florence                               b. 1883
[HIE]  Lilian Fetherstonhaugh                        b. 1888
---
Census Records 1881-1901

In 1881 the young family are at 3 Belvedere Villas, Walcot, Bath; thereafter at Parsonage or Rectory. The records of 1881 and 1891 show all their living children; in 1901 only Kathleen and Lilian are still at home. In 1891 Kathrine's unmarried sister Juliana is shown as a "Visitor".

1881: RG11/2437/122. 1891: RG12/1468/141R-142. 1901: RG13/4015/12.
---
The Berry family is being researched by Patrick F. Berry MSc. Ph.D. of 11 Burwood Street, Nedlands, W. Australia 6009 (tel. : (08) 93818391) (e-mail: padberry@bigpond.net.au) whose extensive website is published at http://www.users.bigpond.net.au/berrygenealogy/.
---
[HK] RICHARD CARMICHAEL HALLOWES.
Born at Blackrock, 5th. May 1848. He had a twin brother Enracht([HJ]), who died aged 11 in 1859. Educ. at Dr. Stackpole's, Kingstown. He was articled for some years to his father, and was admitted Freeman of the City of Dublin by right of Patrimony, 17/7/1871; see also Dublin Directory 1877. In 1876 he enrolled in St. John's Theological College, Highbury; ordained deacon in 1878 and priest in 1879 (Cashel). Curacies: Tranmore 1878-80, Dungarvan 1880-84, Abbeyleix 1884-5. Rector of Arklow from 1885. Surrogate, Dio. of Glendalough1911: Canon of Christchurch Cathedral, Dublin 1909-15. While Rector of Arklow he outraged the local community by preaching violently anti-catholic sermons in the open air.
From The Times, March 7th., 1891 (6d):
"The rev. Mr. Hallowes, Protestant rector, and the rev. Mr. Harrison, Protestant curate, of Arklow, were summoned before the magistrates on Thursday for obstructing the thoroughfare by preaching to a crowd of people. The conduct of the rev. gentlemen has for some time back occasioned annoyance to the authorities and indignation among the Catholic inhabitants. Riots have occurred, and the town has been encumbered with police and even with soldiers to protect the ministers. Appeals to them to desist were useless, and the annoyance became so great that summonses were at last served on the rev. gentlemen. The hearing resulted in their conviction. The magistrates ordered each to pay £1 fine which they refused to pay, and the alternative 14 days imprisonment was imposed. Both men were removed to prison, in evident glee at the result Mr. Hallowes crying out "Hallelujah, hallelujah" and Mr. Harrison "Praise God, praise God". The prisoners were taken off to Wexford jail, after making an appeal to some lady friends to pray for them."
This occasioned, four days later, a Question in the House; and yet another, a full nine years later.
His mother died at Arklow in 1899 and he himself 20/12/1915. There is a memorial window to him in the church at Arklow, which was built during his incumbency. He also was at the 1901 Funeral of his brother in law the Rev. Henry Monsarrat; in 1870 he had stood Sponsor at the Christening of his daughter Eleanor Maud.
He married 26/9/1878 at Christ Church, Leeson Park:
[HK/1] MARY ELIZABETH COLLIS
b. Dublin, 20/11/1851, d. of Robert Going Collis of Leeson Park House, Dublin, and his wife Mary Hawkshaw. She died at Ballyraine, 20/10/1918.
Their children, with their spouses, were:

[HKA] Richard Collis                               1880 - 1972
   [HKA/1] Jane Elaine Corbet-Singleton            d. 1930
   [HKA/2] Constance Decima Hurst                  1892 - 1971
[HKB] Keith Robert Collis                          b. 1881
   [HKB/1] Mathilda Hamilton                       b. 1879
[HKC] Brabazon Henry Collis                        1884 - 1958
   [HKC/1]  Frances Warner                         1887 - 1971
[HKD] Arthur Collis                                1885 - 1958
   [HKD/1] Kate Florence Smith
[HKE] Paul Collis                                  1891 - 1973
   [HKE/1] Marjorie Elizabeth Collis               1893 - 1957
[HKF] Mary Elizabeth Collis                        b. & d. 1893
[HKG] Kathleen Mary Collis                         1895 - 1897

Index
---
[HL] WILLIAM BOURNE HALLOWES.
b. 9/8/1850 at Ashgrove. Educ. Dr. Stackpole's, Kingstown, and Trinity Coll., Dublin Doctor and Surgeon: RCS (Ireland) 1876. In 1881 he was living in Newark, where he was Surgeon at the Newark Hospital and Dispensary. On the Census of that year his sister Marian is found living with the family. Later he moved to Bedford and died there at 29 Shakespeare Road, 26/5/1940.
He married 9/8/1879, at Walcot, nr. Bath:
[HL/1] LOUISA JANE BERRY
b. at Tullamore 15/1/1846, d. of Francis Octavius Berry of Eglish Castle and his second. wife Susanna, d. of William Fetherstonhaugh of Carrick; and already related to the Hallowes family in both these two lines. She died. at Bedford 1/4/1931.
Their children were:
[HLA] William Keith, b. and d. 1882
[HLB] (another child who died young)
[HLC] Ruth Marion, 1886 - 1972.

---
From the Berry Archives: "William Bourne Hallowes was a small, kindly man who often dressed in an old fashioned frock coat. He had a short beard in the style of Edward VII. In the family he was known as Uncle Willie. In old age he derived much simple pleasure from playing bezique, particularly when he won. In contrast his wife was a large but equally kindly woman and was known as Aunt Lou. They were devoted to each other."
---
[HM] MARIAN ELIZABETH HALLOWES.
b. at Ashgrove 20/5/1852. Served as an assistant at James St. Shelter, Dublin. On the 1881 census she is found living with her brother William in Newark in 1881. She died 1/7/1943 at 23 Serpentine Avenue, Ballsbridge, Dublin, never having married; but her will signed 2/10/1937; was probated 5/10/1943 in Llandudno, where she perhaps had property, as well as Dublin. Her Executor was Lionel Tabuteau, husband of her niece Eva; she left their daughter Nora Tabuteau her household effects, with the residue in equal shares to her nephew and Godson Brabazon H. Collis Hallowes and her nephew Paul Collis Hallowes.
---
[HN] FLORENCE MARY HALLOWES.
Born 27/1/1854: died unmarried at Rivers Street, Bath, 15/10/1881.

---

Surnames on the Index for Page Three are:
Addison/ Berry/ Bond/ Dancy/ Freese/ Hallowes/ Kirwan Ward/ Knight/ Lewis/ Low/ Mitchel/ Monsarrat/ Parker/ Pratt/ Vaughan/ Walker/ Ward/
---
ADDISON:
-[AD] Juliana, née Hallowes, 1825-1892
BERRY:
-[HI] Katherine Brabazon, née Hallowes, 1846-1935.
BOND:
-[BB] Frances Anne, née Pratt
-[BC] Louisa Harriett, née Pratt d. 1913
DANCY:
-[EJ] Juliana Blackwood, née Hallowes 1851-1918
FREESE:
-[CB] Margaret Helen, née Hallowes d. 1897
HALLOWES:
-[FE] Adolphus Henry Blackwood, 1844-1927
-[GC] Amelia Louisa Tooke (1847-1884)
-[DF] Arthur Coleman, 1835-1873
-[FA] Blackwood c.1833-1920
-[AA] Brabazon 1819-1892
-[CE] Brabazon Miller c.1827-1868
-[GE] Brabazon Tooke (1850-1905)
-[EI] Caroline Mary 1851-1925
-[FG] Edward Price Blackwood, 1851-1923
-[GF] Elizabeth Tooke (1852-1940
-[DI] Ellen Coleman, 1838-1844
-[HN] Florence Mary (1854-1881)
-[AB] Francis (1821-1883)
-[DG] Francis Coleman, 1836-1908
-[FB] Frederick Blackwood, 1835-1896
-[CG] Frederick William 1833-1901
-[FD] George Blackwood, 1842-1883
-[CF] George Skene 1830-1911
-[CI] Henry Jardine, 1838-1926
-[EM] James Mongin b. 1858
-[CA] John, 1824-1905
-[AF] John, b. 1828
-[DC] John Coleman, 1829-1949
-[GB] John Francis Tooke (1846-1917)
-[ED] John Nichol 1838-1862
-[HD] Juliana, 1837-1929.
-[GG] Katherine Brabazon Tooke (1853-1937)
-[DK] Keith Edward Coleman, B. 1843
-[HH] Keith Hamilton (1844-1936)
-[EE] Louis Edward 1839-1928
-[EF] Louisa Agnes 1840-1925
-[DE] Louisa Coleman, 1833-1917
-[HM] Marian Elizabeth (1852-1943)
-[DD] Miller Coleman, 1830-1887
-[CC] Ramsay Henry. d.c. 1853
-[AC] Richard (1823-1846)
-[HK] Richard Carmichael (1848-1915)
-[DB] Richard Coleman, 1828-1911
-[GD] Thomas Arthur Tooke (1849-1895)
-[CD] Thomas Langley, d. 1855
-[AH] William 1832-1879
-[EL] William Alexander 1854-1944
-[GA] William Alexander Tooke (1844-1937)
-[HL] William Bourne, 1850-1940
KIRWAN WARD:
-[DH] Mary Coleman, née Hallowes 1837-1863
KNIGHT:
-[EK] Elise Nichol, née Hallowes, d. 1918
LEWIS:
-[AG] Louisa, née Hallowes 1831-1918
LOW:
-[CH] Catherine Louisa, née Hallowes 1835-1927
MITCHEL:
-[EH] Ada Nichol, née Hallowes 1845-1918
MONSARRAT:
-[HB] Eleanor, née Hallowes (1834-1923)
PARKER:
-[FF] Edith Louisa Blackwood, née Hallowes, (and later Hallowes again) c. 1854-1917
PRATT:
-[BA] Henry Hamilton, 1825-1911
VAUGHAN:
-[DJ] Agnes Coleman, née Hallowes 1841-1927
WALKER:
-[AE] Mary Elizabeth née Hallowes 1827 -c.1883
WARD:
-[FC] Florence Caroline Blackwood, née Hallowes1841-1935

---
This is the third page of this Genealogical Collection. Other pages available are:
1) The Progenitors: John and Louisa Martha Hallowes
2) The First Generation of Descent
4) The Third Generation of Descent
5) The Fourth Generation of Descent
6) The Fifth Generation of Descent
7) The Sixth Generation of Descent
8) The Seventh Generation of Descent
Compiler's Introduction
Combined Index
---
Compiled by G.K. Armstrong, 35 Cedars Road, London W4 3JP.

E-mail: gkarmstrong@ukhome.net
---
END OF PAGE THREE


latest additions 26/11/2017