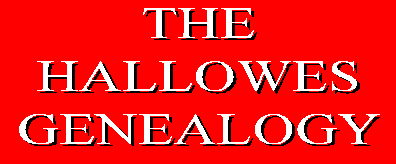 PART TWO:
THE FIRST GENERATION OF DESCENT
---
This is the second page of this Genealogical Collection. Click here for direct links to other pages.

THE CHILDREN OF JOHN HALLOWES AND MARTHA LOUISA HALLOWES née FATIO
(sometime BRUERE).
---
[A] Francis Hallowes 1789-1869
[B] Juliana Pratt, later Booth, née Hallowes 1790-1881
[C] John Edward Hallowes 1791-1883
[D] Thomas Hallowes 1796-1864
[E] Miller Hallowes 1799-1877
[F] Price Blackwood Hallowes 1801-1882
[G] William Hallowes 1802-1890
[H] Keith Claringbold Hamilton Hallowes 1805-1870
---
[A] FRANCIS HALLOWES 1788-1869
Born 27th. July 1788 at Penrith, Cumberland (during the Regimental March from Scotland to Ireland, according to LAW) and baptised there 25th. August.
From O'Byrne, 'A Naval Biographical Dictionary', London 1849:
'(He) entered the Navy 16th. July 1803 as 1st-Class Volunteer, on board the Monarch, 74, Capt. John Clark Searle, bearing the flag in the Downs of Lord Keith, whom he followed as Midshipman, in Aug. 1805, into the Edgar 74. In Feb. 1806, after a short attachment to the Revenge 74, commanded at Portsmouth by Capt. Hon. Chas. Elphinstone Fleming, he joined the Phoebe 36, Capts. Jas. Oswald, Hassard Stackpole, and Jas. Hillyar, with whom he served successively in the North Sea, Channel, Mediterranean, and Baltic. On his return home from the latter station in Nov. 1809, in the Monkey gun-brig, Lieut.-Commander Fitzgerald, he was received on board the Namur 74, bearing the flag at the Nore of Vice-Admiral Wells, In the following summer he sailed for Mauritius as Master's-Mate in the Menelaus 38, Capt. Peter Parker; from which ship, after assisting at the reduction of the above island, he was removed, as Acting-Lieutenant, to the Actaeon brig, Capt. Bertie Cornelius Cator, then on the point of returning to England with the intelligence of the event. Resuming, in March, 1811, his former duties in the Menelaus, he proceeded to the Mediterranean, where Sir Edw. Pellew, the Commander-in-Chief, appointed him Lieutenant, 25 June 1812, of the Alfred 74. That ship being however ordered to England before he could join, (he) was obliged to serve for some time as a Supernumerary on board the Impetueux 74, and Stately 64, flag-ships at Lisbon of the present Sir Geo. Martin, who, on 26 May, 1813, gave him an order to act as Lieutenant of the Zenobia brig, Capts. Rich. Foley and Nich. Chas. Dobree - an appointment which the Admiralty confirmed on 14 of the following June. He was transferred from the Zenobia in May, 1815, to the Ville de Paris 110, bearing the Flag of Lord Keith at Plymouth, where he remained until the following Aug. He then went on half-pay, and has not since been afloat.'
He remained on the list of half-pay Lieutenants for forty-one years until 1/2/1856 when he was finally placed on the retired list with the rank of Commander. His tombstone in Bolsover Churchyard describes him as a Captain, as do Debrett and other reference works; but this is incorrect.
After his marriage the family lived firstly at Talyllyn, Merioneth, where Brabazon, their first child, was baptised, and later at Coed, a tiny hamlet just outside Dolgelly. The Census of 1861 finds him still there with his wife and two of the children; but later that year he inherited the Glapwell Hall Estates, including the Lordships of the Manors of Glapwell, Dethick and Muggington, on the death of his unmarried cousin Thomas (20/12/1861), the last survivor of all senior branches of the family. Soon after this he was made a J.P.
He married, 7/10/1818, at Ashford:
[A/1] MARY HAFFENDEN.
Bapt. 18/3/1798, 2nd. d. of John Haffenden II, surgeon, of Ashford (1750-1808), and his wife Elizabeth, d. of Thomas Tring (d. 1836 aged 77).
Their children, and their spouses, were:

[AA] Brabazon                                             1819-1892.
    [AA/1] Jane Catherine Howard                          1824-1853
    [AA/2] Elinor Green                                   1833-1862
    [AA/3] Caroline Antonia Haffenden                     1824-1883
[AB] Francis                                              1821-1883.
[AC] Richard                                              1823-1846.
[AD] Juliana                                              1825-1892
    [AD/1] William Addison, M.D.                          1810-1905
[AE] Mary Elizabeth                                       1827-1903
    [AE/1] Sir Edward Samuel Walker, Kt.                  1799-1874
[AF] John                                                 b.1828
[AG] Louisa                                               1830-1918.
    [AG/1] The Rev. David Philips Lewis                   1821-1892
[AH] William                                              1832-1879.
    [DE] Louisa Coleman Hallowes                          1833-1917
Francis Hallowes died at Glapwell Hall on the 1st. December 1869; Mary died, also at Glapwell, 16th. January 1875; both were buried at Bolsover. Wills probated: Francis, 10/1/1870; Mary, 22/1/1875.

1861 Census: RG 9/4319/69R (Coed, nr. Dolgelly).
---

The Haffenden family originated in the small village of Haffenden Quarter, near Biddenden, in Kent, and are found selling land in that area in 1222. By the 18th. century they were living in Ashford. They are connected to the Mander family, owners of The Owlpen Manor Estate, Dursley, Gloucs., who are researching this line and include a comprehensive Haffendeen Family Tree on their own Genealogical Website. It can also be obtained by request from the Compiler as an e-mail attachment in .pdf format.


---
[B] JULIANA PRATT, later BOOTH, née HALLOWES 1790-1881
Juliana was baptised on February 14th, 1790, at Galway Camp, Galway.
In November 1793 her desperately impoverished parents sent her to be adopted by her second cousins Mrs. Price Blackwood and Miss Southwell, of Dublin. They were the daughters of Captain William Southwell and his wife Juliana, who in turn was the daughter of Major General the Hon. Henry Ponsonby and his wife Frances, née Brabazon, who was the sister of Lady Catherine Hallowes, John's mother (there is no mention of a Mr. Price Blackwood and it is presumed that Mrs. P.B. was by then a widow). In a letter to her father of September 1795, Louisa Hallowes writes:
"Thank God, my dear little girl that I gave away to a relation of Col. Hallowes that had no children, and took a great liking to her. She will, please God, be well provided for and educated. She is lovely, I am told. We are at such a distance now that years may pass without my having it in my power to see her. She lives in Dublin. Mrs. Blackwood, the lady who has adopted her, writes to me often which comforts me greatly. She is very healthy; a great Blessing they don't take after me, thank God...."
First Marriage:
[B/1] JAMES PRATT.
Juliana's first husband, who she married in 1821, was James Pratt, of Farm Hill, Dundrum, the son of James Butler Pratt of Drumsna Co. Leitrim,(a branch of the Pratt family of Cabragh Castle, county Cavan, and related to the Viscounts Mountmorres) and his wife Margaret, d. of William Foster of Dunleer. He was Ensign 77th. Highlanders 26 May 1781; Lieutenant 22nd. January 1783; British half-pay 1783; Full Pay as Senior Lieutenant 14th. Bn. of Reserve 9th. July 1803; Brevet Captain 23rd. August 1804; Captain Nova Scotia Fencibles Light Infantry 12th. February 1805; Captain Irish Rifles Veteran Bn. 12th. Feb. 1811; and retired from this last on full pay when it was disbanded in 1814. He died at Kirkcaldy 31 October 1839.
Second Marriage:
[B/2] WILLIAM BOOTH.
Juliana's second husband - who she married as his second wife in 1846 (when she was already 56) - was William Booth, born Middx. c. 1792, an officer in the Army Commissary. Deputy Assistant Commissary General 21/1/1811; Asst. Comm. Gen. 27/8/13; later Deputy Commissary General 18th. Dec. 1818-1824. He served in Spain, Portugal and the Netherlands; his GS Medal had clasps for Corunna, Talavera, Busaco, Salamanca, Vittoria, The Pyrenees, Nivelle, Nives, Orthes and Toulouse. After leaving the army he was Principal Clerk of Survey of Ordnance at Dublin 1824-1856 and was created a Companion of the Order of the Bath 17th. August 1848. William's first wife was Eliza Young Bisset; there were (at least) two children of this marriage still living in 1880, Arthur John Booth and Elizabeth Booth (born c.1838 in Dublin). Of his second marriage there were no children.
William and Juliana's original home was at Farm Hill, Dundrum, Co.Dublin. Some time in mid-century William built Ebor Hall near Clonbur on the north shore of Lough Corrib in Co. Galway, but after only a few years they sold it to Lord Mountmorres, a relative of Juliana's first husband, who was murdered nearby in 1880. They moved to 17, Lansdown Crescent, Cheltenham, sometime after 1861 (in which year the house was unoccupied). Both William and Juliana are listed there on the 1871 census, together with the unmarried Elizabeth. Two male and three female servants complete their establishment.
In 1874 Caroline Mary Hallowes, daughter of Juliana's brother Colonel Miller Hallowes who looked after her father in his old age, wrote to her cousin Captain Edward L'Engle concerning letters of introduction which he was to take from Miller to relatives in England on an impending visit there. She writes of -
"(Miller's) brother in law, Mr. Booth, at Cheltenham, an aged man - a relic of the past. He was a very near and dear friend of the Duke of Wellington, was with him during the Peninsular War, and was on such terms of intimacy that he was summoned to his bedside when dying."
This is a most unlikely story; the Duke's death in 1852 was sudden and unexpected, and there is no report of any friends however close being 'summoned' to his deathbed. As Juliana was still alive it is strange she was not mentioned in the letter.
William died at Lansdown Crescent on the 4th. May 1880 aged 88. In a codicil to his will he writes that as Juliana had another house of her own, he had intended to leave the Cheltenham property directly to Elizabeth; but as this second house had now been sold, his widow should have the use of it while she lived; and in April 1881 Juliana, 91, was still living there, still attended by Elizabeth, and had gone blind. She died less than three months later, on 2nd. July 1881; probate of her will was granted to Keith Hamilton Hallowes, son of her youngest brother. At her death she owned 1252 acres in Queen's Co.(£693:10:0 p.a.) which she bequeathed to her eldest son, and £1784 in England.
Children of Juliana's first marriage, and their spouses:

[BA] Henry Hamilton	                 1825-1911.
   [BA/1] Anna Blanche.
[BB] Frances Anne.                    
   [BB/1] Charles John Bond.
[BC] Louisa Harriett.                    c.1831-1912
   [BC/1] Richard Downer Webb Bond.       d.1864
There were no children of Juliana's second marriage.
Dublin Grant Books/Index, 1800-58. L.A.Wilson's paper on her husbands in the Hallowes DMSS at the S.of.G. He always refers to her as 'Julianna' but this is incorrect.
Censuses for 17 Lansdown Crescent, Cheltenham:
1861: RG 9/1801/9. 1871: RG 10/2670/8R. 1881: RG 11/2574/51R.
Probate of Wills at Somerset House; William Booth 7/6/1880 (less than £2000); Juliana 1/4/1884 (almost 3 years after she died.)
Contents
---
[C] JOHN EDWARD HALLOWES 1791-1883
He was baptised 21st. December 1791 at Royal Barracks, Dublin.
From O'Byrne, op.cit.:
'(He) entered the Navy, in July, 1803, as 1st.-class Volunteer, on board the Ranger 18, Captain Chas. Coote. That vessel being unfortunately captured by the Rochefort squadron 17 July 1805, he was sent a prisoner to Verdun, and there detained for a period of nearly five years and a half. On his release in Dec. 1810, he joined the Helder 36, Capt. John Sorrell, stationed in the Baltic, where, on 10 July, 1811, we find him serving in a boat with the present Lieut. Wm. Henry Dixon at the cutting out of four Danish vessels from under the protection of a 6-gun battery and two gun-boats in Kioge Bay. In May 1813 after a brief attachment to the Ceres, 32, flagship at Chatham of Rear-Admiral Thos Surridge, (he) was invested with the command of No. 5 gun-boat, in which he co-operated with Capt. Arthur Farquhar in an attack made on 30 Nov. following upon the strong batteries that defended Cuxhaven, and in the ensuing and very arduous siege of Gluckstadt (for which he was awarded the Naval General Service Medal: see Gazette, 1814, p.127). Being promoted for the latter service, by commission dated 22 Jan 1814, he was subsequently appointed, in the capacity of Lieutenant - 28 March, 1814, to the Pincher brig, Capt. Jas. Wallis, in the Downs - 7 April, 1815, to the Redpole 10, Capt. Edm. Denman, employed off the coasts of France and Holland - 2 June, 1815, to the command, for a short period, of No. 25 gun-boat, again in the Downs - 23 Nov. 1822, to the Dolphin Revenue-cutter, of which he retained command until 1826 - and 25 Sept, 1830, 4 April, 1833, and 21 Aug. 1834, as Senior, to the Wellesley 74, Serpent 16, and Malabar 74, Capts. Sam. Campbell Rowley, John Chas. Symonds, and Sir Wm. Augustus Montagu, on the Home, Lisbon, West India, and Mediterranean stations. He was promoted from the latter ship to the rank of Commander 10 Jan. 1837; and afterwards employed as Second-Captain, from 4 Dec. 1841 until the receipt of his Post- commission, bearing date 5 Dec. 1842, of the St.Vincent 120, flag -ship at Portsmouth of Sir Edw. Codrington. He has since been on half-pay.'
He was never employed again, but having been placed on the Reserved Half-Pay list as a Captain, he continued to receive promotions by seniority on that list. Thus he became Rear-Admiral 20/3/1862; Vice-Admiral 18/10/1867; and finally Admiral 30/7/1875 - all, of course,without ever serving at sea, let alone flying his flag.
In 1855 he petitioned (unsuccessfully) for a Marine Cadetship for his son Henry, and the letter (PRONI T.1021/25/4-5) is an interesting and graphic resume of his early naval career.
When his cousin Thomas (then Squire of Glapwell) died in 1862 he left to John, with other bequests,a property called Whittington Grange in Leicestershire; but there is no indication that he ever lived there.
In 1874 his brother Miller wrote of him (surely from hearsay, as they hadn't met since 1830) '....advanced in years but strong and active, and able to walk seven or eight miles at a pace that few young men of the present day practice'; and Miller's daughter Caroline writes to a cousin 'You must be certain to visit the Admiral as he is said to be a remarkable man on account of his age, and both mental and physical preservation - fond of young people and making his house very attractive to them.'
Admiral John Edward Hallowes died at his home, Milton House (3, Anglesea Lane), Southsea, Portsmouth, 11th. January 1883, and was buried next to his wife in the Highland Road Cemetery, Southsea. A short obituary was printed in the Times. His will was probated 14/4/1883 (£5746/0/9); the Executors were John Jnr, George, Frederick, and his nephew William A. Tooke Hallowes.
He married, 3/1/1822, at the Hotel de Ville, Aix en Provence:
[C/1] MARGARET LIDIA RAMSAY.
She was born 23/2/1794 in the West Indies (according to LAW: but the 1861 Census has Bath, Somerset), the only child of Col. Nicholas Ramsey, 2nd. Queen's Regiment, of Banff, and his wife Margaret, d. of George Skene of Rubieslaw, Aberdeenshire. She died at Milton House 5/4/1868.
Children, and their Spouses:


[CA] John                                         1824-1905.
[CB] Margaret Helen.                              1825-1897.
   [CB/1] Auchmuty Tylden Freese                c.1817-1873
[CC] Ramsay Henry.                                d.c.1853.
[CD] Thomas Langley.                              d. 1855.
[CE] Brabazon Miller.	                        d.1868.
   [CE/1] Sarah Lamal Watkins
[CF] George Skene                                 1830-1911.
   [CF/1] Lucy Anne Hope                          1846-1931
[CG] Frederick William                            1833-1901
   [CG/1] Georgiana Maria Hare-Naylor	          c.1844-1890
[CH] Catherine Louisa                             1835-1927
   [CH/1] John Low                                d.1915.
[CI] Henry Jardine                                1838-1926.
   [CI/1] Charlotte Elizabeth Ormonde Grey        d.1916
   [CI/2] Eleanor Mary Sykes                      d.1946
Of the Admiral's seven sons, only George had sons of his own.

---
Milton House in the Census, 1861-1881.

The Admiral's wife, who died in 1868, is listed in the Census for 1861, together with their eldest daughter Margaret. She is there for 1871 as well (she married in 1873) together with his son Frederick and daughter in law Georgiana. Curiously Frederick's name is given as "Jonathon"; but since his age is given as 38 and his rank as Commander R.N. he can be no other. Also in the house are two young men described as the Admiral's Nephews: Scott Gray, Midshipman, 27, unm, b. New Brunswick, and William Erle (?) 16, b. Norfolk. He had no nephews of these names; the first is probably a connection of his daughter in law Mrs. Henry Hallowes, whose maiden name was Grey and who was born in Canada; the other is as yet unidentified. In 1881 the only guest is his eldest son John.

1861:RG9/635/73. 1871: RG10/1130/137R. 1881:RG11/1145/72.

---
The Ramsay Family is being researched by M. François Bouyssi, of Paris (e-mail: bouyssi.francois@wanadoo.fr), who is descended from Colonel Nicholas Ramsay's elder sister Frances Grellet (London 1758 - London 1800). He has discovered they had a younger brother James who went to Russia and established a family there.
---
[D] THOMAS HALLOWES 1796-1864
He was born 26th. October 1796 at Penrith, Cumberland, and bapt. there four days later. From O'Byrne:
'(He) entered the Navy. 8 Jan. 1807, as 1st.-class Volunteer, on board the Edgar 74, Capt. Robt. Jackson, bearing the flag in the Downs of Lord Keith; and while next attached, from May in the same year until Jan. 1814, to the Resistance 38, and Invincible 74, both commanded by Capt. Chas. Adam, was very actively employed, particularly in co-operating with the patriots on the coast of Spain, where in 1811-12-13, he witnessed, as Midshipman, the defence of Tarragona, the reduction of the town of Almeria, and the capture of the fort of St. Philippe, in the Col de Balaguer. He afterwards served for short periods, on the Home Station, in the Dublin 74, Capt. Thos. Elphinstone, and Ville de Paris 110, flag-ship of Lord Keith; and on 3 Aug. 1815 was advanced to his present rank (of Lieutenant). He has not since been employed.'
Thomas spent the rest of his life on half-pay, but died before officers in his situation were retired with the rank of Commander as his brother Francis was.
A directory places him in Ashford in 1830; but by 1841 he and Mary Ann were living at Grove House, Dymchurch, Kent. Three unmarried ladies, at least one a relative, were sharing the house. Some time after this he may have lived in Dover. By 1851 the family were living at 6, High St. Terrace, Tonbridge, Kent and he had become an Agent for the Medway Navigation Company; later he was Manager of the Company. He was also Chairman of the Medway Navigation Board. In his private life he was the first local secretary of the Kent Archaeological society and Secretary of the Romsey Marsh Sheep Breeders Association. In 1833 the membership presented him with an inscribed snuffbox in tribute to his endeavours on their behalf; his son Richard later presented it to the Freemasons of Ashford. He first joined the Masons at Hythe in 1833 and then became first Master of the Ashford Lodge when it was founded in 1857. He was also a member of lodges at Dover and Tonbridge. He died at Tonbridge on the 6th. February 1864.
First Marriage:
[D/1] Ann Tilbe, daughter of Henry Tilbe of Hurst Minor, by licence at Ashford 13/11/1820. She d. 2/11/1821. Their only child was:
[DA] Georgina, b. 19/7/1821, who never married, died at Dymchurch and was buried there 27/11/1840.
Second Marriage:
[D/2] Mary Ann Coleman, b. 6/3/1804, at Godmersham 15/12/1826 (in 1861 at Census time Mary's bachelor brother Thomas, aged 56, was on a visit to them).She d. 21/1/1862
Children, and their Spouses:

[DB] Richard Coleman.                              1828-1911
   [DB/1] Eliza Pendered                           b.1827
[DC] John Coleman.                                 1829-1849
[DD] Miller Coleman.                               1830-1887.
[DE] Louisa Coleman.                               1833-1917.
   [AH] William Hallowes                           1831-1879
[DF] Arthur Coleman. 	                        1835-1873.
   [DF/1] Jeanne Desirée Louise Lolliott           1848-1877
[DG] Francis Coleman                               1836-1908
[DH] Mary Coleman                                  1837-1863.
   [DH/1] The Rev. John Henry Kirwan Ward          1831-1902
[DI] Ellen Coleman	                                 1838-1844
[DJ] Agnes Coleman                                 1841-1927
   [DJ/1] The Rev. Thomas Vaughan                  1838-1889
[DK] Keith Edward Coleman                          b.1843
   [DK/1] Eleanor Carmichael
Dymchurch Census for 1841: HO 107/477/20/10L.
Tonbridge Censuses: 1851: HO 107/1615/47. 1861: RG9/494/43R.
Thomas' will probated, 30/3/1864 (under £450: resworn 10/84, under £3000). All the surviving children are on the Tonbridge Census for 1851; only Louisa, Agnes and Keith are there in 1861.
Contents
---
[E] MILLER HALLOWES 1799-1877
Soldier of Fortune.
Miller was baptised 19th. February 1799 at Ashford, Kent, and named after his father's friend Captain Francis Miller of the 45rd. Regiment; whose own son, William Hallowes Miller, became one of the most eminent of British mineralogists of the 19th. Century (See DNB.) He was educated at Christ's Hospital.
In 1818, at the age of 19 - a year after the death of his father, and three years after the end of the war with France - he went out to South America and there joined the armies of Simon Bolivar 'The Liberator', in whose Irish Legion he had been obtained a commission by his cousin the Earl of Meath.
from Hasbrouck (p.319):
'General Miller Hallowes was one of a number of young Englishmen of high position who joined the Irish Legion and with it made the charge at Corabobo. He also served in the Second Hussars, Grenadiers of the Guard, and in the Vencedor and Rifles Battalions. (The Vencedor Battalion was composed almost entirely of mountaineers from Venezuela and New Granda; they were the shock troops of last resort, depended on for decisive charges and rapid manoeuvre). He fought through the campaigns of the South and of Peru. With (the) Rifles at Matara (in 1824) he was the hero of that noble rear-guard stand.(In this action the Patriot Army escaped what would have been a decisive defeat, and were able to triumph at the battle of Ayacucho a few days later). He served at the first siege of Callao and in the expedition to the Intermediate ports under Sucre. In 1829 he took part in the campaigns of Pasto and Popayan and against Guayaquil until its surrender. He was decorated with the Star of the Order of Liberators both of Venezuela and of Quito, with the chevrons of Carabobo and Junin and with the medal of Ayacucho. According to family tradition he was at one time attached to Bolivar's Staff. Gen. Thomas C. Mosquera (later President of Columbia) said of him: "This general is active, careful and brave. Every place the defence of which he is in charge, is in the best of order and never requires any attention from me."'
In "Memoirs of General (William) Miller in the Service of the Republic of Peru" by John Miller (brother of the General) (London, 1829) a quite different description of the Battle of Matara is given. Miller Hallowes is mentioned in a footnote but not otherwise distinguished. This account says that his regiment, the Colombian Battalion of Rifles, was completely shattered and dispersed by the Royalist attack; the Second in Command Major Duckbury and two hundred men, were killed, and their field-train depot; their spare horses and mules; and one of their two remaining field-pieces, were lost to the enemy, whose casualties did not exceed thirty. The situation was saved from total disaster by another regiment which held its ground.
There is no mention in this work of any connection between General William Miller and John Hallowes' friend Captain William Miller of the 43rd. Foot.
The Columbian Government continued his pay as Colonel up to the start of the Civil War, and a pension to the end of his life. As a token of their esteem his brother officers sent him two paintings, one of Bolivar by Antonio Salas, the other of his friend General Verega.
Mary English, the widow of a General in Bolivar's army, who was living in Bogota in August 1827, mentions him briefly in a letter as one of a number of officers who called on her.
In 1830 he returned to England on leave to recuperate. Soon after his arrival General Bolivar, to whom he had a personal loyalty, died; and in the next year his uncle Francis Philip Fatio, who had inherited the New Switzerland Estates in Florida from his father in 1811, died also, as did his only son Louis six months later. Miller Hallowes decided to go out to Florida and take control of his mother's share of the inheritance which up to then her brother had been taking care of for her. He resigned his commission in what had been Bolivar's army and eventually arrived in New Switzerland in 1832.
Soon after his arrival he met and married Catherine Nichol (see below). Miller never returned to England again and his wife only once. For some years they lived at New Switzerland. In 1836 during the early part of the Seminole War he was staying in the house when it was attacked by Indians and he suffered a bullet wound in the neck. He received medical attention from a U.S. Army post but the bullet was never extracted and caused him great pain as he grew older.
Some years later Miller established a plantation in South Georgia which he called Bolingbroke. He grew cotton, corn, potatoes and sugar cane, and in particular arrowroot. During the Civil War several of his sons entered the Army of the Confederacy. Early in the war, when Federal Troops were harrying neighboring plantations, the old Colonel - who had never relinquished his British Citizenship - ran up the Union Jack outside his home which was enough to persuade the marauders to avoid it.
After the Civil War he gave up the Bolingbroke plantation and built a house, named Claremont, on his portion of what had been the New Switzerland estate. He died there surrounded by his family on 1st. September 1877.
Marriage:
[E/1] CAROLINE MARY STITES NICOL.
Miller met Caroline soon after his arrival in America. She was b. at New Brunswick NJ 9/6/1813, the only daughter of Col. A.Y. Nichol, U.S. Army, and his wife Caroline Agnes, d. of Col. Drury Ledbetter of Virginia, and also a niece of Francis Philip Fatio's wife.
(The Ledbetter Family is related to the Washingtons and Laniers of Virginia, and is being researched by Rick Parker).
They fell in love and were married within six weeks of their first meeting. Caroline died at Jacksonville, 1.2.1900.
Children, and their spouses:


[EA] Miller                                 1835-1840.
[EB] Bolivar                                1836-1839.
[EC] Victoria                               1837-1837.
[ED] John Nichol                            1838-1862
[EE] Louis Edward                           1839-1928.
   [EE/1] Hannah M. Bessant.                1839-1875.
   [EE/2] Mary Mims
[EF] Louisa Agnes                           1840-1925
[EG] Catherine Brabazon                     1843-1861.
[EH] Ada Nichol                             1845-1918.
   [EH/1] The Rev. Whittier D. Mitchell.    d.c.1871
[EI] Caroline Mary                          1851-1925.
[EJ] Juliana Blackwood                      1851-1918.
   [EJ/1] John Mortimer Dancy               1845-1939
[EK] Elise Nichol                           d.1918
   [EK/1] The Rev. Ablion W. Knight         1859-1936
[EL] William Alexander                      1854-1944.
   [EL/1] Lydia Vipont Telfair.             1862-1885
   [EL/2] Rose Chevallie
[EM] James Mongin                           b. 1858.
   [EM/1] Frances E. Atkins                 d.c.1925
  The above order is based on the IGI. Dr. Wilson does not give
 the date of birth for Elise, but lists her after William Alexander. 
Any firm information on this question would be much appreciated.


Contents
---
[F] PRICE BLACKWOOD HALLOWES
Born at Ashford, January 13th. 1801. The eldest of the family to be able to take advantage of his mother's inheritance after her father died in Florida, he underwent Medical Training at St. Bartholomew's Hospital. He qualified in 1822 as Licentiate of the Society of Apothecaries; 1832 as a Member of the Royal College of Surgeons; and as FRCS in 1843. In 1847 he was appointed Consultant Surgeon to the Kent and Canterbury Hospital. and Surgeon to the Clergy Orphan School.
He married, in c. 1832:
[F/1] CHARLOTTE HARRIET BOND.
She was born c. 1808 in Hanwell,, d. of The Rev. John Bond, D.D., of Corpus Christi College, Oxford, and his wife Sophia, daughter of Captain Thomas Smart of the Royal Engineers and his second wife Charlotte Dalton. Her brother Charles John Bond later married Price's neice Frances Anne Pratt.
In 1851 and 1861 the family was living at 16 Stour Street, Canterbury. In 1861 at the time of the Census, Price Blackwood's niece Mary Coleman Ward, née Hallowes, the eldest child and daughter of his brother Thomas and by then married to a clergyman was visiting, as was Charlotte's second sister Eliza C. Roche, also a clergyman's wife, with her own daughter also called Eliza and born in Rainham, Essex. Price died in Canterbury on the 4th. January 1882. Charlotte then went to live with her widowed daughter Florence Ward in Wandsworth and died there on the 14th. November of the same year.
Their Children, and their Spouses, were:

[FA] Blackwood
c.1833 - 1920 [FA/1] Elizabeth Olivia Higginson c.1842 - 1885 [FA/2] Alvarina Ambrosia Tenison 1859 - 1948 [FB] Frederick Blackwood 1835 - 1896 [FB/1] Mary Anne Taylor Hutchinson 1844 - 1941 [FC] Florence Caroline Blackwood 1841 - 1935 [FC/1] John Ward 1837 - 1877 [FD] George Blackwood 1842 - 1883 [FD/1] Lucy Mary Leachman 1836 - 1916 [FE] Adolphus Henry Blackwood 1844 - 1927 [FE/1] Elizabeth Hoar 1849 - 1927 [FF] Edith Louisa Blackwood c.1854 - 1918 [FF/1] William Parker, Cmmdr. RN. [HH] Keith Hamilton Hallowes 1844 - 1936 [FG] Edward Price Blackwood 1851 - 1923 [FG/1] Amelia Wilkie Peregrine 1855 - 1893 [CGA] Georgina Hallowes 1872 - 1956 Census for 14 Stour St., Canterbury (St. Mildred's):
1851: HO/107/1624/240. 1861: RG9/520/57. (The family is not at this address for 1841 or 1871.)
Probate of Wills at Somerset House: Price 8/11/82 (£286/13/0: resworn 9/84, £2030/7/9): Charlotte 11/12/82 (£424/6/6).
---
Thanks are due to Kenneth Jacob to whose extensive researches on the Bond Family of Hanwell and Taney the links on this and later pages all lead.
---
[G] WILLIAM HALLOWES 1802-1890
William was born at Ashford, July 13th. 1802, and probably named after his father's friend Captain William Miller (see note on his brother Miller).He qualified as an Attorney in 1824 and worked for William Tooke, FRS, MP, who was in practice with his son Anthony at 39 Bedford Row. After his marriage to William's daughter Elizabeth (below) he became a partner in the firm which then became known as Tooke, Son, and Hallowes (later Tooke Hallowes and Price - a possible connection with the Prices of Dublin after whom his brother was named has not yet been traced). William and Elizabeth lived firstly at 52 Gloucester St., then at 5, Woburn Place from c.1845-48, and finally at 32 Tavistock Square.
William died 31st. December 1890 aged 88, 161 years after the birth of his father. His will was probated 27/1/91 (£35,586/12/3).
Marriage:
[G/1] ELIZABETH TOOKE, b. 1810, St. Andrew's, Holborn, daughter of William Tooke (see above) and his wife Amelia (d.1848), younger daughter of Samuel Shaen of Crix, Essex. William Tooke (1777-1863) had a most distinguished career, not only as a lawyer but as a scientist, philanthropist and Member of Parliament, in which he was a close associate of Lord Brougham. See his obituary in the Gentleman's Magazine (1863 pt.2 pp 656-9); and for his father and brother in the DNB, 1899. Elizabeth died sometime between 1861-70. Her sister, Mrs. Amelia Graves of Thirleslaine Lodge, Cheltenham, William nominated in his will to be Guardian of any of his children who had not achieved their majority at the time of his death; she was still living in 1886.
Children, and their Spouses:


[GA] William Alexander Tooke                    1844-1937
   [GA/1] Louise Minns                          1851-1922
[GB] John Francis Tooke                         1846-1917
   [GB/1] Frances Sarah Knight                  1852-1931
[GC] Amelia Louisa Tooke                        1847-1884.
[GD] Thomas Arthur Tooke                        1849-1895.
[GE] Brabazon Tooke                             1850-1906
   [GE/1] Harriet (?Charlotte) Amelia Porter    d.1923
[GF] Elizabeth Tooke                            1852-1940
[GG] Katherine Brabazon Tooke                   1853-1937.

Censuses for 32 Tavistock Square:
1851: HO 107/1495/745R. 1861: RG9/103/48R. 1871: RG10/212/18. 1881: RG11/188/105R. 1891: RG12/119/75R.
William's will probated 27/1/91 (£35,586/12/3).
Contents
---
[H] KEITH CLARINGBOLD HAMILTON HALLOWES 1805-1870
He was born at Ashford, Kent 19th.Sept.1805 and baptised 18th. Oct.
Keith, the youngest of the family, went to Ireland c.1830 and there joined the firm of Hamilton and Hallowes, Attorneys, in which his elder son would eventually join him.
Residences:
1831 (at the time of his marriage) 31 Upper Retland St., Dublin.
1843 (Watson): Business, 3 Moore Lane and 38 Upper Sackville St., Home 11 Upper Gardiner St., all Dublin.
1847 (Pettigrew): Business as above, but now moved to nr. 42 in Upper Sackville St.; Home 13 Lower Prince Edward Terrace, Blackrock.
1850 (when his son William was born) Ashgrove House, Monkstown; and at his death the business was at 5, Kildare St., Dublin, and his home at 25 Crosthwaite Park, Kingstown.
He died comparatively young for one of his family, aged only 64, at Crosthwaite Park, outside Dublin, 29th. April 1870. His will, leaving everything to his wife and naming his son Keith as executor was proven at Dublin 4/1/1871 and also later (fortunately, as the original was destroyed in the 1922 Four Courts Conflagration) in London.
Of his three Christian names: 'Keith' is an Elphinstone name, and more specifically the title taken by Lord Keith, Lord Elphinstone's younger brother, and a distinguished Admiral in the later years of the Napoleonic Wars; all three of the elder Hallowes brothers served under him at various times; 'Claringbold' is a fairly common name in the Ashford area; and 'Hamilton' must obviously be linked in some way with the family's Dublin connections. Keith's will is witnessed by his partner Chetwood Hamilton, and also makes mention of a friend, Dawson Hamilton. He married, 23rd. August 1831:
[H/1] EMILY BOURNE
b. c. 1810, the daughter of Walter Bourne of Taney, nr. Dublin (1766-1848) and his second wife Eleanor, née Carmichael. The Bournes and the Carmichaels were members of the Irish Legal Establishment; and both Emily's first cousin and her niece married members of the Brabazon family. She died in 1899 at Arklow Rectory, Co. Wicklow, where her son Richard was Rector. The Bourne family is being researched by Ruth Blair (e-mail: anamcara@sympatico.ca), of Ottawa. who is in the fifth generation of descent from Emily's brother Walter and therefore fifth cousin to anyone on this genealogy in the [H - sequence with a 6-letter identifier.
Their children, with their Spouses, were:

[HA] Louisa Martha                           1832-1880
[HB] Eleanor Jane                            1834-1923
   [HB/1] The Rev. Henry Monsarrat           1823-1901
[HC] John                                    1836-1839
[HD] Juliana                                 1837-1929
[HE] Walter Henry                            1839-1846
[HF] Frances Harriet                         1840-1858
[HG] Emily Anne                              1842-1922
[HH] Keith Hamilton                          1844-1936
   [HH/1] Flora Westby                       1847-1885
   [HH/2] Evelyn Henrietta Smyth             d.1897
   [FF] Edith Louisa Blackwood Parker        c.1854-1917
   [HH/4] Violet Green
[HI] Katherine Brabazon                      1846-1935
   [HI/1] The Rev. William Berry.            1851-1920
[HJ] Enracht                                 1848-1859
[HK] Richard Carmichael                      1848-1915
   [HK/1] Mary Elizabeth Collis              1851-1918
[HL] William Bourne                          1850-1940
   [HL/1] Louisa Jane Berry                  1846-1931
[HM] Marian Elizabeth                        1852-1943
[HN] Florence Mary                           1854-1881
Documentation: Crisp's Visitations for Ireland (Berry Family): Contemporary Dublin Directories: Irish Times 30/4/1870 (Death).
Contents
---
This is the second page of this Genealogical Collection. Other pages available are:
1) The Progenitors: John and Louisa Martha Hallowes
3) The Second Generation of Descent
4) The Third Generation of Descent
5) The Fourth Generation of Descent
6) The Fifth Generation of Descent
7) The Sixth Generation of Descent
8) The Seventh Generation of Descent
Compiler's Introduction
Combined Index

---
Compiled by G.K. Armstrong, 35 Cedars Road, London W4 3JP.

E-mail: gkarmstrong@ukhome.net
---
END OF PAGE TWO


latest additions 26/11/2017