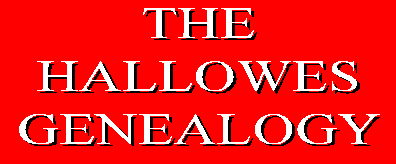 PART FIVE:
THE FOURTH GENERATION OF DESCENT
---
This is the fifth page of this Genealogical Collection. The Index for this page is at the end. Click here for direct links to other pages.
---
THE CHILDREN OF THOMAS RICHARD FRANCIS HALLOWES AND FANNY HALLOWES née ROBERTSON
---
[AAAA] RONALD BRABAZON HALLOWES
b. 18/7/1888 at Wickhambreux. Educ. at Winchester and New College, Oxford. Died unmarried in London, 10/7/1907.
---
[AAAB] GWENDOLYN MAUD HUNT
b. 15/7/1889 at Wickhambreux. During the Great War she served in the V.A.D. (1914 -1920) and was mentioned in Despatches. Co-Executor, with her father, of her brother John's will in 1919. She married, 21/1/1920, at Shrewsbury:
[AAAB/1] BENEDICT PHILIP GERALD HUNT
b. 6/12/1894 at Fort Augustus, s. of Major Rowland Hunt M.P. of Boreatton, Shropshire, and his wife Georgina Veronica Davidson, d. of Duncan Caithness Henry Reay Davidson of Tullock. Educ. Beaumont and Shrewsbury. At the start of the Great War he was commissioned in the Shropshire Yeomanry. Lt. 1/1/1916; T/Capt 5/12/1916 and Flt. Cmdr. R.F.C. Later the same month he was wounded and taken prisoner. He served in the R.A.S.C throughout W.W.2. Res. Cadenham Grange, Cadnam, Herts.
Their Children, with their spouses, were:

[AAABA] Mary Priscilla Isabel                    b. 1920
[AAABB] Cecilia Primrose                         b. 1922
   [AAABB/1] Iwan Geoffrey Raikes                1921 - 2011
---
[AAAC] JOHN CHAWORTH HALLOWES
b. 23/6/1894 in London. Educ. Wellington and R.M.C. Sandhurst. Commissioned in the 7th. Hussars 17/9/1913. Lt. 14/12/14; later Captain. 1918 Adjutant. 28/10/1918 killed in action at Howaish, Mesopotamia (two weeks before the Armistice). Unmarried.
---
CHILDREN OF HERBERT CHAWORTH HALLOWES AND ELIZABETH DUNCAN HALLOWES née GARROWAY

---
[AABB] BRABAZON JAMES HALLOWES
B. 21/8/1885 at Launceston. Educ ( ) and St. Batholomew's Hospital, London. During the Great War he enlisted in the Royal Engineers and served as a Corporal-Despatch Rider. In 1914 he was awarded the French Medal for Valour. M.R.C.S., L.R.C.P. 1921. He joined the Colonial Service and became Asst. Surgeon for the Falkland Islands. M.R.C.P. (Alta) 1929; L.M.C.C. 1936. He married, at St. Giles (?Cripplegate), Q4 1908:
[AABB/1] HELENA HARRIET POCH
This surname is very rare in the UK and one source traces it to Catalonia.
Their children, with their spouses, are:

[AABBA] Maud
   [AABBA/1] Oswald Blagg
[AABBB] Herbert James Lempriere                1912-1987 
   [AABBB/1] Eve Cooper
---
[AABE] GERALDINE CHAWORTH WATERHOUSE
b. 1890 at Launceston. In October 1903 she performed the ceremonial launching of "Venture", the new "oil launch" built for their neighbour and family friend Mr. Thomas Horsham (see previous page). In 1906-1907 she visited England with her father, hearing on her return that her mother had meantime died. She married:
[AABE/1] KENNETH WATERHOUSE
(c/o Ritchie and Parker, 81 St. John St. Launceston.) Their Children are:

[AABEA] Elizabeth. Married, with a son Peter.
[AABEB] John. Married, with a son John.
---
[AABF] DOROTHY BROWN.
b. 30/3/1892 at Launceston. She married:
[AABF/1] VERNON C. BROWN
15 Atkinson St., Oakleigh, Victoria. Their children are:

[AABFA]  Philip. Married, with two children.
[AABFB] Judith. Married, also with two children.
[AABFC] Robert, unmarried.
---
[AABG] MARY LOUISA HALLOWES
b. 23/11/1894 at Launceston. Trained as a Nurse in Victoria (Reg. London 1944). Q.A.I.M.N.S., Staff Nurse, 17/12/1927; Sister 17/10/1930, etc. A/Matron 28/5/1941; T/Prin. Matron 25/10/1946; Transferred to Q.A.R.A.N.C. as Senior Cmdr.: Lt. Colonel, 1/7/1951. In 1930/31 she was on the North-West Frontier, and during WW she served in India, Iceland, Palestine, Sicily (where she went ashore on D+14), Italy, Austria, Germany and the Middle East. R.R.C. 1944. 1952 B.M.H. El Ballab, M.E.L.F. Unmarried. (A.Lst (rtd) 1969)
---
[AABH] HERBERT FRANCIS CHAWORTH HALLOWES
b.28/5/1897 at Launceston. Educ. Melbourne University: M.B., B.S. 1926. Having qualified as a Doctor, he practiced in Tallangata, a country town in Victoria. He married:
[AABH/1] NANCY GREEN.
Their children are:
[AABHA]  Anne
[AABHA/1] K. MacDonald. [AABHB] Richard Chaworth b. 1933 [AABHB/1] Hilary Elspeth Haydon [AABHC] Rosemary [AABHC/1] Robert Grant. Index
---
CHILDREN OF GERALD HENRY COLVILE AND MARY ELINOR COLVILE née HALLOWES
---
[AACA] MANSEL BRABAZON FIENNES COLVILE
b. 19/1/1887 at Lighthorne Vicarage. Midshipman R.N. 15/2/1903: A/Sub. Lt. 15/4/1906; Lt. 31/12/1906; Lt. Cmdr. 31/12/1916. Retired with the Rank of Cmdr., 19/1/1930. In 1914 he was with HMS Cornwall at the Battle of the Falklands; later he served in Q ships. D.S.O. 1925-27 Instructor, East Scottish Div., RNVR. He died at King's Barn, Odiham, 14/1/1942. He married, firstly, 11/9/1913 at St. John's, Newfoundland:
[AACA/1] HELEN MARION WITHERS
b. 10/9/1890 at St. John's, d. of John Withers of Harvey Place, St. John's, and Emma Hoyle, d. of William Frederick Rennie also of St. John's. She died in London, 17/1/1923. Their Children, with their Spouses, were:


[AACAA] Helen Mansel                                  1914 - 1985
   [AACAA/1] Claude Edward Lutley Sclater             1910 - 1986
[AACAB] Philip Anthony Fienes                         1918 - 1944
   [AACAB/1] Nancy Laurie White, née Ainsworth        1915 - 2000
Mansel Brabazon Colville married, secondly, 21/6/1924 in Malta:
[AACA/2] CONSTANCE PATRICIA WALKER WEST
d. of A.J. Walker of Knotmead, Mortomer, Berks. They had one child:


[AACAC] Richard Mansel                             b. 1927
   [AACAC/1] Frances Alison Clavering              b. 1929

---
[AACC] MARGARET ELEANOR LLOYD-PHILLIPS
b. 20/11/1890 at Dodford Vicarage. She married, 25/9/1914, at St. Andrew's, Weston under Lyziard, as his second wife:
[AACC/1] RHODRI VAUGHAN LLOYD LLOYD-PHILLIPS
b. 15/3/1874 at Dale Castle, Haverfordwest, s. of John Phillips Allen Lloyd-Philipps of Dale Castle and his second wife Elizabeth Anne, d. of James Peel Stevenson of Uffington, Lincs. Educ. Wellington and Trinity College Cambridge (admitted Pensioner, 18/6/1982). In 1888 he succeeded his brother as owner of Dale Castle and Lord of the Manor of Dale.
His first wife was Mary Dorothy, d. of Bowen Pottinger Woosnam D.L. of Tyn-y-graig, Brecon. They were married 5/4/1902 at Cosheston, Pembrokeshire, and had two sons and two daughters. She died 4/4/1913.
In 1891 Rhodri Lloyd-Phillips entered the Militia, then 15/4/1896 was commissioned in the Life Guards. Lt. 13/1/1897; Capt. 20/1/1889. In 1899 he went out to the South African war. Feb-May, Relief of Kimberley, then ops. in The Orange Free State; Battle of Paadeberg, 17-20 Feb. actions at Poplar, Dreifontein, Houtnek (Thoba Mountain) , Vet River (5-6 May) and Zand River; May-June, in the Transvaal; 11-12 June, actions near Johannesberg, Pretoria & Diamond Hill; August, actions west of Pretoria and the Elands River; actions at Bethelehem and Wittebergen; and finally the battle at Colesberg, 5th Jan. - 2 Feb 1901. By the end of the war he had been mentioned in Despatches, and his Queen's Medal had six clasps.
In 1906 he went on the reserve, then in 1908 was appointed Lt. Col., Pembrokeshire Royal Garrison Artillery (T.A.). He retired in 1912. During the Great War he was Lt. Col. in command, R.G.A. Gibraltar (Southern District), 1915-19. At home he was J.P. for Pembrokeshire, 1896; High Sheriff, 1906; and D.L. 1934. He died at Dale, 11/10/1950.
The Children of Rhodri and Margaret Lloyd-Phillips, and their spouses, were:

[AACCA]  Stella Mary Bellairs                       b. 1915
   [AACCA/1] Emil von Siege,
               Baron Musulin von Gomirje            b. 1916
[AACCB] John Allen Bellairs                         b. 1923
   [AACCB/1] Leslie Cecilia Mathias                 b. 1924                 

---
[AACD] EVELYN MAY NOYES, later CLAYTON
b. 5/5/1899 at Weston under Lyziard Rectory. She married, 1stly, in Malta, 24/6/1924:
[AACD/1] ERIC JAMES BANKS NOYES
b. 15/1/1894 in Paris, s. of the Rev. Henry Edward Noyes D.D., Chaplain to the British Embassy in Paris, and his wife Katherine, d. of James Barton of Fahrdreg, C.E. Educ. at St. Lawrence College, Ramsgate, and RNC Greenwich. 1/1/1912, Commissioned into the Royal Marines. Lt. 6/9/1914 ; Capt. 9/5/1917; Major 17/1/1930; Lt. Col. 30/11/1936; T/Col. 24/5/1939; Col. 2nd. Commandant 1/11/1940; Brigadier and A/Col. Commandant 1/11/1940;1943 Major General, and A.D.C. to the King.
He began the Great War aboard HMS Aboukir. After she was torpedoed in the channel 22/9/1914 he was briefly interned in Holland, then went on to serve in HMSS Revenge, St. Vincent, Leviathan and others. In 1918 he was wounded. After the war he was Asst. District Intelligence Officer and Naval Provost Marshal at Malta, serving on HMSS Caledon and Repulse. In 1927 he was with 12 Bn R.M.L.I. as past of the Shanghai Defence Force.; 1935-6 employed in connection with the defence of the Mediterranean Bases. 1939-40 2nd. Commandant, Plymouth; 1940 Commandant at Deal, later at Chatham; 1941-3 at Eastney; 1942 Col. Commandant Portsmouth Div.1943 retired. C.B.E.
He died 23/7/1947 at Holden Cottage, Southborough, Kent.
Evelyn married 2ndly 21/9/1948 at Southborough:
[AACD/2] VALENTINE GARDNER CLAYTON
b. 19/1/1898 in Belize, British Honduras, s. of Arthur Gardner Clayton of the Colonial Service and his wife Lucy Harriett, d. of the Ven. Robert Sutton, Rector of Pevensey and Archdeacon of Lewes. Educ at Bruton, Somerset. He was also in the Royal Marines; 2.Lt. 1/9/1915; Lt. 20/9/1916; Capt. 1/10/1921; Major 1/4/1936; Bvt. Lt. Col. June 1941; Lt. Col. 25/7/1940; Retired December 1946.
During most of the Great War he was with the Grand Fleet. He qualified as an instructor in PT and Naval Gunnery. 1939-40, RM Depots, Deal and Portsmouth. Dec. 1940-Mar. 1943, Fleet R.M. Officer, Home Fleet. 1943-Dec. 1944, Deal Depot. Dec 1944-Feb. 1946 , i/c Landing Craft Training Base, Marve (near Bombay) - the planned Zipper Operation. Res. after his retirement Spring Cottage, Chetnole, Sherbourne.
Evelyn had no issue of her second marriage. The children of her marriage to Eric Noyes, with their spouses, were:


[AACDA] Gerald Barton                           b. 1925
   [AACDA/1] Eleanor Isabel Soulby              b. 1927
[AACDB] Penelope June                           b. 1928
The Clayton family of Lostock is being researched by Ray-Ann Farington-Alt of Bellevue, Ohio.
(e-mail: rayannalt1953@yahoo.com)
---
THE CHILDREN OF BRABAZON CHAMBRÉ HALLOWES and CONSTANCE EMILY HALLOWES née SANDERS
---
[AAEA] GEOFFREY FRANCIS BRABAZON HALLOWES
b. 16/3/1895 at Morcott. For reasons so far unknown, he took no part in the Great War (not to be confused with his fourth cousin Francis Brabazon Hallowes [FDAB] who having enlisted in the ASC in 1914, ended the war as a Major). He died unmarried and intestate at 96 Wells Road, Bath, 9/11/1943. His mother took out Administration; he left £247:4:0, little enough even for 1943.
---
[AAEB] MURIEL CONSTANCE HALLOWES
b. 31/7/1897 at Morcott. Like her brother, she never married, and died at Lower Cavendish House, Cavendish Road, Bath, 5/3/1949. She left £2125:4:8. Her executor was her mother, by then aged 87.
---
THE CHILDREN OF WILLIAM BIRKENHEAD MATHER-JACKSON AND GEORGIANA MATHER-JACKSON née HALLOWES
---
[AAFA] WILLIAM BRABAZON MATHER JACKSON
b. 7/10/1893 in London. Educ. privately. 1911 (?) commissioned in the 6th. Sherwood Foresters. Lt. 17/12/1913; T/Capt. 17/11/1914. During the Great War he served in Ireland during the Easter Rising of 1916, returning to France in Feb. 1917. He died there of wounds, 28/4/1917, never having married.
---
[AAFB] SIR GEORGE CHRISTOPHER MATHER JACKSON, Bt.
b. 12/3/1896; educ. Wellington. Commissioned in the 3rd. Bn Sherwood Foresters 14/4/1915. Wounded three times and "Despatches" in 1917. After the War he became Joint Managing Director, Sheepbridge Coal and Iron Co.: Director of Yorkshire Amalgamated Collieries; of Amalgamated Denaby Collieries Ltd: Newstead Collieries Ltd.: Rickett, Cockerell & Co. Ltd.; and Sheepbridge Engineering Co. Ltd. J.P. for Derbyshire, 1939; High Sheriff 1951. In 1956 he succeeded his cousin Sir Edward Mather-Jackson as 5th. Baronet. Res. Stubbing Court, Chesterfield.
He married 18/1/1941 at Harrogate:
[AAFB/1] VICTORIA EMILY FORD, d. of Indrick Freyburg of Mitau, Latvia.
They had no children. Sir George died in 1976.
---
[AAFC] SIR ANTHONY HENRY MATHER-JACKSON, Bt.
b. 8/11/1899 in London. Educ. Harrow; Grenadier Guards Res. of Officer. M.I. Min. E. He played cricket for Derbyshire in 1922. He was Managing Director of Newstead Collieries, and Director of a large number of other Colliery and Manufacturing Companies in Notts. and Derbys. J.P. (Notts) 1938; D.L. 1942. During WW2 he served in the Newark Bn, Notts. Home Guard as a Lt. and also held honorary rank in the Army. Res. Archway House, Kirklington, Newark. He married, 5/4/1923, at Great Longstone, Derbyshire:
[AAFC/1] EVELYN MARY STEVENSON
b. 18/8/1897 at Sheffield, d. of Lt. Col. Sir Henry Kenyon Stephenson, Bt., D.S.O.; V.D.; M.P. of Hassop Hall and his wife Frances, d. of Major William Greaves Blake, D.L., of Mylnhurst, Eccles.
Anthony Mather-Jackson succeeded his brother George as 6th. Baronet but, having no male heirs, on his death in 1983 the title passed to his second cousin William Jackson, descended from the 2nd. son of the 1st. Baronet.
Their daughters, with their spouses, were:


[AAFCA] Angela Mary                          b. 1925
   [AAFCA/1] Francis Ambrose More O'Ferrall  b. 1904
[AAFCB] Elizabeth Georgina                   b. 1926
   [AAFCB/1] Weetman, 3rd.Viscount Cowdray   1910-1995
[AAFCC] Sarah Gillian                        b. 1929
   [AAFCC/1] Henry Lester Morriss            b. 1914
Index
---
THE CHILDREN OF EDWARD STANLEY LLOYD AND AMY LOUISA LLOYD née LEWIS
---
[AGGA] EVAN JOHN STANLEY LLOYD
b. 2/3/1902 at Whitton House, Ludlow. Educ. Clifton and R.M.A. Woolwich; Commissioned into the Royal Artillery. Died at Lark Hill, Salisbury, 14/11/1924 as the result of an accident.
---
[AGGB] GEORGE HALLOWES LLOYD
b. 22/11/1904 at Whitton House. Educ. Clifton. Went to British Columbia for a time, then to Malaya as a rubber planter. On the outbreak of WW2 he enlisted in the 1st Herefords and served with that Regiment throughout the war, variously mustered with 53 Div and 11th. Armoured Div. 2/Lt. 6/1/40; Lt. 6/7/41; A/Capt Dec. '41; T/Capt. 3/3/42. In France and NW Europe from June 1944 to the end of the war. Unmarried. Res. (late 50s) Chubb's Farm, Burley, Ringwood.
---
[AGGC] MARY LOUISA LLOYD
b. 14/3/1909 at Whitton House. Unmarried. Res (late 50s) Ladyridge Farm, Brockhampton, Hereford.
Index
---
THE CHILDREN OF THE REV. ALEXANDER FERRIER AND BEATRICE FERRIER née HALLOWES
---
[AHAA] ALEXANDER JAMES FERRIER
b. 3/1/1898 at Torquay. Educ. Melrose and Haileybury. Joined Steel Bros. & Co., Merchants, of Burma. Commissioned into the K.S.L.I. 21/10/1915 transferred to the RFC (later the RAF) 15/7/1917. Demobbed 15/2/1919 and returned to Burma. In WW2 he joined the Burma Rifles (27/10/1940) and was seconded to the Burma I. Corps, SEAC Staff. Demobbed again 22/3/1946. He was the author of "The Care and Management of Elephants in Burma" (1948), the standard book on the subject. He retired in 1953 to "Fairholme", Monkton, Ayrshire, and was Secretary of the Prestwich Golf Club. He married, 2/7/1930, in Belfast:
[AHAA/1] KATHLEEN McCREADY
b.2/10/1901 at the Manse, Islandmeagre, d. of the Rev. H.H. McCready of Islandmeagre and Eva Marie McCready, d. of Oscar Hockhurst of Belfast. Their children, with their spouses, are:

[AHAAA] Frances Elizabeth                         b. 1932
   [AHAAA/1] Kenneth Michael Robson
[AHAAB] Anne                                      b. 1934
---
[AHAB] WILLIAM FRANCIS FERRIER
b. 8/4/1899 at Melrose. Educ. Melrose and Glenalmond. In 1917 he joined the R.N.A.S. as a Pilot Officer and died in France, 26/8/17, as a result of an accident the previous day while in training at Vendome, where he is buried.
---
[AHAC] BEATRICE LOUISE FERRIER
b.13/11/1900 at Melrose. Trained to S.R.N. at the Royal Infirmary, Edinburgh, then joined QAIMNS. Staff Nurse 2/1/1930; Sister 2/1/1933; QARANC Snr. Commander 2/1/1942; T/Matron 10/6/1946; Major 1/2/1949; Lt. Col. 9.6.1952. During WW2 she served in India and Burma, and in Palestine 1946-7. ARRC June, 1945; RRC June 1954. In Jan. 1950 she was at the MH at Bovington, Dorset, and in 1956 was Matron at BMH Iserhohn.
---
[AHAD] DONALD ARTHUR FERRIER
b. 3/12/1902 at Melrose. Educ. Fettes and Clare College, Cambridge (Exhibitioner) . B.A. 1926; Classical Tripos Pt. 1 class. 2 1924; Theological Tripos Pt. 1 Class 3 1926. Asst. Master Queen Mary's G.S. Walsall 1926-9; later of Terrytown, New York, vice Repton. Headmaster of a Prep. School in Bucks, then (1940) of Bourzell, Hurst Green, Sussex.,1902. He married, 23/4/1938, at St. Mary's, Wimbledon:
[AHAD/1] LAURA EVELYN JONES
b. 16/9/1903 at Wimbledon, d. of George Morgan Edwardes Jones K.C. of 9 North View, Wimbledon, and Gabrielle Rose Jones, d. of Reginald Eden Johnston of Tarlings, Harlow. They have issue:
[AHADA] Jonathan Francis, b. at Beaconsfield 24/12/1944; educ. Marlborough House, Hawkhurst, Kent.
---
[AHAF] MONICA LANE
b. 22/5/1905 at Melrose. She married, 1936, in Calcutta:
[AHAF/1] RUFUS LANE
He was in the US. Diplomatic Service and in January 1950 was First Secretary in Madrid. A later address is 3 Hargate Drive, Hale, Altrincham. Their children are:
[AHAFA] Marion, b. 22/2/1939
[AHAFB] Sylvia, b. Jan. 1941
[AHAFC] John, b. 1944
---
[AHAG] LILIAN FLEMING
b. 26/5/1906 at Melrose. She married, 30/4/1938:
[AHAG/1] JAMES CLAREMONT FLEMING
He was with Butterfield & Swire of Shanghai, and was interned at Shanghai during WW2. A later address is Netherfield, Highton Lockerbie, Dumfrieshire. Their children are:
[AHAGA] Sheila Porteous, b. 5/2/1939
[AHAGB] Margaret Louise, b. 2/7/1941
Index
---
THE CHILDREN OF FRANCIS WILLIAM HALLOWES AND MARTHA HALLOWES née BEADON
---
[AHBA] WILLIAM EDWARD HALLOWES
b. 19/12/1891 at Allahabad. Educ. Malvern. He emigrated to Canada in 1910 and after studying at an agricultural college, took up a homestead on Lake Romeo in Alberta. During the Great War he enlisted in the 49th. Edmonton Regt. (Cpl, 13/1/1915) Then transferred to the K.S.L.I.; 2Lt. 1916, Lt. 1/2/1919. He served in on the Western Front and in Palestine, and was wounded at Salwad in 1918. Returning to Canada in 1919, he established at Peavine, Alberta, one of the most important alfalfa farms in Canada. He died at Barrhead 10/12/1964; a full obituary appeared in the local newspaper.
He married 26/11/1918 (two weeks and a day after the Armistice), at St. James, Muswell Hill, London N10:
[AHBA/1] DOROTHY LILIAN IRENE CATTERMOLE
b. 30/5/1894 in Handsworth, West Bromwich, Staffs., d. of Arthur Edward Cattermole, then of 41 Whatley Road, Handsworth but later of Muswell Hill, by Annie Lillian, d. of William Powell of Shropshire. Before her marriage she worked as a Teacher. She died 30/8/1986 at 4, Fowey Close, Shoreham-by-Sea. Their Children, with their spouses, were:


[AHBAA] Edward Cattermole                       1920 - 2007
   [AHBAA/1] Veronica Schmorang                 1924 - 2012
[AHBAB] Arthur William                          1921 - 2001
   [AHBAB/1] Irene den Boer                     b. 1923
[AHBAC] Francis Edgar Brabazon                  1923 - 2009
   [AHBAC/1] Catherine Burnett Monro            1920 - 1991
[AHBAD] Richard Beadon                          1927 - 2014
   [AHBAD/1] Irene Elizabeth Garrett            1923 - 2009
---
[AHBB] JACK WALTER HALLOWES
b. 15/7/1895 at Naini Thal. Educ. Dartmouth. Commissioned in the Shropshire L.I. 11/11/1914. Lt. 18/5/15; T/Capt. 18/1/1916; Capt. att. Machine Gun Corps, 18/8/1917; T/Major (MGC)16/2/1918. During the Great War he served on the Western Front until Nov. 1915 and June-November 1918. Between those times he was in Greek Macedonia, Serbia, European Turkey and the Aegean. Despatches 1/1/1916; M.C.
After the war he was ADC to the GOC 5th. Div. Irish Command 27 Mar-13 June 1920, then Lt. 5th Kenya Bn KAR 16/1/1922-10/12/24. In December 1927 he sent a gift of a suitcase to his sister Martha at her wedding; which he probably also attended, if he was still in Kenya. Adjutant TA 27/1/33- 15/5/35. Major, Shropshire L.I., 16/5/35. OC Light Infantry Training Centre, Shrewsbury, Jan-Oct 1940. Next he raised, and then commanded, the 7th Bn S.L.I. until May 1943, after which he held a number of Staff Appointments.
After retirement he was res. Mobarnane House, Fethard, Tipperary, where he farmed 250 acres; and died there, 14/7/1967.
He married, 4/2/1930, at St. Mary's, Bampton:
[AHBB/1] KATHERINE GRACE DOUGLAS
b. 19/11/1903 at Tientsin, China, d. of Robert Keith Douglas of Tientsin by Louisa Mary, d. of the Rev. Horace Charles Ripley, Vicar of Minster Lovell. Their children are:
[AHBBA] Katherine Edith, b. Queensgate, London, 23/4/1932
[AHBBB] Diana Frances, b. Stocklinch, Ilminster, June 1945. Guy Hallowes, the author (AHEEA), recalls meeting her for dinner in London in the early 60's.
---
[AHBC] MARTHA FRANCES BOWER
b. 3/10/1903 at Bareilly, Uttar Pradesh. She married 7/12/1927 at her parents' estate at Otterland, Ruiru, Kenya, the Bishop of Mombassa officiating:
recalldx [AHBC/1] LANCELOT TREGONWELL SYNDERCOMBE BOWER
b.7/7/1895 at Los Chilenos, Tomquist, Argentina, s. of Captain Henry Gregory Syndercombe Bower J.P. of Fontmell Parva by Charlotte Rosabelle, d. of the Rev. Richard Surtees, Rector of Holtby, Yorks.
Educ. at Repton. Commissioned into the 3rd Bn. Dorsetshire Regt 15/8/1914. Lt. 2/2/1915. On the Western Front Jan-May 1915 (during Feb-Apr. att. 1st Lincolns) , when he was wounded and lost his right arm. He returned to France as a Staff Captain in June 1916 attached to 2nd. Army Railheads, Amiens area. OBE 1915. After the was they farmed at Sugeroi Estate, Rumaruti, Kenya during 1920-1945, then went to Fontmell Parva, Childe Okeford, Blandford. In 1951 they retuned to Africa and farmed at Gararagua Estate, Sanya Juu, Moshi, in Tanzania until 1964 when they retired to live in Malindi, Kenya. Lancelot died in 1978.
Their children are:

[AHBCA] Thomas Syndercombe                         1930 - 1992
   [AHBCA/1] Marigold Fleur Syndercombe Bower      b. 1936
[AHBCB] Denis Syndercombe                          b. 1938
   [AHBCB/1] Margaret Anne Simpson
---
The Bower family is being researched by Sir William Arbuthnot Bt. and published at www.kittybrewster.com/bower/bower.htm
---
THE CHILDREN OF BERNARD HALLOWES AND GRACE CATHERINE HALLOWES née THOMS
---
[AHCA] RACHEL LOUISA BOILEAU
b. 16/2/1901 at Brackenfield Vicarage. She married, 18/3/1935, at Langtree:
[AHCA/1] ETIENNE HENRY TUDOR BOILEAU
b. 19/9/1902. Eldest s. of Colonel Frank Ridley Farrer Boileau R.E. Heir Male of the family of Boileau and representative of the Lords of Castelnau in England (born 1867 Lucknow; married 1902; died of wounds in France, August 1914); and his wife Mary Aurora Tudor, d. of the Rev. Subdeacon Tudor of Exeter. Educ. Cheltenham and R.M.C. Sandhurst. Commissioned in the Somerset L.I. 1/2/1923; Lt. 1/2/1925; Local Capt. 23/12/1933; Capt. 1.9.1936; Major 1/2/1940. Specially employed with the Sudan Defence Force, 22/11/1929- 18/1/1940. He went on the Staff as Captain, 27/2/31; G.S.O.3 for Weapon Training 14/11/35; G.S.O.2 (Local Major) 2.1.37. During WW2 he served with 45 Reconnaissance Regt. He inherited property from Sir Raymond Frederick Boileau. Res. Rampisham Manor, nr. Eveshot, Dorset. Their children were:
[AHCAA] Valerie Mary Grace                      b. 21/8/1936.
   [AHCAA/1] +++ Stewart.
[AHCAB] Etienne Raymond Ridley                  b. 2/11/1937.
   [AHCAB/1] Harriet Lucy Barnes.
[AHCAC] Diana Margaret Rosalind                 b. 2/10/1942.
The two elder children were born at Bideford. Etienne died in 1985 and Rachel in 1980, both at Yeovil.
---
The compiler has received an e-mail from Andrew Smith, (andrew@oldpostoffice.org.uk) whose father, WO1 Frederick Aaron Smith, Royal Signals, served with Major Etienne Boileau, while in the HQ Sudan Defence Force at Khartoum and elsewhere in the Sudan (where he apparently held the local rank of Lt.-Col). He writes - (9/7/2003):
"I actually met (Colonel Boileau) once or twice but I was very small and memories are vague. My Mother remembers him too, including him visiting my father in Chester and (probably early sixties) Hitchin, Hertfordshire. She says they had a great mutual respect and had worked together for a long time. Despite this, she never heard my father call him anything other than Colonel and he always called my Father "Mr. Smith". I would be grateful for any snippets you have that shed light on my father's own career. He was probably a sergeant/staff sergeant at the time."
---
[AHCB] MICHAEL DUNCAN HALLOWES
b.15/5/1903 at Brackenfield. Educ. King's College Taunton and Sidney Sussex Coll, Cambridge. B.A. 1929; M.A. 1937. Asst. Master, Christ's Hospital, Sept.1933- Dec. 1946. Headmaster Guildford Royal G.S. Jan. 1947 - 1967. During WW2 he served in the Christ's Hospital Home Guard Company as a Corporal. Res. Westlands, Guildown Rd., Guildford. He married, 1/4/1933, at Burley, Hants.:
[AHCB/1] AGNES URSULA USBORNE
b. 28/12/1909 at Frinton, Essex, second d. of Colonel John Usborne, R.E., by Rose Mildred Elsie, d. of Richard Winch. She died 2/6/1986 at 22 Highfield Drive, Hurst Pierrepoint, Sussex.
Their children, with their spouses, are:
[AHCBA] Erica Mildred                        b. 8/2/1934
   [AHCBA/1] Michael Douglas Henderson       b. 15/3/1932
[AHCBB] Rupert Brabazon Usborne              1936 - 1943
[AHCBC] Paul John Bernard                    b. 10/2/1940
   [AHCBC/1] Bridget Sykes                   d. June, 1992.
   [AHCBC/2] Mary Eastman
[AHCBD] Rachel Margaret                      b. 2/10/1943
   [AHCBD/1] David Alastair Neal
[AHCBE] Francis Michael Usborne              b. 27/8/1945
Agnes died in 1986 at Hurstpierpoint and Michael in 1994 at Bedford.
---
[AHCC] AUSTIN HALLOWES
b. 8/10/1904 at Brackenfield. Educ. King's College, Taunton. He went out to Canada and farmed in British Columbia, and was last heard of at Kamloops in 1935. After this he disappeared without trace, and despite extensive searches by the RCMP was never heard of again, dead or alive.
---
[AHCD] THOMAS EUSTACE BRABAZON HALLOWES
b. 4/10/1906 at Shirland; educ King's College, Taunton. Went out to Burma and joined Steel Bros., Merchants, of Rangoon. On the outbreak of war he enlisted in the Burma Light Infantry and rose to the rank of Major. He was killed at Myingyan on January 21st. 1945 and was buried at Mandalay.

---
[AHCE] GRACE VYVYAN PELLEW-HARVEY
b. 5/3/ 1908 at Shirland. She died in 1998 at Wallingford, Oxon., and is buried at Dorchester-on-Thames
She married, 12/6/1930, at Langtree:
[AHCE/1] EDWARD PELLEW-HARVEY
b. 27/1/1906 at Eliot Place, Blackheath, s. of Edward Pellew-Harvey of 2 Woodruff Avenue, Hove, by Elizabeth, d. of Richard Hichens of Redruth. Educ. Uppingham. After working for the Wandsworth & District Gas Co., he became a market gardener and fruit grower in 1936 at North Walsham, Norfolk. During WW2 he was a Sergeant in the Home Guard. In 1952 they all went out to Kenya where he worked for Kenya Canners at Kilifi, later moving to be managing director of East African Diatomite Industries at Gilgil. The family returned home to England on his retirement in 1967. They lived first at Braceby in Lincolnshire for 17 years and finally at Dorchester-on-Thames, Oxon, where they celebrated their diamond wedding in 1990. He died there in 1994.
Their grand-daughter Chania Allen writes: "Ted was a charming and loving man, adored by everyone. He absolutely adored my Granny who was a strong and lovely woman and a constant inspiration for her children, grand and great grandchildren. Granny and Grandad were the perfect grandparents and were much loved by the grandchildren, they provided a foundation for all of us to grow."
Their Children were:
[AHCEA]  Ann                                 b. 1932
    [AHCEA/1] David St.J. M. Gore            b. 1930
[AHCEB] Judith                               b. 1934
    [AHCEB/1] Alan Smith                     1930 - 2001
[AHCEC] William Bernard                      b. 1941
    [AHCEC/1] Maria Chedotal
    [AHCEC/2] Barbara McGrath                b. 1953
    [AHCEC/3] Irina  Alexandrovna Kacheva    b. 1975
[AHCED] Catherine Elizabeth                  b. 1943
    [AHCED/1] Roger Morris
    [AHCED/2] George Ritchie
[AHCEE]  Stephen Brabazon                    1952 - 2013
    [AHCEE/1] Anne Waite
---
A photograph album of their wedding, together with cuttings from the local newspaper, are in the possession of their grandchild
Chania Allen.
---
CHILDREN OF WALTER HAFFENDEN HALLOWES AND ETHEL HALLOWES née JOHNSON
---
[AHEA] CHARLES WALTER HALLOWES
b. 19/4/1906 at Kambula; educ. at Michaelhouse, Natal. During WW2 he was a Captain in the Pretoria Regiment, serving in Abyssinia, Egypt and Italy. Otherwise he farmed in Tanganyika (Magunga Estate, P.O. Mnyusi), and also lived at times in Australia and South Africa. He died in the early 1980s. He was twice married; firstly, to:
[AHEA/1] NORA KAREN TITTLESTADT
Their children are:
[AHEAA] Karen Rosemary                   b. 1934.
   [AHEAA/1] Barend von Rensburg
[AHEAB] Freda Margaret                   b. 1936
   [AHEAB/1] Neil McNeil
[AHEAC] June Lynette                     b. 1937
   [AHEAC/1] Raymon Neilson
Charles Walter Hallowes married, 2ndly:
[AHEA/2] JESSIE ARCHER
Their children are:

[AHEAD]  Charles Edward                  b. 1945
   [AHEAD/1] Pamela Kidner
[AHEAE]  James                           b. 1947
   [AHEAE/1] Sandra McKenzie
[AHEAF]  Ian                             b. 1948
   [AHEAF/1] Sheila von Rooyen
[AHEAG] Walter Mark                      b. 1949
   [AHEAG/1] Brenda Morley
[AHEAH] Patrick Brabazon                 b. 1951
   [AHEAH/1] Nicola Jocelyn Ford         b. 1950
Charles Hallowes was known to his friends as "Chaka", after the great King of the Zulus, because of his fluency in the Zulu language. David Hamilton was one of the family on the neighbouring estate; they moved to Australia in 1969. He writes:
"I clearly remember 'Chaka' Hallowes children, Charles, James, Ian, Walter and Patrick and their mother Jessie although I thought there was a girl as well but could be mistaken. They used to come over to our estate and swim in the pool and I was always rather shy of so many noisy kids jumping and diving and running rampant through the grounds! I remember being fascinated with their father's Rolls, an old soft top with a 'dickie seat' at the back! I think they also had a VW Kombi for ferrying around the children. My mother would often remark on how Jessie managed to cope with such a 'tribe' during school holidays but I'm sure a suitable arrangement was worked out because on the other side of Luingera Estate (where they lived) was another large family, the De Scossa's who had about 8 children I think!"
(Note that these children are from Charles Hallowes second marriage).
---
[AHEB] WILLIAM BRABAZON HALLOWES
b. 22/2/1908 at Kambula and educ. at Michaelhouse. Known as "Brab" in the family. Before WW2 he was a Lance Corporal (T) in the Kenya Regt; to 2/6 K.A.R. as Sergeant, 10/9/1939; C.S.M. Nov. 1939; 2lt. 12/6/1940; Lt. 12/12/1941. He served in East Africa, the Sudan and Abyssinia to Sept. 1941, then in Kenya until March 1942 when he was demobbed.
Before and after the war he ran farms as a professional manager at Thika, Ruiru, Donyo-Sabuk, Kikuvu, and Mau-Narok (all in Kenya), before buying his own, "Carrigans", at Ol-Kalou. It adjoined "Passenham", his brother Rupert's property; see infra. However after 1951 following the failure of a wheat crop Brab actually worked for the Agricultural Settlement Board in Kenya and he was responsible for settling large numbers of mainly British settlers on a large tract of crown land on the Mau escarpment known as Mau Narok, west of Nakuru. After leaving Kenya he lived in England and South Africa.He died in the late eighties.
He married, in 1934, at Limuru, Kenya:
[AHEB/1] DIANA GRACE KING-MAGEE
b. 21/4/1912 at Nairobi, d. of Arthur Fitzherbert King-Magee of Dublin and Limaru, by Gertrude Emily, d. of George McDonnell of Guildford. Their Children were:

[AHEBA] Peter Blythe William           b. 10/2/1935
   [AHEBA/1]  Pamela Noeline Rainey  
   [AHEBA/2]  Ann Gwendoline Phyllis Morrison, née McLean
[AHEBB] Nigel Francis                  b. 1937
   [AHEBB/1]  Carol McAllister
[AHEBC] Patricia Mary                  1939 - 2013
   [AHEBC/1]  Peter Baxendell
[AHEBD] Martin Richard                 b. 1947
After Diana died, William married:
[AHEB/2] JOAN SCOTT
and subsequently:
[AHEB/3] EILEEN ROWE
There were no issue from his second and third marriages.
---
[AHEC] FRANCIS MICHAEL HALLOWES
b. 29/10/1910 at Vryheld; educ. Michaelhouse and Natal University College. B.A. 1933. He held the South Africa schoolboy record for the Mile; in 1929 he was the Inter - University Mile Champion and holder of the domestic mile record. He became an Inspector of Schools; during WW2 he served in the A.S.C. as a Captain, in South Africa and Egypt (1940-45). Res. 1271 Sarnia Rd., Bellair, Natal. He married, in 1929:
[AHEC/1] ELIZABETH MASON
b. 1915 at Maritzburg. Their children are:

[AHECA] Jonathan David           b. 1941
   [AHECA/1]  Jennifer Scott
[AHECB] Timothy Peter            b. 1942
   [AHECB/1]  Margaret Mulder
[AHECC] Judith Elizabeth         b. 1946.
   [AHECC/1]  William Spotswood
---
[AHED] KENNETH BERNARD HALLOWES
b. Sept. 1913 at Vryheid. Educ. Michaelhouse. During WW2 he was in the Royal Armoured Corps; he served in the Desert Campaign, including the Battle of Alamein, and later in Italy and Greece, rising to Captain. After the war he remained in England (where his eldest son was born) to resume his education at St. Edmund Hall, Oxford. B.A. 1946; Westcott House, Cambridge, 1946; then returned to South Africa and was ordained deacon 1946 (Guildford for Natal), priest 1947 (Natal). Vice-Principal of St. Chad's College, Ladysmith, from 1947. He later became a bishop, and died in July 1995 of cancer.
He married, in 1945 (?)
[AHED/1] JOAN DEWEY
Their children, with their spouses, are:
[AHEDA] Michael Brabazon                      b. 1946
   [AHEDA/1] Penelope Ann Parkinson           b. 1946
[AHEDB] Anthony Rupert                        b. 1948
   [AHEDB/1]  Dianne Schutze
[AHEDC] David                                 b. 1951
   [AHEDC/1]  Alexandra Carnegie
---
[AHEE] RUPERT HAFFENDEN HALLOWES
b. 19/1/1916 at Kambula; educ. at Michaelhouse. During WW2 he served with the Kenya Regiment and the East African A.S.C. in East Africa and Abyssinia, reaching the rank of Lt. Afterwards he ran a farm, "Passenham", at Ol Kalou in Kenya; it adjoined his brother William (Brab)'s farm, "Carrigans", and the two properties were run in partnership until 1962. It was then bought by the British Government as part of the political settlement with Jomo Kenyatta and the Independence arrangements (the famous 'million acre scheme'). Rupert and Helen moved back to South Africa in 1963 and farmed at Nottingham Road in Natal South Africa from 1963 to 1976. The farm was then sold and they moved to Hilton ( near Pietermaritzburg) in 1976. Rupert died of cancer in 1978.
He married, in 1940:
[AHEE/1] HELEN CHENNELLS
b. June 1916. After Rupert died she lived at Villa Assumpta, 55 Tanner Road, Pietermaritzburg, Natal. "She is still (Feb 2014) hale and hearty and likes to hear from family members." In April 2012 she spent some months with her son Paul in Mozambique, at the Blue Anchor; but then returned to the Villa Assumpta. In 2016 she celbrated her One Hundredth Birthday, and received a congratulatory card from the Queen. On 09/04/2017 she died peacefully in her sleep.
Their children, with their spouses, were:
[AHEEA] Guy Rupert                        b. 1941
   [AHEEA/1] Diana Calderwood.
[AHEEB] Paul Francis                       b. 1942
   [AHEEB/1] Elizabeth Duffton.
[AHEEC] Margaret Joan Mary                 b. 1947
   [AHEEC/1]  Eric Reid.
[AHEEE] Helen Barbara Louise               b. 1948
   [AHEEE/1] David Maggs                   1945 - 1993
Index
---
THE CHILDREN OF DAVID JOHN CARNEGIE, 10TH EARL OF NORTHESK AND ELIZABETH BOYLE CARNEGIE, née HALLOWES, COUNTESS OF NORTHESK.
---
[CFAA] DAVID LUDOVIC GEORGE HOPETOUN CARNEGIE, 11TH EARL OF NORTHESK; Baron Rosehill, and Baron Inglismaldie.
b. 24/9/1901 at 6 Hans Crescent, SW1. Educ. St, Aubyns, Rottingdean, & Gresham's School, Holt (Norfolk). From 1921-3 he was on the supplementary list or reserve of Officers for the Coldstream Guards. He succeeded his father as 11th. Earl, 5/12/1921. During WW2 he served in the Intelligence Corps. 2Lt., 12/2/40; WS Lt., T/Capt, 13/7/1940; Adjt. Nov. 1940; Captain Jan. 1941; Major, 1945. On Staff Duties at the I Corps Depot, 27/11/1944. As is usual with the I Corps, there is no record of what he was actually doing during the War. Afterwards he farmed 200 acres at Beer Farm, Binfield, Bracknell, Berks. He died in November 1963. Extensive tributes to his work with the Kennel Club and the Talyllyn Railway Preservation Society appeared in the Times. He was twice married:
[CFAA/1] JESSICA RUTH REINHARD, née BROWN
She was born July 27, 1895, at Harrison Hot Springs, British Columbia, Canada. Her father Frederick A. Brown was born at Kingston, Ontario, Canada. Her grandfather Brown was also born in Canada. Her Mother was Jessica Waters Brown, who may have been born in the U.S.A., and who married Albert W. Starke after Frederick's death. Frederick and Jessica Brown, along with their daughter Jessica, moved to Buffalo New York about 1905. In 1918 Jessica married Cyril de Witt Reinhard, naval contractor and electrical engineer, from whom she was divorced in Oct. 1922 in Chicago. She joined the Ziegfeld Follies, who were based in Buffalo, and married the 11th.Earl 19/7/1923 in Chicago, the marriage taking place in the offices of the bride's Lawyers. She divorced the Earl in the Scottish Courts in 1928, almost certainly by arrangement, and then married as her 3rd. husband 18/12/1928 Vivian Cornelius, s. of Percy Cornelius of Windlesham, Surrey.
[CFAA/2] ELIZABETH VLASTO
b. 18/12/1906 in London, d. of Alexandre Vlasto, of Binfield Park, (b. 12/1/1833 at Trieste; d. 6/6/1899, London) by Erato Scaramanga, d. of George Scaramanga and his wife Elizabeth Franghiadi of Tiltwood, Crawley Down, Sussex.
The Vlasto Family originates from Chios in the eastern Aegean, birthplace of the poet Simonides (fl. early 5th. Century B.C.). On the 6th. of May 1822, during the Greek War of Independence, the Turks carried out a particularly savage massacre on the island; at least one member of the family was hanged and most of the Greek population of Chios were forced into exile. This "Greek Diaspora" found centres firstly at Trieste and Salonika; later many came to England.
The 11th. Earl had no children by either marriage and was succeeded as 12th. Earl by his cousin Captain John Douglas Carnegie.


---

Rachel Thomas [CFIABD] writes, 21/03/2015: "I live in Reading, and in the corner of our local park there is a model railway  run by the Reading Society of Model Engineers. My son has just been to a birthday party there.
The founding president of RSME? None other than a member of The Hallowes family! I took pictures of what I saw today. "Lord Northesk" is the bald-headed gentleman depicted ear the centre of this caricature, and the board with his name as the founding president.
I bet he didn't think that his first cousins twice/three times removed would be enjoying a pleasant day there today!"


The two photographs which Mrs. Thomas took are available in jpg format on request from The Compiler.
---
[CFAB] LADY KATHERINE JANE was twice married:
[CFAB/1] WILLIAM BRIDGEMAN LAMBERT MANLEY
b. 1899, s. of Major William Edward Manley O.B.E. of Mayfield, Horley. Educ. Eton. Served during the Great War in the Grenadier Guards (Captain, 1/5/1917) and re-employed in 1939. T/Major 1940; W.S. Major and T/Lt. Col. 29/5/19. Asst. Director of Claims, London District, 29/2/1944. They were married 22/12/1924 in London, and were divorced in 1945. William afterwards married Margherita Elisa, d. of Umberto Mighard of Turin. (Res. Kensington Close, W8). There was one child of his marriage to Katherine:

[CFABA] Leila Katherine Elspeth 
1925 - 2013 [CFABA/1] Michael Popham d. before 1969 Katherine's second husband, who she married 28/4/1945 in London, was:
[CFAB/2] EDWARD LEATHLEY ARMITAGE
b. 26/4/1891 at Bhamo, Burma, s. of Col. John Leathley Armitage, R. Iniskilling Fusilliers, of Farnley Lodge, Guildford, by Anne Jessie Nicholas. Educ. Cheltenham and RMA Woolwich. Commissioned into the R.A. 23/12/1910; Lt. 23/12/1913; Capt. 8/8/1916; Major 1/1/1929; Lt.Col. 22/11/1937; Col. 17/7/1939, and T/Brig. until 18/5/1940. He retired in 1944.
In 1914 he was wounded near Le Cateau and taken prisoner. After the war he was Adjutant (?at Woolwich) 23/5/1919-25/7/1919 and 11/11/1919-30/1/1920. He played cricket for Hampshire and the Army, hockey for Kent, the Army and Combined Services, and racquets for the R.A. During 1/4/1920-6/2/1921 he was Camp Commandant, Inter Allied Commission of Control for Austria; and 1/9/1922-3/4/1926 at Woolwich as CO of the Company of Gentlemen Cadets. During 1930-1 he served on the NW Frontier, and in the operations against the Mohmands, 1933. OBE 1935. During 16/9/1937-16/7/1939 he was OC TA Bde. RA; and CRA 38 Welsh Division, 17/7/1939-18/5/1940. In 1941 he went to the training staff of 2nd. Canadian Division; in 1942 he went to 1st. Army, then in 1943 until his retirement to 1st. Corps. During 1944-5 he was Dep. Commr. Civilian Relief B.R.C. and St. John War Organisation Southern Europe Committee, then Cmmr. Central Europe Committee 1945-7. He was mentioned in Despatches, and also received the Order of St. John, Gold Medal; the Italian Red Cross, Silver Medal; and the Greek Red Cross.. After the was he was res. Petsham, Peasmarch, Rye. He and Katherine had no children by this her second marriage.
Index
---
ONLY CHILD OF JOHN HOPE HALLOWES AND OLIVE LILIAN HALLOWES, previously ROSS née MURPHY
---
[CFBA] GEORGE RICHARD HALLOWES
b. 21/03/1939 at the Hatch St. Nursing Home, Dublin. Educ. Highfield, then Shrewsbury. In 1961 he graduated in Civil Engineering from Trinity College, Dublin, then joined the firm of Binnie and Partners, Later Binnie Black and Veitch, as a Graduate Engineer; remaining with this firm until 2000, by which time he was Technical Director. During this career of almost 38 years he was involved in an extraordinarily wide range of hydro-electic, hydro-geological, and water management schemes in every part of the world, including projects for over forty new dams alone. He contributed numerous papers to technical journals and was Moderator for a session of the Hydrovision 2002 Conference in Portland, Oregon. In 2000 he left Binnie's and set up as an independant consultant.
For fuller details of his career, see his obituary from the website of the Society of Geologists of London, of which he was a Fellow.
He married:
[CFBA/1] VEDA COUZYN
Born in South Africa, Veda Hallowes is a sculptor, working especially in pottery and bronze. They had two daughters, Teya and Kiri. Teya Hallowes is currently (2008) Head of Programme Development at IIR Management Development.
George Hallowes died on the 29th. October 2007, of cancer, at his home in Putney.
---
ONLY CHILD OF REGINALD SYDNEY HABERSHON BAISS AND LUCY HOPE BAISS née HALLOWES
---
[CFDA] JAMES ARCHIBALD BAISS
b. 27/5/1909 at Launceston Place, London W1. Educ at Tonbridge (captain of Cricket) and Brasenose Coll, Oxford. He played for the Free Foresters. On the outbreak of War he enlisted in the Royal Artillery. Sept. 1939 83/16 LAA Regt; later 50/17 LAA Regt. By the end of 1940 he was a Sgt. Major. 2Lt. (EC) RA 28/3/1941; WS Lt. and T/Capt., 28/9/1942. 1939-41, Home Defence; 1941-3, M.E.F.; 1943-5, Canadian M.F. During 1942-4 he was GSO3 (RA), 26 British Military Mission att. Polish Army in the East, later renamed 2nd. Polish Corps. 1944, 47 LAA Regt; 1944-5 GSO3 Army Group HQ. After the war he joined the Stock Exchange. Res. Hillside, Lynstead, nr. Sittingbourne, Kent. He was twice married: firstly, 28/4/1934, at Eastbourne:
[CFDA/1] BERYL LOVEJOY PRITCHETT
b. 15/2/1904 at Feltham, Mddx., d. of Theodore William Pritchett of Bilbury, Mill Gap Rd., Eastbourne, by Norah, d. of George Canning Shaw of Springfield, Feltham. She divorced him in 1949 and died 24/9/1955. They had one child:
[CFDAA] Virginia, b. 10/6/1936 at 34 Sloane Court, SW10.
LAW does not identify James' second wife ([CFDA/2]) but states that they had no issue. James Baiss died 17/11/1984 at Tresithick, St.Erme, Cornwall.
Index
---
ONLY CHILD OF EVAN WILLIAM BRODIE AND CECILIA GRANVILLE LEWIN BRODIE née HALLOWES
---
[CFIA] MARJORIE HAIG DIMBLEBY
b.8/2/1918 at 43 Clavering Avenue, Barnes. At the outbreak of WW2 she joined the London Ambulance Service, then transferred to the W.A.A.F. 16/5/1941 and was commissioned 8/2/1944. She married, 10/5/1945 at St. Jude's:
[CFIA/1] GEOFFREY WILLIAM DIMBLEBY
b. 27/5/1917, s. of Thomas M. Edward Dimbleby of The Laurels, Hanley Swan, Worcs., by Hilda Swift. d. of Amos Dipper of Sheffield. The family were then living in Newcastle on Tyne, later moving to Cheltenham. Educ. at Northfield Sch. Ipswich; Marling Sch. Stroud; Cheltenham GS, then Magdalen Coll., Oxford, where he read Botany. B.Sc, 1941; MA 1943. During WW2 he served in the RAFVR, where he met his wife. Pilot Offr. Feb. 1941; Flying Offr. July 1941; Flt.Lt. Nov. 1941; Sq. Ldr. Nov. 1942. Much of his war service was spent in the interpretation of aeriel photographs, which towards the end of the war led into the hunt for V1 and V2 launch sites. He was twice mentioned in Despatches.
He returned to Oxford in 1945, and in 1947 became a Lecturer in Forest Ecology. In 1964 he was appointed Professor of Human Environment at the Institute of Archaeology (in London); the family moved to St. Albans.
During his academic career Geoffrey Dimbleby pioneered the use of soil pollen analysis to provide information on the development of soils and vegetation, and on the impact of early peoples on the environment. In his D. Phil. thesis of 1950, he demonstrated that soil pollen surviving especially in acid soils provided a degree of stratification and hence some indication of vegetation history. One of his many studies showed that until the Bronze Age the area of the North York Moors was covered with deciduous forest, and its transformation to today's heather moorland is the result of human influence since that time. Some of his most interesting discoveries were made by sampling the virgin soil beneath the lowest level of Bronze Age earthworks. In his books he stressed the necessity for archaeologists and ecologists to learn from each other. He served on numerous official bodies, including the Ancient Monument Board's committee for rescue archaeology. In 1977 he was elected a Fellow of the Society of Antiquaries, and awarded an honory doctorate by St. Andrew's University. He retired in 1979.
His academic career was paralleled by his work for a range of charitable organisations. In Oxford he was the Chairman of Oxfam. Both there and in St Albans he was an Elder and Church Secretary of the United Reform Church; he chaired the St. Albans Council of Churches, and attended World Council of Churches meetings of scientists and theologians. During the 1960s he chaired the first Churches Commission on the Environment. When his wife was stricken with muliple sclerosis he became involved with fundraising for research into the disease.
The children of Geoffrey and Marjorie Dimbleby are:
[CFIAA] Bridget Elizabeth                            b. 11/4/1946
[CFIAB] Alison Mary                                  b. 5/8/1948
   [CFIAB/1] John Bryan
   [CFIAB/2] Laurence Kelvin Griffiths               1947 - 2002
[CFIAC] Hilary Clare                                 b. 21/4/1951
   [CFIAC/1] Paul Jason Gooden                       b. 26/10/1950
[CFIAD] Deborah Lindsay                              b. 20/3/1954
   [CFIAD/1] Christopher Kirk
   [CFIAD/2] John Kimble
Marjorie Dimbleby died from Multiple Sclerosis in December 1977. Professor Geoffrey Dimbleby died 8/4/2000. An obituary was published in The Times (8/5/2000) and a very full one in "Antiquity", an International Journal of Expert Archaeology.
Index
---
ONLY CHILD OF WILLIAM HALLOWES KIRWAN WARD AND ETHEL KIRWAN WARD née BAYFORD
---
[DHCA] WILLIAM ARTHUR BAYFORD KIRWAN WARD
b. 14/6/1888 at Rayleigh; educ. Dover College (scholar) and King's School, Birmingham, and trained as an Electrical Engineer. 1/6/1914, Commissioned into the London Signal Companies, Royal Engineers. He served with 5 Corps Headquarters Signal Company from January to June 1915 in France and Flanders, being present throughout the Second Battle of Ypres (April 22 to May 2 1915), during which the Germans employed poison gas for the first time on the Western Front, and was mentioned in dispatches. He was then transferred to the General Headquarters Staff in Gallipoli, and was mortally wounded on August 1 1915 whilst on duty in the signal office on Capes Helles. He died next day and was buried at sea. He was unmarried.

His bereft parents bound up his letters into a book which, with other memorabilia, is now in the possession of Joanna Thomas, (e-mail: jt.teaching@btinternet.com)a member of his mother's family.
---
THE CHILDREN OF NORMAN FRANCIS KIRWAN WARD AND BERTHA KIRWAN WARD née VAN DER HEYDEN
---
[DHFA] AGNES MARY KIRWAN WARD
b. 10/7/1899 at Oxford. Educ. St. Ursula's Convent, Oxford. She became an assistant mistress at Les Oiseaux Convent, Westgate-on-Sea, but later joined other members of the family in Perth WA where she died unmarried in 1991. Her neice Ruth Lilly took care of her in her last years.
---
[DHFB] PHILIP JOHN KIRWAN WARD
b. 12/12/1900 at Oxford. Educ. at Franciscan College, Oxford, and Ratcliffe College, Leicester. He later ran a sawmill at Manjimup, Western Australia. He died of cancer, 12/7/1972, having lived with his daughter and son-in-law for his last five years.
He married, at Kalgoolie, in 1945:
[DHFB/1] MARJORIE GRACE POLLARD, née VERRAN
b. 21st Oct 1911. Her first marriage was to Reginald Edward James Pollard on 17 Dec 1931. This marriage ended in divorce after they had had three sons. She died aged 45, 11th. August 1956.
They had one daughter:

[DHFBA] Ruth Elizabeth                             b. 16/4/1946
   [DHFBA/1] Ian George Lilly                      b. 14/2/1946
Ruth writes: "The Honourable John Verran an uncle [great?] of my mother's, was the Premier of South Australia from 1910 to 1912. The Verrans were a mining family and came for the copper in SA then to Kalgoorlie for gold where I was born. Philip Kirwan Ward was a gold prospector for years before he met Marjorie."
---
[DHFC] JOAN HENRIETTA TURNER
b. 28/9/1902 at Oxford; educ. St Ursula's Convent and Lincoln Convent, but later left the Catholic Church. Trained as a nurse at Wellhouse Hospital, Barnet, and qualified S.R.N. 1925. She married, 4/9/1939 at Wandsworth
[DHFC/1] LESLIE TURNER
b. Worcester Park. Joined the R.A.F.V.R. in April 1937; Pilot Officer, 28/11/1941. Bomber Command. 51 Squadron, Dishforth; then 190 T.U., Kirkness; later Pathfinder Force, Gravelly. A.F.C. June 1944; D.F.C. Nov. 1945; Despatches, June 1944. Air Efficiency Award and Clasp. After the war he transferred to Civil Aviation as an Air Traffic Controller. Res. 37 Alleyn Park, Norwood Green, Middlesex.
Leslie and Joan Turner had no issue, but adopted as their son:
[DHFCA] John, b. c. 1942.
---
Dave Edwards, now of New Zealand,(e-mail: dave.edwards@ihug.co.nz)writes:
" I was born in 1939 and up to the age of about 20, I lived with my parents and brother at 33 Alleyn Park, Norwood Green, just two houses away from where the Turners lived. They moved into the house at number 37 when I was in my teens, I believe. The previous owners had the name Jameson (maybe Jamieson or similar). My brother and I had quite a lot of contact with John, the adopted son; he was about the same age as by brother so he would have been born around 1942. I remember spending Guy Fawkes night at the Turner's and having potatoes baked in the embers of the bonfire. I also remember sampling Mrs Turner's home-made Lemonade.
I can't remember the name of the school that John went to; it certainly wasn't either of the ones which I and my brothers attended; I believe it may have been some sort of private school. We lost contact in our late teens. I believe Joan Turner died around this time and I think John and his father moved from the area. I heard that John joined either the Navy or Merchant Navy but I have no idea if he is still alive or where he might be. I would certainly be interested in re-establishing contact."
---
Mr. Edwards has sent the Complier two photographs of John Taylor as a boy which can be uploaded as e-mail attachments on request.
---
[DHFD] HUGH CYPRIAN KIRWAN WARD
b. 16/9/1903 at Oxford; Educ. at Lincoln Grammar School. He enlisted in the R.A.F. and rose to Sergeant; and died at Baghdad, 12/8/1926.
---
[DHFE] RUTH MARY JOHNSTON
b. 2/5/1905 at Oxford; educ at St. Ursula's and Lincoln Convents. She married, at Perth, Western Australia, 29/7/1933:
[DHFE/1] CYRIL HARLEY JOHNSTON
b. 10/4/1904 at Preston Valley, W.A., son of Harley Robert Johnston by Beatrice Clara, d. of James Port. Both Cyril and his father were farmers. During WW2 he served in the Australian Army. They have no children. Res. 27 Elizabeth St., Perth.
---
[DHFF] FRANCIS PANCRAS ANDERSON KIRWAN WARD
b. at Oxford 6/3/1907; educ. at Lincoln G.S. and Franciscan College, Panton, Lincs. During WW2 he served with the R.A.A.F. He married and had a son, but further details are missing.
His neice Ruth Lilly writes: "He was known as Ned to the family or Uncle Ned to me. I don't think he came to Australia with the others in 1927 as I have an old newspaper cutting picturing him with a group of others in the Big Brothers scheme."
---
[DHFG] EDWARD BERNARD KIRWAN WARD
b. 2/4/1909 at Oxford; educ.at Lincoln G.S. and Franciscan College, Panton, Lincs. He became a journalist, writing a daily column for the Perth Daily News and a weekly radio script for the Australian Broadcasting Commission. During WW2 he served with the R.A.N.V.R. (Sub. Lt. 9/42; Lt. 1943), in Australian bases, and at sea in home waters and the Indian Ocean. He married, 12/11/1938, at Perth College Anglican Chapel:
[DHFG/1] HELEN CURTIS INKPEN
b. 5/3/1913 at Midland, West Australia, d. of Wesley Carter Inkpen (printer) by Rhoda Myrtle, d. of Henry Augustus Hammerston. Educ. Perth College. Their children are:
[DHFGA] Penelope Esther, b. 16/12/1940 at Perth.
[DHFGB] Jeremy Hugh, b. 13/7/1949 at Perth.
---
[DHFH] MARY ESTHER TAPLEY
b. 13/2/1915 at Lincoln; educ at St. Ursula's and Lincoln Convents. She married, 16/6/1937, at Kalgoorlie:
[DHFH/1] THOMAS RICHARD BOWMAN TAPLEY
b. 22/3/1906, son of Robert Richard Tapley of Port Lincoln, Walpole, West Australia, and his wife Phoebe Annie Wood. Their children are:
[DHFHA] Margaret Bowman, b. 4/4/1938 at Laverton
[DHFHB] Marion Bowman, b. 7/2/1940 at Busselton
[DHFHC] Adrian John Bowman, b. 14/9/1942 at Margaret River.
[DHFHD] David Bowman, b. 28/12/1943 at Denmark.
[DHFHE] Elizabeth Helen Bowman, b. at Denmark.
[DHFHF] Robert Bowman, b. May 1947 at Denmark.
[DHFHG] Thomas Bowman, b. at Denmark.
[DHFHH] Norman Francis Bowman, b. and d. April 1950 at Denmark.
[DHFHI] Susan Hallie, b. 15/4/1951 at Perth.
---
Thomas Tapley's father was b. 17/10/1869 at Kangaroo Island, Hog Bay, W.A. His siblings, all b. at Port Lincoln, were: Thora Rita Bowman T., b. 13/2/1900; Ian Hamilton Bowman T., 22/6/1901; and Marius Neil Bowman T., 1/12/1904. For more data on the Tapley family, go to the Lawrence and Fitton Family Tree Website.
---
THE CHILDREN OF THOMAS HALLOWES VAUGHAN AND ELSIE VAUGHAN née PIPER.
---
[DJAA] RICHARD THOMAS VAUGHAN
b. 28/5/1908 at Mazatlan, Mexico. Educ. at Repton and Clare College, Cambridge; B.A. A noted sportsman, he achieved his Blue for Soccer and captained the College team in his final year . After leaving Cambridge he worked for Shell for a while, then in 1935 purchased Middle Farm, Winterbourne Monkton which was his peacetime home for the rest of his life.
On 11/1/1940 he enlisted in the R.A.S.C. EC 2/Lt, 27/4/1940. WS Lt. & T/Capt., 19/3/1941. At the end of January 1942, in one of the most shameful episodes of the war, the 18th. Division to which his unit belonged was diverted from the Middle East to Singapore. The Division was given nothing to do and a few days after arrival was obliged to surrender to the Japanese with the rest of the garrison.
After some time in Changi Jail he was sent to work on the infamous Burma Railroad, of which it was said that a man died for every track sleeper which was laid. This project, for which there was a real strategic need, was damned by the manic inability of the Japanese to look beyond their own preconceptions of racial superiority and the tactical needs of the moment. More than a few returning prisoners have said that, treated properly and allowed to organise themselves, they could have built the Japanese their railroad and made a fair job of it. As it was they were starved, tortured and abused, and died in thousands. After the war the entire scheme had attracted such odium that it was abandoned to the Jungle. A few Japanese were fully aware of the sheer stupidity of what was going on, but for the most part they never rose beyond the level of the homicidal, hysterical subalterns who terrorised the Japanese Political and Military hierarchies during the '30s. And it should be recalled that the locally recruited workers, promised fair wages and good rations - volunteers all - were treated as badly if not worse.
Early in his captivity Captain Vaughan encountered his brother in law, John Austin Dickson, and the two endured the rest of the war together, the one supporting and covering for the other when sick or injured. This was a common pattern among those prisoners on the railroad who survived.
He was liberated in 1945 and returned to his farming, playing cricket through the summer and shooting through the winter. He was also a J.P., a churchwarden, the Chairman of the local branch of the National Farmers' Union and of the Conservative Party. But he never fully recovered from his wartime experiences, and after a series of heart attacks had to give up farming in 1963. He died 1/4/1966.
He married, 14/4/1937:
[DJAA/1] BLANCHE INNES DICKSON
b. 8/4/1913 at Kataboola, Kotmale, Ceylon, d. of A.J. Austin of Newbury by Norah Scrope, d. of Scope Hutchinson of Southwell, Notts (a family closely connected to the Minster). Her father was a Tea Broker; the family lost heavily in the Great Slump and had to leave their house, Foley Lodge, for something less grand. She was educ. from home, and in 1936 went out to Ceylon for a holiday with her brother (John Austin D., see above); on the return she was on the same ship as Richard (they had met briefly some years earlier) and were married once back in England. During the war she worked with the Red Cross and with the wives of other P.O.WS. Still (2001) living.
Their children, with their spouses, are:
[DJAAA] Sarah Merion
b. 11/1/1938 [DJAAB] Janet Hallowes b. 29/7/1939 [DJAAB/1] Ian Fowler b. 18/9/1941 [DJAAC] Margaret Clare b. 29/11/1947 [DJAAC/1] Michael Patrick Riley b. 10/12/1950
---
[DJAB] MARGARET LIEISCHEN BENNETT
b. 15/2/1911 at Mexico City. She married, 16/4/1936 at St. Peter's, Caversham, Reading:
[DJAB/1] GEOFFREY EDGECOMBE BENNETT
b. 12/11/1907 at Blundellsands, s. of Percy Mayson Bennet by Helen Mary, d. of George Edgecombe. Educ. Brighton College. 15/3/1940, enlisted in the RAFVR; Pilot Offr. Sept. 1941; Flying Offr. Sept. 1942; Flt. Lt. Oct. 1943; Sqdn. Ldr. Nov. 1944. He served in Night Fighter Squadrons, and was awarded the DFC in 1943 with a bar in 1944. After the war he farmed at Little Bedgebury Farm, High Hadden, Kent. Their children are:
[DJABA] John Peter, b. 10/1/1937 at Church Farm, East Woodway, nr. Newbury; educ. Tonridge.
[DJABB] Valerie, b. 18/6/1939 also at Church Farm.
---
[DJAC] JOHN HALLOWES VAUGHAN
b. 2/12/1913 at 1, Exchequer Gate, Lincoln. Educ. at Repton and became a farmer. In Mar. 1940
he enlisted in the R.A.F.V.R., was promoted Sergeant, and was killed in a flying accident at Box,
Wilts., 19/9/1941.
He had married, 21/7/1937, at St. Mary the Virgin, Hambledon, Henley:
[DJAC/1] HELEN MARGARET HUGHES
b. 5/2/1910 at Crai, Uttar Pradesh, India, d. of Colonel Edward Malcolm Hughes of the 14th Jat Lancers, by Blanche, d. of Frederick Malcolmson. Their children were:
[DJACA] Patrick Hallowes, b. at Newbury 16/6/1938; educ. Repton. He played for the Public Schools XI against Corinthian Casuals XI in Dec. 1956, also against the London Grammar Schools.
[DJACB] David Charles Malcolm, b. at Newbury 26/2/1940; also educ. at Repton.
[DJACC] Prudence Margaret, b. at Newbury 2/8/1941.
---
THE CHILDREN OF HUGH CHRISTOPHER VAUGHAN AND RUTH GERTRUDE VAUGHAN née MURRAY.
---
[DJFA] THOMAS HUGH VAUGHAN
b. 8/5/1911 at Calcutta. Educ at Brighton College and Wadham College, Oxford; B.A. English Master under the L.C.C. Res. (1950s) 30 St. John's Avenue, SW15; later in Esher. He was for some time Theatre Critic for the Daily Worker / Morning Star. He married:
[DJFA/1] LILIAN DUBBER (of Oxford)
On the Outbreak of War in 1939 she departed to America with their children and refused to return; later they were divorced. Their children were:
[DJFAA] Peter Hugh, b. 12/12/1939: and
[DJFAB] Felicity Anne, his twin.
Thomas Vaughan married secondly (some time in the early 50's)
[DJFA/2] ESTHER MIZEL, née BERGER
There were no children of this marriage; Esther died c. 1991 and Thomas in 1994.
---
[DJFB] PETER LLEWELLYN VAUGHAN
b. 3/2/1920 at Oxford; educ. at the Dragon School, Oxford, and the Nautical College, Pangbourne. Entered the RN as a Cadet (E) 1/9/1937; Mid. (E) 1938; A/Sub.Lt.(E) 1940; Sub.Lt. (E) later the same year; A/Lt. (E) 1941, and Lt. (E) later the same year. He served in the Atlantic, the Mediterranean and the Pacific, and was invalided out of the Service in 1947. He then entered Wells Theological College (1947-9) and was ordained deacon in 1949, and priest in 1950 (Portsmouth) He was Curate at All Saints, Ryde, 1949-53, then at Sudbury in Suffolk from 1953. During 1956-58 he was attached to the Melanesian Mission in the British Solomon islands. He was vicar of Tixall with Ingestre in the diocese of Lichfield 1959-1963, and vicar of Westbere and Hersden, in the diocese of Canterbury 1963 - about 1970. He then gave up full-time work in the Church of England, though continuing with non-stipendary duties. He died in 1981.
He married 3/5/1946 at St. Gregory's, Sudbury, Suffolk:
[DJFB/1] ANNE LUCY HIGGINS
b. 18/12/1920 at Shrewsbury, d. of Dr. Frank Edmund Higgins of Sudbury by Violet Lucy, d. of Ellerton Bailey of Boscombe. Their children were:
[DJFBA] Jennifer Pauline, b. 25/1/1947 at Colchester: currently (6/2005) living in Walthamstow, London E17.
[DJFBB] Christopher Llewellyn, b. 20/7/1949 at Ryde.
[DJFBC] Rachel Clare, b. 30/10/1952 at 32 Argyll St., Ryde.
Index
---
THE CHILDREN OF NEIL ALBERT HALLOWES and DORA HALLOWES née DOWN
---
[DKEA] KENNETH NEIL HALLOWES
b. 19/3/1909 at MacDonaldtown, Sydney. He worked for most of his life in Hallowes Cordials; during WW2 he served in the Royal Australian Air Force. He married, in 1933:
[DKEA/1] EDNA MAY LOVETT
d. of Howard and May Lovett, also of Croydon Park, and elder sister of Gordon Lovett (see below).Their children, with their spouses. were:
[DKEAA] Brian Kenneth                                1934 - 2002
   [DKEAA/1] Joy Lynton Beverly
[DKEAB] Colin Howard                                 b. 1937
   [DKEAB/1] Susan Maxine Potts                      b. c. 1941
[DKEAC] Philip Gordon                                b. 1941
   [DKEAC/1] Wendy Powell
[DKEAD] Claire Edna                                  b. 1943
   [DKEAD/1] Ronald James Rochford                   b. 1941
Kenneth Neil Hallowes died in 1986 and Edna in 1999.
---
[DKEB] ETHEL VALDA LOVETT
b. 19/3/1911 in Alexandria, Sydney. She married:
[DKEB/1] GORDON LOVETT
Brother of Edna May, see above. During WW2 he was in the Army. After the war he worked for the Daily Telegraph in Sydney and became the Financial Editor. He left to join a firm of stockbrokers where he worked until his death in 1978. Their children, with their spouses, were:

[DKEBA] Graham Gordon                                1936 - 1999
   [DKEBA/1] Beverley Snedden                        b. 1936 
[DKEBB] Roslyn                                       b. 1939
   [DKEAB/1] Alex Bela Leslie Hunyor                 b. 1939 
[DKEBC] Lesley                                       1949 - 2000
   [DKEBC/1] Ross Benger                             b. 1944
---
[DKEC] CEDRIC SHEPHEARD HALLOWES
b. 13/5/1914 at Campsie, Sydney; d. 1959. He married:
[DKEC/1] ALICE MARY PERRY
b. 1913. She was always called "Joan". Their children, with their spouses, were:
[DKECA] Malcolm Neil                                 b. 1939
   [DKECA/1] Valerie Mercer 
[DKECB] Perry Anthony                                b. 1943
   [DKECB/1] Annette Siribil
Cedric died in 1960 and Joan in 1977.
---
THE CHILDREN OF FRANK WILBUR CHACE AND FLORA REED CHACE née DANCY
---
[EJBA] CHARLES ADAMS CHACE
b. 18/2/1897 at Jacksonville. Educ. at Duval HS; worked as a bookkeeper. (1690 Kissengen Avenue, Barton, Fla.) He married, at Gainsville:
[EJBA/1] MYRTLE BRINSON
daughter of James Brinson. They had no children.
---
[EJBB] JULIANA HAMMAT
b. 15/6/1900 at Jacksonville. She married:
[EJBB/1] EDWARD RUMNEY HAMMAT
b. 28/8/1898 at Jacksonville, s. of Clarence Sherman Hammat of 11th. St., Jacksonville, by Eliza Pratt. Educ. at Duval H.S. and became a Civil Engineer; he died at Jacksonville, 22/3/1954. They had one child:



[EJBBA] Jacqueline Phelps           b. 1927
   [EJBBA/1] Donald Dean Neifert    b. 1929
---
THE CHILDREN OF RICHARD DANIEL DRYSDALE AND WINIFRED LANIER DRYSDALE Née DANCY
---
[EJDA] WINIFRED LANIER LYNCH
b.5/4/1902 at Jacksonville. She married, 14/6/1924:
[EJDA/1] WALTER LYNCH
b. 15/11/19?? at Worcester, Mass. "Sports Writer and runs a parking lot." Res. 25 West Church St., Jacksonville. They had one child:



[EJDAA] Elizabeth Lanier         b. 1925
   [EJDAA/1] Robert William Hall
---
[EJDB] RICHARD DANIEL DRYSDALE, Jnr.
b.30/12/1905 at Jacksonville; educ. there. Regional Sales Manager, New England, Sun Oil Company. He married, 13/8/1927 at West Palm Beach:
[EJDB/1] ELIZABETH JOHNSON
b. 4/5/1906 at Jacksonville. Their children are:

[EJDBA] Richard Daniel III         b. 1928
   [EJDBA/1] Nancy Brown
[EJDBB] James Miller               b. 1932
[EJDBC] Elizabeth Claire           b. 1936
---
THE CHILDREN OF ALFRED ERASTUS HAMPTON AND LINA BLACKWOOD HAMPTON née DANCY
---
[EJEA] THOMAS DANCY HAMPTON
b. 26/7/1910 at Brevard, N.C. Educ there. Worked as a postal clerk - no war service. Res. 437 Ilchester Ave., Baltimore, Maryland. He married, 17/8/1930:
[EJEA/1] MARTHA BISHOP OSBORNE
b. at Brevard, 10/12/1910, d. of Charles S. Osborne by Ellen, d. of Wm. E. Bishop, also of Brevard. Their children are:
[EJEAA] Charles Thomas, b. at Brevard 13/8/1931: educ. there and at Baltimore.
[EJEAB] James William, b. at Brevard 10/9/1932: educ. there and at Baltimore.
[EJEAC] Martha Anne, b. at Brevard 2/2/1934:
[EJEAD] Julia Elizabeth, b. at Brevard 8/10/1935
[EJEAE] Alfred Dancy, b. 12/9/1938; educ. at Brevard and Baltimore.
---
[EJEB] ALFRED ERASTUS HAMPTON, Jnr.
b. 23/9/1913 at Brevard; educ. there. Moved to Baltimore, Md., and became a TV Dealer. Later res. 210 Craghead St, Deauville, Va. He married, 27/8/1942 at Baltimore:
[EJEB/1] AGNES BRUCE BURKS. Their children are:
[EJEBA] Linnie Jean, b. 20/4/1944 at Baltimore.
[EJEBB] Alfred Erastus III, b. 9/8/1950 at Baltimore.
---
THE CHILDREN OF EDGAR LEE CROSSET AND CAROLINE HALLOWES CROSSET née DANCY
---
[EJFA] HARRIET MORTIMER POMEROY
b. 23/10/1906 at Jacksonville and qualified as an Attorney. She married, 2/10/1928:
[EJFA/1] FRANK POMEROY
Also an Attorney, of the firm of Dowda and Millican of Palatka, Fla.(the same as his father in law's). There were no children of this marriage which ended in divorce.
---
[EJFB] EDGAR LEE CROSSET Jnr
b. at Jacksonville. 1/12/1919 and educ. there. He became Vice-President of the Springfield Atlantic Bank, Jacksonville, and served in the U.S. Navy during the Second World War. Res. (late 50s) 434 Alder St., Jacksonville. He married, 18/4/1941, at Jacksonville:
[EJFB/1] AGNES SALLAS
b. 8/9/1921 at Jacksonville, d. of R.F. Sallas. Their children are:
[EJFBA] Edgar Lee III, b. at Long Beach California 18/6/1944
[EJFBB] Carol Courtney, b. at Jacksonville 9/4/1950
[EJFBC] (unidentified)
---
ONLY CHILD OF THOMAS SCRIVEN BOND AND AGNES HALLOWES BOND née DANCY.
---
[EJGA] THOMAS SCRIVEN BOND JNR.
b.24/11/1913 at Savannah, Georgia. Dr. Wilson's notes include an unusually detailed biography for this person, which is entered in a separate file. He married, 15/4/1937, at Savannah:
[EJGA/1] RUBYE RICKS
b. at Paducah, Kentucky; d. of Thrace Ricks of Paducah, by Estelle, d, of Charles Humphries of Canton, Ky. They had no children.
---
THE CHILDREN OF CHAIRES BOWMAN DAVIS AND ALICE GWYNN DAVIS née DANCY.
---
[EJHA] ELIZA DANCY DAVIS
b. 24/3/1914 at Olympia, Georgia. She never married and became a Secretary in a Law office. Res. Box 379, Provo, Utah.
---
[EJHB] CHAIRES BOWMAN DAVIS Jnr.
b.21/7/1919 at Jacksonville. After his father's early death he was brought up at the Church Home for Boys at Keystone, Fla. During WW2 he served with the U.S. Marines, reaching the rank of Corporal; later he was with the Union Bag Co., Savannah. Res. 1903 Hawthorne St., Savannah. He married:
[EJHB/1] ROZZIE LEWIS
b. at Glendale, Georgia. Their children are:
[EJHBA] Chaires Bowman III - b. 30/11/1950 at Savannah.
[EJHBB] James Daniel - b. 19/3/1952 at Savannah.
---
[EJHC] JULIANA SARAH WILSON
b.16/6/1921 at Jacksonville. She qualified as an Attorney and was offered the Commissionership of Kensai, Alaska, but declined it. She married, 19/5/1945, at Anchorage, Alaska
[EJHC/1] THOMAS STANTON WILSON
b. at Canton, North Carolina: Attorney. They have (1956) one child:
[EJHCA] Dale Brent, b. 31/8/1956.
---
[EJHD] ALICE MORTIMER GILLIS
b.30/12/1925 at Tampa, Fla. She married, 19/4/1947, in New York:
[EJHD/1] CHESTYER ALFRED GILLIS Jnr.
b. 10/1/1924 in Boston. He was a Clerk and served in the U.S. Navy during WW2. Res. 436 Crestwood Avenue, Jacksonville. Their children are:
[EJHDA] Franklyn Mark, b. 4/12/1948 at Jacksonville.
[EJHDB] George Douglas, b. 4/1/1952 at Jacksonville.
[EJHDC] Michael Paul, b. 1957 at Jacksonville.
---
[EJHE] BETTE GRIFFIN
b. 18/8/1927 at Jacksonville. She married, 9/6/1943, at Jacksonville:
[EJHE/1] NEWTON THOMAS GRIFFIN
b. 25/6/1920 at Columbia, Mississippi, s. of William Wilton Griffin of Columbia by Eva Nichols. With the McLean Trucking Co., Salem, N.C. Res. 3333 College, Jacksonville. Their children are:
[EJHEA] Robert Stanford, b. 18/6/1944 at Lake City, Fla.
[EJHEB] Thomas Wilton, b. 26/10/1947 at Jacksonville.
Index
---
ONLY CHILD OF JAMES NEVILLE RICHARDS AND ADA NICHOL RICHARDS, née KNIGHT
---
[EKAA] ELISA KNIGHT McGILL-OWEN-HALLOWES
She married three times: firstly:
[EKAA/1] ROBERT ALLEN McGILL
of San Francisco: Colonel, US. Army. She divorced him to marry, 2ndly:
[EKAA/2] PERSE OWEN
of New York: Commander, US Navy. She divorced him, to marry finally:
[ELAA] WILLIAM ALEXANDER HALLOWES III (her second cousin), q.v. We have no mention of any children by any of these marriages.
---
CHILDREN OF THOMAS PRESTON HARPER AND ADA NICHOL HARPER, née KNIGHT, previously RICHARDS
---
[EKAB] THOMAS PRESTON HARPER Jnr.
He married, 23/7/1949:
[EKAB/1] MARIAN BRADDOCK
They have issue:
[EKABA] Thomas Preston III, b. at Riverside Hospital 6/6/1950
---
[EKAC] ABLION WILLIAMSON HARPER
Index
---
ONLY CHILD OF WILLIAM ALEXANDER HALLOWES Jnr. AND SARAH HALLOWES née RHEA
---
[ELAA] WILLIAM ALEXANDER HALLOWES III
b. 27/12/1906 at Jacksonville. A lawyer, he was a States Attorney on the 4th. Judicial Circuit from 1937. During WW2 he served in the US Navy in the Pacific, reaching the rank of Lt. Commander. In Feb. 1957 he was Chairman of the Governor of Florida's Advisory Committee on Criminal Justice. From 1953 he was a Junior Warden at St. John's Cathedral. Res. 3109 St. John's Avenue, Jacksonville. He was three times married 1stly, 12/1/1931, at Concord, North Carolina:
[ELAA/1] PENELOPE CANON
b. at Concord c. 1907, d. of Archie Cannon of Concord, by Penelope Borden. He divorced her in 1943, after which she married Harold Mercer of Gastonia, N.C., having no children by her second marriage. William and Penelope's children were:
[ELAAA] William Cannon, b. at Jacksonville 2/5/1937
[ELAAB] Borden Rhea, b. at Jacksonville 15/9/1940
William married 2ndly, at Miami in 1944:
[ELAA/2] MARY RANKIN HUNTER
He divorced her in 1946; they had no children. He then married, 3rdly, and as her 3rd. Husband, 30/1/1951 at Jacksonville:
[EKAA] ELISA KNIGHT OWEN
His second cousin, d. of James Neville Richards, first husband of Ada Nichol, grand-daughter of Elisa Nicol Knight, née Hallowes. They had no children.
Index
---
ONLY CHILD OF LOUIS NICHOL HALLOWES Snr. AND LILY MAY HALLOWES née MOORE
---
[ELDA] LOUIS NICHOL HALLOWES Jnr.
b. 1928. in the Posey Hollow Community of Mena, Polk County, Arkansas. His daughter Teresa writes:
"On his birth certificate his name is spelled Lewis Nicoll, but my grandmother says the nurse wrote it down wrong. He quit school when he was 13 to work in the shipyards in Washington; later he served in the army as a truck driver. He has been a baker in Chicago, mechanic, oil rig worker, road construction, bridge building, carpenter, truck driver, and owned a cafe/bar/gas station in the San Joaquin Valley. He was a member of the Lions Club in the central valley and the Moose Lodge in Santa Rosa. He had a protruding lower rib cage, which Bobbie Hallowes told me is a Hallowes trait. (Compiler's note: this is new to me.) Grandfather never spoke of his family to my father so we didn't think there was any family, until some Hallowes from Florida found our number and contacted us in the 1990's."
He married, firstly:
[ELDA/1] GEORGETTE GOLDEN LONDO.
b.18/71930 in Saginaw, Michigan, d. of Andrew Silvester Londo (1876-1958) and his wife Marval Ann Mayo (1894-1994).
Their children are:
[ELDAA] Cynthia Ann
b. 1954 [ELDAA/1] Terence Bump 1947 - 2003 [ELDAA/2] David Quistgard [ELDAB] Rick Lee b. 1948 [ELDAB/1] Pamela Diane Polk b. 1951 [ELDAC] Teresa Louise b. 1951 [ELDAC/1] Paul Howard Lampley b. 1944 [ELDAC/2] Christopher Edwards Caswell b. 1952 [ELDAC/3] Robert Allan Bulwa b. 1944 Louis Nichol and Georgette Hallowes were divorced in 1972; Georgette has reverted to her maiden name. Louis then married, at Reno, Nevada, 16/6/1974:
[ELDA/2] SUSAN GIBBS
b. 16/5/1948. They had one child:
[ELDAD] Louis Nichol III, b. 13//5/1986.
Louis Nichol Hallowes Jnr. died 10/4/1987 at Santa Rosa, California, of lung cancer.
---
THE ONLY CHILD OF JOHN POST HALLOWES AND HARRIETT HALLOWES née BROWN
---
[ELFA] HARRIETT WOODWARD
She married, in 1944:
[ELFA/1] FREDERICK WHITE WOODWARD
Res. Atlanta, Georgia. Their children are:

[ELFAA] Harriet Hallowes
b. 1946 [ELFAA/1] Donald Holt Burton [ELFAB] Frederick White, Jnr. b. 1951 [ELFAB/1] Kay Wheless [ELFAC] Adalyn Quinn b. 1954
---
THE CHILDREN OF JOHN POST HALLOWES and AILEEN HALLOWES née PAIGE.
---
[ELFB] JOHN POST HALLOWES Jnr.
After Military service(1958) with the US Army in Florida and Panama City he joined NASA and did pioneering work in the lead-up to the Apollo Space Program, heading a research laboratory under Dr. Wernher von Braun. He also worked for the US Army. His professional qualifications included BSE at Georgia Tech., and M.A. at Vanderbilt. and several Doctoral degrees. He married, in 1946:
[ELFB/1] JACQUELINE WEBB of Huntsville, Ala.; their children are:
[ELFBA] Pamela                        b. 2/1949
[ELFBB] Page                          b. 1950
   [ELFBB/1] +++Haas
---
[ELFC] THOMAS HALLOWES
He was born March 25, 1930, and took an Engineering degree from Vanderbilt University. During the Korean War he was a Lieutenant J.G. in the C.E.C. Corps of the U.S. Navy. After leaving the navy he was hired by Wiedeman and Singleton Engineering as a Consultant Engineer. The family first lived in Gadsden Alabama for a short while, and then moved to Atlanta Georgia in 1971, where they lived for the rest of his life. He worked with W&S for 35 years until he became disabled; he was Vice President at his retirement. His job was to administer and design water and waste treatment plants.
Thomas C. Hallowes writes: (my father) loved his job and loved playing golf. During his illness he was contacted by many of his old friends from High School, many of which he played basketball and football with. He played at Isaac Litton High School in Nashville Tennessee(where he met my mother). His old friends all talked about his unmatched integrity and honor. His high school coach corresponded with him also. His coach said that a play my father completed in a crucial game inspired him to continue on to coach college football and eventually professional football.
Thomas Hallowes died June 17, 1997 (of Lou Gehrigs Disease).
He married , in 1953:
[ELFC/1] BOBBIE JEAN HARDCASTLE
b. 26/11/1931 in Nashville, Tennessee. After two years' marriage she was told that she could not bear children, so they adopted Laura; and not long afterwards, she became pregnant with Thomas. Their Children, with their spouses, are:

[ELFCA] Laura Lee                             b. 1965 (a)
[ELFCB] Thomas Christian                      b. 1967
   [ELFCB/1] Katherine Denise Maury           b. 1967
---
[ELFD] DAVID MICHAEL HALLOWES, b. 1943
---
THE CHILDREN OF MILLER HALLOWES IV and LILA HALLOWES née BURR
---
[EMAA] WALTON BURR HALLOWES
b. in Fort Pierce, FL, probably in January, 1911. He served his country in the U.S. Army for 21 years, including World War II and Korea, rising to the rank of Lieutenant Colonel. During some of this time he may have been in Special Forces. After leaving the Army he lived in Gahanna, Ohio until 1973 when he moved to Indian Harbour Beach, Florida; where he died in hospital, 13th. July 2009. He was interred in Arlington National Cemetery with full military honours.
Colonel Hallowes was twice married:
[EMAA/1] DAURINE MCDOUGALL
b. 21/11/1916. They were married for 43 years; she died in October, 1980. They had three sons:
[EMAAA] Walton Burr Jnr.; married to Donna.
[EMAAB] William James; married to Melody.
[EMAAC] Donald Bruce; married to Sharon L. Short.
After Daurine died, Col. Hallowes married, in 1988:
[EMAA/2] CHRISTIANE DRISCOLL
There were no children of this marriage; from her previous marriage Christiane had two children, Michael and Patricia.
Col. Hallowes' Obituary (Florida Today, 16/7/2009) lists "his grandchildren, Lisa and Walton Hallowes III, Stacey and Jennifer Hallowes; great-grandchildren Sarah Anne, and James Fredericks, Abby and Ava Hallowes and Christiane Driscoll" without indicating their parents.
---
[EMAB] FRANCES HALLOWES
b. 24/5/1914. She never married and died in January, 1978: res. Brevard, FL (but her death registered in Washington D.C).
---
THE ONLY CHILD OF JAMES MONGIN HALLOWES Jnr. and PRICE HALLOWES née MORTON
---
[EMBA] JAMES MONGIN HALLOWES III
b. 20th. August 1908. He married, firstly:
[EMBA/1] BLANCHE MARIE HERBSTER
b. 12/6/`908, d. of Roy and Jessie Veronica Herbster.The details of this marriage are at present very obscure. It is presumed that they were wed in 1928 and divorced within two or three years. Their son writes:
"My sole information concerning the divorce was that my biological father's mother disapproved
of the marriage. On what grounds, I do not know, and was not told. I got the feeling that she was
a matriarch of the old school. One can speculate endlessly about such matters."
He was:
[EMBAA] James Mongin (Haynes)      b. 27/7/1929
   [EMBAA/1] (Unidentified)
After the divorce, he remained with his mother, was adopted by her second husband John Lowell Haynes, U.S. Air Force, and took his surname.

James Mongin Hallowes III married, secondly, in April 1945:
[EMBA/2] ETHEL PEDERSEN
Their children were:

[EMBAB] James Mongin IV
[EMBAC] Jeffrey Ray
   [EMBAC/1] Carol Piccola
James suffered a massive stroke in the Winter of 1981, became paralysed and died 30th.May 1986. He is buried in the Zachary Taylor National Cemetery, Kentucky. Ethel died in October 2000.
---
THE CHILDREN OF JOHN NICOL HALLOWES Snr. and EDNA HALLOWES née BAILEY
---
[EMCA] JOHN NICOL HALLOWES Jnr.
Born 26/12/1914. He enlisted in the US Army 11/3/1943 and was discharged 23/2/1946. After the war he was in the paint and body business in the Lake Worth area, being known to his friends as "Bud"; he was also an avid boat lover. John died 29/1/1967 due to lung cancer from breathing paint fumes in his body shop.
His wife's name was Sarah; they had one child:

[EMCAA] Katherine     
   [EMCAA/1] Jesse C. West                      (dec)
After John died Sarah went to live with her sister Ann Hutchinson in NE Mississippi, but soon had to go into a home. She died in 1977.
---
[EMCB] DOROTHY ELIZABETH HALLOWES
Born c. 1918. She had two children:

[EMCBA] James Arthur                         b. 17/6/1943
   [EMCBA/1] Sue Szczur                      b. 1948
[EMCBB] Patricia Ann                         b. 6/11/1944
Both children were adopted soon after birth by Lloyd C. Cook and Bethel L. Cook (née Messenger) of Sarasota, Florida, and assumed their surname. Their father is unknown but his name may be on record in the sealed documents relating to the adoption. It is known that he was married, separated, with a child from his marriage being raised by his parents- and was of slim build. Dorothy was very distressed at having to give up her children, and her father asked if she could be put in a hospital for mental and emotional evaluation; but it is not known if she was actually committed. For two years after her father died she lived with her brother, but nothing else is known of her after 1948 except that she attended his funeral in 1967. If she is still alive her son and daughter would very much like to get in touch with her.
Index
---
THE ONLY CHILD OF VAN CLEVE HALLOWES AND NELLIE HALLOWES née JONES
---
[EMDA] DALE VAN CLEVE HALLOWES.
Birthday 11th. May. He married:
[EMDA/1] NORMA J. HOSTETLER
Now res. 750 W. 15th Avenue Escondido, CA 90025. Their children, with their spouses, were:

[EMDAA] Lawrence Dale                        1945 - 1977
   [EMDAA/1] Patricia Lee Steele
[EMDAB] James Michael
   [EMDAB/1] Patricia Ann Berry
   [EMDAB/2] Amy Niven Lohman
---
ONLY CHILD OF ARTHUR LEOPOLD TATHAM AND MARY BLACKWOOD TATHAM née HALLOWES
---
[FBAA] MARGARET ROSE WHITEHEAD, later POWELL.
She married, firstly:
[FBAA/1] GEORGE WHITEHEAD, of the Whitehead Steel Works, Abergavenny. Their children were:
[FBAAA] Caroline, b. at Abergavenny
[FBAAB] Margaret, also b. at Abergavenny
They were divorced in 1940, and Margaret then married:
[FBAA/2] ROGER F. POWELL, Mine Manager, of Wordies House, Barberton, Eastern Transvaal. They had (at least) two children.
Index
---
ONLY CHILD OF WILLIAM BRABAZON HALLOWES AND CONSTANCE EVA HALLOWES née CARNEGY
---
[FBBA] FREDERICK CARNEGY HALLOWES
B. 7/5/1910 at Port Talbot. Educ. at Haileybury and R.M.C. Sandhurst. Commissioned into the Welch Regiment, 30/1/1930: Lt. 30/1/1933; Capt. 30/4/1938; Major 1/7/1946; psc; Retired as Hon. Colonel, 1/1/1957. However he was either Acting- or Temporary-Major for most of the war until October 1945, after which he was Acting Lt. Col. for most of the rest of his career. During the war he was with the Home Forces until Nov. 1940 (during some of which time he was Regt. Adjutant) then went out to West Africa, returned to the UK from Jan-Aug. 1942, then went back to West Africa until October 1943. He spent a year from Nov. 1943 in the U.K., then was in Italy for the rest of the war and until April 1947.
After the war he was DAAQMG at HQ The Lowland Regt, July 1947-April 1948; AAG at the War Office, May 1948-Aug. 1949. From Jan. 1950-Dec. 1952 he was 2 i/c 2nd Bn The Welch Regiment, serving in Korea; he was awarded the US Bronze Star in Oct. 1953. During Dec.1953-Mar.1956 he was AAG in BAOR. After his retirement he was Civil Defence Officer for Cambridge, and (Sept. 1956) A Fellow of the Corps of Secretaries. Res. Waye, East Budleigh Rd., Budleigh Salterton, Devon. He died 18/12/1981 at Tetford House, Horncastle, Lincs.
He married, 26/1/1944, at Bovey Tracey:
[FBBA/1] DIANA BARBARA MARRIOTT
b. 26/11/1941 at Canterbury, and bapt. in the Cathedral; d. of Richard George Armine Marriott, D.S.O. (The Buffs), by Eileen Anita, d. of Brigadier-General Robert A. Hickson. At the start of the war she enlisted in the F.A.N.Y. 2/Sub. (ATS) 6/11/1942; WS Sub., 6/5/1943; T/Jnr/Cmdr., Oct. 1945. She served in the UK until June 1945 when she went out to Italy, returning in Feb. 1946. Their children are:
[FBBAA] Juliette                                  b. 30/4/1946
   [FBBAA/1] Volker Mallison
[FBBAB] Rupert Richard Marriott                   b. 29/3/1949
   [FBBAB/1] Penelope Jane O'Connor, née King     b. 12/12/1953 

Index
---
THE CHILDREN OF FREDERICK CHAWORTH HALLOWES AND ELSIE HALLOWES née REAH
---
[FBCA] ANTHONY JOHN HALLOWES
b. 5/8/1913 at Gosforth. Educ. Sedbergh. In 1927 he went out to Spain with his father; he was a talented linguist and found employment with Rio Tinto Zinc as an interpreter aged only 14. In 1935 he returned to the UK and took up an Apprenticeship with Metropolitan Vickers in Manchester. He enlisted at the outbreak of war and was commissioned (EC) in the Royal Signals, 24/8/1940. A/Capt. 13/9/1941; WS Lt. and T/Capt. 13/12/1941. He served in East Africa (1940), Somaliland, Abyssinia, and Madagascar. After demob. in 1945 he went out to Kenya and was Welfare Officer for East African Railways and Harbours at Nairobi. Subsequently he became Assistant Manager to the Kenya Farmers Association, working at Sotik (1947-49) and Iringa in Tanganyika (1949-50). In 1950 he joined the Civil Service, working in the Ministry of Labour in Nairobi, Mombasa, Eldoret, Nyeri and Kericho, until his retirement in 1965, when he was Chairman of the Industrial Relations Court. On returning to the UK he worked briefly for the Rootes Group Personnel Department, then as Secretary for the G.K.N. Hardy Spicer Social Club. He died of Parkinson's Disease, 11th. February 1991.
He was twice married; 1stly, 22/5/1939, at St. Clements, Chorlton cum Hardy:
[FBCA/1] RUTH SISSONS
d. of Herbert Sissons of Chorlton cum Hardy. They had no children and were divorced in 1946. He then married, 2ndly 2/10/1946, at Nairobi:
[FBCA/2] PAULINE CROSS
d. of Bernard Charles Henry Cross DFC and his wife Jessica Louise, née Barker. Their children are:
[FBCAA] Rupert Lance Chaworth                   1947-1965
[FBCAB] Francis Bernard Brabazon                b. 7/3/1949
   [FBCAB/1]   Bridget Diane Newis              b. 12/12/1953 

---
[FBCC] RUPERT BLACKWOOD HALLOWES
b. 17/11/1920 at Bebside Hall, Northumberland. Educ. at Richmond (Yorks.) and H..M.S. Conway, then joined the Union Castle Line (May 1936-May 1938) and the R.N.R.. Midsh. 1/5/1937; Sub Lt. 1/1/1941; Lt. 1/1/1943; Lt. Cmdr 1/1/1951. Served with the RN throughout the War. 1939 East Coast Convoys; 1940 HMS Vivacious, Holland, then Dunkirk; 1941-2 HMS Hydrangea, Western Approaches Convoys, then South Atlantic Convoys. 1943-5 HMS Ballinderry, Gibraltar and East Africa. After the war he joined the Rootes Group in Manchester, later moving to Coventry. c. 1969 he moved to Leicester where he ran a Renault Franchise. In 1973 he retired from business and moved to Cornwall, but continued to work as a driving instructor in Plymouth until he reached the compulsory retirement age. On retirement he lived in South Devon; he died before 2016.
He married, 4/8/1943, at St. Andrew's, Bebbington:
[FBCC/1] DOROTHY FRANCES HUTCHISON
b. 10/8/1923 at Wallasey, d. of William Hutchison of 21 Stonehill Avenue, Bebbington, by Henrietta Anne, d. of J.R. Godfrey of Wallasey, Master Mariner. She trained as a Nurse at Birkenhead General Hospital and qualified S.R.N. in 1945. They were divorced c. 1975. Dorothy died in 2004 and is buried in Brooke, Norfolk. Their Children, with their spouses, are:

[FBCCA] Susan Margaret
b. 1947 [FBCCA/1] Robert Ward [FBCCB] Elizabeth Shirley b. 1949 [FBCCB/1] +++++ Powell [FBCCC] Richard Peter William b. 1950 [FBCCC/1] +++++ [FBCCD] Simon David b. 1955 [FBCCD/1] +++++ [FBCCE] James Andrew Timothy b. 1957 [FBCCE/1] Susan Denise Ballard
---
Index
---
THE CHILDREN OF ARTHUR BLACKWOOD WARD AND ANGELA SUSAN DOROTHEA WARD née FINCH
---
[FCAA] DORIS ANGELA WARD
b. 27/8/1903. No more information.
---
[FCAB] JOHN BLACKWOOD WARD
b. 13/12/1907. Served in the R.A.F.V.R. during the war: Flt. Lt. He married, 11/10/1941, at St. Peter's Harrogate:
[FCAB/1] JOAN WHEELER
d. of Ernest J. Wheeler, J.P., of 18 Ripon Road, Harrogate.
---
[FCAC] PAUL KENDALL WARD.
b. 29/3/1910. "Working at Croydon" (LAW). No more information.
Mrs. Helen Christina Brook (née Ward) wrote, 02/10/14: "My grandfather was Arthur Blackwood Ward, my father Paul Kendall Ward. I am an only child and have no progeny. Having very little surviving family this is very interesting for me, I had no idea about the Hallowes side - I have more information and family portraits from the Wildes and Finches."
---
THE CHILDREN OF GEORGE PRICE BLACKWOOD HALLOWES AND LILIAN MAUD VALLANCE HALLOWES née CARY
---
[FDAB] FRANCIS BRABAZON HALLOWES
b. 18/5/1895 at York; educ. at Shrewsbury, then became a motor engineer. On the outbreak of the Great War he joined the A.S.C., serving in France, Mesopotamia and India. T/2Lt. 4/4/1915; T/Lt. 1/2/1916; T/Capt.; A/Major 13/11/1919-19/5/1921. Relinquished his Commission with the hon. rank of Major, 12/7/1921. Res. 21 Avebury Avenue, Northbourne, Bournemouth. Co-executor of his father's will in 1931 (giving his occupation as "Factor"). He married, 17/4/1924, in London:
[FDAB/1] JESSIE MARY GODFREY
b.24/2/1896 at West Bridgford, Notts., d. of Henry Lees Godfrey of Nottingham, by Henriette Mary, d. of Frederick Hardy, of Kimberley, Derbyshire. They had no children.
Francis, with his sister Mildred and brother Malcolm, were jointly co-executors and residuary legatees of the will of their aunt Lillian in 1950.
---
[FDAC] MILDRED LILIAN WALL
b. 18/1/1897 at York. She married, 9/8/1921, at St. Andrew's, Kinson, Dorset:
[FDAC/1] FREDERICK CHARLES WALL
b. 18/5/1891 at Frome, s. of Thomas Wall. On the outbreak of the Great War he was mobilised with the T.A. and served in the ranks until 10/1/16 when he was commissioned; then T/Lt. 30/9/1916. Transferred to the Tank Corps in the same rank 1/10/1916; T/Capt. 12/4/1917. To the East Lancs Regt. as Lt. 15/12/1920 with seniority of 20/10/1918; transferred back to the Tank Corps in 1923, then to the Indian Army 9/3/1928. T/Capt. 21/8/1928; Lt. 13/4/1931 (sen. 20/10/1917); Capt. 13/4/31(?) (sen. 11/9/1920); Major 10/9/1934; A/Lt. Col. 10/9/39; T/Lt. Col. 10/12/39; Lt. Col. 11/9/1942.
Frederick and Mildred Wall had one son:

[FDACA] Christopher Charles Hallowes       b. 1924
   [FDACA/1] Dorothy Joan Metcalf          b. 1929

Mildred Wall died during June 1983 in the New Forest.
---
[FDAD] MALCOLM GEORGE HALLOWES
b. 30/10/1899 at York; educ at Bournemouth and St. Catherine's College, Cambridge. Commissioned in the R.N.A.S. (later transferring to the new R.A.F.) 7/10/1917 (when not yet 17!); employed at the Air Ministry 1/4/1918-25/4/1919. After demob. he completed his education with a B.A. in 1921. In 1923 he rejoined the services as a Lieutenant in the R.A.S.C (17th. Feb, but sen. 7/10/1920). Capt. 21/10/1929; Major 1/8/1938; WS Lt. Col. May 1941; A/Col. 9/12/43; T/Col. 9/6/44; Col. 2/5/1947. He was Asst. Inspector of Mechanised Transport at Woolwich 5/1/1936-11/2/1940, and D.A.D. Wheeled Vehicles at the Ministry of Supply 1/8/1940. Beside these postings he also served in Africa and India, before retiring 14/6/1949. In May 1951 he joined the management staff of Transport Equipment (Thornycroft) Ltd., Basingstoke. Res. (late 50s) Lorelei, Frimley Rd., Ash Vale, Aldershot.; then (1972) Parkstone, Bournemouth; and (1981) to Sturminster Newton, where he died in August 1989.
He married, 27/8/1928, at St. Thomas's, Warwick St., Liverpool:
[FDAD/1] HILDA MARY CRAWHALL WALTON
b.11/5/1904 at Liverpool, d. of Richard Walton of Croxteth Grove, Sefton Park, Liverpool, by Judith, d. of Joseph Crawhall of Newcastle on Tyne. Her Uncle (? or Great-Uncle, also Joseph Crawhall, was one of the Arists known as "The Glasgow Boys" and associated with the Burrell Gallery in Glasgow. Before her marriage she qualified as a Dispensing Chemist. She died Oct. 1969.
Their children were:
[FDADA] Peter Norton                       b. 5/1/1933
[FDADB] Michael Richard                    b. 18/5/1942
   [FDADB/1] Kristina Angmo
[FDADC] Penelope Blackwood                 b. 30/7/1946
---
THE CHILDREN OF ARTHUR SIDNEY GEDGE AND DOROTHY GEDGE née HALLOWES
---
[FEBA] MARY HUMPHRY
b. 4/3/1902 at Pewsey, Wilts. She married, 18/8/1928, also at Pewsey:
[FEBA/1] JOHN McNAB HUMPHRY
b. 12/2/1897 in London, s. of Hugh McNab Humphry, Barrister, by Dora, d. of John Ord, J.P., of Whitton, Roxburghshire. Educ. Winchester and New College, Oxford (B.A. 1920). Commissioned into the Argyll and Sutherland Highlanders, 11/9/1915; Lt. 1917. He served on the Western Front 1916-18, att. to the Trench Mortar Bn. M.C. 15/10/1918; Croix de Guerre. In 1920 he joined the Sudan Political Service. Asst. D.C. 1920-27; Police Magistrate, Khartoum, 1927-30; D.C. 1930-35; Deputy Governor, Kassala Province 1935-37; Asst. Civil Sec. 1937-41; Governor of Kassala Province 1941-46, after which he retired. During WW2 he was Staff Officer, Bimbashi, in the Sudan Auxiliary Defence Force; awarded the Order of the Nile, 3rd. Class. Res. (late 50s) Murram, Old Hunstanton, Norfolk. Their children were:

[FEBAA] Simon MacNab        b. 1933
[FEBAB] Brian Gedge         b. 1935
---
[FEBB] BARBARA HARRISON
b. 20/9/1908 at Pewsey, where also she married, 17/8/1935:
[FEBB/1] HERBERT REGINALD POLHILL HARRISON
b. 18/5/1906 at Ixworth, Suffolk, s. of the Rev. Gerald Reginald Harrison, Vicar of Ixworth, by Jennie Gertrude, d. of Henry Hoskins Jackson of Moat Bank, Burton on Trent. Educ. at St. John's, Leatherhead, and Jesus College, Cambridge. History Exhibition. B.A. 1928; M.A. 1936. Sudan Political Service, 1928-55. Asst. D.C. Khartoum, Darfur, White Nile and Equatoria Provinces 1929-40; D.C. Northern and Kordofan Provinces 1940-50. Governor-General's Commission in Sudan Auxiliay Defence Force, Bimbashi, 1940-43. He was awarded the Order of The Nile 4th. Class in 1944. Res (late 50s) Bridgemans, Inkpen, Newbury, Berks.
The comparison with the career of his brother-in-law John Humphry is obvious; he probably went out to the Sudan on the older man's advice or invitation.
Herbert and Barbara Harrison had one child:
[FEBBA] Susan Patience, b. at Atbara in the Sudan, 7 Mar 1941.

---
[FEBC] PATIENCE ASHLEY
b. 1/1/1910 at Pewsey; educ. at Gardenhurst, Burnham on Sea. She married, also at Pewsey, 25/5/1935:
[FEBC/1] RICHARD ASHLEY
b. 27/10/1902 at Axbridge in Somerset, s. of Martin Ashley of Plympton, Devon. Educ at Clifton and RMC Sandhurst.. Commissioned into the Wiltshire Regiment, 1 Feb 1923: Lieut 1 Feb 1925; Capt 1 Sept 1936; Major 1 Feb 1940; T/Lieut. Col. 14 Nov 1946. He retired with the rank of Lieut. Col. 30 Sept 1956.
From 20 Dec 1927 to 17 Jan 1929 he served as ADC to the Governor of Burma. During 1936 he was in Palestine; from May 1937 to Sept 1943 he was in India. Staff Captain HQ Bombay District Aug 1939 - Sept 1941. Staff Captain HQ Southern Army (Poona) Sept 1941 - Dec 1942. In Dec. 1943 he returned to England and took command of the 7th. Bn. Wiltshire Regt in 1944. 62nd ATC, Devizes, Nov 1946 - Ap 1948. Asst Dir of Labour, HQ, BAOR, June 1948 - June 1951. Asst Military Sec, HQ Western Command 26 June 1951 - 15 Sept 1952.
Beside his Military Career, Richard Ashley also played First-class Cricket for Somerset, with six innings during 1932 - 1939/40. In India he played for Mysore and in 1939 he was Captain of the European XI at the All India Cricket Tournament.
Res (late 50s) Monkswood, Milford on Sea, Hants. He died on August 7th., 1974, at Selsey.
Richard and Patience Ashley had two children:
[FEBCA] Nigel Richard, b. at Bangalore 3 Dec 1937; Educ at Marlborough.
[FEBCB] Jennifer Jane, b. at Colaba, Bombay, 26 Sept 1940; educ. at Gardenhurst.
---
ONLY CHILD OF JAMES FAIRBAIRN AND WINIFRED FAIRBAIRN née HALLOWES
---
[FEDA] MICHAEL JAMES HALLOWES FAIRBAIRN
b. 3/11/1921 in London; educ. Leighton Park School, Reading. 12/11/1940, enlisted in the Royal Fusiliers; commissioned (EC) 12/7/1941. WS Lt. 1/10/1942; A/Capt. 7/11/1942; T/Capt. 7/1/1943; WS Capt. & T/Major 6/12/1945. Demobbed. with the hon. rank of Major, 4/8/1946.
He served in the UK until January 1943. India 19/3/1943-14/4/1946 with the 20th. Bn. of his regiment; Adjutant 7/11/42-23/7/45. Staff Captain 23 July-5 Sept 1945; GSO2 to the Camp Commdnt to C.in C. India, 6/9/1945-9/4/1946.
In 1948 he was called to the bar at Lincoln's Inn - he played golf for the Inn in the Crutton Cup in 1955. Res. 47 Brompton Sq., SW3, and 10 Old Square, Lincoln's Inn. He married, 1/9/1950, at Glasgow Cathedral:
[FEDA/1] BEATRICE MARGARET GREENLEES
b. c. 1927, d. of William Greenlees of Southpark, Kilmalcolm. She died 12/5/1957 in London. They had one son, b. at 27 Welbeck St., London W2, 9/6/1952.
---
THE CHILDREN OF FREDERICK GEORGE STENNING AND MURIEL STENNING ne&eacute HALLOWES
---
[FEFA] JOHN HALLOWES STENNING
b. 9/3/1914 at Maidstone; educ at Hurst Court, Sussex, and R.N.C. Dartmouth. The details of his long and distinguished naval career are on a separate file. Res. Hilden Cottage, 24 Esher Avenue, Walton on Thames, Surrey. He married, 9/8/1938, at Hollington Church in the Wood:
[FEFA/1] DORIS MARY LAURA PEW
b. 4/7/1913 at Reading, d. of Arthur Edward Holman Pew, RN Scientific Service, of Weymouth, by Alice Mary Bennett. Their children are:
[FEFAA] Susan, b. 1/1/1942 at Briers N.H., St. Leonards on Sea.
[FEFAB] Angela Margaret, b. 20/8/1944 at the Cottage Hospital, Fife.
---
[FEFB] PEGGY BUCKNALL
b. 14/8/1916 at Maidstone; sometime Almoner, University College Hospital, London and Royal East Sussex Hospital, Hastings. She married, 31/7/1945,at Hollington Church in the Wood:
[FEFB/1] GEOFFREY VICTOR STAFFORD BUCKNALL
b. 31/1/1907 in Lisbon, s. of Douglas Stafford Bucknall of Monte Estoril, Portugal, by Ethel Marguerite, d. of Daniel Victor Jequier. Educ. at Durnford Prep. School and New College, Oxford. B.A. 1930; M.A. 1933. 1931-39, Asst. Master, St. Laurence College, Ramsgate; 1940-47 House Master, Ashby de la Zouch G.S., 1947 Head Master, Trowbridge High School. Res. 42 Wingfield Rd., Trowbridge, Wilts. No children.
---
THE CHILDREN OF HENRY ARCHIBALD WARING AND MARJORIE WARING née HALLOWES
---
[FEGA] ARTHUR ROY HALLOWES WARING
b. 25/12/1913 at Maidstone; educ. at Malvern. He entered the family firm of Twiss, Browning and Hallowes, but had to leave with a duodenal ulcer after about two years. He then joined a firm of Jobbers on the Stock Exchange until being called to the Colours in 1939. Commissioned into the 4th. West Kent Regt. (TA) 5/10/1935; Lt. 5/10/1938; A/Capt. 24/8/1939; T/Capt. 1/4/1940; War Subst. Capt and T/Major 24/3/1942; Capt. 11/4/1945.
He was in France 5/4/ - 1/6/1940, including Dunkirk; then in North Africa 14/4/ - 3/10/1943. Staff College 21/10/1943-10/2/1944; NW Europe 24/6/1944-26/7/1945. He was awarded the Belgian Croix de Guerre avec Palmes, and Chevalier of the (Belgian) Order of Leopold, avec Palmes; also the TD and Bar.
He was unable to return to the Stock Exchange after the war as both his Principals had been killed and the firm therefore wound up; instead he joined Denison House Ltd. Property Owners; he also became Secretary of the Family Welfare Association. He remained in the TA and was appointed as Captain to the 6th. Surreys 28/3/1949, then to the 4th. R. West Kents 20/12/1949. Major 2/4/1950; 2i/c 23/5/1951. Among his later appointments were Deputy Lord Lieutenant of Kent, ADC to the Queen, and Colonel of the Kent Army Cadet Corps. Res. Clyde Cottage, Shoreham, Sevenoaks.
He married. 12/2/1944, at St. Mary's. Offwell, Honiton:
[FEGA/1] PAMELA SMYTHE
b. 24/7/1919 at Bideford, d. of John () Smythe of Colwell, Honiton, and his wife Marguerite Alice (?) of Sidmouth. During the War she worked in a factory producing aircraft parts, and also nursed children. Their children were:
[FEGAA] John Blackwood                                b. 1/8/1946
   [FEGAA/1] Janet Dorothy Rowe                       b. 8/1/1946
[FEGAB] Simon Hallowes                                b. 23/12/1949
   [FEGAB/1] +++++
[FEGAC] Peter Charles                                 b. 30/10/1951
   [FEGAC/1] Susan Harrison
   [FEGAC/2] Catherine ++++
Arthur Waring died 20/8/1984.
---
[FEGB] ELIZABETH AGNES HALLOWES NICHOLS
b. 27/1/1916 at Maidstone. She chose the Nursing Profession, starting her training at Great Ormond Street Hospital, but had to give that up after a severe attack of hepatitis. Joining the V.A.D. 26/1/1939 she was called up for war service 14/9/1939, serving with No.10 and No. 2 Coys. R.A.M.C. In October 1942 she left the V.A.D. and enlisted in the A.T.S. 2nd. Sub. 26/3/1943; War Subst. Sub. 26/9/1943; T/Jun. Cmdr. and Adjutant, 26/9/1945. Released from service 8/10/1946; placed on the reserve as Lt. and Hon. Capt. W.R.A.C. (R.A.R.O) 21/4/1951. She later trained as an Almoner (this is now known as a Medical Social Worker) , becoming an Associate Member of that Institute 21/2/1948, with an appointment at Colindale House, The Hyde, Hendon.
Her marriage, to -
[FEGB/1] GODFREY NICHOLS
(b. 1898) - took place late in life. Godfrey died in 1986.
---
[FEGC] HENRY BLACKWOOD HALLOWES WARING
b. 31/8/1919 at Maidstone, twin of Violet (below). Educ. Marlborough and R.M.C. Sandhurst (Cadet Scholar 1939). Commissioned into the R. West Kent Regt. 12/11/1939 (with sen. 1/7/1939); Lt. 1/1/1941; A/Capt. 28/3/1941; T/Capt. 28/6/1941 and 31/3/1943; A/Major 16/10/1944; War Subst. Capt. & T/Major 16/1/1945; Capt. 1/7/1946; Major 1/7/1952, Lt. Col. 2/2/1962, and Colonel 28/8/1965. MBE during Cyprus; OBE after command of his Regiment; mentioned in Despatches three times, in Greece, Malaya and Aden.
During the war he was Adjt. 4 Bn. in N. Africa July-Sept. 1942, then OC B Coy, 4 Bn. Oct. 1942. OC B Coy 1 Bn in Italy, Nov. 1944, and Greece, Dec. 1944. 2 i/c 1 Bn Oct. 1945-Jan. 1948. OC 1Bn., as T/Lt. Col., in Egypt 2/17 - 15/9/1947. Staff College Camberley Jan-Dec. 1948. Bde. Major 133 Inf. Bde (TA) Jan. 1949-Jan. 1952. OC C Coy 1 Bn, Apr. 1952-Nov. 1953, in Malaya. Military Asst. to C. in C. FARELF, Dec 1953-Feb. 1955. OC Regimental Depot, (The Barracks, Maidstone) May 1955.Military Adviser to the British High Commissioner in Canberra, Jan. 1968. He retired 19/9/1974, and from then to the end of his life ran the Queen's Own Regimental Museum at Maidstone. He died in 19/7/2005; a full obituary appeared in the Regimental Magazine.
He married, 19/1/1952, at St. George's, Benenden:
[FEGC/1] MYRA JEAN HOARE
b.2/12/1930 in Kensington, d. of Lt. Col. Geoffrey Lennard Hoare C.B.E. of Summerhill, Benenden, by Lady Alice Stopford, d. of James Walter Willies, 6th. Earl of Courtown. There is a website on this family at www.william1.co.uk/w100.htm. Their children were:

[FEGCA] Richard Blackwood                 b. 25/2/1953
   [FEGCA/1] Cheryl Louise Pennell        b. 1958
[FEGCB] Sarah Elizabeth                   b. 4/1/1956
   [FEGCB/1] Michael D. Freed
[FEGCC] Michael Geoffrey                  b. 1959
   [FEGCC/1] Astrid Eikemo                b. 1963
---
[FEGD] VIOLET MARY HALLOWES SPRY
b. 31/8/1919 at Maidstone, twin of Henry (above). In 1941 she enlisted in the W.A.A.F., and served with them on Radar Duties for nearly five years. She married, 2/9/1954:
[FEGD/1] GEOFFREY CHARLES MOFFAT SPRY
b.6/4/1904; qualified A.C.A. in 1924 but not practicing as such. He joined C & E Morton Ltd., 155-7 Minories EC3, Manufacturers of Preserved Provisions; when in the early 50's this firm was taken over by the Beecham Group, he became their Financial Director.
They had one child:

[FEGDA] Harriet                    b. 1956
   [FEGDA/1] Nazeem Mohamed        b. 1954
Geoffrey Spry died in 1965 and Violet in January 2000
---
THE CHILDREN OF EDWARD BERTRAM PARKER AND EVELINE VICTORIA PARKER née HERVEY
---
[FFBA] THELMA PARKER
b. 1/3/1916 at Radlett, Herts. During WW2 she worked in the Red Cross and at HQ Staff, National Association of Training Corps for Girls. Later she became Head Housekeeper at the Phoenicia Hotel, Malta.
---
[FFBB] SYLVIA PARKER
b. 9/9/1917 at Radlett. She never married and died at Merstham, 16/9/1940.
---
[FFBC] ROBIN PARKER
b. 7/12/1918 at Merstham. Educ. at Hillsbrow, Redhill and Brighton College. During WW2 he spent 4 years in the Far East (India and Siam); Captain, Parachute Regiment. "Artist". Unmarried.
---
[FFBD] PAMELA PARKER
b. 3/1/1921 at Mertham. She joined the ATS in Nov. 1939 and worked as a Convoy Driver on Home Service. 2nd. Sub. 10/2/1941; demobbed as Jun. Cmdr. Later she went to San Francisco and worked at a comptometer operator.
---
THE CHILDREN OF GUY HAROLD UNWIN AND SAGE PEREGRINE UNWIN née HALLOWES
---
[FGAA] EDWARD OWEN UNWIN
b. 5/3/1905 in London. Entered the RN as a Cadet; Mid., 15/1/1923; Sub. Lt. 15/11/1925; Lt. 15/4/1927; Lt. Cmdr 15/4/1935; Commander Dec. 1939, (Dunedin).
1923, Emperour of India; 1927, Ceres; July 1928, Observer on "Furious" (Aircraft Carrier) - Jackson Everett Prize for best pass on signals course. To "Courageous" 1932-4 for Observer and Signal Duties. 1934-6, Staff, Signals School. 1936-7, "Courageous" as Flag Lt. Cmdr, and Squadron Signals & Wireless Officer. 28/7/1937, "Hood", Signals and Wireless Officer. May 1939, Flag Lt. Comdr, Staff Signals & Wireless Officer to Rear Admiral, Naval Air Stations.
On November 24th 1941, while on patrol between Pernambuco (Recife) and St. Paul Rocks, HMS Dunedin was torpedoed and sunk by U124, and Commander Unwin was lost with the ship.
He married, 17/4/1934, at Portsmouth:
[FGAA/1] VIVIAN MARGETTS, née STOCK
b. 22/11/1907 at Yilanti Tali, Behel, Istanbul., d. of Henry Walton Stock of Istanbul; and widow of Lieutenant Daniel John Margetts, R.N., who she had married 4/2/1931 but who was killed in a flying accident off Loch Ewe from "Furious", 4/6/1932; they had a daughter, Elizabeth, who died c. 1970 without issue. Vivian died in 1978.
Edward and Vivian Unwin had one child:

[FGAAA] Sarah Peregrine                    b. 9/5/1935
   [FGAAA/1] Richard Francis Morgan        b. 29/8/1929
---
[FGAB] JOHN HAROLD UNWIN
b. 13/11/1906 in London. Entered the RN as Cadet, 15/5/1920; 15/9/1924 Midshipman; 1/1/1927 A/Sub. Lt.,; 16/7/1927 Sub. Lt.,; 15/10/1928 Lt.; 16/10/1936 Lt. Cmdr.; ??? Commander; 30/6/1948 Captain; 8/7/1957 Rear Admiral. He qualified as a Gunnery Officer, and as a French Interpreter.
During WW2 he was with "Valiant" 1940-42 in the Atlantic and The Mediterranean, later "Dido" on the same station; then Combined Operations Staff, London HQ; later BMF Staff College (directing staff). After the war he went (15/2/1951) to HMS President, then (1953) became Queen's Harbour Master, Portsmouth, where he was on duty with the Flying Officer, Coronation Naval Brigade. Apr. 1953, Superintendent of Portsmouth Dockyard, ranking as Commodore; 28/4/1955 to Hong Kong as Commodore 1st. Class. Oct. 1957, Admiral Supt., Portsmouth Naval Base.
He married, 5/8/1939, in Edinburgh:
[FGAB/1] ELIZABETH STRONG HENDERSON
b. 4/9/1919 in Glasgow, d. of Sir David Kennedy Henderson, M.D., F.R.C.P., of Tipperline House, Morningside Crescent, Edinburgh, Professor of Psychiatry at Edinburgh University, by Margaret van Veanken, d. of Dr. William Mabon of New York. Their children were:

[FGABA] Stephen John                      1940 - 1995
   [FGABA/1] Janet Mather                 b. 1941
[FGABB] David Edward                      b. 8/3/1943
   [FGABB/1] Judy MacLauchlan             b. 1942
   [FGABB/2] Marian Shelley               b. 1950
[FGABC] Andrew Fergus Graham              b. 28/6/1946
   [FGABC/1] Bruna Fulcheri
[FGABD] Mary Sage Elizabeth               b. 3/1/1949
Admiral Unwin died in 1970; Elizabeth died in 1997.
---
[FGAC] PAMELA SAGE ELLIS (later GAIRDNER)
b. 8/6/1909 at Sheffield Terrace, London W8. She married, 1stly, 3/11/1928 at Holy Trinity, Prince Consort Rd, London:
[FGAC/1] CECIL MONTAGUE JACOMB ELLIS
b. 27/2/1894, s. of Montague Ellis (1865-1948) of 12 Talbot Sq., Hyde Park, and Culverley, Brockenhurst; and of his wife Jessy, née Gibbon (1868-1952). Educ. Hawtrey's, Westgate; Winchester; and Trinity College, Oxford. On the outbreak of war he enlisted in the 5th. Hampshire Regt., and was commissioned 21/10/1914. Lt. and A/Capt., (2/5th. Bn) 1/7/1916; attached to the Intelligence Corps. He served in India 1914-17, Egypt and Palestine 1917-18 and in Syria 1918. Despatches (1918). After the war he was admitted a Solicitor (1921), joining the firm of Ellis, Peirs & Co. Res. 15 Craven Hill, W2, and 17 Albermarle St., W., of which firm his father had been a founding partner. He died in London, 5/2/1942.
Their children were:
[FGACA] Roger Wykeham                    b. 3/10/1929
   [FGACA/1] Margaret Jean Stevenson     b. 1935
[FGACB] Caroline Sage                    1932 - 2011
   [FGACB/1] John W.E. Rawle             1922 - 1996
[FGACC] Julia Peregrine                  b. 25/3/1936
Following the death of Cecil Ellis, Pamela married 2ndly, 28/7/1951, at Kingsley:
[FGAC/2] CHARLES DALRYMPLE GAIRDNER
b. 16/6/1898 in Glasgow, s, of Charles Dalrymple Gairdner of Gateside, Blandfield, Co. Stirling. Educ. Sandroyd and Winchester. During the Great War he served with the Argyll and Sutherland Highlanders in France. 2/Lt. 30/5/1917; later Lt. After the war he became a Chartered Accountant. Until his retirement they lived in Blanefield, then moved to Church Farm, Twyford, Hants.
Charles Gairdner died in 1979; Pamela died in 1994.
---
THE ONLY SON OF EDWARD PRICE HALLOWES AND AILEEN HALLOWES née MACLEOD
---
[FGCA] GEOFFREY MACLEOD HALLOWES
b. 15/4/1918 in Kensington; educ. at Aldro Prep. School, Eastbourne; Lyceum Alpinum, Zuoz, Switzerland (just down the Engadine Valley from St. Moritz); and Jesus College, Cambridge. He was Captain of the University Ice Hockey team in 1939.
He was commissioned EC 2/Lt. in the Gordon Highlanders 25/5/1940,. WS Lt. 25/11/1941; T/Capt. 11/4/1944. Lt. & Hon. Capt. R.A.R.O. 1/1/1949.
He served in the Far East 1940-42 and was in Singapore during the last stages of that disaster, but evaded capture and eventually reached India, where he was attached to the Royal Berkshires, and then transferred to them; however, he refused to give up wearing the Gordon insignia, and they had him posted to the Bombay Base Sub-Area as a Staff Captain (A) (15/10/1942-1/5/1943). In 1943 he joined SOE in Cairo, and soon after D-Day was parachuted into France to liase with the Resistance. He was awarded the Croix de Guerre avec Bronze Palmes and mentioned in Despatches. For a fuller description of his wartime activities see his obituary in the Times and his Wikipedia biography.
In 1947 he joined the family firm of Twiss & Browning & Hallowes, Wine Merchants, and became a director in 1949. He retired in 1983. During Mar. 1998 he was in correspondence with the Compiler; then res. at "Rosedale", Eriswell Road, Walton on Thames. He died on September 25th., 2006.
He married 6/1/1956, at Caxton Hall, as her third husband:
[FGCA/1] ODETTE CHURCHILL, formerly SANSOM, née BRAILLY.
He had previously been cited as co-respondent when Odette Churchill was divorced by her second Husband Captain Peter Churchill. For full details of her heroic wartime exploits and her later life, see separate file. Odette had had three daughters by her first marriage but none by her second or third. She died on March 13th. 1995.
---
ONLY CHILD OF CHARLES ARTHUR HALLOWES AND HILDA MARGARET HALLOWES née OSBORN.
---
[GABA] MARGARET BRABAZON HALLOWES
b. 9/1/1907 at Mitcham. She became a psychiatric social worker at the Royal Eastern Counties Institution, Colchester.

---
ONLY CHILD OF ALFRED LISTER AND HIS WIFE HESTER ISABEL LISTER née HALLOWES.
---
[GBCA] VERITY FRANCISCA LISTER
b. 6/9/1913 at Keynsham, Nr. Bristol; taken out to India as a child and actually baptised at Mussorie. She became Private Secretary to a Company Director.
---
Margaret Hallowes and Verity Lister were the only great- grandchildren of William Hallowes, and neither of them married.
Index
---
THE CHILDREN OF COSLETT HERBERT WADDELL AND ELEANOR MAUD MARY WADDELL née MONSARRAT.
---
These two girls were in fact Herbert Waddell's nieces, the daughters of his brother Alfred by his first wife, who died young. They could not get on with his second wife, so were adopted by Herbert and Maud.
---
[HBAA] EILEEN FULTON
Born 1905. She became a Norland Nurse and went out to New Zealand, where she married:
[HBAA/1] KENNETH JOHN FULTON
A wool buyer. Their children were:

[HBAAA] Diana Maud                            b. 1934
   [HBAAA/1] Frank Vine                       b. 1929
   [HBAAA/2] David Manson                     b. 1927
[HBAAB] Judith Isobel                         b. 1936
   [HBAAB/1] John Galbraith Hyde              1934-1968
   [HBAAB/2] David Cassells                   1925-1997
Eileen died in 1985 and Kenneth in 1992.
---
[HBAB] DOREEN BUTLER
Born c. 1906. In 4q/1936 she married a Neil Butler of Elham, Kent. Soon after her marriage, 1q/1937, while pregnant, she died of a heart attack.
---
THE CHILDREN OF KEITH WALDEGRAVE MONSARRAT AND MARGUERITE MONSARRAT née TURNEY
---
[HBBA] MARY TURNEY PROCTOR
b. at Rodney St., Liverpool, 22/11/1900. Always known as "Molly" within the family. Baptised by her Grandfather at St. Thomas', Kendall. In 1905, aged 4, she carried the bridal train at the wedding of her Aunt Emily to Campbell West-Watson. She seems to have been rather aloof from her siblings, perhaps missing Toby to whom she had been closest. JFTA remembers her being very censorious when her sister took to the Charleston! She died at Wellington NZ, 19/4/1939, her ashes being returned to the UK and buried at Boldre, Hants. She married:
[HBBA/1] GEORGE PHILLIP PROCTOR
b. at Melbourne, Victoria, 8/6/1902, s. of Charles Archibald Proctor of Paris and Rookes Cottage, Walhampton, Lymington, Hants., and his wife Jean Sproul. Educ at Cheltenham and Liverpool University; B. Eng.; he joined Dunlop and served with them in Prague, The Hague, London and New Zealand, where he eventually was Managing Director of their whole operation. He married Molly at St. Anne's, Aigburth, 21/4/1926. He was in England 1941-45, and served in the Birmingham Home Guard - presumably when not otherwise employed. CBE 1961; KBE 1971. After his retirement from Dunlop in 1965 he gave time to a number of quangos including the NZ Industrial Design Council, the Prison Parole Board, the NZ Heart Foundation and the Duke of Edinburgh's Award. Hon. FRACP; KstJ, 1976. Res. 6 Waiteata Rd, Wellington. He died 22/6/1986.

The Children of Philip and Molly Proctor were:

[HBBAA] Jenifer Mary Monsarrat              b. 27/2/1931
   [HBBAA/1] Donald Snowden Green
[HBBAB] Charles Jeremy Monsarrat            1934 - 2014
   [HBBAB/1] Therese +++.
[HBBAC] Susan Jean Monsarrat                1937 - 2015
After Molly died, Philip married Hilary Frances Clark, d. of F.S. Clark; there were a son and two daughters of his second marriage:
- Mary Jane, now Higgins: married, with twin Daughters: living in New Zealand.
- Judith: living in the USA.
- Julian; married, with children: living in New Zealand.

---
[HBBB] KEITH TURNEY MONSARRAT
b. at Rodney St., Liverpool 18/12/1903; bapt. at Aigburth. Known as "Toby" in the family. He died 19/5/1913 after falling off a cliff at Porth-y-Castel, Trearddur Bay, where the family usually went for their holidays. He is buried at Rhoscolyn. Fifty years later when GKA spoke to his father, Keith Monsarrat was still bitter at his loss.

---
[HBBC] JUDITH FELICITY TURNEY ARMSTRONG.
Born 21/10/1907 in Liverpool. Always called "Felicity", or "Felix" to a very few close friends. Educ. South Liverpool School for Girls; Belvedere High School (1917); then (after a year with a Governess) Cheltenham Ladies College (1921). Hurdled for her House (Bunwell). For her early family life see "My Brother Denys". In 1927 she went to Paris for some six months; from this time dates her friendship with Edward Halliday RA who later painted her. During most of her life she gave French lessons to students needing extra tution before exams. In 1929 and 1930 she cruised in the Mediterranean on SS Ranchi and Ranpura to Constantinople and Naples and nearly married one of the ship's officers!
Her connection with the Guide Movement started while she was still in Liverpool where she was a Guider Lieutenant; later she had her own Company at Edghill. During the 50s.she was District Commissioner for Gedling. Her Guide experiences gave her material for her children's novel 'The Oakhill Guide Company' published by Blackie in 1933 and reprinted in the 50s. for which she received the princely sum of £40.
After her parents separated she lived with her mother, including a whole year at Trearddur. She followed her on her perambulations first to The Hall Farm East Stoke, next to The Manor House, Bramcote, then in 1937 to Bulcote Lodge from where she was married in l940. In 1939 she had done the Montessori Diploma at the Convent of the Assumption, and was offered a permanent position with them; but her mother asked her to stay with her, and then HJBA proposed.
During the war she was most occupied by bearing children and trying to be as close to HJBA as possible; she also helped sort out evacuees in the early years. Before GKA was born she had miscarried at the time of Dunkirk. On one occasion while staying at the Cross in Hand, Mansfield, parachutists (bomber crew?) were sighted and she rushed out of the door with GKA under one arm. JMA when she arrived cried all the time.
She was received into the Catholic Church in 1934 and was a member of many Catholic organisations including the C.E.G. and the Newman Association of whose Nottingham Branch she was for a time Branch Secretary. She was awarded the Papal Medal 'Bene Merente' in 1975.
After Hilary died she moved to 30, The Spinney, Bulcote, less than half a mile from "Oaklands" where for eight more years from her friendly and peaceful home she continued to be an inspiration, solace and example to all who knew her.
On Friday May 16th. 2003 her current French pupil arrived at her house for her lesson, to be told that Felicity had just died. While receiving treatment at the Queen's Medical Centre, Nottingham she had had a cardiac arrest and passed away, probably without recovering consciousness, early on Thursday the 15th.
---
She married, in a khaki wedding at the Church of the Sacred Heart, Carlton, on a bitterly cold day in January 1940:
[HBBC/1] HILARY JOHN BRADLEY ARMSTRONG
Born: 7/10/1910 at Culloden, Edwinstowe, Notts., second son of Frank Armstrong, Solicitor, of Bryan and Armstrong (Mansfield) and his wife Phyllis, daughter of Micah Gedling Bradley of Mansfield (for this family see the Wood Family History). Educated at Ovingdean (nr. Brighton 1919-24) and then Rugby 1924-28. where he was in the 1st.XV for his last two years. After leaving school he played rugger for several leading Notts. teams, often teamed with his elder brother Philip. He joined the British-American Tobacco Co. in 1929, but was axed in 1932 because of the Depression. He then took articles in his father's firm and qualified as a Solicitor 1937. Just before the outbreak of war he joined the Nottingham firm of Acton, Simpson and Hanson
He had joined 8th.(TA) Bn. Sherwood Foresters 1936 and by 1938 was a Captain. On the outbreak of war the 8th. was split down the middle and he went to the new 9th. as a Company Commander; by luck or by judgment a very wise move, as the 8th. went to Norway in 1940 and very few if any came back. The 9th. went to France as an L.of C. battalion. in 1940. They moved forward from training areas in Brittany into Belgium (Alost) in May. From there they joined the retreat of the B.E.F. to Dunkirk: and HJBA personally led his company into the sea and was evacuated from the beaches on a paddle steamer. His Bn. went to Scotland (Haddington) and he transferred to 139 Bde. HQ (part of 46 N.Midland Div).as Staff Captain(Q). He spent the rest of the war as a Staff Captain, one of the vital but inconspicuous many who served from the first day of the war to the last and beyond. 1941 Administrative Staff Course in Oxford. (He later confided to GKA that this was a mistake and that he might have made his way back to the Battalion if he'd played his cards differently.) Staff Captain (Q) to the North Sussex Sub-Area in various locations including Michelham Priory. 1942(?) 46 Reinforcement Holding Unit, Sub-Unit Commander, then Adjutant. Went to France with the unit in 1944 and finished the war with them in Germany. Major (acting) (?) 1944: Mentioned in despatches 1945. Demobilised 1945. Territorial Decoration.
After the War the family lived first at 39 Old Main Road Burton Joyce and then (1950) The Oaklands, Bulcote. Hilary eventually became Senior Partner at Acton's before retiring in 1989. He became a Catholic in 1947; this, he later wrote, with marrying Felicity, were the two wisest things he ever did in his life. He was for many years active in the local Conservative Party and served a term as a County Councillor. His greatest interest after his family was gardening; the Oaklands gardens were large, and he won many prizes in local horticultural shows.
Soon after the joyous celebration of their Golden Wedding in 1990 it became apparent that Hilary had contracted Alzheimer's disease. He eventually lost all memory except of his childhood, but was still able to go on working in his garden almost to the end. Soon after Christmas 1994 he broke his arm in an accident at home; in hospital his physical condition collapsed very quickly and he died five days after Easter Sunday 1995.
They had five children:

[HBBCA] Giles Keith                  b. 5/10/1941
[HBBCB] Judith Mary                  b. 16/6/1943
   [HBBCB/1] Bernard O'Shea.         b. 28/8/1946
[HBBCC] Elizabeth Karen              b. 24/4/1946 
[HBBCD] David Piers Monsarrat        b. 23/5/1947
   [HBBCD/1] Susan Bowyer            b. 6/11/1950
[HBBCE] Felicity Margaret            b. 3/5/1952
   [HBBCE/1] Owen Thomas Morton      b. 9/2/1951
---
[HBBD] NICHOLAS JOHN TURNEY MONSARRAT
b. At Rodney St., 22/3/1910. Educ at Winchester and Trinity College Cambridge. B.A. 1931. For the full details of his very varied life see his two-volume autobiography, "Life is a Four-Letter Word" which is however not entirely accurate in his assessment of his own siblings. From 1934 he worked in Journalism and Broadcasting, and wrote several novels. In 1940 he enlisted in the R.N.V.R. (Lieutenant 1940; T/A/Lt-Commander 1943) and served mostly in frigates on the East Coast and in the Atlantic. In 1943 he transferred to Naval Intelligence. After the war he joined the UK Information Office, serving at first in South Africa, then Canada. In 1951 "The Cruel Sea", one of the most outstanding of all WW2 novels, was published and became an instant bestseller; it was filmed within the year. Its success was due in part the combination of his experiences as a writer and those of an active participant in the long, bitter Battle of the Atlantic. A few years later he left the UKIO and became a full-time writer, producing a large number of very readable novels none of which quite reached the classic status of "The Cruel Sea". Two of his other works, "The Story of Esther Costello" and "The Ship that died of Shame" (a short story) were also filmed. After 1961 his life was much troubled by the aftermath to his exceptionally acrimonious second divorce. After his third marriage he settled in Malta. He died of cancer in 1979 and was buried at sea from a frigate off Portsmouth. He was married three times:
[HBBD/1] EILEEN VIOLET MARTIN ROWLAND
b. 25/4/1914 at Marple, Cheshire, d. of William Martin Rowland of Tixall Lodge, Stafford. They were married 7/9/1939 at St. Marylebone Registry Office and she divorced him in October 1952. Eileen died 17/11/1991 in Reading General Hospital.
[HBBD/2] PHILIPPA CROSBY
b. 5/12/1918, one of the five daughters of John and Nora Crosby of Plettenburg Bay, South Africa. She was co-respondent to the divorce from his first wife and they were married in Johannesburg 24/12/1952. By all accounts a passionate and temperamental woman, on being introduced to her father-in-law in Claridges Hotel she declared "You're my favourite man" and fell to her knees on the carpet, which did not impress the staid and reserved Keith Monsarrat at all. Their divorce in 1961 was characterised by extreme bitterness on both sides; she extracted a promise from him that he would never mention her in any biography, and continued to pursue him for extra maintenance through the courts whenever she thought she could. She eventually pre-deceased him by about a year, in 1978.
[HBBD/3] ANN WHITELAW GRIFFITHS
Nicholas' third wife was a working journalist on the Daily Express when they married, 22/12/1961. She is the author of several books including the standard biography on Thackeray. After the marriage they settled in Gozo, where she remained after his death; she has now moved to Malta.
Nicholas had one son by his first marriage and two by his second:

[HBBDA] Max.                                  b.23/9/1942
   [HBBDA/1] Susan Henrietta Peto-Bennett
   [HBBDA/2] Rachel Janet Montgomery          b.14/7/1940
[HBBDB] Mark                                  b.18/6/1954
[HBBDC] Anthony                               b.26/5/1955
---
[HBBE] DENYS KEITH TURNEY MONSARRAT
b. at Rodney St., 20/5/1914. Educ at Haileybury and Queen's College, Oxford. A noted athlete, he was a highly-skilled small-boat sailor (see Nicholas's book on him) and played at full back for the Notts., Derby and Lincoln XV in 1935-8. By 1939 he had become established within a company marketing dental surgery equipment; on the outbreak of war he enlisted in the Royal Artillery, was commissioned in Oct. 1941 and made Lieutenant in 1943. He served in North Africa where he died as a result of a transport accident, and is buried at BMC Bizerta.
He married at St. Mary's, Nottingham. 23/3/1940:
[HBBE/1] MERYL PERA WARDLE
b. at Sutton on Sea, Lincs, 17/12/1916, d. of Owen Wardle of Nottingham. After the death of her first husband she married Christopher Charles Dudley Hart, s. of Canon Dudley Hart, Vicar of Carrington, Notts.; they had two daughters, Louise (b. 9/5/1949) and Caroline (b. 21/4/1955). Meryl was a gracious and lovely lady who brightened the lives of all who knew her. She and Charles lived first in Newark, then Upper Collingham. She died in 1989; Charles married, 2ndly, Pamela Branston, a year later, and died 27/11/1994.
Denys and Meryl had one Daughter:
[HBBEA] Gillian                      b. 30/10/1941
   [HBBEA/1] Uwe Petersen. 
   [HBBEA/2] Sir David Ford          1935 - 2017
> Index
---
THE CHILDREN OF THE RT.REV. CAMPBELL WEST-WATSON AND EMILY MABEL WEST-WATSON née MONSARRAT
---
[HBDA] ELEANOR FLORENCE LESTER
b. at 9, Park Side, Cambridge, 7/6/1906. Educ. St. Winifred's, Eastbourne (her relatives Eileen Berry and Maion Little had both been headmistresses of this school). After she went out to New Zealand with her parents, she did a course in shorthand and typing; she worked for a while as Secretary to her father and was left in charge while her parents spent a year in Europe 1930.
She married 29/3/1932, in the chapel of Christ College, Christchurch, NZ:
[HBDA/1] STEPHEN GARLAND LESTER
b. Amberley 18/3/1906, s. of Dr. George Mackenzie Lester of Webb St., Christchurch, and his wife Sarah, née Longton. "Very handsome." Educ. Christ College, Christchurch. Eleanor and Stephen got engaged pre 1929. The engagement was long as Stephen did not have enough money to marry. They married on £160 a year and lived in the upstairs flat of his parent's house. He worked in Dalgety's, a Stock and Station Agent, and later became an auctioneer. When he inherited some money, they bought a small sheep station at Rangiora.He joined the Civil Air Reserve 1939; RNZAF 1939-45. Asst. Adjutant July 1940; later Squadron Leader. He died in Christchurch, 11th. October 1971.
Their Children, with their spouses, are:

[HBDAA] John Garland                          b. 15/1/1933
   [HBDAA/1] Elizabeth Anne Hewitt            b. 20/7/1940
[HBDAB] Elizabeth Mabel Louise                b. 4/8/1937
   [HBDAA/1] Antony Dayrell Bishop            b. 16/4/1932
[HBDAC] Michael George                        b. 27/12/1944
   [HBDAC/1] Jane Iona Lindsay                b. 10/4/1932 

After Lester died Eleanor married, secondly, as his second wife:
[HBDA/2] JAMES THOMAS BURROWS.
b. 1904 in Prebbleton, New Zealand (known as "Jim"). Educ. Waiau North Primary, then at Christchurch Boys High School, where he later taught (later in the century old boys of this school were in command of all three armed forces in NZ). He was a Rugby Union player of International standard, playing several times for the All Blacks, including their historic 1928 Tour of South Africa. He played cricket for Canterbury 1926-34; and won New Zealand University Boxing Blues 1924-26.. On the outbreak of war in 1939, already the holder of a Reserve Commission, he joined the New Zealand Division, was promoted Major and Company Commander and went with his Division to the Western Desert in time for Wavell's 1940 campaign. He served throughout the Desert Campaign, and also took part in the fighting in Greece and on Crete. By the end of 1942 he was Lt. Col in command 20 th. NZ Bn, 4Bde (at least once he commanded the brigade when his brigadier was hors de combat) and was in the thick of the fighting - and nearly captured - at Ruweisat Ridge, just before 2nd. Alamein. In 1943 he went to Italy with the Division, first as a Staff Colonel, then as OC 6th. Bde, and was at the battles of Cassino and Arrezo. In 1945 he was mustered out at his own request and became Rector of Waitaki Boys School. He returned to the NZ Army in 1950 as a Staff Colonel, then in 1953 became Brigadier in command of NZ Forces in Korea. He was awarded the DSO in 1942, and a bar in 1944; he also held the Order of Valour (Greece); and was appointed CBE in 1959. This formidable man finally retired from the NZ Army in 1960. He died 10/6/1991 and was buried with full military honours (See The Press (Christchurch) 11/6 p. 9, 14/6 p. 1).
Brigadier Burrows' autobiography entitled "Pathway Among Men" was published in Christchurch in 1974. He had a son (Ian) and a daughter from his first marriage, to Elise Hamilton Wilson in 1929.
Eleanor, his second wife, died c. 1982 in Nurse Maud Hospital, Christchurch.

---
[HBDB] CAROLINE MABEL WEBB
b. at Park Side 7/7/1908. Educ Cheltenham L.C. (in the same form with JFTM, who comments that "all five children quarrelled fiercely over who was her best friend!"); 1926 Canterbury U. Coll, Christchurch (to study History); and the London School of Economics. MA (?) 1930. Later Headmistress, P.N.E.U. School, Christchurch.
She married 29/12/1932, at Christchurch Cathedral:
[HBDB/1] LEICESTER CHISOLM WEBB
b. Leicester, 17/5/1905, s. of Leonard Francis Webb and his wife Jessie, née Chisholm. Educ. Waitiki Boys HS., Canterbury Coll. Christchurch (where he first met Caroline) and Caius, Cambridge. BA; MA; Diploma in International Law, London; MA(NZ) with hons in History, 1929. Geneva School of International Studies; on Literary Staff of the Southland Times; cable sub-editor, Christchurch Press. Lecturer in Political Science, Canterbury Coll., 1931-41. National Historical Commission 1938-40. WW2: Staff Captain; OIC A.E.W.S. 1942-5. President, NZ Institute of Public Administration, 1947; Reader in Political Science, Australian National Univ. 1950; Lecturer in Social History 1951. Author of "The Control of Education in New Zealand" 1938 and "Government in New Zealand" 1940. Res. 1955 26 Hobart Avenue, Forrest, Canberra A.C.T. In 1962 Leicester and Caroline were both killed in a car accident, with five others.
Their Children, with their spouses, are:

[HBDBA] Nicholas Leicester                       b. 12/1/1937
   [HBDBA/1] Deborah Mary Scarlett               b. 19/1/1942
[HBDBB] Rachel Caroline                          b. 24/6/1940
   [HBDBB/1] Walter Geoffrey Thomas Miller       b. 25/10/1934
[HBDBC] Catherine Merrial (Kate)                 1943 - 2007
[HBDBD] Jeremy Campbell                          b. 4/9/1944
   [HBDBD/1] Aline Marie Corinne de Praetere     b. 29/8/1954
---
[HBDC] ALISON MONSARRAT SIMS
b. at The Abbey, Carlisle, 16/10/1911. She first attended Carlisle Girls High School, then (1921) had governesses. In 1923 went to Casterton School (the original of Lowood School in Jane Eyre!).1926 went to the Wellington Diocesan School for Girls at Nga Tawa, Marto, New Zealand; Head of Studholme house for 2 years.1928 did Oxford University entrance, but didn't pass.1929 entered Canterbury College to study English and French mainly, obtaining a BA. in 1932. In April 1933 she was accepted at Oxford University as a home student in English, living with Mrs Rashdall, and went back to England on the "Rotorua". As a holder of a BA the Oxford degree could be done in 2 years.1935 BA 2nd class hons. In late August 1935 she returned to New Zealand on the "Barrabool", arriving 6 weeks later on her birthday. In 1936 Kept house for father after mother died. Next year she returned to England on the "Port Hobart" for the Lambeth Conference. She worked as a "rent lass" with the Rotherham County Council, then in 1938 became secretary to Lord Bledisloe at Lydney Park, Gloucs. She married 11/7/1940, at Hythe:
[HBDC/1] ROBERT OSWALD SIMS
b. Balham 1/9/1917, son of John Sims and Dorothy Sims, née St John. Educ. Hampton on Thames GS, where he regularly won the yearly reading prize at school. He stayed on at school for a third year in the Sixth, which almost automatically meant "School Captain". He won a Governor's Scholarship to the RCS (Royal College of Science), where he took a degree in Chemistry with specific additional courses in Metallurgy, Statistics & Fuel Technology. He then got a job as a shift engineer at Lochaber Smelter, Fort William at £250 per year (a fair wage then) through Uncle Edgar.
In the final year at University he joined the OTC. He Joined the TA in the Camerons, 5th Battalion, C Company, centred on Fort William. He arrived in Fort William on 29 August 1939 after 3 weeks training in Inverness. Two weeks later they were sent to Tain. He was posted to Hythe where he was asked to look after the sister of his friend and comrade Keith West-Watson. They were married 6 days later.
The battalion then went to Thurso, Caithness for the summer and Muir of Ord for the winter, where he and his wife had their first home together, "Newtonville". followed by Hatton Castle, Turriff, where they had rooms with the gamekeeper, the following summer. Then posted to Dunbar to be an instructor in the Officer Cadet Training Unit, where they had rooms above the hardware shop. Later they lived at Main Villa.
In July 1942 a grenade landed at his feet and produced shrapnel wounds in legs, stomach and left arm. July 1942-1944 convalescing from shrapnel injuries.1944-45 he fought in France and Holland. Early in 1945 he was posted to the Military College of Science, Stoke-on-Trent. 1946 posted to the armament design dept of the Ministry of Supply at Knockholt, Kent, where they lived at "Orland". In 1947 he returned to British Aluminium as a Works Metallurgist (one of 4) at Warrington.1949 transferred to Falkirk, Scotland. 1960 appointment to Rheola, Neath, Wales. November 1961 accepted the opportunity to transfer to Australian Aluminium Company (then 50% B.A., 50% Alcan) as Works manager of the Granville factory.
In 1975 he retired early from Alcan Australia (as the company by this time had become) to take up, with his wife as business partner, Angora Goat Farming and then, in 1982, picture framing & dealing in antique engravings/etchings, plus repair & conservation work.
He died 2/5/1992 in Newcastle, N.S.W. At his funeral, in an eulogy written by Alison, the minister said:
"Bob Sims was fiercely independent and honest as daylight. As a soldier he gave to the limit of his powers.In his career in industry, while numbered with the management, he fought always to put the good of the workforce before the privileges of the bosses. Later, in his happy farming years, he loved and knew by name each of his animals. he had a great love of small delicate things, ranging from the birds and flowers of the bush to the fine engravings of which he later gained a considerable knowledge. He loved to show the small dramas of insect life in the garden to his grand- children. Generous and caring, he was a rock of refuge to us all in times of trouble - and enormous fun just to be with."
The children of Bob and Alison Sims, with their spouses, were:


[HBDCA] Christina Mary Monsarrat                    b. 22/6/1942
[HBDCB] John Campbell Oliver                        b. 1943
   [HBDCB/1] Denise Griffiths
   [HBDCB/2] Valerie Bushnell
   [HBDCB/3] Heather Joy Lock
[HBDCC] Martin Robert Walter                        b. 1947
   [HBDCC/1] Mary Hammond
   [HBDCC/2] Marika Mandic, née Kerekovik
[HBDCD]Roderick Charles Hallowes                    b. 1952
   [HBDCD/1] Kay Tydeman
   [HBDCD/2] Francis Hull
---
[HBDD] KEITH CAMPBELL WEST-WATSON
b. The Abbey, Carlisle, 16/8/1914. Attended Carlisle Girls High School (they took boys in the junior classes!) then went to Mrs Crossthwaites Prep School "Lime House" where he later taught.1926 started at Christ College (NZ) where he was very unhappy.1935-1937 at Emmanuel College, Cambridge. B.A. 1938; M.A. 1949. At the outbreak of war he was an assistant Master at a school in Cornwall. He joined the 21 NZ Bn, rose to be a Captain and was wounded at the Battle of El Alamein. Demob. 1943. In 1938 he had run a Repertory Company in Cromer; after the war he wrote a number of books and plays, and worked for Gainsborough Pictures using the name "Keith Campbell". He is credited as a Writer for the 1948 Gainsborough picture "Snowbound" but this career did not take off. In 1951 he went out to the Sudan where he ran a school; in Dec. 1955 he returned to New Zealand. Still living there in 1998.
He married:
[HBDD/1] VERONICA BERKO, an Austrian, at Caxton Hall in 1939. They were divorced in 1941(?)
[HBDD/2] MARGARET DIANA TITHERADGE
b. 12/11/1918 (the day after the Armistice!) d. of Dion Titheradge (1889-1934), Actor-Manager, and niece of Madge Titheradge (1887-1961), the well-known comedy actress. As "Meg Titheradge" she also went on the stage, and took small parts in four London productions during 1937-1943, including two comedies starring Glynis Johns, and Noel Coward's 1943 production of "This Happy Breed".
They married 28/4/1945, and had one child:
[HBDDA] Adam Campbell Dion Monsarrat                 b. 1953
   [HBDA/1] Felicity +++
---
[HBDE] ANTHONY MONSARRAT WEST-WATSON
b. at The Abbey, Carlisle, 31/5/1918. Educ. at a prep school called Ferris's in N.Z., then Christ's Coll, Christchurch. He joined the NZ Dunlop in Auckland; during the war he served in Libya. He died 13/2/1972 in Christchurch.
He married, 3/12/1955 in Featherston, N.Z.,:
[HBDE/1] YVONNE MYERS
b. 26/5/1933 in Sydney N.S.W. They had one child:
[HBDEA] Jane                                  b. 19/12/1956
   [HBDA/1] Timothy Charles Hunter            b. 27/5/1958
Index
---
THE CHILDREN OF JOHN ARTHUR HARGREAVES AND ETHEL LOUISA HARGREAVES née MONSARRAT
---
[HBEA] JOHN HENRY MONSARRAT HARGREAVES
b. 19/11/1911. Educ. At Shrewsbury and Trinity Coll. Cambridge. B.A. 1933; M.A. 1937; ordained deacon 1937, priest 1938 (Durham). Curate of Bishop Wearmouth 1937-9, Hunslet (St. Chad's) 1939-43; C.M.S. Missionary at Oyo, Nigeria, 1943. He married, in 1958:
[HBEA/1] DIANA TUCKER
Their Children are:
[HBEAA] Clare
[HBEAB] Eleanor
[HBEAC] Jonathan
---
[HBEB] KATHERINE MONSARRAT BUXTON née HARGREAVES
b. 27/2/1915. Educ. Cheltenham L.C. and St. Hugh's, Oxford. B.A. 1938; Class Mistress, St. Mary's Hall, Brighton.
She married 30/7/1940 at North Mymms, Herts.:
[HBEB/1] EDMUND DIGBY BUXTON
b. Southampton 1/3/1908, s. of the Rev. Leonard Buxton MA., Vicar of North Mymms, and his wife Kathleen Lydia Wingfield Digby, d. of Capt. John Digby of Sherbourne Castle. Educ. Charterhouse and Trinity Coll., Cambridge. B.A. 1929; M.A. 1933; Ordained deacon 1933 (Liverpool), priest 1934 (Warrington for Liverpool) Curate of St. Helens 1933-7, Vicar of St. Mary Magdalene with St. Paul, Peckham, 1939-44; St. John the Evangelist Wembley 1944-54; Milborne Port, Dorset, 1954.
Their Children:
[HBEBA] Edmund Francis, b. 1/1/1942 at St. Albans. He married Jane Jones; their children are Nicholas, Tom, and Asha.
[HBEBB] Mary Ethel, b. 8/9/1944 at North Mymms. He married David Grundy; their children are Cathy and Joanna.
[HBEBC] Lucy Jane, b. 9/6/1947 St. John's Vicarage, Wembley.
[HBEBD] Anthony; his wife's name is Heather, they have one daughter Laura.
Edmund Buxton died 23/11/2001; Katherine died in 2011.
---
[HBEC] JOYCE MONSARRAT HARGREAVES
b. 24/4/1916. Nurse. S.R.N.; S.C..M. Trained at Clatterbridge Hospital; Nurse at Kingston County Hospital, Surrey. After 1946 when her father died she lived with and looked after her mother until Ethel died in 1968.
---
[HBED] ARTHUR CECIL MONSARRAT HARGREAVES
b. 14/2/1919. Educ. Rugby and Trinity Hall, Cambridge. B.A. 1942; M.A. 1946. 1st. Cl. Tripos Pt. 1 1940: Pt. 2 1947. Served with the RAMC during WW2 in Burma and India. 1949 ordained priest (London); Curate of St. John's, Wembley; later CWS Tutor, Bishop's College, Calcutta.
He married, in 1972:
[HBED/1] CATRIONA SOMERVILLE
Their children are:
[HBEDA] Jeremy, b. 1974
[HBEDB] Dougal, b. 1975
[HBEDC] Richard, b. 1977
Catriona died in 1995
---
THE CHILDREN OF LIONEL R.B. TABUTEAU AND EVA HAMILTON TABUTEAU née HALLOWES
---
[HHAA] MURIEL FLORA VALENTINE
b. Dublin 6.2.1894; res. 37 Godfrey Avenue, Bangor, Co. Down.
She married, 19/4/1921, at St. John's, Sandymount:,
[HHAA/1] CHARLES DE LA CHEROIS PURDON VALENTINE
b. 19/10/1869 at White Abbey, son of Louis Valentine and his wife Annie Purdon, and educ. at Belfast and Liverpool. He became the Manager of the Provincial Bank, Kilkenny, and died at Bangor 1/1/1946. They had no children.
According to Mr. Niall Foley of Dublin (e-mail: niallf@tinet.ie) who is researching this family, the De La Cherois name first came to Ireland in the person of Captain Samuel de la Cherois, a Huguenot who fought at the Battle of the Boyne in the Army of William III.
---
[HHAB] NORAH CONSTANCE TABUTEAU
b. 28/3/1896 at Tristonville Rd., Sandymount. During the Great War she served in the W.R.A.F. Afterwards she became a book-keeper. Res. 48 Park Avenue, Sandymount (sometime her parents home). In 1943 her great-aunt Marian Elizabeth Hallowes bequeathed her all her personal and household effects. She never married.
---
[HHAB] RUTH EVA KIDD, née TABUTEAU
b. 25/12/1904 at 48 Park Avenue. She married, 20/1/1937, at St. Mary's, Donnybrook
[HHAC/1] GEORGE HAROLD KIDD
b. 5/6/1900 at 2 Goldsmith St., Dublin, s. of George Kidd (later of 18 Upper Fitzwilliam St., Dublin) and his wife Eva Jane Phillips. Educ. Wesley College, St. Stephen's Green School, and Trinity College (all of Dublin). B.A. 1929; M.A. 1944. Ordained Deacon 1929 and Priest 1930 (Cashel). Canon of The Cathedral Church, Waterford, 1929-33; Curate in charge, Killegney with Rossdroit and Adamstown, 1933-45; Incumbent of Achill Union, 1945-51. Their Children were:


[HHABA] Edward Harold Lionel, b. 1938
[HHABB] Eva Pamela Rosamund, b. 1941
[HHABC] Rosemary Hamilton Ruth, b. 1943
[HHABD] David Richard Phillips Michael, b. 1948.
Index
---
THE CHILDREN OF KEITH HAMILTON HALLOWES AND MABEL MAUD HALLOWES née FALKNER
---
[HHBA] BERYL HAMILTON , 1921
b. 26/4/1904 at Yeovil, Johannesburg. The family returned to England c. 1913. She was for some time assistant mistress at a boys' preparatory school in Acton. She married 20/6/1939 in West Ealing:
[HHBA/1] ALEXANDER MAXWELL MAVER
b. 21/11/1894 at Sligo, youngest of the four children of Alexander Maver, Manager of the Provincial Bank, Sligo, and his wife Alice, née Weir. His father came from near Forres in Scotland, and at some time in his life altered his surname from "Mavor". Alice Weir was born in Co. Galway.
Educ. Sligo G.S. and Trinity College Dublin. He served in the Army during the Great War and was commissioned in 1915. After the War he joined the Inland Revenue in Scotland (see The Edinburgh Gazette, 1921). In the 50s they were living at 5, Gloucester Rd., Birkdale. They had no children.
---
The Census of Ireland for March 1901 showing the Maver Family of Sligo is available for download in .pdf format.
---
[HHBB] WINIFRED IDA GRANT b. 9/1/1912 in Johannesburg. She married 20/6/1937 at Ealing:
[HHBB/1] GEORGE GRANT
Civil Servant. (1950s) Living in Caterham, Surrey. No Children.
---
[HHBC] VIVIENNE HAMILTON HALLOWES b. at Streatham, 12/2/1914. During WW2 she served with the W.A.A.F. After the war she was secretary to a dentist in Worthing. She never married.
Index
---
THE CHILDREN OF HENRY HAMILTON HALLOWES AND JEAN HALLOWES née GRIFFITH
---
[HHCA] HENRY HAMILTON CULLUM HALLOWES
b. 27/9/1899 at Sligo. Educ. Enniskillen Model School and Portadown National School. Accountant. Res. (50s) Union Street, Sligo; and died there, of cancer, 20/8/1965.
His daughter Valerie writes: "Our father was a very well-known singer in Sligo and had competed many times in the annual Feis Ceoil, (musical festival) and won many competitions. He also performed in local plays,opera and played the double bass, as well as singing oratorio in the Protestant churches". He married 21/12/1938 at York Rd. Presbyterian Church, Kingstown, Co. Dublin (now Dun Laoghaire):
[HHCA/1] JULIA FRANCES MABEL BLENNERHASSET.
b. 1/7/1907 at Tralee, youngest d. of Arthur Frederick Blennerhasset of Tralee and his wife Mary Durie (d. 1948). LAW says Mary was the d.of Samuel Cowen, but her grandchild Valerie Carey was told by her mother that her maiden name was Durie; and Valerie recalls corresponding with a grand-aunt whose surname was Cowen so that name is in the family somewhere. Julia Hallowes died 17/7/1977 at her son's home in Dun Laoghaire.
Their Children are:
[HHCAA] Valerie                       b. 15/11/1939
   [HHCAA/1] +++ Carey
[HHCAB] William Henry                 b. 4/11/1944
   [HHCAB/1] Aileen +++
[HHCAC] Adele                         b. 29/6/1948
---
The Blennerhasset Family of Co. Kerry is being researched by Dr. Mark Humphrys
(website http://www.compapp.dcu.ie/~humphrys/FamTree/index.html ; e-mail mailto:humphrys@compapp.dcu.ie ) of Dublin City University; and by Bill Jehan of Cheltenham who has now set up a Blennerhasset Genealogy at www.BlennerhassettFamilyTree.com.
---
[HHCB] KEITH EDWARD HALLOWES
b. 26/11/1900 at Enniskillen. Enlisted in the Royal Navy in 1918. He was for many years an Admiral's Steward and served in that capacity at the Atlantic Meeting (in 1940) of Churchill and Roosevelt. He left the navy in 1946. Res (50s) 23 Funtington Rd North End, Portsmouth. He married, but his wife has([HHCB/1]) not been identified. They had one son:
[HHCBA] Keith. b. c. 1926; said to taken a Degree in Law at Oxford; but his name does not appear in the Law Lists for the period..
---
[HHCC] LIONEL ST.GEORGE HALLOWES
b. 20/11/1902 at Enniskellen. Educ.at Portadown and Sligo National Schools. Cabinet Maker. He worked in Portadown, then Belfast. He was a noted Rugby player with the Lurgan team, and had trials for Ireland. In 1956 he moved his family to England and worked as a craftsman carpenter for London Transport at their Chiswick Depot until his retirement in 1974. He died 16th. June 1989.
In September 1948 Lionel St. G. Hallowes was one of the Pall Bearers at the funeral of W.B. Yeats. The Poet had died at Roquebrune, near Monaco, in January 1939; it was not until three years after the War that his body could be brought back to his native Sligo (where he was born in 1865) for final burial in the Drumcliff churchyard just outside the town.
Lionel married:
[HHCC/1] MAMIE McANEARY
b. 22/7/1907 in Sligo. Lionel was a Protestant like most of his family, Mabel was a Catholic; a few years after their marriage Lionel became a Catholic also, after which they saw little of the rest of his family. Mamie died 6/9/1977 in the Hammersmith Hospital.
Their Children (both born at Sligo) were:



[HHCCA] Lionel                                1934 - 2016
   [HHCCA/1] Alice Patricia Harte             b. 18/3/1929
[HHCCB] Henry                                 1936 - 2016
The personal details above are the recollections of his eldest son Lionel. Harry Hallowes, however, declares that his father never became a Catholic, may indeed have verged on aetheism in his later years; and he was never able to find proper employment in his craft in the UK, but worked for LEP Transport making packing cases.
---
Paul McAneary ( web.mac.com/mcaneary/mcaneary.com/McAneary_Name.html)
is researching the McAneary family, and would welcome any information. At present it seems he is the only
male of his generation to bear this surname.
---
[HHCE] VERA MARGARET ADAMS
b. 3/11/1910 at Enniskillen. She married:
[HHCE/1] BENJAMIN ADAMS, a Draughtsman at Short and at Harland & Woolf, Belfast. Res. (50s) Lochnagar, Shore Rd., Greenisland, Co. Antrim. Later they moved to England and at one time lived in a caravan at Walton on Thames.
Their Children are:
[HHCEA] Hazel, b. 1943.
[HHCEB] Heather, b. 1947.
---
[HHCF] DOROTHY GRIFFITH HALLOWES
b. 18/5/1913 at 31 Church St, Portadown. Trained as a nurse at Blackburn and East Lancs. Royal Infirmary: S.R.N. 1938. She eventually became a District Nurse in Cumbria, where her area included the Windscale Nuclear Power Station. She never married. and died some time in the 1970s.
Index
---
THE CHILDREN OF BRABAZON HAMILTON HALLOWES and his wife JOSEPHINE HALLOWES née WARREN
---
[HHDA] DESMOND P. HALLOWES
Cathy Hugo writes: "Desmond was born we think in 1908 and as far as we know never married.
He was murdered in 1983/4. He was an accountant. He also studied linguistics at the University of the Witwatersrand, Johannesburg. At the time of his death he was helping Professor Fox with translations on a book about food from the veld."
---
[HHDB] (unidentified)
Desmond Hallowes had a twin, believed to have been also a boy, but nothing else is known.
---
[HHDC] KENELMN HAMILTON HALLOWES
b. 18/4/1910. He married:
[HHDC/1] SHEILA MONICA McCABE
b. 21/9/1912. Their daughter Cathy Hugo writes: "Kenelmn Hamilton worked in the Accounting administrative offices on the mines. He was a great amateur sportsman. Sheila Monica was a pianist who performed in symphony concerts in her early life and taught music, was church organist and accompanist, and Highland and Irish dancing teacher."
Kenelmn died 28/11/1977; Sheila died 24/8/1971. Their children, with their spouses, were:

[HHDCA] Eileen Mary                            b. 2/2/1940
   [HHDCA/1] Andrew Strever
[HHDCB] Anne                                   b. 31/3/1945
   [HHDCB/1] John Matthews
[HHDCC] Catherine                              b. 26/11/1946
   [HHDCC/1/1] Henry Curwen Hugo               b. 24/1/1949
[HHDCE] Margaret                               b. 19/11/1957
   [HHDCE/1] Peter Michael George              b. 12/10/1954
---
THE CHILDREN OF LEOPOLD HAMILTON HALLOWES AND CATHERINE MADELEINE HALLOWES née STUBBINS.
---
[HHGA] LUCY MAGAHEY
b. 21/11/1908 at St. Peter's Rd., Phibsborough. She married 27/8/1937 at St. Barnabas:
[HHGA/1] ARTHUR MAGAHEY. b. at Rathmines. Engineer. Res. (50s) 2 St. Barnabas Gardens. No Children.
---
[HHGB] HERBERT PATRICK HALLOWES b. 31/3/1914 at Norfolk Rd., Phibsborough. d. at 3 Norfolk Rd, 27/6/1927.
---
[HHGC] FLORA TIGHE
b. 12/11/ 1917 at Norfolk Rd. She married 3.8.1942 at St. John Baptist's, Clontarf:
[HHGC/1] MICHAEL JOSEPH TIGHE
b. 15/11/1913 at Portadown, S. of Frank Tighe of Portadown and his wife Mary O'Hagan. Salesman: res (50s) 60a Clontarf. Their children are:
[HHGCA] Leo, b. 30/4/1943 at St. Mary's N.H., Clontarf
[HHGCB] Carol, b. 2/12/1947.
Index
---
THE CHILDREN OF JAMES DOUGLAS AND HIS WIFE GERTRUDE HAMILTON DOUGLAS née HALLOWES
---
[HHIA] MILDRED MARGARET DOUGLAS b. 1913
[HHIB] DOROTHY DOUGLAS
[HHIC] HERBERT DOUGLAS
Index
---
THE CHILDREN OF LORTON ALEXANDER WILSON AND KATHLEEN EMILY WILSON née BERRY
---
[HIAA] KATHLEEN MOIRA WILSON
b. 5/5/1911 at 99 Abbey Rd., Barrow. Educ. Skellfield, Thirsk and Training College, Bradford. Higher Froebel Certificate. She taught at Coed Bel, Chislehurst; Godolphin & Latymer, Hammersmith; Rodean, Johannesburg; Sheffield Girls' High School; and St. Christopher, Burnham-on-Crouch; Derby High School Kindergarten (Head) Sept 1957. In her later life she lived at Littleover where after the death of her mother in 1951 she made a home for her father; and died there in 1996.
---
[HIAB] ETHNE PATRICIA BUTTON
b. 23/61911 at 99 Abbey Rd., Barrow. Educ.Skellfield, Thirsk and Training College, Bradford. Higher Froebel Certificate. She taught at St. Columba's, Kilmcolm and King's Mead, Johannesburg. Contributor to " The 1820"
She married 1/1/1942 at Machadodorp, Transvaal:
[HIAB/1] JAMES BUTTON
b. Machadodorp 6/6/1908, son of James Button and his wife Helen, d. of John Gay of Broadshaw, Stirlingshire. Educ. King Edward's School, Johannesburg. In WW2 served in the N.R.V. (Belfast Command); Sergeant. After the war he returned to the family farm at Machadodorp. He died in 1983.
Their children are:


[HIABA] James, b. at Nelspruit 18/11/1942; 
      at university in Pietermaritzburg with Patrick Berry from 1962.
[HIABB] Christopher, b. at Johannesburg 9/2/1945; 
      now (2/2007) living in Victoria.
[HIABC] Andrew, twin of Christopher; married to Brenda +++;
      also now living in Victoria.
[HIABD] Kathleen Anne, b. at Johannesburg 9/11/1954

Index
---
THE ONLY CHILD OF RICHARD COLLIS HALLOWES AND CONSTANCE DECIMA HALLOWES née HURST
---
[HKAA] RICHARD CARMICHAEL HALLOWES
b. at Woolwich 26/10/1931; educ. at Monkton Combe and St. Thomas's Hospital, London. MB., BS. He did his National Service with the R.A.M.C., joining 1/10/1956 as a Lieutenant and finishing in 1959 as Captain (Acting Major) with 37 Field Ambulance. He then returned to St. Thomas' to study Pathology, then joined the Imperial Cancer Research Fund as a Research Pathologist in 1963. He remained with the IRCF until 1990 when he took early retirement. Deeply dissatisfied with the way in which the N.H.S. was being run, he forbade any member of his family to enter the medical profession.
He married 23/5/59, immediately after finishing National Service, at Bournemouth:
[HKAA/1] CLARE ROSEMARY EAST
b. Boscombe, 19/5/1937, daughter of Frank Kenneth East, Solicitor (d. 1979), and his wife Kathleen, née Tapper, a Pharmicist's Assistant(1906 - 2004). She studied at the Central School for Dramatic Arts in London, obtaining a Diploma, then worked for a while as a teacher until her marriage.


Later generations of this line have been removed at the request of the family.
---
THE CHILD OF KEITH ROBERT COLLIS HALLOWES AND MATHILDA HALLOWES née HAMILTON
---
[HKBA] KATHLEEN MARY COLLIS HALLOWES
b. 7/1/1911 at The Rocks, Crossdoney, Co. Cavan. Educ at Galway College, Leigh Court French School Torquary, and Malvern College. Trained at The Royal Devonshire Hospital., Buxton, and Bristol General Hospital. M.C.S.P.; M.M.E.; M.G.; L.E.T. Sister in charge, Physiotherapy Department, Torquay Hospital, 1935-40; later in private practice in Dublin. She died 4/7/1977 at 30 Upper Leeson St., Dublin, never having married.
Index
---
THE CHILD OF BRABAZON HENRY COLLIS HALLOWES AND FRANCES HALLOWES née WARNER
---
[HKCA] ELSIE MARY COLLIS LUNDQUIST
b. 14/3/1920 in Dublin. Educ. at Hillcourt School, Glenageary, and Alexandra College, Dublin. During 1942-45 she was interned by the Japanese in Manila; after the war she was awarded the Pacific Star for her nursing services at Santa Tomas and Los Banos during her internment.
She married 29/7/1945, at Newton Highlands, Boston, U.S.A.:
[HKCA/1] FRANCIS IRVING LUNDQUIST
b. 28/4/1919 at Ashland, Mass., son of Hilding Lundquist and Annie Cecilia, d. of Alexander Doherty. Educ. Boston University College of Liberal Arts: B.Sc. 1940; and Harvard; Master of Business Administration 1947.
Before the war he worked as an Insurance Agent and joined the U.S. Naval Reserve Ensign (Supply Corps) 26/5/1941; Lt (jg) June 1942; Lt . Mar. 1943; Lt. Cmdr. 3/10/1945: Cmdr. 1952. On Active Service 16/6/41-3/12/45. Supply and Disbursing Officer, U.S.S. Trinity 8/11/41-31/7/44; Asst. Supply Officer i/c US Naval Drydock, South Boston, Mass., Nov 4 '44 - Dec 1945. In 1951 he joined the F.B.I. Having divorced in 1969, Francis Irving Lundquist died at Ft. Pierce, Florida on 17 April 1998, age 78; and Elsie Mary Hallowes Lundquist died at Citrus Heights, California on 25 February 2007, age 86.
Their Children were:

[HKCAA] Wade Allyn
1946-2001 [HKCAA/1] Kathleen Kappy [HKCAB] Craig Hallowes b. 29/12/1948 [HKCAC] Linda Ann b. 22/5/1953 [HKCAC/1] Kent Schultz [HKCAD] Tina Louise b. 19/1/1955 [HKCAD/1] John Wessels Gould b. 10/3/1954
---
Tina Louise Gould writes: My mother lead an amazing life so I hope I can add worthily to her record. My father joined the FBI in 1951 and unfortunately that contributed to a stressful marriage with my parents divorcing in 1969 after 24 years together. Interestingly, my mother suffered a stroke at the close of her life and her mind thought she was still married to my dad. She spoke so lovingly and tenderly about him that it made me see "them" in a brand new way. It was one of the treasures I was afforded in an otherwise undesirable situation.
---
THE CHILDREN OF ARTHUR COLLIS HALLOWES AND KATE FLORENCE SAVILLE HALLOWES née SMITH
---
[HKDA] MARY COLLIS SUMERLING
b. 20/1/1913 at Leek. She married, 3/9/1937, at St. Edward's, Leek:
[HKDA/1] BASIL SUMERLING
b. 15/10/1906 at Leek, s. of Bertram Sumerling and his wife Miriam, née Goodwin. Educ.
King William's College, I.o.M. Merchant; served in the Home Guard, 1940-44.
Their children, with their spouses, are:

[HKDAA] Jill                                b. 14/8/1938
   [HKDAA/1] John Edmund Greer              1934 - 1996
[HKDAB] Robert Westcott                     b. 8/5/1944
   [HKDAB/1] Virginia Kerridge              b. 14/2/1957
---
[HKDB] ARTHUR PATRICK COLLIS HALLOWES
b. 30/10/1914 at Leek. Called "Patrick". Educ. Leek High School and Manchester University. Metallurgist. Served in the Home Guard, 1942-45. He married, in 1956:
[HKDB/1] MARJORIE BRADLEY
They had no children. Patrick died in 1997.
Index
---
THE CHILDREN OF PAUL COLLIS HALLOWES and MARJORIE ELIZABETH MARY HALLOWES née COLLIS


---
[HKEA] SHEILA MARJORIE LEONARD
b. 6/3/1926 at Kampala, Uganda and died (as had her mother) of cancer, 26/4/1951 at Kitale, Kenya. She married:
[HKEA/1] PHILIP FRANCIS JAMES LEONARD
b. 14/07/1921 at Ranchi, India, son of Major D.J. and Mrs. D. G. Leonard. Shortly after he was born, the family moved to Kitale, Kenya. During WW2 he served in the King's African Rifles; 2/Lt 25/10/1941; later Captain. After Sheila's death he married 2ndly, Laurie Elizabeth, d. of A.G. Lindsay of Endebess; they have issue. In 1961 he left his farm in Kenya and moved to Australia, becoming a Librarian. He died 9/6/1991 at Launceston, Tasmania. The children of Sheila and Philip are:


[HKEAA] Lesley Jane                        b. 29/10/1947
[HKEAB] Jeremy James Brabazon              b. 14/2/1950
   [HKEAB/1] Karen Rae Poulton
   [HKEAB/2] Andrea Mary Werner
---
[HKEB] PENELOPE MABEL DAVIES
b. 18/7/1929 at Miti Mkubwa, Hoey's Bridge; and died at Nairobi, Kenya, 1/2/1989. She married at St. Luke's, Kitale, 2/1/1954:
[HKEB/1] JOHN LLOYD DAVIES
Their children are:
[HKEBA] Simon
[HKEBB] Claire
---

Surnames on the Index for Page Four are:
Adams/ Armitage/ Armstrong/ Ashley/ Baiss/ Bennett/ Boileau/ Bower/ Bond/ Bower/ Brown/ Bucknall/ Button/ Buxton/ Carnegie/ Chace/ Clayton/ Colvile/ Crossett/ Davies/ Davis/ Dimbleby/ Douglas/ Drysdale/ Ellis/ Fairbairn/ Ferrier/ Fleming/ Fulton/ Gillis/ Grant/ Griffin/ Hallowes/ Hammat/ Hampton/ Hargreaves/ Harper/ Harrison/ Humphry/ Hunt/ Jackson/ Kirwan Ward/ Kidd/ Leonard/ Lane/ Leonard/ Lester/ Lister/ Lloyd/ Lloyd-Phillips/ Lovett/ Lundquist/ Lynch/ Magahey/ Manley/ Maver/ Monsarrat/ Nichols/ Northesk/ Noyes/ Parker/ Pellew-Harvey/ Pomeroy/ Powell/ Proctor/ Sims/ Spry/ Stenning/ Sumerling/ Tabuteau/ Tapley/ Tighe/ Turner/ Unwin/ Valentine/ Vaughan/ Wall/ Ward/ Waring/ Waterhouse/ Webb/ West-Watson/ Whitehead/ Wilson (U.K.)/ Wilson (U.S.A.)/ Woodward
---
ADAMS:
-[HHCE] Vera Margaret, née Hallowes, b. 1910
ARMITAGE: see MANLEY
ARMSTRONG:
-[HBBC] Judith Felicity Turney, née Monsarrat, 1907-2003
ASHLEY:
-[FEBC] Patience, née Gedge, b. 1910
BAISS:
-[CFDA] James Archibald, b. 1909
BENNETT:
-[DJAB] Margaret Lieischen, née Vaughan b. 1911
BOILEAU:
-[AHCA] Rachel Louisa née Hallowes, 1901-1980
BOWER:
-[AHBC] Martha Frances, née Hallowes b. 1903
BOND:
-[EJGA] Thomas Scriven Jnr., b. 1913
BROWN:
-[AABF] Dorothy, née Hallowes, b. 1892
BUCKNALL:
-[FEFB] Peggy, née Stenning, b. 1916
BUTLER:
-[HBAB] Doreen, née Waddell, c. 1906-1936.
BUTTON:
-[HIAB] Ethne Patricia, née Wilson
BUXTON:
-[HBEB] Katherine Monsarrat née Hargreaves b. 1915
CARNEGIE:
-[CFAA] David Ludovic George Hopetoun, 11th. Earl of Northesk, 1901-1963
CHACE:
-[EJBA] Charles , b. 1897
CLAYTON: see NOYES
CROSSET:
-[EJFB] Edgar Lee, Jnr. b. 1919
COLVILE:
-[AACA] Mansel Brabazon Fienes, 1887-1942
DAVIES:
-[HKEB] Penelope Mabel née Hallowes 1929-1989
DAVIS:
-[EJHB] Chaires Bowman Jnr., b. 1919
-[EJHA] Eliza Dancy, b. 1914
DIMBLEBY:
-[CFIA] Marjorie Haig née Brodie, 1918-1977
DOUGLAS:
-[HHIB] Dorothy
-[HHIC] Herbert
-[HHIA] Mildred Margaret b. 1913
DRYSDALE:
-[EJDB] Richard Daniel, Jnr., b. 1905
ELLIS:
-[FGAC] Pamela Sage, née Unwin (later Gairdner), b. 1909
FAIRBAIRN:
-[FEDA] Michael James Hallowes, b. 1921
FERRIER:
-[AHAA] Alexander James b. 1898
-[AHAC] Beatrice Louise b. 1900
-[AHAD] Donald Arthur b. 1902
-[AHAB] William Francis 1899-1917
FLEMING:
-[AHAG] Lilian, née Ferrier b. 1906
FULTON:
-[HBAA] Eileen, née Waddell, 1905-1985
GILLIS:
-[EJHD] Alice Mortimer, née Davis, b. 1925
GRANT:
-[HHBB] Winifred Ida née Hallowes b. 1912
GIFFIN:
-[EJHE] Bette, née Davis, b. 1927
HALLOWES:
-[FBCA] Anthony John, b. 1917
-[HKDB] Arthur Patrick Collis, b. 1914
-[AHCC] Austin, 1904-1935?
-[AABB] Brabazon James, b. 1885
-[DKEC] Cedric Sheperd, 1914-1960
-[AHEA] Charles Walter, b. 1906
-[EMDA] Dale Van Cleve
-[ELFD] David Michael, b. 1943.
-[HHDA] Desmond P., 1908? - 1983
-[EMCB] Dorothy Elizabeth
-[HHCF] Dorothy Griffith, b. 1913
-[EKAA] Elisa, née Knight, subsequently McGill, then Owen
-[EMAB] Frances, 1914-1978
-[FDAB] Francis Brabazon, b. 1895
-[AHEC] Francis Michael, b. 1910
-[FBBA] Frederick Carnegy, 1910-1981
-[AAEA] Geoffrey Francis Brabazon, 1895-1943
-[FGCA] Geoffrey Macleod, 1918-2006
-[CFBA] George Richard, 1939-2007
-[HHCA] Henry Hamilton Cullum, b. 1899
-[AABH] Herbert Francis Chaworth, b. 1897
-[HHGB] Herbert Patrick, 1914-1927
-[HKBA] Kathleen Mary Collis, b. 1911.
-[DKEA] Kenneth Neil, 1909-1986
-[HHDC] Kenelmn Hamilton, 1910
-[AHBB] Jack Walter, 1895-1967
-[EMBA] James Mongin III, 1908-1986
-[AAAC] John Chaworth, 1894-1918
-[EMCA] John Nicol Jnr., 1914-1967
-[ELFB] John Post Jnr.
-[HHCB] Keith Edward, b. 1900
-[AHED] Kenneth Bernard, 1913-1995
-[HHCC] Lionel St. George, 1902-1989
-[ELDA] Louis Nichol Jnr., 1928-1987
-[FDAD] Malcolm George, b. 1899
-[GABA] Margaret Brabazon, b. 1907
-[AABG] Mary Louisa, b. 1897
-[AAEB] Muriel Constance, 1897-1949
-[AHCB] Michael Duncan, b. 1903
-[HKAA] Richard Carmichael, b. 1931
-[AAAA] Ronald Brabazon, 1888-1907
-[FBCC] Rupert Blackwood, 1920 - (pre 2016)
-[AHEE] Rupert Haffenden, 1916-1978
-[ELFC] Thomas, 1930-1997.
-[AHCD] Thomas Eustace Brabazon, 1906-1945
-[HHBC] Vivienne Hamilton, b. 1914
-[EMAA] Walton Burr, 1911-2009.
-[ELAA] William Alexander III, b. 1906
-[AHEB] William Brabazon, b. 1908
-[AHBA] William Edward, b . 1891
HAMMAT:
-[EJBB] Juliana, née Chace, b. 1900
HAMPTON:
-[EJEB] Alfred Erastus Jnr.,b. 1913
-[EJEA] Thomas Dancy, b. 1910
HARGREAVES:
-[HBED] Arthur Cecil Monsarrat b. 1919
-[HBEA] John Henry Monsarrat b.1911
-[HBEC] Joyce Monsarrat, b. 1916
HARPER:
-[EKAB] Thomas Preston Jnr.
-[EKAC] Ablion Williamson
HARRISON:
-[FEBB] Barbara, née Hallowes, b. 1908
HUMPHRY:
-[FEBA] Mary, née Gedge, b. 1902
HUNT:
-[AAAB] Gwendolyn Maud, née Hallowes, b.1889
JACKSON:
-[AAFC] Anthony Henry Mather, b. 1899
-[AAFB] George Christopher Mather, b. 1896
-[AAFA] William Brabazon Mather, 1893-1917
KIDD:
-[HHAC] Ruth Eva, 1926-51 née Tabuteau b. 25.12.1904
KIRWAN WARD:
-[DHFA] Agnes Mary, b. 1899
-[DHFG] Edward Bernard, b. 1909
-[DHFF] Francis Pancras Anderson, b. 1907
-[DHFD] Hugh Cyprian, 1903-1926
-[DHFB] Philip John, 1900-1972
-[DHCA] William Arthur Bayford, 1888-1915
LANE:
-[AHAF] Monica née Ferrier b. 1905
LEONARD:
-[HKEA] Sheila Marjorie née Hallowes 1926-1951
LESTER:
-[HBDA] Eleanor Florence née West-Watson
LISTER:
-[GBCA] Verity Francisca b. 1913
LLOYD:
-[AGGA] Evan John Stanley 1902-24
-[AGGB] George Hallowes b. 1904
-[AGGC] Mary Louisa b. 1909
LLOYD-PHILLIPS:
-[AACC] Margaret Eleanor, née Colvile, b. 1890
LOVETT:
-[DKEB] Ethel Valda, née Hallowes, b. 1911
LUNDQUIST:
-[HKCA] Elsie Mary Collis, née Hallowes, 1920-1998
LYNCH:
-[EJDA] Winfred Lanier, née Drysdale, b. 1902
MAGAHEY:
-[HHGA] Lucy, née Hallowes b. 1908
MANLEY:
-[CFAB] Lady Katherine Jane Elizabeth, née Carnegie, later Armitage, 1904-1949
MAVER:
-[HHBA] Beryl Hamilton née Hallowes, b. 1904
MONSARRAT:
-[HBBE] Denys Keith Turney 1914-1943
-[HBBB] Keith Turney 1903-1913
-[HBBD] Nicholas John Turney 1910-1979
NICHOLS:
-[FEGB] Elizabeth Agnes Hallowes, née Waring, b. 1916
NORTHESK, 11TH EARL OF,: see CARNEGIE
NOYES:
-[AACD] Evelyn May, née Colvile (later CLAYTON), b. 1899.
PARKER:
-[FFBD] Pamela, b. 1921
-[FFBC] Robin, b. 1918
-[FFBB] Sylvia, b. 1917
-[FFBA] Thelma, b. 1916
PELLEW-HARVEY:
-[AHCE] Grace Vyvyan, née Hallowes, 1908-1994
POMEROY::
-[EJFA] Harriet Mortimer, née Crosset, b. 1906
POWELL:
-[FBAA] Margaret Rose, née Hallowes previously WHITEHEAD
PROCTOR:
-[HBBA] Mary Turney, née Monsarrat 1900-1939
SIMS:
-[HBDC] Alison Monsarrat, née West-Watson
SPRY:
-[FEGD] Violet Mary Hallowes, née Waring 1919 -2000
STENNING:
-[FEFA] John Hallowes, b. 1914
SUMERLING:
TABUTEAU:
-[HHAB] Nora Constance, b. 1896
TAPLEY:
-[DHFH] Mary Esther, née Kirwan Ward, b. 1915
TIGHE:
-[HHGC] Flora née Hallowes, b. 1917
TURNER:
-[DHFC] Joan Henrietta, née Kirwan Ward, b. 1902
UNWIN:
-[FGAA] Edward Owen, 1905-1941
-[FGAB] John Harold, 1906-1970
VALENTINE:
-[HHAA] Muriel Flora, née Tabuteau b. 1894
VAUGHAN:
-[DJAC] John Hallowes 1913-41
-[DJFB] Peter Llewellyn, b. 1920
-[DJAA] Richard Thomas, 1908-66
-[DJFA] Thomas Hugh, 1911-1994
WARD:
-[FCAA] Doris Angela, b. 1903
-[FCAB] John Blackwood, b. 1907
-[FCAC] Paul Kendall, b. 1910
WALL:
-[FDAC] Mildred Lilian, née Hallowes, 1897 - 1983
WARING:
-[FEGA] Arthur Roy Hallowes, 1913 - 1984
-[FEGC] Henry Blackwood Hallowes, 1919 - 2005
WATERHOUSE:
-[AABE] Geraldine Chaworth, née Hallowes, b. 1890
WEBB:
-[HBDB] Caroline Mabel née West-Watson
WEST-WATSON:
-[HBDE] Anthony Monsarrat, b. 1918.
-[HBDD] Keith Campbell, b. 1914
WHITEHEAD:
-[FBAA] Margaret Rose, née Hallowes, later POWELL
WILSON (U.K.):
-[HIAA] Kathleen Moira, 1911 - 1996
WILSON (U.S.A):
-[EJHC] Juliana Sarah, née Davis, b. 1921
WOODWARD:
-[FBAA] Harriett, née Hallowes.
---
---
This is the fifth page of this Genealogical Collection. Other pages available are:
1) The Progenitors: John and Louisa Martha Hallowes
2) The First Generation of Descent
3) The Second Generation of Descent
4) The Third Generation of Descent
6) The Fifth Generation of Descent
7) The Sixth Generation of Descent
8) The Seventh Generation of Descent
Compiler's Introduction
Combined Index
---
Compiled by G.K. Armstrong, 35 Cedars Road, London W4 3JP.

E-mail: gkarmstrong@ukhome.net
---
END OF PAGE FIVE


some material removed 4/08/2019

latest additions 16/09/2021