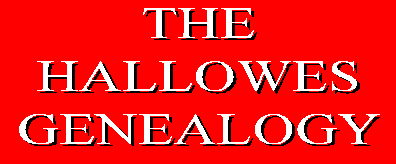 From the website of the Society of Geologists of London:

Obituaries, 2007
George Richard Hallowes 1939–2007


George Hallowes spent his early childhood in Ireland. He was sent to school in England at eight, first to Highfield and latterly Shrewsbury. George returned to Ireland to study civil engineering at Trinity College Dublin, graduating in 1961.

He joined Binnie Deacon & Gourley in Westminster in 1961 and started working on designs for Mangla dam in Pakistan. He was soon posted to Scotland, to work on the construction of sewerage and water-supply schemes, the latter involving raising one gravity dam and building another.

In the late 1960s he worked in Iraq on an irrigation scheme, then between 1969 and 1971 on a water resources project in Lesotho before spending a year at Imperial College acquiring his MSc in soil mechanics.

Subsequent work on dams and reservoirs included Brenig and Marchlyn in north Wales, High Island and Discovery Bay in Hong Kong, Peochos in Peru, Ilisu and other proposed dams in Turkey, Upper Muar in Malaysia, the Ghazi-Barotha hydropower project and the proposed Kalabagh dam in Pakistan, and Adhaim dam in Iraq. In the 1990s he led safety reviews of Dokan and Derbendikhan dams in Iraq and in 2000 he returned to Mangla dam in Pakistan, working on a scheme to heighten it. George was appointed to the All Reservoirs panel in 1999.

But dams and reservoirs were not the entire story of his career, which also embraced landslide studies in Hong Kong, the design of coastal reclamation works in Macao, and managing the design of the Bombay sewerage project, which included seven kilometres of undersea tunnels and deep-shaft pumping stations with a discharge capacity of up to 24 cubic metres per second. He wrote and co-authored a dozen technical papers on subjects that included embankment construction on soft foundations, coastal reclamation, the hydraulic design of large diameter sewer tunnels, and various aspects of dam engineering, including the refurbishment of spillway gates.

His work took him all over the world, and included extended periods of residence in Hong Kong (1973–74 and 1978–79), Peru (1974–76) and Pakistan (1982–85 and 1990–91).

George remained with 'Binnies' through the merger with Black & Veatch, finally leaving in 2000 to set up his own consultancy business, in which he specialised in dams and geotechnical advice.

Outside work, George had a wide range of interests and was renowned for his encyclopaedic knowledge. He was a keen rower at school and university, afterwards joining London Rowing Club. He continued as an active 'veteran' oarsman, competing in many overseas events up to 2006. For 20 years he was a member of the Thames Philharmonic Choir.

Family life in Putney and overseas was also important to George and he was much involved with his wife's work as a potter and sculptor. He is survived by his wife Veda and two daughters, Teya and Kiri.
---
click here to return to the main file, or on the "BACK" button above.
first entered 1/10/2008

minor corrections 8/11/2008