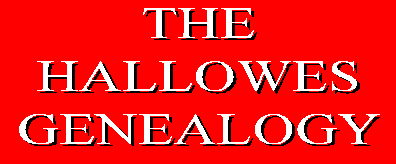 THE ADDISON FAMILY
---
Compiler's Note:

The Addison Family, descended from John Hallowes' granddaughter Juliana ([AD]) and her husband W.H. Addison, is so very large that seperate files, of which this is the fourth, have been written to accomodate it. This file is saved as add.06.htm: for compatability with the rest of the Genealogy, titles add.01.htm and add.02.htm will not be used.
---
Sixth Generation of Descent from John and Martha Hallowes
---
THE CHILDREN OF SIR VICTOR LLOYD ROBINSON and LADY ROBINSON neé MARGUERITE MAY BECK
---
[ADBBAA] DENIS ANTHONY BECK ROBINSON
b. at Salisbury, S. Rhodesia, 17/2/1932; educ. at Hilton College and Cape Town University: B.A. 1951, Rugby Blue 1951 and 1952; then to Trinity College, Oxford, as a Rhodes Scholar; B.A. 1954, Rugby Blue 1952 and 1953. He also played for the Western Province in 1952, and S. African Trials 1956. Articled Clerk to a firm of Solicitors in Salisbury. He married:
[ADBBAA/1] JILL PARHAM
They have four children, born at Hilton in the 1960s:
[ADBBAAA] John. Like his father and grandfather, a Rhodes Scholar. Now a lawyer living in the U.S.A.
[ADBBAAB] Richard
[ADBBAAC] Clare
[ADBBAAD] Mark, now living in Ewhurst, Surrey.
---
[ADBBAB] FELICITY ANN ROONEY
b. at Salisbury, 13/11/1934: and married there, 6/7/1956:
[ADBBAB/1] MAURICE GRANVILLE BROOK ROONEY
b. in Ealing, W. London, 23/2/1921, s. of Thomas John Rooney of Salisbury, Treasurer of the British South Africa Company, and his wife Irene Florence, d. of Josiah Book of Ealing. Educ. at Rugby School and Rhodes University. In the Second World War he enlisted in the RAF 12/12/1940 and rose to Flying Officer, serving in the Middle East, Africa, Europe and Burma. During the late 50's he worked in the Civil Service; he is now (04/2015) living in Australia where he recently celebrated his 94th. birtrhday.
---
THE CHILDREN OF WILLIAM CASTLE and LEONIE MARY HINE CASTLE neé ROBINSON
---
[ADBBDC] VERA ADDISON VOLLER
b. 24/7/1940 at Gatoma. Educ. St. Anne's, 1950-59. She married:
[ADBBDC/1] WILLIAM ROBERT VOLLER
They have four children.
---
[ADBBDB] STEPHANY MARY SWISS
13/7/1942 at Gatoma. Educ. St. Anne's, 1950-60. She married, in 1963, at Mongu in Barotseland:
[ADBBDB/1] JEREMY DAVID RADCLIFFE SWISS
Their children are:
[ADBBDBA] Virginia May, b. 2/4/1965 at Broken Hill in Zambia.
[ADBBDBB] Samantha Jane, b. 30/11/1966 at Kabwe
[ADBBDBC] Adam David Radcliffe, b. 23/2/1968 at Kabwe.
---
[ADBBDC] WILLIAM JOHN CASTLE
b. 31/1/1944 at Gatoma. Educ. Hilton, 1957/8. He married, 26/2/1966 at Riddell's Creek, Victoria, Australia:
[ADBBDBC/1] FRANCES AUSTIN HEALY
Their children are:
[ADBBDCA] William Peter  Austin           b. 1967.
   [ADBBDCA/1]  Theola Barclay
[ADBBDCB]  Jacqueline Helen               b. 1968.
The family ran a farm in Chisamba, just north of Lusaka in Zambia. William died there, 25th. August 2010, and is buried on the farm.
---
His Memorial Service was held on 31st August next to the waterhole where the Buffalo and Bushbuck drink, Landless Corner.This was the Eulogy:
"John's love for the bush was kindled by Iraini Ndlovu, who in his words was the most wonderful spare mother, mentor, and nanny that a small boy could wish for. His parents, Bill and Leonie, were strict and believed that children should be seen and not heard.
John schooled at Codrington in Mazabuka, Clifton Nottingham Road and Hilton College which entailed a 3 day train trip to get to school and 3 days back, and then Falcon College, where as part of the Wildlife Club he was to form lifelong friendships. On holidays, every waking moment he wanted to shoot, and Mopane (Bill's hunter) took John under his wing.
Bill's passion was birdshooting and fishing, and so it was that John got to explore and experience every water the length and breadth of Zambia. John's first job was as a tobacco assistant for Peter Worswick, then worked for his father developing Carolina in Monze. He hunted elephant, prospected for De Beers, then joined the Game Department in Luangwa, where he was struck by Cupid's arrow - all before the age of 22.
He said if he were to do it all over again, he would not have waited 3 days to ask Frankie to marry him! Together they developed many farms and ranches, spent a year travelling through Africa, Asia and Europe, were involved in wildlife and timber enterprises, while bringing up Peter and Jacqui.
John was a go-getter, smoked the pipe for as long as anyone can remember, had an amazingly agile, active and ingenious mind, was not dealt a full house with his health but never mentioned his misfortunes, and was a pillar as husband, father, grandpa and friend.
He said if there is anything in this reincarnation business, he would want to come back and live freely in the bush, far from town, where there is game and space."
---
THE CHILDREN OF DOUGLAS LEO ROBINSON and OLIVE MARY ROBINSON neé MILNE
---
[ADBBEA] RICHARD LEO ROBINSON
b. 22/3/1952 at Bulawayo. He married:
[ADBBEA/1] SHARON HENDERSON. Their children, with their spouses, are:


[ADBBEAA]  Sheila Mamie                       b. 10/5/1979
   [ADBBEAA/1]  Anthony Lindsay Penney
[ADBBEAB]  Brenda Olive                       b. 23/2/1981
   [ADBBEAB/1]  Christian Robert George Ford

This family has now moved to Australia.
---
[ADBBEB] LEONIE ANN LOWE
b. 1/3/1954 at Bulawayo. She married:
[ADBBEB/1] NIGEL LOWE. Their children, with their spouses, are:


[ADBBEBA]  Clare Mary                       b. 12/7/1981
   [ADBBEBA/1]  Andrew Clarkson
[ADBBEBB] Ian                               b. 1983
[ADBBEBC] Karen                             b. 1985
This family has remained in Southern Africa.
---
[ADBBEC] JOHN LLEWELLYN ROBINSON
b. 9/6/1958 at Bulawayo. He married:
[ADBBEC/1] JOAN CLARE WATSON. Their Children are:
[ADBBECA] Suzanne, b. 1989
[ADBBECB] Jacqui, b. 1991
In 2002 John, Joan and their children were evicted from the farm at Ntabenende which their family had tended for almost a hundred years. In 2004 they moved to Australia and are now living at Toowoomba in Queensland.
---
THE CHILDREN OF CYRIL HALLOWES ROBINSON and THELMA BAINE ROBINSON neé NICOL
---
[ADBCGA] GUY NICOL HALLOWES ROBINSON
b. 19/03/1947 in Lusaka. He married:
[ADBCGA/1] LINDSAY RHODES
Their children are:
[ADBCGAA] Gavin Andrew                       b. 1975
   [ADBCGAA/1]  Lee Anne Norton
[ADBCGAB]  Ian Graham                        b. 1978
   [ADBCGAB/1] Leslie Buffington
---
[ADBCGB] GRAHAM BAINE HALLOWES ROBINSON
b. 29/8/1950 in Mazabuka. He married:
[ADBCGB/1] SUE LENTON
Their children are:
[ADBCGBA] Debbie Jane                        b. 1978
   [ADBCGBA/1]  Andrew Descroizille
[ADBCGBB]  Kate Michelle                     b. 1980
   [ADBCGBB/1] Troy Holmes
---
THE CHILDREN OF PATRICK JULIAN HALLOWES ADDISON and MARGARET ELIZABETH ADDISON neé WALLACE
---
[ADEAAB] TIMOTHY ADDISON
b. 1951; married, with children.
---
[ADEAAC] CATHERINE AALTO
b. 1955. She married:
[ADEAAC/1] SOREN AALTO
They have two children, Jeremy and Lucy. The family live at Mtunzini, a small village on the coast of Zululand, about half a mile from the Indian Ocean. Soren works in the ICT Department at the University of Zululand. His personal website is at
http://soren.aalto.tv/
---
[ADEAAD] MARK JULIAN WALLACE ADDISON
He married:
[ADEAAD/1] NANCY LYN MITCHELL
d. of Keith Stuart Mitchell and Margot Joan Mitchell neé Chapman. They have five children.
---
THE CHILDREN OF CHARLES MacMAHON and CHRISTELLE MacMAHON neé ADDISON
---
[ADEABA] ANNE-MARIE MacMAHON
b. 1957. After studying at Cambridge, she worked first as a Solicitor, then as a Teacher. She married, in 1982:
[ADEABA/1] PAUL HALLAS
He also was at Cambridge; he is now an Economist specialising in the field of Energy. They have three children:
[ADEABAA] Veronica, b. 1987
[ADEABAB] Gabriela, b. 1990
[ADEABAC] Madelena, b. 1999
Anne-Marie decided not to change her surname on marriage

---
[ADEABB] JULIAN MacMAHON
b. 1958. He works for London Underground.
---
[ADEABC] BRIDIE MacMAHON
b. 1960; she is currently Membership Administrator at the London Library.
---
THE CHILDREN OF CHRISTOPHER ADDISON and FAYE ANNE ADDISON neé OLDFIELD
---
[ADEBDA] LISA AMIRA
b. 1965. She married:
[ADEBDA/1] CHRISTOPHER AMIRA
They are currently living in Harare, Zimbabwe
---
[ADEBDB] ROSS ADDISON
b. 1968. He is a teacher, and currently lives and works in Reading.
---
THE CHILDREN OF JOHN RICHARD ADDISON and JUNE ROSEMARY ADDISON neé ARMSTRONG
---
[ADEDAA] BRUCE ADDISON
b. at Pretoria 23/5/1949. For many years he was the Chief Executive Officer of a big Chemical Explosives Company in South Africa. He married:
[ADEDAA/1] HELEN ++++
Their Children are:
[ADEDAAA] Guy; he recently qualified as a Chartered Accountant at Cape Town University and is now working in the U.S.A.
[ADEDAAB] Claire, recently graduated from University
[ADEDAAC] Pamela, also recently graduated from University.

Tragically, Helen Addison was murdered in a hijacking some years ago. Bruce has re-married.
---
[ADEDAB] PETER ADDISON
b. at Pretoria 10/2/1951
---
[ADEDAC] JUNE ADDISON
b. at Pretoria 22/9/1952
---
Index
Aalto/
Addison/
Amira/
Castle/
Lowe/
MacMahon/
Robinson/
Rooney/
Swiss/
Voller/
---
AALTO:
-[ADEAAC] Catherine, neé Addison, b. 1955
ADDISON:
-[ADEDAA] Bruce, b. 1949
-[ADEDAC] June, b. 1952
-[ADEAAD] Mark Julian Wallace
-[ADEDAB] Peter, b. 1951
-[ADEBDB] Ross, b. 1968.
-[ADEAAB] Timothy, b. 1951.
AMIRA:
-[ADEBDA] Lisa, neé Addison, b. 1965
CASTLE:
-[ADBBDC] William John, 1944-2010.
LOWE:
-[ADBBEB] Leonie Ann, neé Robinson, b. 1954
MACMAHON:
-[ADEABA] Anne-Marie, b. 1957.
-[ADEABC] Bridie, b. 1960.
-[ADEABB] Julian, b. 1958.
ROBINSON:
-[ADBBAA] Denis Anthony Beck, b. 1932.
-[ADBCGB] Graham Baine Hallowes, b. 1950.
-[ADBCGA] Guy Nicol Hallowes, b. 1947.
-[ADBBEC] John Llewellyn, b. 1958.
-[ADBBEA] Richard Leo, b. 1952.
ROONEY:
-[ADABAB] Felicity Ann, neé Robinson, b. 1934.
SWISS:
-[ADBBDB] Stephany Mary, neé Castle, b. 1942.
VOLLER:
-[ADBBDA] Vera Addison, neé Castle, b. 1940.
---
---
Compiled by G.K. Armstrong, 35 Cedars Road, London W4 3JP.

E-mail: gkarmstrong@ukhome.net
---
END OF ADDISON FAMILY PAGE 06


latest additions 02/10/2017