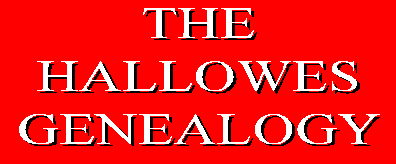 THE ADDISON FAMILY
---
Complier's Note:

The Addison Family, descended from John Hallowes' granddaughter Juliana ([AD]) and her husband W.H. Addison, is so very large that seperate files, of which this is the third, have been written to accomodate it. This file is saved as add.05.htm: for compatability with the rest of the Genealogy, titles add.01.htm and add.02.htm will not be used.
---
Fifth Generation of Descent from John and Martha Hallowes
---
THE CHILDREN OF TORKEL LUNDHOLM and KATHLEEN LUNDHOLM neé ADDISON
---
[ADAFA] JOSEPHIME LUNDHOLM
b. in England, 23/5/1918; known in the family as "Judy". She died in London, 7/11/1934, of Sclerodema, a rare skin disease.
---
[ADAFB] TERENCE LUNDHOLM
b. in England, 23/5/1918, twin to Josephine; known in the family as "Punch". On the outbreak of war in 1939 he joined the Bedfordshire and Hertfordshire Regiment, then transferred to the R.A.F. While stationed at RAF Llandow he was killed in a training accident involving a Spitfire, 27/5/1942, and was buried at nearby Llantwit.
---
THE CHILDREN OF WILLIAM ALEXANDER LESTER and GLADYS FRIEND LESTER neé ADDISON
---
[ADAHA] JOY DIANA ADDISON WINDELER
b. at Herwen, 9/11/1921; educ. at St. Anne's College. During the Second World War she served with the Transport Sction of the WAAF 13/3/1942-7/5/1946, at Camp Clairwood, Durban, and Pretoria. She married, 14/12/1848, at Durban:
[ADAHA/1] GEORGE BERNARD WINDELER
b. at Chelsea, 11/11/1916, s. of Frank Bernard Windeler, Wool Broker, of Walton on the Heath, and his wife Kate, d. of John Manby. Educ. Marlborough. He enlisted in the RAF in Feb. 1940; P.O. Dec. 1940. He served in Coastal Command, flying missions in support of the Battle of the Atlantic from the UK and Iceland, also into the Mediterranean from Gibraltar. In 1941 he flew on missions between Britain and Russia; and India and Ceylon, 1942-43. In the latter part of the War as Squadron Leader he was Asst. Chief Instructor at the School of General Reconaissance. After the war he returned to the family buisness at 99 Basinghall St. in the City. Res (1955) Ingena, Silverdale Av., Walton on Thames.
Their children were:
[ADAHAA] Caroline Peta, b. 12/5/1951
[ADAHAB] Charles Alexander, b. and d. 12/1953
[ADAHAC] Deborah Anne, b. 27/11/1955.
---
[ADAHB] MICHAEL FRIEND LESTER
b. at Durban 10/7/1923; educ. at Hilton College. In April 1942 he enlisted in the Natal Mounted Rifles, and served with the 8th. Army in North Africa and Italy. Only after the war, in April 1947, was he commissioned, and went on the Reserve of Officers in July 1957. He qualified as a Chartered Accountant (S.A.) in November 1949. He married, at Empangeti, 31/3/1951:
[ADAHB/1] ELIZABETH DOROTHY HAMMAR
b. at Durban 16/9/1928, d. of Augustus Hammar, Sugar Farmer, of Empangeni, and his wife Dorothy Isabel, d. of Alfred Groom of Verulam. Res. (late 50s) Salt Rock, P.O. Umhlati, N. Coast Natal. One child is on this record:
[ADAHBA] John Michael, b. 18/8/1953.
---
THE CHILDREN OF WILLIAM EDMUND CLEAVER and CHRISTINE CLEAVER neé ADDISON
---
[ADAJA] ANNE CHRISTELLE CLEAVER
b. August 1925 in The Seychelles. "Ballet Dancer in London".
---
[ADAJB] PATRICK CLEAVER
b. 1929 in London; educ. at Truro. He was an officer in the R.E.M.E: - Lt. 22/12/1953, A/Capt. 17/10/1955 - and also played Rugby for the Harlequins, for the Army in 1954 and for Cornwell also in 1954. He married, 7/4/1956, at St. James, Picadilly:
[ADAJB/1] ROSALIND SUSAN HOPPER
d. of Lt. Col. J. Hopper of East Bergholt. During the War she had been a 3rd. Officer in the W.R.N.S.
---
THE ONLY SURVIVING CHILD OF LEO GEORGE ROBINSON and his first wife
MABEL ROBINSON neé LLOYD
---
[ADBBA] VICTOR LLOYD ROBINSON
b. 19/3/1899 at Buluwayo. Educ. at Hilton College and Milton School, Buluwayo. During the Great War he first joined (22/4/1917) the Artists' Rifles, then (28/11/1917) was commissioned in the 7th. City of London Regiment. He served in France from Jan. 1918 to Feb. 1919. He was caught up in the big retreat of March 1918 and saw action at Villers Brettaneaux and on the Somme, where he was wounded. After the War he took up the Rhodes Scholarship to Keble College, Oxford, which he had won before joining up and was B.A. in 1922, then worked as a Clerk in the Native Department in Southern Rhodesia to 1925. As an External Student with the University of South Africa he passed LL.B in 1926, and was called to the Bar in 1927 (K.C., 1945). He was Public Prosecutor in Buluwayo 1927-29; Legal Assistant in S. Rhodesia 1930-34, Legal Adviser 1934-42, Senior Legal Adviser, 1942-44, Solicitor General Oct. 1944, Attorney General June 1949, Attorney General of the (ill-fated) Federation of Rhodesia and Nyasaland (retd. March 1959) and (his last appointment) Chairman of the S.R. Consitutional Council from 1/11/1962. He was appointed C.B.E. in 1954 and made Knight Bachelor in 1959. Res. (late 50s) Box 8141, Causeway, Salisbury, S.R..; (1960s) 42 Lofts Hall, 143 Baines Avenue, Salisbury.
He played first-class cricket for Rhodesia between 1922/23 and 1931/32.
Sir Victor Lloyd Robinson died at Fish Hoek, Cape Province, S.A. 23/3/1966.
He married, 13/12,1923, at Worcester, Cape Province:
[ADBBA/1] MARGUERITE MAY BECK
b. 16/11/1900 at Worcester, d. of Cornelius Hendrickus Beck of Worcester and his wife Susanna Joanna, d. of Cornelius Louwrens of Riversdale, C.P., and neice of Sir Heiring Beck, one of the architects of the Union of South Africa. Their children were:
[ADBBAA] Denis Anthony Beck
b. 1932 [ADBBAA/1] Jill Parham [ADBBAB] Felicity Ann b. 1934 [ADBBAB/1] Maurice Granville Brook Rooney b. 1921
---
THE CHILDREN OF LEO GEORGE ROBINSON and his second wife
JOSEPHINE MAUD ETTA ROBINSON neé HIME
---
[ADBBB] KATHLEEN HIME ROBINSON
b. at Bulawayo, 29/3/1909: died there, 24/2/1916. bur. at Ntabenende
---
[ADBBC] ADDISON HIME ROBINSON
b. at Bulawayo, 4/2/1911. Educ. at St. Peter's Diocesan School and Plumtree. Mining Engineer. During the War he served with the Colonial Forces: 2/Lt. 16/12/1944: Lt. 16/3/1945.
He married, at Shabani, S. Rhodesia, in 1937:
[ADBBC/1] NANCY TIFFIN
Res (late 50s) Canopus Mine, PO Box 283, Gwelo, S.R. They had no children but adopted one. Addison died in 1974.
---
[ADBBD] LEONIE MARY HIME CASTLE
b. at Bulawayo 5/3/1912; educ. St. Peter's and Rhodes University, Grahamstown: Teacher in S. Rhodesia. She married, 13/6/1936, in Salisbury:
[ADBBD/1] WILLIAM CASTLE
b. 11/5/1901 s. of William John Castle and his wife Anne Elizabeth, neé Eagle, of Liverpool. Educ. McGill University: B.Sc.(Mining). Sometime of Niagara Falls, Canada: Mining Engineer and Farmer. Res. (late 50s) Lauderdale, Box 21, Mazabuka, N. Rhodesia. Their children, all b. at Gatoma, are:
[ADBBDA] Vera Addison
b. 1940 [ADBBDA/1] William Robert Voller [ADBBDB] Stephany Mary b. 1942 [ADBBDB/1] Jeremy David Radcliffe Swiss [ADBBDC] William John 1944 - 2010 [ADBBDC/1] Frances Austin Healey
---
THE ONLY CHILD OF LEO GEORGE ROBINSON and his third wife
CECILIA FLORENCE ROBINSON neé HEEKES (formerly STACEY)
---
[ADBBE] DOUGLAS LEO ROBINSON
b. at Ntabenende, his family's farm, 9/2/1922; educ. at Pluntree. He married, 25/4/1951, at Essexville, S. Rhodesia:
[ADBBE/1] OLIVE MARY MILNE
b. 29/5/1923 at Grahamstown, d. of John Everard Home Mylne of Grand View Farm, Essexville, and his wife Olive Cuyler, d. of John D'Urban Tyrwhitt-Drake of Port Alfred, Cape Province ("The Mylne Family can trace their pedigree 450 years"). Their children, all born at Buluwayo, were:

[ADBBEA] Richard Leo
b. 22/3/1952 [ADBBEA/1] Sharon Henderson [ADBBEB] Leonie Ann b. 1/3/1954 [ADBBEB/1] Nigel Lowe [ADBBEC] John Llewellyn b. 9/6/1958 [ADBBEA/1] Joan Clare Watson Douglas died in June 1999.
---
THE CHILDREN OF CYRIL DEASON ROBINSON and his wife
AGNES WILLIAMA ROBINSON neé HALLOWES
---
[ADBCA] AGNES MARY BOLT
b. 18/11/1905 at Ladysmith; educ. St. Anne's College; trained as a nurse at Grey's Hospital, Maritzburg. She married, 11/2/1933, at Maritzburg:
[ADBCA/1] PETER FRANCIS BOLT
b.at Durban, 7/11/1900, s. of Henry Francis Bolt of Zeerust, Railway Administrator, and his wife Katherine Henrietta, d. of Henry Dodwell of the Dutch East India Co. at the Cape. He was an Accountant with the Standard Bank; during WW2 he served as a Corporal in the Home Guard. Res. (late 50s) 2 Highway, Fish Hoek, Cape Town. Their children are:
[ADBCAA] June Margaret, b. at Salisbury 24/6/1935
[ADBCAB] Julian Francis, b. at the Cape, 25/7/1936: Educ. Cape town University: "Ballet Dancer"
[ADBCAC] Angela Mary, b. at the Cape 29/9/1939
---
Richard Clarke of Brisbane Australia (e-mail:richard.clarke@minterellison.com ),writes to the Compiler (29/11/2005):
&nbsp"My wife is Anne (nee Dodwell). We have in her ancestry an Arthur Edward Dodwell who died at Capetown 25 April 1894. He married Harriette Amelia Rowley and they had a daughter Kate Henrietta born in Queensland on 1 Oct 1862. Arthur was a secretary in the Queensland Treasury. My wife descends from his brother George William Dodwell. Their father was Edward Dodwell who worked for the East India Company. I believe in London where he kept the B, M & D records. I believe he is the Edward Dodwell (1789-1865) who compiled several books about people who served in the East India Company. It is possible the above Katherine Henrietta Dodwell and our Kate Henrietta are one and the same. Do you have any more information on this family and can you introduce me to any living descendants?"
Compiler's Note: "I have no more information on this close family that appears here. It is all taken from Dr. Wilson's Reseaches, as I have not (before this) made direct contact with anyone connected to Peter and Agnes Bolt. Dr. Wilson made few errors but if Peter Bolt's maternal grandfather was Arthur Edward, not Henry, Dodwell, then the Clarke and Hallowes/Bolt families are clearly connected. Further input from participants would be much appreciated."
---
[ADBCB] LOUISA EMILY BROWN
b. 29/3/1907 at Ladysmith; educ. St. Anne's College; trained as a nurse at Addington Hospital, Durban. She married, 19/3/1933, at Maritzburg:
[ADBCB/1] ARCHIBALD PETRIE BROWN
B. 1/3/1896 at Arbroath; an engineer. During WW2 he served for two years in the Fife and Forfar Yeomanry. then in the Merchant Navy.Res.(late 50s.) Leicester Avenue, 3660 Hill Crest, Buluwayo.Their children are:
[ADBCBA] Elizabeth Mary, b. at Umtali S. Rhodesia 8/4/1940
[ADBCBB] Alexander Cyril, b. at Umtali 31/8/1943
---
[ADBCC] JULIET FRANCES ROBINSON
b. at Ladysmith, 29/1/1909. She trained as a nurse at Addington Hospital; and died 2/10/1939 at Nkana, Northern Rhodesia. She was unmarried.
---
[ADBCD] RUTH FLORENCE BLANN
b. at Ladysmith 17/10/1910. She also trained as a Nurse, at Grey's Hospital. She married, 10/2/1936, at Turffontein, Johannesburg:
[ADBCD/1] WILLIAM ALAN BLANN
b. at Maritzbugh, 31/1/1913, s. of Charles Stephen Blann and his wife Mary Ann, neé Turnbull (sometime Bain). Educ. at Maritzburg College: Civil Service. During the War he served with the S.A. Corps of Signals in Abyssinia and Madagascar (Sergeant, 1944). Res (late 50s) 17 Angwick Rd., Valhalla, Pretoria. Except during his war service, he worked all his life in the Post Office.
They adopted two children:
[ADBCDA] Judith; she married David Kilpatrick, a farmer in Natal. They have a daughter Bridget.
[ADBCDB] Richard; he married Anne Quinne, their children are Charmaine, Ursula and Vicky-Lee. They live in Johannesburg.
---
[ADBCE] HALLOWES ADDISON ROBINSON
b. at Ladysmith, 8/1/1912; educ. at Hilton College. In 1940 he enlisted as a Trooper in the Natal Carbineers, rose to Corporal, and was killed in action during the Somaliland Campaign, 22/2/1941. He had married, 31/12/1938, at Nigel in the Transvaal:
[ADBCE/1] JESSIE ELIZABETH McLACHLIN
b. at Pretoria, 19/2/1911, d. of Ronald Selkirk McLachlin and his wife Kathleen Margaret, neé McCormick. They had one child:
[ADBCEA] Brian Hallowes, b. at Sabie 2/1/1941.
---
[ADBCF] MARGARET HELEN DUCKITT
b. at Ladysmith, 9/10/1913. She married, 21/10/1940, at Maritzburg:
[ADBCF/1] IVAN CLOETE DUCKITT
b. at Darling, 1/5/1912, son of Henry Duckitt of Ganzikraal, Darling, C.P., and his wife Joanna, d. of Sebastian Cloete of KiestenBusch, Wynberg, C.P. Educ. Pondebosch High School; then joined the Standard Bank. In 1940 he enlisted in the 2nd. Natal Mounted Rifles, and was later attached to the S.A. Irish in Egypt, 1941-2, at first with the 1st S.A. Div., later the 6th. S.A. Div, in Egypt and later Italy. He left the Army in 1946. Their children were:
[ADBCFA] John Hallowes, b. at Swellendam 3/8/1946.
[ADBCFB] Sheila Mary
[ADBCFC] William
[ADBCFD] Juliet
---
[ADBCG] CYRIL HALLOWES ROBINSON
b. 2/3/1916 in Ladysmith. Like many others in his family went to Hilton College, then travelled north to to the Coppermines of Northern Rhodesia (now Zambia). During WW2 he served in Montgomery's 8th. Army, in North Africa, Cyprus and Greece. After the war he returned to N. Rhodesia and bought a farm in Mazabuka.
He married, in March 1946:
[ADBCG/1] THELMA BAIN NICOL
A descendant of Andrew Geddes Bain (1794-1864, the great pioneer of Road-building and of Geology in Cape Province during the second quarter of the 19th. Century.
They had two children:
[ADBCGA] Guy Nicol Hallowes            b. 1947
   [ADBCGA/1] Lindsay Rhodes
[ADBCGB] Graham Baine Hallowes         b.  1950
   [ADBCGB/1] Sue Lenton
---
THE CHILDREN OF JULIAN ADDISON and his wife JENNY ADDISON neé HENSCHELL
---
[ADEAA] PATRICK JULIAN HALLOWES ADDISON
b. 17/3/1921; educ. at Hilton College. He served in the War, then entered Government Service, and later became an Attorney. Res. (late 50s) 244 Anderson St., Brooklyn St., Pretoria. He married, 21/12/1946:
[ADEAA/1] MARGARET ELIZABETH WALLACE
(Called "Betty" in the family.) Their children are:

[ADEAAA] Elizabeth                     1949 - 1956
[ADEAAB] Timothy                       b. 1951
   [ADEAAB/1] +++++
[ADEAAC] Catherine                     b. 1955
   [ADEAAC/1] Soren Aalto
[ADEAAD] Mark Julian Wallace 
   [ADEAAD/1] Nancy Lyn Mitchell
Patrick has now died.
---
[ADEAB] CHRISTELLE MacMAHON
b. 9/6/1924. She worked as a nurse, then married, in 1956:
[ADEAB/1] CHARLES MacMAHON
Son of Robert MacMahon, a Captain in the Merchant Navy, and his wife Maria, before her marriage a nurse; both d. in 1929. Between 1972 and 1978 he was Assistant Legal Secretary to the Attorney General in Northern Ireland, and was subsequently appointed C.B.E.
Their children are: &nbsp

[ADEABA] Anne-Marie
b. 1957 [ADEABA/1] Paul Hallas [ADEABB] Julian b. 1958 [ADEABC] Bridie b. 1960 Charles MacMahon died in 1999.
---
[ADEAC] HELEN CLARK
b. 9/6/1924: twin to Christelle, above, and also like her, a nurse. She married, 5/6/1948:
[ADEAC/1] ROY CLARK
Their children are:
[ADEACA] Christopher
[ADEACB] Charles
Res. (late 50s) c/o Anglo-Ceylon Co, Box 159, Port Louis, Mauritius. Roy has now died.
---
[ADEAD] RICHARD HALLOWES ADDISON III
b. 9/6/1922: educ. at Hilton College. Served in the war, then became a Chartered Accountant:. His wife's first name is Patricia; they have two children:

[ADEADA] Richard
[ADEADA/1] Julie +++++ [ADEADB] Juliet Richard (III) has died.
---
THE CHILDREN OF VIVIAN ADDISON and WINIFRED ELLEN ADDISON neé WELDIN
---
[ADEBA] JOAN WITHINSHAW
b. 10/9/1920: a Nurse. She married 26/6/1948:
[ADEBA/1] GEORGE WITHINSHAW. Both deceased.
---
[ADEBB] MICHAEL ADDISON
b. 10/11/1922; now deceased. He became a Doctor and was married with two daughters, Lorraine and (?) Michelle.
---
[ADEBC] BRIAN ADDISON
b. 7/12/1928; now deceased. He was a Magistrate and a Civil Servant. He married and had one daughter, Patricia; she became a Nurse and has not married. She now lives in the Cape.
---
[ADEBD] CHRISTOPHER ADDISON
b. 4/11/1934; now living in Pretoria. He married:
[ADEBD/1] FAYE ANNE OLDFIELD
d. of Alexander John Chapman Oldfield and his wife Phyllis Muriel, neé Peart. Their children are:


[ADEBDA] Lisa                             b. 1965
   [ADEBDA/1] Christopher Amira
[ADEBDB] Ross                             b. 1968
---
THE CHILDREN OF FREDERICK ADDISON and VERA ADDISON neé GARRARD
---
[ADEDA] JOHN RICHARD ADDISON
b. at Durban 4/3/1922: educ at Hilton College. Electrical Engineer. During the War (1942-46) he served with 15 and 21 Squadrons, S.A.A.F in Cyrenaica, Italy and Gibraltar. Res. (late 50s) 281 Cowley Rd., Durban. Now (2010) deceased. He married:
[ADEDA/1] JUNE ROSEMARY ARMSTRONG
b.at Durban, 11/6/1926, d. of Thomas A. Armstrong of Durban and his wife Elsie, d. of G.W. Lummis of Newcastle, Natal. Their children are:


[ADEDAA] Bruce                            b. 1949
   [ADEDAA/1] Helen +++
   [ADEDAA/2] +++++
[ADEDAB] Peter                            b. 1951
[ADEDAC] June                             b. 1952
---
[ADEDB] BARBARA BURGESS
b. at Eshwoe, 3/10/1924. She married:
[ADEDB/1] ROY BURGESS
b. Durban (3rd Aug ??) educ. Maritzburg College and became a florist; no war service. Res (late 50s) 17 Martin Crescent, Chartwell Park, Westville, Natal.
---
[ADEDC] WALTER ADDISON
b. at Eshowe, 11/2/1927. educ. Hilton College; a Chemical Engineer with Kestner's of Johannesburg. Served 1945-46 with the Natal Carbineers in S. Africa and Egypt. He married, 12/1/1955, at Darnall
[ADEDC/1] DIANA BURROUGHS
They have one son:
[ADEDCA] Christopher - no more data.
---
THE CHILDREN OF CHARLES JOHNSTONE STEIN and LEAH FLORENCE STEIN neé ADDISON
---
[ADEEA] MARGARET ADDISON WILSON
b. 27/3/1923 at Greytown, Natal. She married, 19/7/1947 in Potgieterus:
[ADEEA/1] PAUL ALFRED EVERARD WILSON
b. 10/12/1916 at Calcutta, s. of Paul James Wilson and his wife Beryl Elsie, neé Woolman, of Cawnpore. Educ. Tonbridge. During the War he served with the Union Defence Force (1939-45) and the 2nd. Bn. Argyll and Sutherland Highlanders (1943-45). Farmer. Res. (late 50s) Plot J 95, P.O. Gruisbank, Marble Hall, Transvaal. Their children were:
[ADEEAA] Sandra, b. 30/9/1948 at Potgieterus. Married surname: van Heerden.
[ADEEAB] Paul Ian Charles, b. 1/12/1951 at Pretoria
[ADEEAC] Marrioth, b. 30/10/1954 at Groblersdal, Transvaal. Married surname: Shepherd.
---
[ADEEB] DAVID STEIN
b. 3/2/1932 at Potgieterus. educ. Boys High School, Pretoria. A Chemist: unmarried.
---
THE CHILDREN OF ALFRED HALLOWES ADDISON FIELD and RUBY FIELD neé CADBY
---
[ADGCA] PATRICIA HALLOWES ADDISON LEWIS
b. at Cape Town 26/2/1916. She married:
[ADGCA/1] HARRY CARLTON LEWIS
b. at Harrismith, 16/2/1916, s. of Harry Carlton Lewis and his wife Jessie, neé Bulmer; educ. Harrismith High School. A Mens' and Sports Outfitter. Res. (late 50s) 29 Montague St., Newcastle, Natal. Their children were:
[ADGCAA] Felicity Jane, b. 31/1/1941 at Kokstad, East Griqualand
[ADGCAB] Anthony Hallowes Addison, b. 24/4/1944, also at Kokstad
[ADGCAC] Victor Carlton, b. 24/8/1952 at Newcastle, Natal.
---
[ADGCB] MARGUERITE RUBY ADDISON VAN HEERDEN
b. 31/12/1917 at Pretoria. She married:
[ADGCB/1] WILLIAM FREDERICK VAN HEERDEN
b. 17/3/1915 at Germiston, educ. at Germsiton H.S. and Technical College. During WW2 he served in the 4th. Bn. Anti-Tank Artillery in Abyssinia and North Africa; after El Alamein he transfered to the King's (Liverpool) Regt. Commissioned; severely wounded in battle near Florence. After the war he became an Auctioneer and Estate Agent in Newcastle. Their children were:
[ADGCBA] Barry John, b. 22/7/1946 at Newcastle
[ADGCBB] Linda Marguerite, b.22/7/1946 at Newcastle
[ADGCBC] Derek William, b.22/7/1946 at Newcastle
---
Index
Addison/
Blann/
Bolt/
Brown/
Burgess/
Castle/
Clark/
Cleaver/
Duckitt/
Lester/
Lewis/
Lundholm/
MacMahon/
Robinson/
Stein/
Van Heerden/
Wilson/
Windeler/
Withinshaw/
---
ADDISON:
-[ADEBC] Brian, b. 1928.
-[ADEBD] Christopher, b. 1934.
-[ADEDA] John Richard, b. 1922 (dec).
-[ADEBB] Michael, b. 1922.
-[ADEAA] Patrick Julian Hallowes, b. 1921.
-[ADEAD] Richard Hallowes, b. 1927.
-[ADEDC] Walter, b. 1927.
BLANN:
-[ADBCD] Ruth Florence, neé Robinson b. 1910.
BOLT:
-[ADBCA] Agnes Mary, neé Robinson b. 1905.
BROWN:
-[ADBCB] Louisa Emily, neé Robinson b. 1907.
BURGESS:
-[ADEDB] Barbara, neé Addison b. 1924.
CASTLE:
-[ADBBD] Leonie May Hime, neé Robinson b. 1921.
CLARK:
-[ADEAC] Helen, neé Addison b. 1922.
CLEAVER:
-[ADAJA] Christelle, b. 1923.
-[ADAJB] Patrick, b. 1923.
DUCKITT:
-[ADBCF] Margaret Helen, neé Robinson b. 1913.
LESTER:
-[ADAHB] Michael Friend, b. 1923.
LEWIS:
-[ADGCA] Patricia Hallowes Addison, neé Field b. 1916.
LUNDHOLM:
-[ADAFA] Josephine, 1918-1934.
-[ADAFB] Terence, 1918-1942.
MacMAHON:
-[ADEAB] Christelle, ne&eacute Addison; b. 1922.
ROBINSON:
-[ADBBC] Addison Hine, b. 1911.
-[ADBCG] Cyril Hallowes, b. 1916.
-[ADBBE] Douglas Leo, 1922-1999.
-[ADBCE] Hallowes Addison, 1912-1941.
-[ADBCC] Juliet Frances, 1909-1939.
-[ADBBB] Kathleen Hime, 1909-1916.
-[ADBBA] Victor Lloyd, 1899-1966.
STEIN:
-[ADEEB] David, b. 1932.
VAN HEERDEN:
-[ADGCB] Marguerite Ruby Addison, neé Field b. 1917.
WILSON:
-[ADEEA] Margaret Addison, neé Stein b. 1923.
WINDELER:
-[ADAHA] Joy Diana Addison, neé Lester b. 1921.
WITHINSHAW
-[ADEBA] Joan, neé Addison, b.1920
---
---
Compiled by G.K. Armstrong, 35 Cedars Road, London W4 3JP.

E-mail: gkarmstrong@ukhome.net
---
END OF ADDISON FAMILY PAGE 05


latest additions 01/04/2018